Five reasons MSU or UNC will win
Originally Published:
April 6, 2009
ESPN.com
DETROIT -- Which team will win the national championship? North Carolina was the preseason favorite, but Michigan State will have the crowd in its corner Monday night. Pat Forde offers five reasons the Spartans will win, while Mark Schlabach counters with five reasons the Tar Heels will cut down the nets.
Five Reasons Michigan State/North Carolina Will Win
Pat: Why Michigan State will win
Mark: Why North Carolina will win
5. The reverse Forde effect. I thought Michigan State would lose to Kansas. I thought Michigan State would lose to Louisville. I thought Michigan State would lose to Connecticut. One more, and I will have committed the grand slam of inaccurate prognostication with the Spartans. Why not?

4. Playing with house money. Michigan State will be playing a home game in front of a team that should be supremely confident -- maybe overconfident -- on a two-day turnaround that favors the Spartans. Every intangible tilts in Sparty's direction.

3. Solid, basic defense. The Tar Heels make a living by sprinting into position in transition and delivering the ball for high-percentage shots. But what if the defense is in place by the time they get there? If the Spartans just stay solid on defense by not buying pump fakes and keeping the ball in front of them, they have a chance to slow down the Heels.

2. The Spartans will get every shot they want. Hey, North Carolina plays indifferent defense. That was obvious yet again Saturday against Villanova, which got almost every shot it wanted but most of the time was too inaccurate to make it or too impatient to get a good look. Michigan State is a better team, accustomed to playing against better defenses. The Tar Heels will have to show something they haven't all season.

1. Detroit wills it to be so. There has been no team in the NCAA tournament in recent memory to have a greater home-court advantage or a greater psychic advantage. The Spartans will play in front of at least 40,000 fans in a town hungering for a winner and loving the stimulus package they have provided. If Michigan State gets out to an early lead, the positive repercussions could be huge.


5. Its balance. Opponents spend so much time worrying about four-time All-American Tyler Hansbrough in the paint that they leave UNC's shooters open on the perimeter. And Ty Lawson, Danny Green and Wayne Ellington make opponents pay for their mistakes. The trio combined to shoot 11-for-21 on 3-pointers against Villanova.

4. If UNC has a weakness, it might be its perimeter defense. Without injured senior Marcus Ginyard, the Tar Heels really don't have a lock-down defender on the perimeter. But North Carolina is getting better on defense, holding Villanova to only 5-for-27 on 3-pointers. And Michigan State isn't very good from beyond the 3-point line, either, averaging 5.2 3-pointers per game, which ranks 260th in Division I.

3. Confidence. The last time North Carolina played Michigan State, the Tar Heels won by 35 points at Ford Field on Dec. 3. Michigan State senior Goran Suton didn't play in that game because of a knee injury, but he won't make up a 35-point difference. The Tar Heels won't be overconfident, but they have to feel good about the rematch.

2. Lawson. He's the fastest player in the country, even when he's playing with a sprained big toe on his right foot. Spartans senior Travis Walton was the Big Ten Defensive Player of the Year, but he isn't fast enough to guard Lawson. That leaves Kalin Lucas or Korie Lucious to guard Lawson, and neither of them is good enough to do it.

1. North Carolina didn't play very well against Villanova in the national semifinals Saturday night but still won the game by 14 points. That's how good the Tar Heels are. UNC missed 15 foul shots and gave up 22 offensive rebounds, but the Wildcats never really had a chance to win the game. UNC won't have back-to-back games in which it plays so poorly.


NCAA TOURNAMENT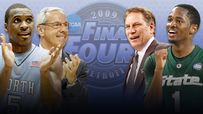 STORIES
VIDEOS
INSIDER
TOURNEY TOOLS
MORE MEN'S COLLEGE BASKETBALL HEADLINES
Nike Men's Michigan State Spartans Replica Basketball Shorts Shop »

MOST SENT STORIES ON ESPN.COM