BYU's Judkins no longer in shadows
Updated:
March 20, 2002, 8:42 PM ET
Associated Press
PROVO, Utah -- Jeff Judkins was the guy drafted by the Boston Celtics in the second round after they took Larry Bird. He spent 10 years as an assistant to Rick Majerus at Utah.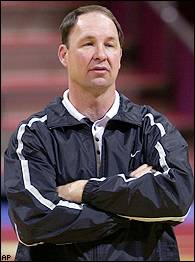 BYU coach Jeff Judkins was the Celtics second pick in 1978 after Larry Bird. He also was an assistant to Rick Majerus at Utah.
He's not in the background any longer. The first-year women's coach at BYU has taken the surprising Cougars to the third round of the NCAA Tournament.
"I'm real happy," Judkins said Wednesday. "I've been real fortunate to be here in the men's tournament. To be here in my first year as a women's coach, I've been real blessed to have things bounce my way."
BYU (24-8) was 0-4 in the NCAA Tournament until last weekend, when the 11th-seeded Cougars beat Florida 90-52 and then erased a 13-point second-half deficit to stun Iowa State 75-69 on the Cyclones' homecourt.
The Cougars had so much fun in Ames, Iowa, they're heading back for the Midwest regional semifinals. Next up is Saturday's game against perennial national power Tennessee (27-4).
"You'd be stupid if you didn't realize this is a very awesome program," said Judkins, or "Juddie" as his players call him.
The giant-killer theme is nothing new to Judkins, who worked under Majerus when the Runnin' Utes upset Arizona to reach the 1998 men's Final Four, then beat North Carolina before losing in the title game to Kentucky.
He compared the Tennessee matchup to Utah playing North Carolina that year.
"They had a great tradition. They put four guys in the NBA. Vince Carter was one of them," Judkins said. "But we knew if we could play our game, we could stay with them. That's something I'm going to bring up to our team."
Judkins grew up in Salt Lake City and played at Utah in the late 1970s. He spent five years in the NBA with the Celtics, Portland Trail Blazers, Detroit Pistons and Utah Jazz.
He still peppers his talk with references to the men's game, comparing BYU shooting guard Erin Thorn to former Utah standout Andre Miller or Tennessee's depth and talent to Rick Pitino's old teams at Kentucky.
Judkins always hoped to be a head coach, but opportunities were limited because he wanted to keep his wife and five children near relatives in Utah. Two years ago, he shocked friends by leaving Utah to become director of basketball operations at archrival BYU.
"They gave me a really hard time," Judkins said. "I had lot of fans tell me I was a traitor. They were rude to my family."
Judkins worked with the BYU men's and women's programs for two seasons, one as an assistant to women's coach Trent Shippen. Then last fall, the two swapped jobs so Shippen could spend more time with his young family.
Shippen remains on the staff, but players noticed a change with Judkins in control.
"He definitely made us more focused and more confident," Thorn said. "He's been coaching basketball so many years. He's been in the NBA and in the men's NCAA Tournament. He knows any situation that's going to come up."
Coaching women was a challenge Judkins never expected, but he adapted. He targeted recruits who matched his philosophy but also learned to focus on fundamentals and details.
"I'm a lot better coach now than two years ago," he said. "I'm seeing other things. I used to take a lot of things for granted, but women ask more questions. You have to do a lot more explaining."
Looking back on the season, Judkins calls it "one of my funnest years as a coach" and sees a bright future -- for this weekend and beyond.
"I saw it with coach Majerus. I saw how we built it," Judkins said. "I know what kind of athletes I need for my style. And I knew if we went to the NCAA Tournament we might surprise some people.
"But not in my wildest dreams did I expect to be in the Sweet 16 my first year," he said.

Copyright 2002 by The Associated Press
SPONSORED HEADLINES
MORE WOMEN'S BASKETBALL HEADLINES
MOST SENT STORIES ON ESPN.COM