Williams on UNC, Kansas and 'the big one'
Updated:
March 6, 2005, 5:45 PM ET
ESPN SportsCenter
On the 2004 season: "I think the kids wanted to do it last year, but it is something that you have to not only say I'm going to do it, but you have to see the results. You have to give everything and see what happens when you do give everything.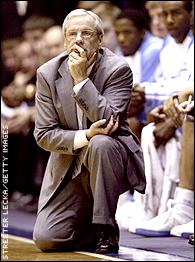 Roy Williams has had plenty to ponder since returning to North Carolina.
"It was trial and error, trying to find the way to motivate that to happen. I think the kids really bought in and wanted to do the right thing. I think they had the commitment to do the right thing, even last year. But again, the way we play, you have to have habits and so it takes a while to build those habits.
"I love to play golf and I want to hit it 325 [yards] every time I stand over it. I have that commitment, but I have a lack of ability. I have [a] lack of talent to do that.
"In basketball, I think our kids wanted to ... I think they had the commitment, but it took us a while to build those habits."
On why is was the toughest year of his career: "It was just so many things going on. It was the first year back in a new job. It was so much more political around here then it had ever been when I left.
"Coming in trying to change some things and there was some resistance because, 'well we don't do that.', Well, we need to start doing it this way.
"And the team, those kids had gone through some really difficult times. They can't just trust a guy cause he walks in and says, 'Hey I've won some games.' "
On what is it like coaching some one else recruits: "You don't have that trust. You don't have that relationship. You don't have that compasion for each other because a new guy walks in the door.
"... I recruited Wayne Seimin in the seventh grade. So I recruited him for five years -- and coached him for two. That is a seven-year relationship.
"Where as I come here and all of a sudden, the first day that Jackie Manuel's supposed to have this wonderful relationship just because I walked in? The most difficult thing is building that trust. Building that relationship. Building the confidence in the player -- in you and you and the player both -- because there has to be a two-way street."
On his relationship with Matt Doherty: "Very good ... It is something that I care about greatly. I want to help him every chance I can. I helped recruit him, helped coach him, he gave me his life for seven years as my assistant coach.
"I hate what happened to Matt. I had moments there that I thought I would not even talk to North Carolina because I didn't like what had happened. But at the same time, I felt I had to make a decision that was best for my own life. In the end, leaving Kansas was very emotional."
On what it was like watching a team he referred to as his best Kansas team: "I have a hard time watching them."
On if he stays in touch with his former team: "It's a hard thing. Last year, I was extremely pleased on Christmas Eve when three of them called me. I had calls from them on Father's Day.
"Moulaye (Niang) continued to call me and thought about transferring and [I] helped convince him to stay at Kansas and those kind of things. Not that he was coming to North Carolina because we had no scholarships, but he was thinking about transferring. He wanted a sounding board, so he called me and I felt great about that.
"Everytime I have ever talked to him, it's always been 'Congratulations or good luck,' because I am no longer their coach and I have never talked to them about their play."
On how he would feel if he retired without a national championship: "You know the greatest comment Coach Smith ever made to me, and he made millions of great ones, and one that put coaching in a better light for me ...
"In '82, when he won his first [title] ... after the game I hugged him and said I'm so glad we got those people to shut up. His response back to me was: 'You know, I really don't think I'm that better of a coach now then I was two hours ago.' I have never forgotten how true that was.
"I have said this very honestly, if we never win one ... And it is reported that I jumped off a top of a building, please have it investigated because I didn't jump. Somebody pushed my rear end, probably a disgruntled alumni.
"But I did not jump.
SPONSORED HEADLINES
MORE MEN'S COLLEGE BASKETBALL HEADLINES
MOST SENT STORIES ON ESPN.COM
EDITORS' PICKS
UCLA faces Duke at Madison Square Garden.
Gamecast

Aaron Gordon makes a big leap in Wooden Watch.
Brennan »

Texas grabs attention by beating North Carolina.
Brown »