LSU's Gunter, Brazilian star Hortencia also elected
Updated:
April 5, 2005, 1:41 AM ET
Associated Press
ST. LOUIS -- Last month, Jim Boeheim and Jim Calhoun became the first college basketball coaches with 700 wins to face each other. On Monday, they shared the stage again, proudly holding jerseys signifying their election to the Basketball Hall of Fame.
"This is, beyond my wife and children, the most special day in my life," Calhoun said. "When I was told the news, it was surreal." Coach and broadcaster Hubie Brown, Brazilian women's star Hortencia Marcari and LSU coach Sue Gunter also were voted into the Hall. The new members will be enshrined Sept. 8-10 in Springfield, Mass.
The headliners, though, were a pair of Big East Conference coaches who have seemingly been in lockstep. Boeheim won his first NCAA title in 2003, and Calhoun won his second the next year. The coaches are tied for sixth on the career active victory list, Boeheim entering his 30th season next year at 703-241 and Calhoun heading into his 34th at 703-310.
Both also remain at the top of their game. Boeheim has twin 5-year-old daughters and he said he wanted to coach until they were "a lot older."
"Ideally, you'd like to be done coaching when you get to the Hall of Fame," Boeheim said. "It would be nice to say 'This is it.' The reality is, we open with Cornell next year."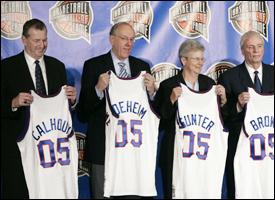 AP Photo/Mark HumphreyJim Calhoun, left; Jim Boeheim; Dr. Carla Lowry, representing Sue Gunter; and Hubie Brown are presented as the newest members of the Basketball Hall of Fame.
Last year, college coaches were shut out in the balloting. This year, the seven former NBA players among the list of 16 finalists -- Joe Dumars, Dennis Johnson, Adrian Dantley, Dominique Wilkins, Bernard King, Maurice Cheeks and Chet Walker -- ended up on the outside.
"This class represents how difficult it is to get enshrined," said Russ Granik, deputy commissioner of the NBA. "Our Hall is probably unique in sports in that it represents all the levels of the game."
Boeheim said neither he nor Calhoun would have made it were it not for the rise in the 1980s of the Big East. He said Dave Gavitt, the conference's first commissioner, deserves much of the credit.
"The bottom line is if it weren't for Dave Gavitt, none of us would be in the Hall of Fame," Boeheim said. "He had a vision to put this thing together. We went from a nice little regional program to the national scene in one year."
Brown was elected under the category of contributor for his impact on the game as a coach, clinician, broadcaster and ambassador.
He retired as coach of the Memphis Grizzlies this season after being voted the NBA's coach of the year in 2004. He won the same award in 1978 with Atlanta. He won an American Basketball Association title with the Kentucky Colonels in 1975 and eight former assistants have gone on to become NBA head coaches. He also has hosted hundreds of clinics worldwide.
"I don't think you ever wake up when you're doing a job thinking of being in the Hall of Fame," Brown said. "It's a great time for my family and myself and I'd like to thank all of the people that rewarded us."
Gunter ranks third among women's basketball coaches with 708 victories. Her LSU squad went to the Final Four in her last season before she stepped down as coach in 2004 while battling emphysema, an illness that prevented her from attending the ceremony. She was to coach the U.S. women's team at the 1980 Olympics, but the United States boycotted the games.
Hortencia -- known by her first name like many Brazilian athletes -- averaged 27.6 points while leading Brazil to the 1994 women's world championship. She also helped her country win the silver medal in the 1996 Olympics.
Also at the ceremony, Raymond Felton of NCAA finalist North Carolina was named the Bob Cousy Collegiate Point Guard winner.

Copyright 2005 by The Associated Press
SPONSORED HEADLINES
MORE MEN'S COLLEGE BASKETBALL HEADLINES
MOST SENT STORIES ON ESPN.COM
Nike Men's Syracuse Orange Fusion Power Glow Ball Orange T-shirt Shop »