Don't like what you see? Wait a year
Updated:
June 27, 2005, 12:07 PM ET
By
Ed Graney
| Special to ESPN.com
Churn, baby, churn
Mike May likes statistics. He is a sports information director in charge of basketball at San Diego State and often sits at practice scribbling down numbers of interest. A few years ago, he came up with these:
Steve Sir, then a freshman wing for the Aztecs, made 23 straight 3-pointers at the end of a 2½-hour practice. He needed to make the first 10 attempts to keep his teammates from running sprints. He did and then sank 13 more.
More May numbers: Sir once hit 99 of 100 free throws in one session. But he never found consistent playing time when games began and eventually sought a fresh basketball life elsewhere.
Sir discovered one in the Big Sky Conference, where opportunity often knocks for Division I and junior-college transfers and you never quite know what level of play you'll see from one season to the next.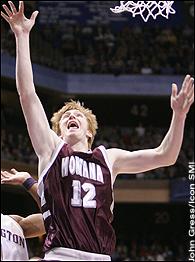 One guy who's back next season: Grizzlies guard Kevin Criswell.
"I really think it is a good league," said Sir, who led Northern Arizona in scoring last season (14.0 ppg) once eligible from his transfer. "It has had a few down years, no question. We obviously need to win more non-conference games. If it's the same story next year and we lose most of them as a conference, everyone will say that is what is supposed to happen. But if we can win some, maybe they'll think we're going to be competitive again."
The Big Sky wasn't very respectable last season (RPI in the 30s and six of eight teams with .500 or worse overall records) and you won't find many within it – players, coaches, conference officials – who say otherwise. Most leagues outside the top six exist in some sort of cyclical manner. Good for a while. Bad for a while. Up today, down tomorrow.
The Big Sky is all that and more.
Or, well, less.
"We're essentially a transfer league," said Montana State coach Mick Durham. "It's really hard to predict what might happen. It's just the nature of having so many new faces. Right now, we're a conference in transition. We just don't have as much high school recruiting as other conferences, so it's difficult to remain at a very high level for long periods of time.
"It's not like we're all signing top-150 kids and everyone knows about this guy and that guy. It's kind of a big secret most of the time in terms of who everyone is going to have once the season begins."
Unpredictable?
Consider: Montana State was picked to finish last in 2004-05 and came in second. Portland State was coming off consecutive last-place finishes and won the regular-season championship. Over the last six years, six different schools have won the regular-season title.
The number of good returning players – eight of 17 earning all-conference or honorable mention awards – suggests the league might not be so down next season. And yet all anyone outside places like Flagstaff, Ariz., and Bozeman, Mont., and Pocatello, Idaho and the like ever notices is what the eight teams accomplish before league play begins. Last season, when Big Sky teams were a combined 49-67 in the non-conference, it wasn't much.
"We're all forced to go out and play guarantee games in our league," said Montana coach Larry Krystkowiak, who led the Grizzlies to an NCAA Tournament berth in his first season. "Because of that, some of the records might get a little out of whack. It sure would be nice to get some of those games at home, but that's not the case.
"I do think if you look at the rosters in this conference and see how many players are coming back, it's an unbelievable amount."
Attendance isn't what it was 10 years ago but teams still have the darnedest time winning Big Sky road games. It's hard to find complete success when going from Sacramento State to Northern Arizona over a few days. In fact, home teams won 75 percent of their conference games last season.
The definitive goal, however, is to immediately improve the conference RPI, to remind people this is a league that not-so-long ago had Weber State shocking North Carolina in the first round of an NCAA Tournament game and Northern Arizona nearly pulling off NCAA upsets of Cincinnati and St. John's.
"We weren't very good early last season," said Weber State coach Joe Cravens. "But we ended up with some pretty good teams. The pattern seems to be, if you can get some momentum the first few weeks of conference play, you have the inside track on everyone else.
"It's true we're all relegated to relying on JUCO players and other transfers. In that, there will always be a rolling-of-the-dice element to how we do things."
Summer indicators
Good sign:
Eastern Washington
finished 8-20 in its first season under coach Mike Burns and loses all-conference pick Marc Axton (EWU's career leader in games, 3-pointers made and attempted) but returns five players who each started at least 13 games.
"There are a lot of good players in this program and we're going to add some very good ones next year," said Burns, who replaced Ray Giacoletti after the latter departed for Utah. "We will be back playing at a level (EWU fans) are accustomed to."
Red flag: Montana was the highest-rated RPI team (158) in mid-March and six Big Sky teams were 223 or lower. Translation: All those returning players better be really, really good for the conference to turn its fortunes.
Safe bet: Sacramento State – which has improved its conference record five straight years under head coach Jerome Jenkins – will do so again. Despite a roster that included seven newcomers, Sac State won eight Big Sky games last season.
In their own words
"I think the perimeter games of some players are really overlooked in the Big Sky. There are a lot of quality guards. My thought process is to work hard this summer and really have a big impact on the conference. I've played against the likes of Channing Frye and Ike Diogu. That gives me confidence going in that I can make a difference."
– Portland State center Anthony Washington, a transfer from Washington
"There are a lot of similarities between the Big Sky and Mountain West, especially with the travel. It can get a little crazy getting to some places. It might not be like playing in front of 15,000 at Utah, but can be just as tough going to Portland State to play in front of 1,500 people who are right on the floor. The Mountain West is a faster conference, but I think the Big Sky can be just as physical."
– Northern Arizona wing Steve Sir, a transfer from San Diego State
Bracketology
Last year was supposed to be Montana State's year … until archrival Montana knocked the Bobcats out in the conference tournament semifinals on its way to an NCAA berth.
Our resident bracketologist, Joe Lunardi, thinks the second time will be the charm for Montana State. His early (early, early) look at the 2006 bracket has the Bobcats as the bottom seed out west. After last season's exit, we're pretty sure they'd take it.
Standings/Stats
After years adrift, the Portland State Vikings finally righted the ship last season, storming to a regular-season title before suffering an upset loss in the conference tournament semis in their home town.
* – NCAA Tournament
There's a reason Joe Lunardi's picking Montana State – the Bobcats are returning three of the league's five leading scorers.
Ed Graney of the San Diego Union-Tribune is a regular contributor to ESPN.com. He can be reached at ed.graney@uniontrib.com.
EDITORS' PICKS
MSU is headed to the Final Four after topping Louisville.
Box score »

Gonzaga is looking for its first-ever Final Four bid.
Brown »

Kentucky's escape against Notre Dame makes the Final Four a formality.
O'Connor »
MORE MEN'S COLLEGE BASKETBALL HEADLINES

MOST SENT STORIES ON ESPN.COM