ESPN.com 2005-06 preseason Top 25 (1-10)
Updated:
October 16, 2005, 12:55 PM ET
ESPN.com
Enough with the past and the future ... how about a look at the present? We gathered 15 experts from around ESPN and ESPN.com and compiled their votes to create this season's ESPN.com preseason Top 25, with capsules written by ESPN.com senior writer Andy Katz.
Voting experts: Andy Katz, ESPN.com senior writer; Pat Forde, ESPN.com senior writer; Doug Gottlieb, ESPN analyst; Jay Bilas, ESPN analyst; Fran Fraschilla, ESPN analyst; Joe Lunardi, ESPN Bracketologist; Ed Graney, San Diego Union-Tribune and ESPN contributor; Jeff Shelman, Minneapolis Star Tribune and ESPN contributor; Dave Revsine, ESPN on-air talent; Rece Davis, ESPN on-air talent; Peter Newmann, ESPN researcher; Nick Loucks, ESPN researcher; Howie Schwab, ESPN sports guru; Dan Steir, ESPN college basketball coordinating producer; Andy Glockner, ESPN.com men's basketball editor.
For a look at each individual expert's rankings, please click here.
Without further ado, here's our Top 10 (with last year's record in parentheses). To read about teams 11-25, please click here.
1. Duke (27-6) (12 first-place votes)
Summer update: Josh McRoberts apparently is the real deal. His teammates are raving about his abilities around the ball. He could be the national freshman of the year if he lives up to the hype.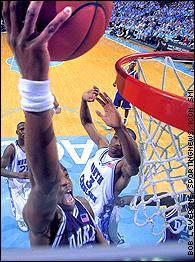 Williams' consistent play is one reason Duke is so deadly.
Identity: This squad will run, score from the perimeter and pour it on in the post. Sure, there are issues on creating shots, but producing offense shouldn't be a problem.
Go-to guy: It's J.J. Redick from the outside for a trey and Shelden Williams inside for a deuce and one.
Glue guy: Lee Melchionni. He's not an intimidating player but he started to hit key shots last season and could be a difference-maker during a run.
Our concern: Solving the point guard situation. Redick says Sean Dockery won't disappoint. But he might have to share the spot with highly-touted frosh Greg Paulus.
Schedule matters: Duke will get tested in the Preseason NIT -- possibly against UCLA, Memphis and/or Alabama. The true road game at Indiana is a gem, but the best get is playing Texas at the Meadowlands. Bringing Bucknell down in January is another shrewd anticipation of a possible first-round opponent. The in-season road game at Georgetown starts off a five-of-seven-away-from-Cameron stretch that will push the Devils.
Jay Bilas' take: This Duke team has the chops (and the depth) to win it all. Over the years, Mike Krzyzewski's best teams have been those that have received great leadership from his seniors. With J.J. Redick (reigning ACC player of the year and league leader in scoring and FT percentage) and Shelden Williams (league leader in rebounding and blocked shots while shooting 58 percent), Krzyzewski has arguably the best and most experienced inside-outside tandem in the country.

Williams is one of the most efficient big men in the nation and Redick is a heartbreaker. You can put your best defender on him, hound him all over the floor, and he still manages to get up his shots and knock them down. He has improved his stamina, and can run you off of screens all night long. Duke has never had a player stretch defenses out as far as Redick can.

Beyond the big two, seniors Sean Dockery and Lee Melchionni have experience, but Duke also has a stellar freshman class that will see significant action. The headliners are Josh McRoberts, a long-armed lefty who can really rebound and pass, and Greg Paulus, an outstanding leader from the point who exudes a swagger on the floor. Fellow freshmen Jamal Boykin (strong wing athlete), Martynas Pocius (athletic shooter) and Eric Boateng (big body) will make noise as well.

Krzyzewski will be able to play more players and get out on the floor and pressure the ball more than he did last year. Duke will have experience, versatility and quality depth, which spells a legitimate chance to march to the Final Four.
2. Texas (20-11) (1 first-place vote)
Summer update: The Longhorns lost incoming freshman C.J. Miles to the Utah Jazz when he decided to stay in the NBA. But the good news was P.J. Tucker getting cleared academically and center LaMarcus Aldridge returning after hip surgery.

Identity: The Longhorns will be part flash (Daniel Gibson) and plenty of grind (Tucker and Aldridge). So, they should look to run but will also play it safe and go to their strengths.

Go-to guy: Gibson is a productive playmaker but Tucker could end up being the go-to guy by season's end. He's a strong man inside and has the soft hands to finish. Gibson will make decisive plays but the Longhorns might be more likely to call Tucker's number when the game is close.

Glue guy: Brad Buckman can be a difference-maker. He's becoming a solid outside shooter and getting tougher in the post. Buckman is a veteran player in the Big 12 and won't back down from a challenge. Look for him to make big buckets this season.

Our concern: Outside shooting. The Longhorns will miss Miles' shooting touch. The hope is that A.J. Abrams and J.D. Lewis can light up the twine a few times. Buckman and Gibson will be called on to shoot from the perimeter often.

Schedule matters: Texas didn't shy away from anyone this season. The Longhorns play Duke at the Meadowlands, Villanova and Tennessee at home and at Memphis. All of these games should help Texas in its quest for a possible No. 1 seed.
Fran Fraschilla's take: While everyone is talking up point guard Daniel Gibson after his sensational freshman year, Rick Barnes is raving about the development of his classmate, 6-11 center LaMarcus Aldridge.

He returns beefier and healthier after hip surgery curtailed the second half of his rookie year and he should be a dominant force in the Big 12. Tucker returns after overcoming academic issues. He and fellow bruisers Brad Buckman and Mike Williams will the provide the Longhorns with typical Barnes-inspired toughness.

If freshman A.J. Abrams can keep defenses honest from the perimeter, these guys could be Final Four-bound.
3. Villanova (24-8) (2 first-place votes)
Summer update: Offseason surgeries for Curtis Sumpter and Jason Fraser went well. Both are expected to make a full recovery and be ready to go when the season starts. Guards Randy Foye and Allan Ray were solid contributors on their respective USA Basketball teams.

Identity: The Wildcats will be guard-oriented and will look to run and score from anywhere on the perimeter or up the gut in the lane. The strength of the perimeter -- Ray, Foye, Mike Nardi, Kyle Lowry and even Sumpter when he's roaming the perimeter -- is as strong a backcourt as any in the country.

Go-to guy: This is a tough call, since Sumpter has the ability to light up a team, but we're going to go with the guards and lean more toward Ray. He was one of the most prolific scorers on the U-21 team and ended the summer as, perhaps, the most feared shooting guard in the country.

Glue guy: Nardi doesn't get the love that Foye and Allen receive but he still has the ball in his hands. He has to bring the ball upcourt and ensure that Foye and Allen get their touches. He has a bit of toughness to him that will go a long way toward helping Villanova reach the Final Four.

Schedule matters: Jay Wright didn't back down from anyone. 'Nova is playing the two Big 12 favorites (Texas on the road and Oklahoma at home). The Wildcats also have the annual Philadelphia Big 5 games (Temple, Saint Joseph's La Salle and Penn), which for those who don't know might as well be big-time-made-for-TV matchups. If that's not enough, the Wildcats are going to Bucknell, the Patriot League giant killer that stomped out Kansas in the first round of the NCAAs last season and returns intact.
Doug Gottlieb's take: Backcourts win in college basketball and Randy Foye and Allen Ray might just be the best one-two combination in the Big East. If you add in the highly underrated Mike Nardi, it is easy to see why many people have this team going deep in the Tournament. Their season might hinge on the health of Curtis Sumpter and Jason Frazier, both of whom had offseason knee surgery. If all five starters are healthy, this is a perfectly comprised roster ... and Nova might just win the whole thing. Look for an early season tilt against Oklahoma as a test of the Wildcats' interior toughness.
4. Connecticut (23-8)
Summer update: Marcus Williams and A.J. Price dominated the offseason with their arrests for their roles in the thefts of laptop computers on campus. The university still hasn't officially ruled on their punishment. Connecticut coach Jim Calhoun suspended the pair indefinitely and neither will be allowed to practice for the foreseeable future. The players have been told by the staff that Williams is gone until at least January and Price, who still hasn't been cleared medically, is out for the year.

Identity: Even without Williams, this team still will mirror a classic UConn edition. The Huskies have the inside-out production of Rudy Gay, Rashad Anderson and Denham Brown from the perimeter and Josh Boone and Hilton Armstrong in the post. Gay is the superstar who always seems to come through Storrs. The Huskies do like to push the ball, and regardless of the point guard controversy, look for them to get out on the break as much as possible.

Go-to guy: Gay. He's too talented to be ignored. Gay still is learning how to be assertive. Once he does, the Huskies will have one of the most prolific scorers in the country. He can put the ball in essentially from any spot on the court.

Glue guy: Anderson. He's becoming a mentor of sorts for the young freshmen. He battled a life-threatening infection last season, so his mental toughness is unmatched. Anderson accepts his fluctuating role, which largely depends on his shooting touch.

Our concern: The point. For the foreseeable future, it will be in the hands of late additions Robert Garrison and Craig Austrie. If the lightly recruited pair can handle the heat and still lead this team, the Huskies can win the national title.

Schedule matters: UConn never ducks the competition (at least in November and January). December is usually light and almost always at home. The Huskies open the season at Pepperdine and then against Arkansas in the EA Sports Maui Invitational. They could come home after that Thanksgiving tournament with a pair of losses given the two new points. A January game against LSU and a February date at Indiana are more than enough to help the overloaded power rating.
Jay Bilas' take:The Huskies were the Big East's most dominant rebounding and shot-blocking team, and will be again in 2006. The difference between very good and potentially great will be the play of Rudy Gay, arguably the most talented player in the country, and the play of productive junior in Josh Boone.

UConn has a collection of long-armed athletes who can challenge every shot and limit you to one shot per possession, but Gay and Boone make the Huskies special. Gay has the chance to be truly elite. He averaged almost 12 points and 6 rebounds as a freshman and is very athletic and very skilled. He only needs to be more aggressive in looking for his own opportunities. Once Gay chooses to be dominant without deferring, he will take off and the Huskies will take off with him. Boone had a brilliant start to last year, and can score off of the glass or with his back to the basket. Without Charlie Villanueva, big forward Hilton Armstrong will have to be more productive. Armstrong is a talented player who is coming on and his best days are ahead of him.

While the frontcourt is deep and more than solid, UConn also has one of the very best point guards in the nation. Marcus Williams really blossomed last season. He is strong, efficient and plays with great pace. A very reliable ballhandler and trustworthy passer, Williams can play extended minutes without tiring. With his early suspension, incoming freshmen forwards Jeff Adrien and Marcus Johnson will have to carry more of the load early on. Johnson is an improving shooter and a top-flight athlete who can get to the rim and rebounds very well. Adrien is a fighter who will fit into most any lineup by doing the little things and the dirty work. He is a winner.
5. Michigan State (26-7)
Summer update: Paul Davis stayed home and worked on his body as well as his game. The decision by Tom Izzo to stay put instead of toying around with a possible NBA gig was obviously the biggest news of the spring/summer.

Identity: The Spartans ran as well as any team last season, especially with Shannon Brown finishing on the break. Sure, Michigan State is a tough defensive team that loves to bump and grind, but the Spartans love their flash, too. This team can win in a variety of ways.

Go-to guy: This is a tough call since Davis, Brown and Maurice Ager are all worthy, but the early nod goes to Davis. He wants to be the BMOC this season and if he demands the ball, it will come to him in the post and in the middle of the lane. Davis has the ability to be a 20-and-10 player.

Glue guy: Drew Naymick. He's going to be called upon as a role player upfront. He doesn't ever appear to complain about his minutes, but he's a hard worker who wants to contribute. Michigan State has had a history of these types of players under Izzo.

Our concern: Perimeter shooting is always a bit of an issue with these guys since Mo Pete split. Ensuring that Drew Neitzel plays under control is also paramount. This is his team at the point now that Chris Hill finished his eligibility.

Schedule matters: The Spartans open the season at Hawaii and then enter the Maui Invitational as the top seed. But a potential matchup with either Gonzaga or Maryland awaits them after Chaminade and then a third tough game follows. That's hardly the only tough part of the schedule. Michigan State drew a rebuilding but still gritty Georgia Tech in the ACC-Big Ten Challenge and then opted for Boston College in the Jimmy V Classic at MSG. Playing at Wisconsin-Green Bay in late December is a dangerous game, too.
Fran Fraschilla's take: The Spartans return four starters from last year's Final Four participant. In Shannon Brown and Maurice Ager, they have better wings than Kentucky Fried Chicken. Both are explosive, physical players who can get to the rim. Center Paul Davis must pick up where he left off at the end of his junior year. Sophomore point guard Drew Nietzel doesn't have to look over his shoulder this season -- it's his team now. Two concerns are inside depth and perimeter shooting. If those are addressed, Tom Izzo has another Final Four contender.
6. Oklahoma (25-8)
Summer update: Kevin Bookout had surgery on his right elbow. He's expected to be cleared soon for full contact. Taj Gray had a solid summer with the USA U-21 team, asserting himself as a viable Big 12 player of the year candidate.

Identity: Kelvin Sampson's teams are always grind-it-out, but this squad could be more of an open-court team. Terrell Everett could get this group going and so, too, could the sleeper in the bunch -- guard Nate Carter, the UC Riverside transfer. The Sooners are wild about his abilities. Gray can run the floor and finish better than most in the Big 12.

Go-to guy: This is still to be determined. But if we believe what is coming out of Norman, it might be Carter. Sampson can't say enough good things about his work ethic and attitude. Gray will get plenty of looks but might not be the one who gets the last shot.

Glue guy: Bookout. He will do anything Sampson asks and more. Bookout is a solid contributor in all aspects of the game. He's a perfect locker-room complement as well. Don't sleep on Kellen Sampson's contributions, either. The coach's son isn't on the squad just for show. He'll help this team mature throughout the season.

Our concern: Perimeter shooting could be an issue. The Sooners must have a diversified perimeter game to ensure a Final Four berth.

Schedule matters: The Sooners knew they were going to be top-10 good that's why they didn't beg off playing top competition. Oklahoma plays at Villanova, against West Virginia in Oklahoma City and hosts Alabama. Those are three potential top-10 games, providing plenty of tests before the rugged Big 12.
Doug Gottlieb's take: The Sooners should be the real deal. Kevin Bookout is a load, Taj Gray can really score. Terrell Everett is a big, solid mid-range shooter of a point guard. With the transfer defections of Lawrence McKenzie (Minnesota) and Drew Lavender (Xavier), incoming transfers Michael Neal (JC) and Nate Carter (UC Riverside) should step in and must shoot the ball well for this team to reach its potential. Games at Villanova, in Oklahoma City versus West Virginia, and home to Alabama and Oral Roberts are solid early season tests. The game at Texas on March 5th might be for the Big 12 championship.
7. Gonzaga (26-5)
Summer update: Adam Morrison sat out the summer USA Basketball scene to stay in school and work on his game. Pierre Marie Altidor-Cespedes played for Canada in the U-21 competition in Argentina, getting much-needed reps at the point.

Identity: The Bulldogs will be ballers yet again. They will look to run under Derek Raivio's direction, find Morrison anywhere on the floor and hope that J.P. Batista can be a beast in the paint. This team will once again be much more offensively oriented, with the ability to outscore any opponent. The Bulldogs will be more athletic on the wing with Jeremy Pargo backing up Erroll Knight or at times playing along side him. Few says JC transfer forward Mamery Diallo has to be a factor off the bench, too.

Go-to guy: Morrison. He has all the tools to be a potential player of the year. He can make 3s, the mid-range floater, the drive to the hoop and the offensive putback. If he can play some defense, Morrison will have the whole package.

Glue guy: Sean Mallon. He doesn't look like he's a player but he can finish, contest shots and is an overall key cog in the Zags' quest for that elusive Final Four berth.

Our concern: Defense. The Zags can score, but will they stop the big boys when necessary in March? They tend not to have as much of a problem in December but the D has to hold up in the Tournament for the Zags to live up to the top-10 billing and make a serious run at Indy.

Schedule matters: Few is billing this schedule as one of the toughest since he took over the squad from Dan Monson in 1999. It's hard to argue with him. Gonzaga plays Maryland in the Maui Invitational and then possibly Michigan State before a tough third game. A road game at Washington will be one of the toughest on the slate and Washington State isn't a pushover. The Bulldogs also face Oklahoma State in Seattle, host Virginia and Saint Joseph's and travel to Saint Louis and Memphis. And then, in the midst of the WCC season, the Bulldogs host Stanford.
Jay Bilas' take: With four starters back and a solid bench, the 2006 Zags have the personnel and ability to challenge for a spot in the Final Four.

In Adam Morrison, Mark Few has one of the most versatile and truly skilled forwards in the country. Morrison averaged 19 points and almost 6 rebounds per game, all while playing with Ronny Turiaf. Morrison simply has the ability to make shots, and he can make tough shots under duress and still shoot a high percentage. He can be placed in any position on the floor to create matchup problems, and will be among a handful of the very best offensive players in the country this year.

Derek Raivio will again run the point, and is a thin, ultra-quick scorer who can get out in transition. Raivio averaged 13 points, nearly 5 assists and 2 steals per game last year, and buried over 90 percent of his free throws. Inside, the Zags will go to J.P. Batista, who is a beast on the low block. With big-game capabilities, Batista shoots over 60 percent from the field and requires double teams in the post.

When faced with a scorer who must be locked down, Few can look to WCC defender of the year Errol Knight to use his athleticism and will. WCC All-Freshman selection David Pendergraft and skilled frontcourt performer Sean Mallon return as well.

Gonzaga will have to make up for the loss of Turiaf's energy and his nearly 10 rebounds and 3 blocks per game. More important, the Zags will have to supplement their undeniable skill level with an equal level of mental and physical toughness. The Zags are tough, but must show an even greater level of toughness to get to the next level of success.
8. Arizona (30-7)
Summer update: Guard Jawann McClellan was ruled ineligible for the fall semester. He should be back by the Utah game on Dec. 17 if he does the necessary course work. Guard Chris Rodgers had a knee sprain that limited his preseason conditioning but he should be good to go when the season starts in Hawaii.

Identity: The Wildcats went inside often to Channing Frye last season while Salim Stoudamire won games with his prolific 3-point shooting. This squad will be more balanced but will look to the transition game more than a year ago. There isn't a dominant scorer either on the perimeter or in the post, so you'll see a much more spread-out offense that looks for each person on the floor to score.

Go-to guy: Hassan Adams. He's not a traditional go-to player since he can play any of four positions, but he's the one player they'll look to when they need a shot. He needs to deepen his range, but if the shot is inside the 3-point arc or someone has to get to the basket, Adams won't hesitate.

Glue guy: Rodgers. This role has grown on him. He was more of a "me guy" early in his career, but has really settled into his role as a contributor in various spurts. He'll be called upon for major minutes this season. Isaiah Fox, a rugged post player who needs to stay healthy and work the boards, also is in this category.

Our concern: Point guard Mustafa Shakur was highly hyped out of high school but hasn't been a dominant player at the position. He needs to be more vocal and assertive this season. If he can latch onto that role and make this his team, the Wildcats have a shot to go deep into March. We're projecting them as top 10 with the assumption that McClellan is back for the Pac-10 season and associate head coach Jim Rosborough is right that center Kirk Walters will be a potential double-double performer on occasion.

Schedule matters: Head coach Lute Olson rarely downgrades the schedule, so why start now? Arizona opens with Kansas in the Maui Invitational, followed by Connecticut or Arkansas and a rugged game three. Games against Virginia, at Houston, versus Saint Mary's and at Utah will all be strong challenges. The schedule isn't as brutal as it has been in the past but this is still potentially dicey, especially the road game at Houston.
Fran Fraschilla's take: It's hard to imagine an Arizona team that could be better after losing eight years of experience in Channing Frye and Salim Stoudemire to the NBA. But Lute Olson doesn't rebuild, he reloads. While there isn't the array of proven stars in Tucson that we are normally used to, it is a deep team.

Senior Hassan Adams is the go-to guy who attacks the rim with ferocity. Mustapha Shakur must become more consistant at the point, Chris Rogers must overcome injuries and Jawann McCllelan must clear up some academic issues. Freshman Marcus Williams has a Miles Simon-like game and could step up big.
9. Louisville (33-5)
Summer update: The Cardinals had a rough go with injuries to David Padgett (foot) and Juan Palacios (foot). Padgett will be back in December while Palacios could be in practice sometime this month. Padgett sat out last season after transferring from Kansas and was expected to be a major contributor this season.

Identity: The Final Four Cardinals of a year ago were one of the toughest squads in the country. But Francisco Garcia, Otis George and Ellis Myles are all gone, so this squad has to find its new identity. We still don't know what that will be since this squad is so young, albeit very talented.

Go-to guy: Taquan Dean makes money shots for the Cardinals and that should continue. He has been hobbled by various ailments throughout his career but always is still standing. Dean will be the unquestioned leader on this squad and won't hesitate to take the late shot.

Glue guy: Larry O'Bannon was the perfect glue guy a year ago. We're going with Brandon Jenkins this time around. He'll play a key role in the backcourt this season, helping Dean and Andre McGee go against pressure and cause some of their own.

Our concern: When healthy, there is oodles of talent on this squad. The defense should be strong again, but inexperience does run rampant in the frontcourt. The Cardinals will be a constant work in progress; if they mesh by midseason, this ranking will be justified.

Schedule matters: Rick Pitino knew he had a young team, but didn't have a clue that injuries would crush the team this early. That's why he lucked out that the Cardinals are playing a light load for the first month of the season. The only bumps will be at Kentucky on Dec. 17 and then possibly at Miami on New Year's Eve.
Doug Gottlieb's take: Rick Pitino has his next great player. Freshman Bryan Harvey does everything well and does it with ease. Expect Taquan Dean to lead this youthful former Final Four team. Pitino must understand the difficulty of the new Big East because the Cardinals' schedule (at Miami and at Kentucky the only nonconference games of note) is softer than usual.

Juan Palacios and David Padgett both have been banged up in the preseason and they need to be productive offensively for the Cards to truly succeed. Four of their first six Big East games are at home and the other two are at Providence and St. John's, so expect a quick start in league play.
10. Boston College (25-5)
Summer update: Shot-blocker Sean Williams is at the University of Houston this semester trying to get eligible so he can transfer back to BC. He was suspended for the first semester for a marijuana possession charge. If he does make it, the Eagles have their difference-maker back on the court for the ACC.

Identity: The Eagles will once again be a grind-it-out team with the focus being getting the ball into Craig Smith and/or Jared Dudley, who can post up small forwards and big guards.

Go-to guy: Smith. They don't call him the Cookie Monster because he likes desserts. He eats up the touches and finishes them off with lay-ins and dunks.

Glue guy: We're going to take a leap here and say it's Louis Hinnant. He has become much more of a leader the past two seasons. He's not flashy but he's a solid point guard who will get the ball inside and around the perimeter as well as come up with a defensive stop or two.

Our concern: Depth is a major issue. Akida McLain has to be the fifth starter and behind him, even if Williams is back in January, is a problem. Freshman Evan Neisler must play a role. Getting something out of sophomore John Oates would be nice, too.

Schedule matters: The Eagles scheduled up by agreeing to play in the Jimmy V Classic against Michigan State at Madison Square Garden. The rest of the slate is winnable with UMass, at Rhode Island and at Holy Cross as the only other "name" schools on the docket, so the Eagles shouldn't have an excuse if they have more than two losses heading into ACC play.
Jay Bilas' take: Boston College will not scare you in warmups, but once the game starts, the Eagles outfight you for every rebound and loose ball, keep mistakes to a minimum and methodically grind it out and beat you at the free throw line.

For years, Al Skinner has found diamonds in the rough on the recruiting trail, and he has a couple of gems in Craig Smith and Jared Dudley. Overshadowed and overweight in high school in California, Smith has become one of the toughest and most productive post players in the nation.

Only 6-7, Smith bulls his way to over 18 points and 8.5 rebounds on over 50 percent shooting, creates space for offensive board work and lives at the free-throw line. Beside him is the energetic Dudley, another prize recruit who was otherwise ignored out of high school. Dudley is a versatile, productive, an outstanding offensive rebounder and is excellent along the baseline. Dudley followed up a terrific freshman campaign by averaging 16.5 points, 7.5 rebounds, 3.1 assists and 1.6 steals from the small forward position.

Louis Hinnant runs the point for Skinner, and he makes good decisions and finds people in BC's flex offense. He averaged nearly five assists last season, and had a 2.35-to-1 assist/turnover ratio. Sean Marshall has the shooting range to really stretch a defense, and allow Smith and Dudley to operate inside. Sophomore shot-blocker Sean Williams, assuming he returns after the first semester, will allow Smith to stay out of foul trouble and Dudley to roam for steals and be disruptive. With Williams' ability to erase and change shots, Boston College can take some chances on defense.
To see teams 11-25, please click here.
SPONSORED HEADLINES
MORE MEN'S COLLEGE BASKETBALL HEADLINES
MOST SENT STORIES ON ESPN.COM
EDITORS' PICKS
Some rivalry games should never be altered, and some that have gone away need to return.
Four Corners »

Who are the best 68 teams in college hoops?
Bilas

Is it time to worry about Kansas freshman Kelly Oubre?
Daily Word »