Source: Indiana's Davis to step down after season
Updated:
February 16, 2006, 1:10 PM ET
ESPN.com news services
Indiana coach Mike Davis told his team in the locker room after Wednesday night's loss at Penn State that he will resign as head coach effective at the end of the season, a member of the staff told ESPN.com's Andy Katz late Wednesday night.
The university scheduled a 3:30 ET news conference Thursday to discuss Davis' status.
Davis was direct when he talked to the players, telling them that he had enough of the stress and pressure that had been placed on his family. The source said the players were upset over the loss and didn't react any differently to Davis' news, almost sensing that it was a foregone conclusion.
Davis told ESPN.com earlier in the week in two different conversations that he wouldn't resign before the end of the season. But the source said Davis changed his mind in the last 48 hours after reflecting on the growing speculation over his job status.
A source close to Davis told ESPN.com's Pat Forde that Davis worked out terms of a buyout with school president Adam Herbert this week.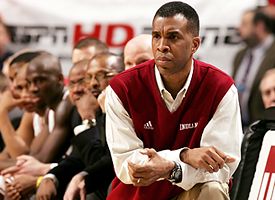 Jonathan Daniel/Getty Images Davis' Hoosiers got off to a fast start this year, but the team has struggled in recent weeks.
"A lot of people have said this before," Indiana athletic director Rick Greenspan told Katz on Wednesday when asked about reports of Davis' departure after the season.
After Penn State beat the Hoosiers 71-68 on Wednesday night, the embattled Davis sidestepped questions about his future in the postgame news conference.
"I'm not answering anything about my job," Davis said in a low, raspy voice after a reporter asked him about reports he would resign.
The attention was squarely on Davis in his first game back on the bench after missing a game with flu-like symptoms amid rampant speculation about his job security. Indiana (13-9, 5-6) fell out of the Top 25 this week for the first time this season.
The slide has caused unrest among a vocal contingent of Hoosier fans calling for Davis' ouster.
Roderick Wilmont said Davis didn't address the speculation to the team in the locker room, and the rumors about the coach's job weren't a distraction for the Hoosiers.
"I don't know. I don't know what's going on," Wilmont said on his way out of the Bryce Jordan Center. "I'm here to play."
Davis, who is in his sixth season since replacing Bob Knight, coached Indiana to the NCAA title game in 2002.
Before the game, Davis sat in a chair in a hallway leading to the court and in front of the media room for at least 20 minutes.
In a low voice, he declined to answer questions about the recent drama over his coaching status.
He spent a lot of the first half of the Penn State game on the bench with his hand on his chin, but was pacing the sidelines and was more animated after halftime.
When asked Monday by reporters to explain why Indiana fans have been reluctant to fully embrace him, the coach suggested it was because he wasn't a graduate of the school.
Davis then tried to quiet speculation on Tuesday by saying he had no plans to quit this season. He also said that his job status had become too big a distraction as the Hoosiers prepare for the final weeks of the regular season.
It doesn't get easier for Indiana, which is at Illinois (No. 13 ESPN/USA Today; No. 14 AP) on Sunday.
Davis said he wasn't concerned about the job speculation and was focusing on his squad.
"These guys are going to be fine," he said. "They are hurting in the locker room because we lost the game. But I'm glad to see them hurt. I'm glad to see them show some emotion. … I see a lot of positives out of it."
Information from The Associated Press was used in this report.
SPONSORED HEADLINES
MORE MEN'S COLLEGE BASKETBALL HEADLINES
MOST SENT STORIES ON ESPN.COM
EDITORS' PICKS
Was the Big 12 the best conference?
Medcalf »

The new-look ACC didn't meet expectations.
Brown »

With Martin out, Tennessee got its wish.
O'Neil »