Rambling men could be dancing come March
Originally Published:
July 20, 2006
By
Jeff Shelman
| Special to ESPN.com
The one and only
This installment of ESPN.com's Summer Session begins with a one-question pop quiz: Which is the only school in the state of Illinois that has won the NCAA men's basketball championship?
In some ways, it's a trick question. It isn't Illinois, though the Illini have played in five Final Fours and lost in the 2005 national championship game. It isn't a DePaul program that was among the nation's elite under former coach Ray Meyer. And while Bradley's history is rich -- the Braves played for the national title in both 1950 and '54 and won the NIT back when it meant something -- it also doesn't have a title.
The answer? Loyola University, the Jesuit school located blocks off of Lake Michigan on Chicago's north side. It was 1963 when George Ireland coached the Ramblers to an overtime victory over Cincinnati to take the crown.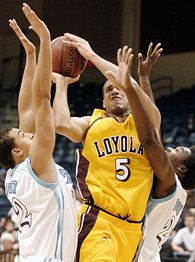 AP Photo/Denis PoroyBlake Schilb and Loyola could force their way to the top of the Horizon.
Didn't know? Don't feel bad. Blake Schilb didn't know the answer until he got on campus to play basketball for the Ramblers.
"I really didn't know much about Loyola, I was so close to the U of I," Schilb said.
There was a time in the 1960s when Loyola was a regular in what was a much smaller NCAA tournament. After winning that '63 title, the Ramblers were back in the field three more times in the next five seasons. Since then, however, Loyola has been largely a non-factor on a national level. The only exception to that came in 1985, when Loyola reached the NCAA tournament and won a pair of games before losing to Georgetown.
This summer, however, there is more than just hope. There are reasons for full-fledged optimism at Loyola. Because in addition to having the Horizon League's top player in Schilb -- a 6-foot-7 point guard who entered his name in the NBA draft before deciding to return for his senior season -- third-year coach Jim Whitesell has his four top scorers returning -- and a bit of good timing, too.
Timing? Well, let's just say parity hasn't been a trait of the Horizon League. Over the past 10 years, Butler, Wisconsin-Milwaukee and Illinois-Chicago have combined to win nine titles. While the Flames return two members of last season's All-Newcomer team in Othyus Jeffers and Josh Mayo, both Milwaukee and Butler suffered significant graduation losses.
Because of that, Loyola, Wisconsin-Green Bay, Detroit and UIC can enter this season with legitimate hopes of becoming the next Horizon League team to make an NCAA Tournament run. Of those four, however, the Ramblers have gone the longest without reaching the Tournament.
"It would be a wonderful shot in the arm," Whitesell acknowledges.
If that occurs, Schilb certainly will be much of the reason why. An honorable mention All-America selection last season by the Associated Press, Schilb is an intriguing mid-major player and NBA prospect. There are few places in college basketball where a player listed at 6-7 plays almost exclusively point guard. Sure, there are some guys that size who might play point for a few minutes a half or in transition, but they usually spend the majority of their time on the wing. Not Schilb.
"He's very versatile," Whitesell said. "He can score, he can handle the ball, he can rebound and we can post him up. And he's much improved in knowing how to run a team than he was a year ago."
That combination of size, handle and athleticism is much of the reason why Schilb almost didn't return for his senior season. Schilb's initial decision to enter the draft was as much a fact-finding mission as anything. Just how did he stack up against the name guys from the power conferences? And what did he have to work on?
Apparently, Schilb measured up quite well, because while he was encouraged to return to school, Schilb was happy with how he played and what he heard from the NBA types.
"They liked how I played and they liked my unselfishness," said Schilb, who wants to work on his foot speed and his ability to play off the ball in the next year.
That combination of athleticism and size makes Schilb difficult to defend in the Horizon League. Last season he averaged 19.1 points per game and scored 20 or more points in 12 conference games as the Ramblers went 8-8 in league play. Loyola also won 10 of its final 15 games last season while finishing 19-11 overall.
Schilb isn't, however, a one-man show. Part of the reason for optimism for the Ramblers is experience. Three other players -- senior Majak Kou and sophomores J.R. Blount and Leon Young -- averaged at least 10 points per game last season. Returners Brandon Woods, Kye Pattrick and Tom Levin also each started at least 10 games last season.
"I think we have the potential to be great," Schilb said.
For that to happen, the Ramblers are going to have to make the adjustment to being a team that is pursued by others. In recent years, nobody called a game with Loyola a big game. That will change this season.
"We got a taste of that last season," said Whitesell, who wants his team to become better defensively and on the boards this season. "We were 7-2 or 8-2 and all of a sudden guys didn't play with the same intensity. The next thing you know, we're 1-3 in the league. The thing Milwaukee has done and Butler is done is that they didn't let up. That's what we have to do."
If that happens, the Ramblers finally might return to the NCAA Tournament.
Summer indicators
Good signs:
After two seasons of uncertainty, Wright State no longer has to answer questions about who its coach is going to be.
The Raiders became casualties of NCAA rules violations at Ohio State because they had hired former Buckeyes assistant Paul Biancardi. Wright State officials, however, waited until the NCAA completed its investigation of Ohio State before making a coaching change. While that certainly protected the school if Biancardi had been cleared of wrongdoing, it also led to uncertainty. While Biancardi was well-liked, he resigned in the spring after the NCAA barred him from recruiting because of violations he committed at Ohio State.
At first glance, it appears as if Wright State overachieved when it hired former NC Wilmington coach Brad Brownell. Instead of hiring a hot-shot assistant, the Raiders got a head coach who has taken a team to the NCAA tournament. Last season, Brownell led the Seahawks to a 25-8 record and a near upset of George Washington in the first round of the NCAAs.
Red flag: Wisconsin-Milwaukee's recent run has been extremely impressive. First was the 2005 run to the Sweet 16 of the NCAA tournament. Then under first-year coach Rob Jeter, the Panthers again reached the NCAA tournament and again sprung a first-round upset.
But as the 2006-07 school year begins, no Horizon League team has as many holes to fill as Milwaukee. In addition to losing forward Joah Tucker, the Panthers also have to replace Boo Davis, Adrian Tigert and Chris Hill. Those four combined to average 53.9 points and 21.1 rebounds per game.
Milwaukee's leading returning scorer? That would be junior guard Avery Smith. He played 14.1 minutes per game and averaged 4.7 points.
Safe bet: Just because the Ramblers have the best player in the Horizon League and will be considered one of the favorites, the race for the conference title will be a tight one. For those Loyola fans already ready to buy NCAA Tournament tickets, consider this: Wisconsin-Green Bay won both meetings with the Ramblers a year ago. In the second game, Tod Kowalczyk's team held Schilb to only 12 points on 4-for-12 shooting.
Worth watching: Coaches across the Horizon League talk about how the conference is much more balanced this season and that four or five teams have a legitimate chance to win the title. So will that translate into multiple NCAA tournament bids? While the Horizon hasn't gotten multiple teams in the tournament on an annual basis the way the Missouri Valley has, the league sent two teams (Butler and Milwaukee) in 2003 and three in 1998 (Butler, UIC and Detroit).
Things to watch
Butler
: While Horizon League player of the year
Brandon Polk
is gone, the Bulldogs do have two solid players to build around. Guard
A.J. Graves
averaged 13.4 points per game as sophomore while wing
Brandon Crone
played nearly 30 minutes per game and averaged 9.8 points per game. While Butler certainly has questions -- how it is going to rebound being one of the biggest ones -- the Bulldogs aren't necessarily destined for the Horizon League's second division.
Cleveland State: The occurrences at Cleveland State is exactly why coaches work so hard to get contracts guaranteed and push for large buyouts. While every administration wants a new coach to turn things around quickly, it needs to have at least a little bit of patience. Cleveland State, however, had no patience for Mike Garland. Despite coaching the Vikings for only three seasons, Garland resigned after going 10-18 last season. Three seasons is an extremely short tenure for a coach trying to rebuild a program from virtually nothing.
Detroit: The hope for the Titans is that this season features significantly less drama than last season's. Perry Watson's team dealt with a little bit of everything last season and certainly didn't have the lineup continuity it wanted. As a result, a Detroit team that was expected to challenge Milwaukee for the league title finished in a five-way tie for third place at 8-8. The good news for the Titans is that the extremely speedy Brandon Cotton returns for his senior season after averaging 17.5 points per game.
Illinois-Chicago: The Flames are an interesting team because in addition to returning a nucleus of Jeffers, Mayo and Jovan Stefanov, Jimmy Collins' team also gets a pair of Division I transfers eligible. Scott VanderMeer is a 6-11 center who started his career at Bowling Green and ranked fifth in the MAC in blocked shots as a freshman. Centers are notoriously slow to develop, so it will be interesting to see if he can be more of an inside force in his third season of college basketball. T.J. Gray is a Chicago Public League product who started at Western Illinois for two seasons. He's undersized, but UIC has had success with small, quick guards under Collins.
Loyola (Chi.): Count Jim Whitesell as one of those coaches who believes that certain players simply know how to win and it's a trait that's difficult to teach. A year ago, Whitesell brought in J.R. Blount, a guy who didn't lose a game in his final two seasons at Milwaukee Dominican High School. He'll be joined by Oshkosh (Wis.) West forward Andy Polka. Polka was named Wisconsin's Mr. Basketball after leading his team to a 26-0 record. Whitesell's other area he likes to recruit? Canada. Because of Majak Kou's experience at Loyola, the Ramblers were able to sign Marvell Waithe out of Toronto. Waithe played for the World team at the Hoop Summit game last spring.
Wisconsin-Green Bay: The last time the Phoenix reached the NCAA tournament was 1996. Now, Green Bay has a chance to be more than just a football town again. Green Bay returns every player of note from a year ago, including guard Ryan Evanochko (15.8 ppg) and forward Mike Schachtner (10.3 ppg as a freshman).
Wisconsin-Milwaukee: Remember this name: Paige Paulsen. He sat out last season after transferring from Northern Illinois and should be in the mix this season. The former South Dakota Mr. Basketball has spent a season learning the Milwaukee system and will supply maturity. Paulsen averaged 7.5 points and 3.7 rebounds as sophomore in 2005 and scored 19 points in an upset victory over DePaul.
Wright State: Brownell certainly has some parts to work with, as the Raiders are another team that returns almost everybody on the roster. Wright State will have a pair of senior guards in Dashaun Wood (17.9 ppg as a junior) and Tyrone Scott. Two double-figure scorers return in the frontcourt in Drew Burleson (12.5 ppg, 5.1 rpg) and Jordan Pleiman (10.5 ppg, 6.7 rpg.).
Youngstown State: The best news for the Penguins is simple: Quin Humphrey returns for his senior season. Last season, the 6-4 Humphrey became the first Horizon League player in more than a decade to lead the conference in both scoring and rebounding. Humphrey averaged 19.2 points and 8.3 rebounds.
Bracketology
Our resident Bracketologist Joe Lunardi buys into our Summer Session "ramblings." He agrees that Loyola-Chicago will represent the Horizon League in the 2007 NCAA Tournament.
Standings/Stats
* -- NCAA Tournament
Jeff Shelman of the Minneapolis Star Tribune (www.startribune.com) is a regular contributor to ESPN.com.
EDITORS' PICKS
It's time to start cheering for Kentucky.
O'Connor »

Arizona rallied late in the second half to beat Xavier.
Medcalf »

Wisconsin got one step closer to its goal of a national title.
Medcalf »
MORE MEN'S COLLEGE BASKETBALL HEADLINES
Nike Men's Butler Bulldogs Black #3 Replica Basketball Jersey Shop »

MOST SENT STORIES ON ESPN.COM