Northern Colorado gets some Big Sky exposure
Originally Published:
August 31, 2006
By
Ed Graney
| Special to ESPN.com
Northern Exposure
The good news for Tad Boyle is that he has traveled this road before, experiencing first-hand what it's like to exist in a college basketball program making the transition into Division I.
He knows where to look for potholes. He knows how difficult the journey is.
"It's kind of like in business," Boyle said. "It's like a start-up company, not a Fortune 500 company. You need to go recruit kids with the kind of gumption and self-confidence that they want to put your program on the map. You recruit to that personality trait as much as anything."
They are characteristics Boyle will need at Northern Colorado this season and in the foreseeable future. His challenge as the first-year head coach is to deliver the Bears away from their independent status and into the Big Sky Conference. In its final year of D-I reclassification, Northern Colorado has turned to a Greeley native to make the difference in a program that has gone 19-67 since announcing its intentions to elevate from Division II, including 5-24 last season (0-14 on the road).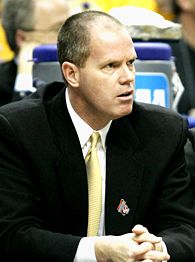 Haraz N. Ghanbari /AP PhotoTad Boyle, left, goes from the Sweet 16 at Wichita State to building the Bears.
Boyle might have led Greeley Central High to a state championship in 1981, been named captain at Kansas under Larry Brown, assisted at Oregon and Tennessee and spent the last six years as associate head coach at Wichita State, but it was as an assistant for two seasons at Jacksonville State in Alabama where he best learned about making the jump to Division I. At the time, the Gamecocks were experiencing a similar transition.
"I'll tell you what, there is nothing like it," Boyle said. "The one thing about the Jacksonville area is the tremendous amount of players within a three-to-four hour drive of the campus. That's not to say there aren't enough players in Colorado -- there are -- but it's really going to mean we have to do a great job evaluating kids. We have to find the ones with the X-factor, the ones who want to come because of where we are as a program and an immediate opportunity to make a difference."
You can't overstate the importance of selling a conference affiliation -- "Being an independent nowadays, I'm not sure how anyone does it," said Boyle -- and joining the Big Sky will give Northern Colorado players and fans the kind of standard schedule and potential for rivalries not available in recent years.
In attempting to fill out a 29-game schedule as an independent, the Bears have pretty much acted as practice fodder for Top 25 programs like Syracuse, Gonzaga, Cal, Oklahoma and Kansas. But the Big Sky guarantees them 16 league games and there are always matchups available against the other Division I teams in state (Colorado, Colorado State and Air Force). Things will still be rough in patches for such an unproven team -- road games this season include Purdue and Arizona State -- but not as taxing throughout.
"When I signed here, they had just begun the reclassification process," said senior guard Matt Kline, who averaged 6.3 points and 4.8 assists last season. "Joining a conference is not only the next obvious step, but it gives your program an identity. It gives your fans a reason to come to games and be involved. It puts us in the same category as everyone else.
"It has definitely been a roller-coaster ride, but I couldn't be happier with where the program is and where it is headed. When you step back and look at the whole picture, it's going to be nice to be known as one of the players responsible for moving the program into Division I."
There are construction blueprints standard for such a rebuilding project. Boyle's roster includes three seniors, four juniors, seven freshmen and no sophomores. The newly renovated Butler-Hancock Sports Pavilion now has chairback seating, a new scoreboard and sound system. There are plans for a new practice facility, lending credence to the notion that before others consider you legitimate, you first need to act accordingly.
"We have to do this with youth," Boyle said. "A lot of first-year coaches in these kinds of situations tend to go out and sign as many junior college players as they can. I'm not saying there is anything wrong with that, but I think when you're building a program like ours, you have to get as many high schools kids as you can so you can have consistency over the long haul. You have to lay the foundation with them and go forward, and by the time they're juniors and seniors, hope they're experienced enough to compete for a conference championship."
It is unique not only because it is his first college head coaching position, but that it comes at a place with which he is so intimately familiar. Boyle's high school number is retired and now he's back home hoping he has proven himself enough to succeed at what is arguably one of the toughest jobs in coaching at any level.
"It gives myself and my family a chance to be around those people we know best and to give back to a community that means so much to us," said Boyle, whose wife (Ann) is also from Greeley. "I saw what out Sweet 16 run this past season at Wichita State did to that entire community, how much pride the school and city as a whole took in it. To have something like that eventually happen here, to have a chance to play in the NCAA Tournament. … It would be pretty special."
The earliest that could happen is 2007-08, when all Northern Colorado teams are eligible for conference and NCAA championships.
First things first, though. Suggestion: Begin with winning a road game and take things from there.
Summer indicators
Good sign:
How can it be bad when you return the NCAA's leader in 3-point percentage? That's the enviable position Northern Arizona finds itself in as wing
Steve Sir
was granted a sixth season of eligibility. Sir missed the 2003 season with a sports hernia, transferred to NAU from San Diego State and was granted the sixth year based on a medical redshirt season. He played in all 32 games last year, averaging 11.1 points and shooting 48.9 percent on 3s. He is just one 3-pointer shy of qualifying for the NCAA career top 10 for players who have made at least 200 3s.
Red flag: Montana and NAU should again be among the league's best teams, but each lost senior guards who provided needed leadership to their programs. Montana tries returning to the NCAA Tournament without all-conference pick Kevin Criswell and his 16.1 scoring average, meaning someone needs to replace his grit and tenacity that went a long way in helping the Grizzlies win 24 games and beat Nevada in a first-round NCAA game. At NAU, four-year starter Kelly Golob is gone and now it falls to a collection of Sir, Tyrone Bazy, Josh Wilson and DeJuan Stevens to try and duplicate Golob's example.
Safe bet: Rodney Stuckey will get a ton of attention from opposing defenses. Last season, the Eastern Washington guard became the first freshman in conference history to win the league's MVP award. Stuckey led the Big Sky in scoring and finished eighth nationally with a 24.2 ppg average while also averaging 4.8 rebounds, 4.1 assists and 2.2 steals. His efforts included a 45-point outburst against NAU in Stuckey's first Big Sky game. A point guard last season, the 6-4 Stuckey is expected to move to his more natural shooting guard spot this year.
Worth watching: Of the nine conference teams, five have new head coaches this season. Several of them inherit overhauled rosters. The Big Sky took a major step forward last season in winning its first NCAA Tournament game since 1999, but what will all the new faces drawing Xs and Os mean to how the standings eventually shake out? The new coach with the most pressure might be longtime Montana assistant Wayne Tinkle. He takes over the program for Larry Krystkowiak (both rank among the best players in school history). All the Grizzlies did under Krystkowiak was advance to consecutive NCAA Tournaments and win a first-round game last year. He left to be an assistant with the Milwaukee Bucks.
What to watch
Eastern Washington:
The Eagles have the league's best player outside (
Rodney Stuckey
) but also a foursome inside that started a combined 73 games, with all averaging at least 16 minutes a game in a 15-15 season. Honorable mention all-league pick
Paul Butorac
(6-10),
Derek Risper
(6-8),
Jake Beitinger
(6-8) and
Kellen Williams
(6-5) give the frontcourt proven depth.
Idaho State: The Bengals lose the league's leading shot-blocker (Slim Millien) and inherit a new coach (Joe O'Brien) who went 313-117 in 21 seasons at the junior college level. Just one of three coaches to win three juco national titles, O'Brien has a good one back in senior guard David Schroeder (15.4 ppg, 4.6 rpg), granted a sixth year of eligibility by the NCAA.
Montana: Now perhaps in the mold or reloading rather than rebuilding for a team that led the conference in scoring (79.0), shooting (49.2 percent) and assists (18.23 pg) last season, the Grizzlies return all-conference forward Andrew Strait (16.6 ppg, 6.4 rpg) and welcome highly touted wing Gus Chase, ranked as one of the nation's top five juco forwards.
Montana State: New head coach Brad Huse (a former Bobcats assistant) isn't the only fresh face around the program. All-conference players Ja'Ron Jefferson, Al Beye and Marvin Moss are gone, along with sophomore guard Jacques Wilson (left team recently). It is a roster filled with new bodies for a team moving on without the retired Mick Durham, who coached Montana State for 16 seasons and won more Big Sky games than anyone in league history.
Northern Arizona: The Lumberjacks will be many's preseason pick to repeat as regular-season champion, given four starters return from a 21-11 team that advanced to the NIT. Leading the way is all-conference senior forward Ruben Boykin Jr., who averaged 13.3 points and 7.2 rebounds last year. His younger brother, Jamal, is a sophomore forward at Duke.
Northern Colorado: Arriving in the Big Sky Conference means doing so with a team comprised of six returnees (including four starters) and eight newcomers. Junior guard Sean Taibi made a school-record 84 3-pointers last season, including at least one in all 29 games, a first in school history. He also averaged a team-best 15.3 points.
Portland State: The Vikings hope to continue the momentum of winning four straight to end the regular-season before falling in the conference tournament. They return four starters from a 12-16 team, the first of coach Ken Bone, who arrived after going 253-97 at Division II Seattle Pacific. All returning starters averaged at least 9.3 points and Portland State led the conference in rebounding margin (4.0) and 3-point shooting (40.4 percent).
Sacramento State: The Hornets have a lot to replace, beginning with all-time Big Sky steals leader in guard DaShawn Freeman. He was far more than just a point guard, as much the heart and soul of the program as anyone the last four years. Also gone is wing Jason Harris, the league's newcomer of the year in 2004. There is an all-conference talent in senior forward Alex Bausley and a potential all-league pick in sophomore guard Loren Leath.
Weber State: Another new head coach (Randy Rahe) inherits a program that missed the conference tournament for just the second time in its history last season. What to do? Rahe, a former assistant at Utah and Utah State, has overhauled the roster to the point just two players who saw action in 2005-06 are returning. Eight new juco players arrive. St. John's transfer forward Melvin Tyler-Jones was thought a possible impact player, but Rahe recently dismissed him from the team.
Bracketology
Resident Bracketologist Joe Lunardi likes a Montant threepeat in the Big Sky. He has the Grizzlies penciled in as a No. 15 seed in his very early look at the 2007 NCAA Tournament.
Standings/Stats
* – NCAA Tournament
| | |
| --- | --- |
| Player (Team) | 2005-06 PPG |
| Rodney Stuckey (Eastern Washington) | 24.2 |
| Andrew Strait (Montana) | 16.6 |
| David Schroeder (Idaho State) | 15.4 |
| Alex Bausley (Sac State) | 12.3 |
| Ruben Boykin Jr. (NAU) | 12.2 |
Ed Graney is a columnist for the Las Vegas Review-Journal. He can be reached at egraney@reviewjournal.com.
SPONSORED HEADLINES
MORE MEN'S COLLEGE BASKETBALL HEADLINES
MOST SENT STORIES ON ESPN.COM
EDITORS' PICKS
Virginia's tough stretch starts with Duke.
Weekend Homework »

North Carolina, Louisville can't afford another ACC loss.
Medcalf »

Bruce Pearl's return to Tennessee should be a surreal event.
Low »