Duquesne picking up pieces as player clings to life
Updated:
September 19, 2006, 4:24 PM ET
By
Andy Katz
| ESPN.com
First-year Duquesne basketball coach Ron Everhart returned to his office late Monday night hoping to restore a sense of normalcy to a program rocked by a Sunday morning shooting that sent five players to hospitals and has left one clinging to life.
Profiles of Duquesne Players
Injured in Sunday Shooting
| | |
| --- | --- |
| | |
| | Ashaolu |
Sam Ashaolu, 23, 6-foot-7 power forward from Toronto
• Condition: Critical, a bullet shattered and separated into three sections of his head.
• Bio: Transfer from Lake Region State College in Devils Lake, N.D. ... Has two years of eligibility left ... Cousin of former NBA star Hakeem Olajuwon.
| | |
| --- | --- |
| | |
| | Baldonado |
Stuard Baldonado, 21, 6-foot-7 power forward from San Andres, Colombia.
• Condition: Fair, with left arm and back injuries. He was told by surgeons that a bullet missed his spinal column by one-quarter of an inch before lodging in a lower back muscle. The bullet was removed Tuesday.
• Bio: Was a junior college All-American at Miami Dade College ... Averaged nearly 19 points and 10 rebounds a game and was his conference's player of the year last season.
| | |
| --- | --- |
| | |
| | James |
Shawn James, 23, 6-foot-10 center from New York.
• Condition: Treated for a gunshot wound in the left foot and released.
• Bio: Considered to be first-year coach Ron Everhart's most heralded recruit ... Transfer from Northeastern University, where he played for Everhart for two years ... Must sit out this season under NCAA rules; will have two years of eligibility left ... Was the Colonial Athletic Association Defensive Player of the Year in 2005-06 after leading the nation in blocked shots (6.53 per game).
| | |
| --- | --- |
| | |
| | Mensah |
Kojo Mensah, 21, 6-foot-1 guard from New York.
• Condition: Good, with gunshot wounds to the arm and shoulder. He was released Tuesday after being hospitalized to receive injections of antibiotics.
• Bio: Averaged almost 17 points a game last year for Siena College ... Left the school but didn't get his release, so he's paying his own way to Duquesne because of the dispute ... Considered a Duquesne walk-on and thus ineligible for a scholarship until 2007-08 season. Will sit out the upcoming season; has two seasons of eligibility remaining ... Was a third-team All-Metro Atlantic Athletic Conference guard last season.
| | |
| --- | --- |
| | |
| | Jackson |
Aaron Jackson, 20, 6-foot-3 point guard from Hartford, Conn.
• Condition: Treated and released; a bullet grazed his hand.
• Bio: One of only two returning players from Duquesne's 3-24 team ... A freshman last season, averaged 6.8 points per game and was second on the team in assists, with 3.6 per game ... He started 21 of the Dukes' 27 games.
-- Sources: AP, Pittsburgh Post-Gazette

One night earlier, Everhart told members of his team who weren't hurt by gunfire to attend classes Monday, lift weights in the afternoon and play pick-up basketball so they could maintain some semblance of a routine.
Everhart's new routine? It involves anything but basketball.
The former Northeastern coach canceled all recruiting trips for himself and his coaching staff. He said he's not even thinking about practice, which begins Oct. 13. Preparing for his first season with the Dukes is the furthest thing from his mind.
"I don't know if I'm coming or going," Everhart told ESPN.com by phone Monday night. "I feel right now that we're in a crisis situation and I have to show strong support with our guys. That's the only thing that's important. That's the only way I can approach it.
"You can go to camps and clinics and no one talks about these types of things," Everhart said.
Five players were hit by bullets by an unidentified shooter or shooters that injured nearly half of the team's scholarship athletes -- a blow unparalleled in any NCAA Division I basketball program.
On Tuesday, two players remained hospitalized. Forward Sam Ashaolu, a 23-year-old transfer from Lake Region State College in North Dakota and a cousin of former Houston Rockets star Hakeem Olajuwon, was in critical condition, "fighting for his life."
According to sources, two bullets remain in Ashaolu's head -- one is intact, the other broken into two pieces -- and doctors are working to alleviate the swelling in his head. Any discussion about Ashaolu is met simply with, "We're all praying for him."
The news was good for Stuard Baldonado, 21, a 6-foot-7 forward and another junior college transfer. Baldonado, who was upgraded to fair condition with left arm and back injuries, was told by surgeons that a bullet missed his spinal column by one-eighth of an inch before lodging in a lower back muscle.
He had the bullet removed from his back on Tuesday and was said to be doing well.
Baldonado was able to stand on his own Monday and is expected to spend six to eight weeks recovering from his injuries. Those close to him have said the fact that the bullet, or any fragments of the bullet, missed his spinal canal is an "unbelievable" twist of fate.
Meanwhile, 21-year-old junior guard Kojo Mensah, whose transfer from Siena was a hot topic over the summer because Siena refused to release him from his scholarship, forcing him to pay his own way to Duquesne as a non-scholarship player, was released from Presbyterian Hospital Tuesday after sustaining gunshot wounds to his arm and shoulder.
Mensah returned to campus and walked into a team meeting Tuesday afternoon.
Aaron Jackson, 20, of Hartford, Conn., and Shawn James, 23, of New York City were treated and released. James was shot in the left foot, and a bullet grazed Jackson's hand.
Everhart is consumed by the conditions of those still hospitalized. Like all coaches, he understands he brought these players to campus, and such a responsibility can weigh on a coach when they encounter suffering. Everhart inherited only two returning players when he replaced Danny Nee in one of the biggest rebuilding jobs in Division I after the Dukes won 3 of 27 games last season. Everhart built an almost-full roster with transfers from junior colleges and four-year schools.
Everhart told ESPN.com that speculating on Baldonado's basketball future is irrelevant. He refuted an Associated Press report that claimed Baldonado was likely out for the season.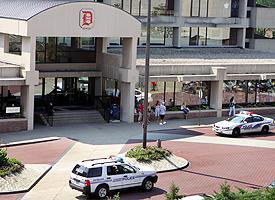 AP/Gene J. PuskarDuquesne police vehicles patrol the Pittsburgh campus in front of the student union, one day after five members of the men's basketball team were shot on campus.
"No decision has been made on that," Everhart said. "We're just thankful he's sitting up and moving around. [Basketball is] the last thing on our mind."
Everhart spent most of his Monday at Mercy Hospital with Ashaolu and Baldonado.
"We just need to get to a point where everyone is OK," said Everhart, unsure if this is possible in the immediate future because of Ashalou's condition. "I'm very concerned about the other guys on the team and how they're doing."
Duquesne was to hold a prayer vigil on campus Tuesday night for "our brothers on campus who were hurt."
Earlier Monday in a phone interview with ESPN.com, James said he believed the shooting was provoked by an incident over a girlfriend (later in the afternoon, Jackson gave his own account to AP).
James said he and his teammates were shot as they headed back to their dorms following an on-campus dance hosted by Duquesne's Black Student Union. James was hit in the foot but escaped by running across the nearby football field.
"It wasn't an argument," James said. "We were just coming from a party. This girl that everybody keeps talking about was just a female who liked someone on the basketball team. She was just casually talking to him.
"Her boyfriend called her over and they were arguing," James said as he gave his first-person account. "Then the guy started saying stuff to us. It was our whole team.
"We told him we had no time for this and as soon as we turned away, two guys started shooting. It was just some girl who didn't go to the school. She had her arms around one of [the players] and hugged up on his waist and the boyfriend saw that."
(The Pittsburgh Tribune-Review reported the woman, identified as Brittany Jones, 19, had brought several friends to the dance and one of the friends was her boyfriend, but ESPN was told by police that was not the case. Police arrested Jones on Monday, charging her with reckless endangerment, carrying a firearm without a license and criminal conspiracy.)
James said he didn't remember which player the woman was talking to. He said he believes there were two shooters.
"We were walking away, some five to 10 feet away from the guys, and then I got shot," James said.
Jackson, in his interview with AP, said, "It seemed like the bullets never stopped coming."
Although Pittsburgh police on Monday did not release any new information about their investigation, university president Charles J. Dougherty said there was most likely more than one gunman.
Teammate Stephen Wood, who was not struck, told AP he saw Baldonado bleeding badly from his left arm and quickly took off his own shirt and applied a tourniquet.
"I turned away, and saw Stu on the floor, and my first reaction was to take my shirt off and try to stop the bleeding," Wood said. "Then I turned around and I saw Sam laying there."
Mensah, struck himself, aided several players by helping to barricade them behind a steel door. Jackson lifted the 250-pound Baldonado on his back, carried him to his car and drove him to nearby Mercy Hospital.
"He was real heavy," Jackson told AP. "He's the strongest guy I've ever met. But when he passed out on me in the car, man, that really [was bad]."
Throughout Sunday and late into Monday, Everhart said his phone message box continues to fill. Dougherty and athletic director Greg Amodio have been at the hospital for long periods of time, as well, he said.
"I don't know if there is a coach that I haven't gotten a message from," Everhart said.
Still, the reality of the situation is starting to come to light as Everhart comes out of the first 24-hour fog.
"There is still a sense among the team as to why one teammate was hit and another one wasn't," Everhart said. "We've got a lot of healing to do as a group."
Andy Katz is a senior writer at ESPN.com. Information from The Associated Press was included in this report.
Players Shot At Duquesne
Duquesne University was thrust into the national spotlight when five of its players were shot during a party in September.
Related Stories:
• Duquesne's Ashaolu makes surprise trip to practice
• Duquesne shooting victims progressing with rehab
• Duquesne taking on challenge of small roster
• Ashaolu ready to walk out of hospital
• Ashaolu walking, talking in hospital
• Shooting suspects to stand trial
• Charges against one man dropped
• Charged student waives hearing in Duquesne shooting
• Ashaolu has bullet fragment removed
• Ashaolu utters words, Baldonado released
• Players remembered at football game
• Two men in custody for shootings
• Bilas: Athletes shouldn't be prejudged

• Forde: Young assistant Pitino steps up
• On verge of dream, Ashaolu in fight for life
• Pitt coach can relate to Duquesne players
• Two victims rejoin team; Ashalou critical
• Arrests and charges

• Katz: Martin worried about Everhart

• Everhart struggles to hold team together
• Duquesne player recounts wild shooting scene
• Coach moved by team's reactions in tragedy
• Duquesne coach shocked by shooting
MORE MEN'S COLLEGE BASKETBALL HEADLINES


MOST SENT STORIES ON ESPN.COM