The coaches who will make this season's headlines
Originally Published:
October 9, 2006
By
Andy Katz
| ESPN.com
ESPN.com's Impact 25 is a primer on the 25 people -- coaches, players, administrators and others -- who should have the most impact on the 2006-07 season.
Not all 25 will be familiar names, and they won't necessarily be All-Americans or coach of the year candidates. Rather, our staff predicted who will dominate the sport's headlines from the start of practice Oct. 13 until the national championship game April 2 in Atlanta.
First up: the active coaches (in alphabetical order).
Editor's note: Analysts Jay Bilas, Doug Gottlieb and Fran Fraschilla, senior writer Andy Katz and editor Andy Glockner contributed to the final selections.
Billy Donovan (Florida)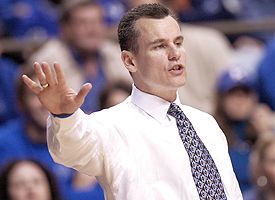 John Sommers/Icon SMIDonovan and Co. will take every opponent's best shot in '06-07.

Bio: Age: 41; head coaching stops: Marshall and Florida; won national title in 2006; has made two national title games (2000, '06); two SEC titles; he's winning at nearly a 70 percent clip at Florida (226 wins in 10 seasons).

Why he will make news: He's coaching the national champions. Donovan has a realistic shot to win back-to-back national titles, and that hasn't happened since Duke's Mike Krzyzewski did it in 1991 and '92. Donovan has built a basketball power in Gainesville, and with most of the team returning, including all five starters, Donovan's Gators will be in the news every time they play.

What's expected: The Gators should be in the mix for the national title. They will be the preseason No. 1 team, although maybe not a consensus pick, with North Carolina also garnering plenty of attention. Donovan faces the challenge of keeping a team together that already won a title. He also will have to integrate a few new faces and make a few tweaks with his rotation. For the most part, though, he's coaching a team similar to last season's squad -- and that in itself is a challenge, considering this group wasn't a favorite to win the national title at any time last season before the Final Four.

Headlines: Florida's first monster game will be a headline grabber against Kansas in Las Vegas. Games against Florida State and Ohio State also will be notable. How Donovan manages this team will be fodder for headlines throughout the season. He already is becoming iconic in Gainesville, and another national title probably would establish him as the top coach of his generation (age 35-45).

Jay Bilas' take: By March, Billy Donovan will be widely seen as one of the nation's truly elite coaches, a position he has held for several years now without acknowledgment. He will have a team that will have absorbed the best shot of every opponent and will have had every move scrutinized. His team will have taken some body blows, and Donovan's biggest challenge of the season will have been keeping his players concentrating on what they believe, rather than being burdened by what others believe.
Billy Gillispie (Texas A&M)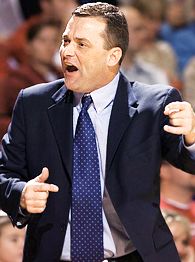 APGillispie is poised to become a national name this season.

Bio: Age: 46; head coaching stops: UTEP and Texas A&M; led UTEP to the NCAA Tournament in 2004 after the Miners made a remarkable 18-win turnaround (from six wins to 24) in his second season; Gillispie led the Aggies from a winless Big 12 mark to a 21-10 NIT season before guiding them to the NCAAs in his second year, just like he did at UTEP; the Aggies were one long LSU 3-pointer away from moving to the Sweet 16 after beating surging Syracuse in the first round.

Why he will make news: The Aggies are a hot preseason pick for the top 15, possibly the top 10. Texas A&M returns two key players, Joseph Jones and Acie Law, either of whom could compete for Big 12 Player of the Year honors. Gillispie wasn't a household name before a few years ago, but he's quickly getting a reputation as one of the top coaches in the country. The more the Aggies win, the more he'll be in the news.

What's expected: The Aggies should push Kansas for the top spot in the Big 12. They head into the season as a legit candidate for a top-four NCAA seed. Gillispie and his good friend, Kansas coach Bill Self, should be in competition for coach of the year in the league and possibly nationally.

Headlines: The Aggies upgraded the schedule, and games against UCLA in Anaheim and LSU in Baton Rouge will draw national attention. The Aggies will be featured more in the Big 12, allowing them to get their national due.

Fran Fraschilla's take: No coach in America fits his school like this guy. Born and bred in the Lone Star State, Gillispie has worked his way up the high school and college ranks, and it seems as though he knows every high school coach from El Paso to Texarkana. Seventeen of the 19 players on the Aggies' roster, including walk-ons, are homegrown. Don't rule out a deep run in the NCAA Tournament, with Gillispie's two best players, Law and Jones, leading the way.
Bob Huggins (Kansas State)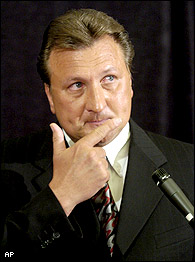 Bob Huggins will make news when he returns to the city of Cincinnati to face Xavier.

Bio: Age: 53; head coaching stops: Walsh College, Akron, Cincinnati and Kansas State; has won 567 games at a .740 clip in 24 seasons as a head coach; one Final Four; three Elite Eights; five first-round NBA draft picks, three in the lottery.

Why he will make news: Well, because he's Bob Huggins. Huggins, like Bob Knight, is a lightning rod. He attracts attention like few coaches in the country. He already made news in the offseason by attracting top talent for this season (Jason Bennett) and for 2007 (Michael Beasley).

What's expected: Kansas State was only a few wins shy of being an NCAA Tournament team last season under Jim Woolridge. With the addition of newcomers such as Bennett and Blake Young and Huggins' influence on this team (especially in work ethic and defense), there is an expectation that they will be in the NCAA Tournament. Having Huggs in the NCAA wearing purple rather than black would be big-time news.

Headlines: Huggins' first game, against William & Mary, won't get much publicity, but four days later, he'll be back on the East Coast against Rutgers, which certainly should be an event. The Huggins tour continues to New Mexico, Cal, Colorado State, North Dakota State, to Las Vegas for a tournament, then back to Cincinnati to play Xavier before Big 12 play. A meeting with Knight and Texas Tech on Big Monday on Jan. 8 certainly will be a ratings hit, as will the two games against Kansas, both of which will be on the ESPN family of networks.

Fran Fraschilla's take: Bob Huggins and Kansas State: a match made in basketball heaven. The Wildcats needed to jump-start their program, and he needed a place to jump to. The bottom line is that because of Huggs' vast network of recruiting contacts and his proven coaching ability, Kansas State, with its great basketball history, is relevant again. The postseason is a definite possibility this year, and those matchups with the Jayhawks should be very interesting.
Bob Knight (Texas Tech)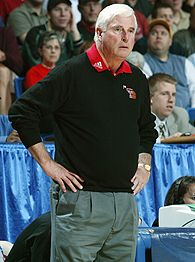 Stephen Dunn/Getty ImagesThe all-time wins record looms in The General's future, as early as late December.

Bio: Age: 65; head coaching stops: Army, Indiana, Texas Tech; 27 NCAA Tournament appearances (24 at Indiana, 3 at Texas Tech); three national titles at Indiana (1976, '81, '87); one Olympic gold medal as a coach (1984 U.S. team).

Why he will make news: Knight is 10 wins shy of tying Dean Smith for the all-time Division I career wins mark of 879. And, well, because he's Bob Knight; he's always a news maker.

What's expected: The wins record and likely a fourth NCAA Tournament appearance at Texas Tech. Knight has built a perennially tough team in the Big 12 in just five seasons. This season, he has a solid backcourt led by Jarrius Jackson, one of the most underrated players in the country.

Headlines: Look for the following Knight sightings: In Kansas City for the CBE Classic, with a possible matchup against protégé Mike Krzyzewski and Duke; at the Pete Newell Classic against Stanford in December; whenever he breaks Dean Smith's record, likely in Lubbock in late December or early January; and in hotly contested Big 12 games against league favorites Kansas, Texas A&M and Texas.

Jay Bilas' take: By March, Bob Knight will be the winningest coach in men's college basketball history, and even his most hardened critics will have to admit that Knight is one of the finest coaches and winners in the history of American sport. Knight will be taking a solid corps of guards to the NCAA Tournament this spring. If his younger kids come along -- those who were tested by fire and often burned last year -- Knight's Red Raiders can play beyond the first weekend. This will not be Knight's last March at the helm.
Kelvin Sampson (Indiana)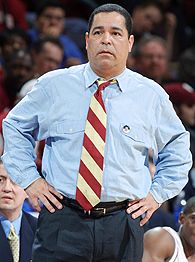 Ronald Martinez/Getty ImagesWill Sampson feel the pressure if his Hoosiers get off to a slow start?

Bio: Age: 51; head coaching stops: Montana Tech, Washington State, Oklahoma and now Indiana; one Final Four at OU; 11 NCAA appearances (three Sweet 16s and two Elite Eights); 455 career wins (.639); joined Lute Olson, Tubby Smith, Mike Krzyzewski, Jim Boeheim and Jim Calhoun as the only coaches to win at least 20 games in each of the past nine seasons.

Why he will make news: Sampson has been in the news ever since he jolted the coaching carousel by going from Oklahoma to Indiana in March; violations for excessive phone calls at OU put him in the spotlight, both during his initial news conference and in the spring when the penalties came down on Oklahoma and on him; he was banned from recruiting off campus or making phone calls to recruits for a year, and the National Association of Basketball Coaches took away his Final Four tickets for three years; he'll make more news for his coaching at IU once the season starts because the Hoosiers are a legitimate top-four Big Ten team and are NCAA Tournament-worthy.

What's expected: The return of D.J. White from a broken foot that limited him to five games last season makes the Hoosiers a palatable pick for the NCAA Tournament. Sampson will coach his defensive-oriented style and make the Hoosiers a grittier team in the rugged Big Ten.

Headlines: Look for Sampson to possibly be in the news if, on signing day in early November, Eric Gordon -- who has made a verbal commitment to Illinois -- changes his mind and goes to the in-state Hoosiers. How Sampson fares against (possibly) Notre Dame and North Carolina in the NIT Season Tip-Off, then against Duke and Kentucky and in league games against Wisconsin, Michigan State, Illinois and Ohio State also certainly will be headline fodder in Hoosier Nation. That doesn't even mention the buzz that could come from lingering Bob Knight loyalists as the General passes Dean Smith's mark.

Doug Gottlieb's take: In the past five years, Sampson has gone from being the president of the NABC, the coach of a Final Four team, the winner of back-to-back-to-back Big 12 tournament championships and a lead speaker at the NCAA's emergency meeting on ethics in Chicago to being persona non grata with the NABC after multiple NCAA sanctions that have followed him to his new gig. Now, he's the head coach at a university so steeped in tradition that the mere mention of the team's Hoosiers nickname evokes visions of basketball grandeur. Can he succeed where Mike Davis failed in following the man who is soon to be the winningest men's coach of all time? Stay tuned.
Bill Self (Kansas)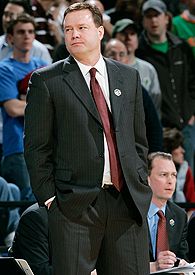 Brian Bahr/Getty ImagesCome mid-March, Bill Self will need to notch some NCAA Tournament wins.

Bio: Age: 43; head coaching stops: Oral Roberts, Tulsa, Illinois and Kansas; reached the Elite Eight with three schools (Tulsa, Illinois and KU); he has been to eight straight NCAA Tournaments (among those three schools); won at least 70 games in his first three seasons at each of his last three schools; he's entering his fourth season at Kansas, tying his longest tenure (with Oral Roberts).

Why he will make news: Self is guiding one of the most talented teams in the country. Kansas will be the talk of the Big 12, entering the season as the unquestioned favorite. The Jayhawks essentially return the same talented team that jelled in the second half of last season and added one of the top recruiting classes in the country. Once the NCAAs roll around, plenty of people will remind Self of Kansas' first-round upset losses in each of the past two seasons.

What's expected: Last season's first-round exit against Bradley was surprising more because of Kansas' late-season form (including knocking off Texas to win the Big 12 tournament title) than because of anything related to Bradley's perceived quality. This season, those expectations will be there from the beginning. The Jayhawks will be expected to win the Big 12, compete for a No. 1 seed in the NCAAs and make a run to the Final Four.

Headlines: The Jayhawks will have plenty of chances to push Self into the spotlight, beginning with a game against Florida in Las Vegas on Thanksgiving weekend. Games against Boston College, at DePaul and at South Carolina also will provide barometers before the Jayhawks get into Big 12 play.

Fran Fraschilla's take: The renovations to Allen Fieldhouse are complete; the overhaul of Jayhawks basketball from the Roy Williams era is also complete. After winning 15 of its last 16 games heading into last season's NCAA Tournament, Self's team once again was sent packing early. Although Kansas is primed to make a deep NCAA run and is a logical national title contender with a roster chock-full of McDonald's All-Americans, no coach will have more pressure on him during the first weekend of the NCAA Tournament.
Tubby Smith (Kentucky)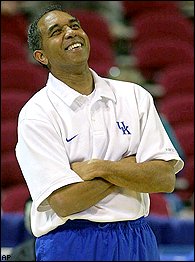 How will Tubby and UK respond to not being SEC favorites?

Bio: Age: 55; head coaching stops: Tulsa, Georgia and Kentucky; won 1998 national title at Kentucky; he has been in the NCAA Tournament in 13 straight seasons at three schools; coached Kentucky to the Elite Eight four times, including the '98 title year.

Why he will make news: The coach at Kentucky is always in the news. This job is the ultimate fishbowl. Smith had a rocky road last season, starting with the suspension of Randolph Morris. This season, he has his team intact, but it's an unproven and unknown group, at least to the nation. Smith has a chance to mold this crew without any preseason disruptions. Kentucky always has marquee games to put Smith in the spotlight; this year's include the Maui Invitational and the usual highlight games like Indiana, Louisville and North Carolina before the SEC schedule begins.

What's expected: At Kentucky, the expectation is to win the title every year. Seriously, Kentucky is expected to beat out Florida, or at the very least, Tennessee in the SEC East. Kentucky is in the rare position of being the underdog in the SEC after Florida won the national title and LSU reached the Final Four.

Headlines: It's hard for a Kentucky coach to stay away from the front page. Smith should have the Wildcats ready for a run in March, but there could be some hiccups as he molds a team that has a few holes to fill, notably replacing Rajon Rondo (point guard skills, defense and rebounding).

Doug Gottlieb's take: Regal in appearance, stern in his values and solid as a rock as a pure coach, Smith generates an immense amount of respect from fans and colleagues alike. Yet, as the captain of the Big Blue ship, he has steered it into the murky waters of a perceived lack of production, and the fans are restless. With few blue-chip talents at Smith's disposal, and with the protégé (Billy Donovan) of his UK predecessor (Rick Pitino) winning a national title in the same conference -- and at a football school, no less -- the temperature in Lexington already is in triple digits.
Andy Katz is a senior writer for ESPN.com.
SPONSORED HEADLINES
MORE MEN'S COLLEGE BASKETBALL HEADLINES
MOST SENT STORIES ON ESPN.COM
EDITORS' PICKS
Virginia's tough stretch starts with Duke.
Weekend Homework »

North Carolina, Louisville can't afford another ACC loss.
Medcalf »

Bruce Pearl's return to Tennessee should be a surreal event.
Low »