These six newcomers will make many headlines
Originally Published:
October 10, 2006
By
Andy Katz
| ESPN.com
ESPN.com's Impact 25 is a primer on the 25 people -- coaches, players, administrators and others -- who should have the most impact on the 2006-07 season.
Not all 25 will be familiar names, and they won't necessarily be All-Americans or Coach of the Year candidates. Rather, our staff predicted who will dominate college basketball headlines from the start of practice Oct. 13 until the national championship game April 2 in Atlanta.
Today: the newcomer players (in alphabetical order). For Monday's Impact 25 coaches, click here.
Editor's note: Analysts Jay Bilas, Doug Gottlieb and Fran Fraschilla, senior writer Andy Katz and editor Andy Glockner contributed to the final selections.
Chase Budinger, 6-7 forward (Arizona)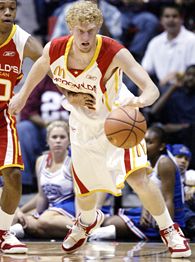 AP Photo/Jack SmithSome think Budinger is the most heralded recruit ever at Arizona.

Why he will make news: Budinger has a look about him that will draw attention. He has the curly hair -- tightly cropped now but with the potential to mushroom out -- a goatee (at least early in the season) and a game that is all over the court.

Budinger could be one of the top freshmen ever to play at Arizona. He is being talked about as one of the "special" recruits for Lute Olson. He's a scorer and will get plenty of chances on a roster that is youthful and wants to get up and down. He's not Adam Morrison, but he'll certainly draw the attention of folks who want to watch a player who is so active on the court.

How he will make an impact: Budinger will be a major factor on a potential Final Four team. He can score on a team that will need a small forward who can be a mismatch for opposing teams. Budinger, paired with Jawann McClellan, Ivan Radenovic and Mustafa Shakur, gives the Wildcats a potential go-to player. He won't be the first option, but he could easily have nights where he is the featured hot hand. His defense will come around, but he's on the floor to score and make plays on the offensive end.

Headline games: This is Arizona, remember? Olson doesn't shy away from putting his players on a national stage. Budinger and the rest of his mates go to Virginia to open the Cavs' new building, and games against New Mexico State, UNLV, Illinois in Phoenix, Louisville in the Jimmy V Classic in New York, at San Diego State, Houston, Memphis and North Carolina, let alone Pac-10 games against UCLA and Washington, should give Budinger plenty of opportunities to make headlines.

Doug Gottlieb's take: While many saw Adam Morrison as the next Larry Bird, let's be honest: Bird had several inches and a bit more game than Ammo. Nonetheless, if those comparisons can stick with a player his entire career, then here is one: Budinger is the next Tom Chambers. With high-flying springs from his volleyball background and an innate basketball IQ, there are many in Tucson who believe Lute Olson may hang around awhile to see if Budinger can lead his Cats back to the Final Four.
Kevin Durant, 6-9 forward (Texas)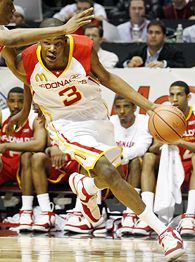 AP Photo/Denis PoroyDurant should quickly lay claim as the Horns' go-to guy.

Why he will be in the news: Durant has a shot to be national freshman of the year, in large part because Oden will possibly miss the first two months of the season.

Durant, a native of Suitland, Md., may be the most heralded recruit ever to sign at Texas and signifies another major coup for Rick Barnes, proving how nationally recognized Texas' program has become under his command.

Durant is a scorer who can get to the basket from a variety of positions. With nine freshmen and sophomores on the roster, he will have plenty of chances to be featured and will have a shot to prove his leadership early and often as well.

How he will make an impact: By scoring in bunches. Barnes will need someone to come in and be a go-to player, and Durant is the perfect candidate. He'll also be the perfect player to be featured in promotion whenever Texas plays, since the Longhorns lost name players P.J. Tucker, Daniel Gibson, LaMarcus Aldridge and Brad Buckman from last season's team.

Headline games: Barnes didn't go lightly here. Durant will have plenty of chances to be front-page news, with two games in New York in the Coaches vs. Cancer Classic and other games against Gonzaga in Phoenix, LSU in Houston, Arkansas in Austin, Tennessee in Knoxville and Villanova in Philadelphia. That's not including the Big 12 slate against power teams Kansas, Texas A&M, Oklahoma State and Texas Tech.

Fran Fraschilla's take: At 6-foot-9 and with the skills of a shooting guard, Durant is a scary, scary talent. Here's something even scarier: He just turned 18 on Sept. 30. Rick Barnes calls him the best player he's ever recruited, which bodes well for a program that was decimated by graduation and defections to the NBA. Well-coached in high school, Durant has deep range, can put the ball on the floor and has a terrific post game. He's already gained 20 pounds since June thanks to the Horns' famed strength and conditioning program. Texas fans, say hello to Durant now, because you likely will be saying goodbye in the spring.
Paul Harris, 6-5 guard (Syracuse)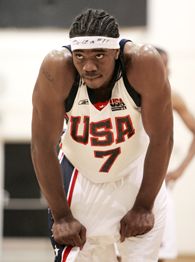 Stan Liu/Icon SMISyracuse thinks Harris could be the answer at the top of its vaunted zone.

Why he will make news: Harris is being billed as the difference-maker for the Orange. Head coach Jim Boeheim and top assistant Mike Hopkins speak glowingly about Harris' ability to change the game. They both see Harris as the missing piece in their zone defense with his ability to get into the passing lanes. They also see his innate toughness as a must with the departure of Gerry McNamara. Both coaches aren't shying away from touting Harris as the potential Big East Freshman of the Year and a candidate for the national honor. He has the talent to make Syracuse a deep March threat.

How he will make an impact: Harris can score in bunches. The Orange needed a guard who could be the lead option for them, with Eric Devendorf sliding over to his more natural wing position. Harris will give even more freedom to Demetris Nichols, who can concentrate on his shooting. He'll also lighten the load for guard Josh Wright, who is the primary ball handler but won't be considered the lead guard with Harris around.

Headline games: Harris will get used to the Syracuse dorm food, since he'll be home a lot in November and December, but he'll get his national shots with the Jimmy V Classic matchup against Oklahoma State in New York, as well as a slew of Big East games. He also will get tested plenty in home games against Penn, Charlotte, Wichita State, Baylor, Drexel and Hofstra, all of which have guards capable of pushing Harris prior to Big East play.

Jay Bilas' take: By March, Paul Harris will have established himself as the best freshman in the Big East and will have assumed the moniker of "go-to guy" for the Orange. Harris will be among the most physical and overpowering players in the nation, and the question he will be tired of by March is whether he will stay for another season in Syracuse. With Harris' athleticism in the lineup, Syracuse will be one of the Big East's very best heading into NCAA Tournament play.
Tywon Lawson, 5-11 guard (North Carolina)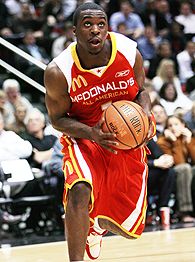 Scott Clarke/WireImage.comLawson may be small in stature, but he could be big for the Heels' title ambitions.

Why he will make news: He's the point guard at North Carolina. Usually, that's enough, but Lawson is the Heels' most celebrated lead guard since Raymond Felton. You say that's only two years removed? True, but Lawson comes in with the chance to mold a team of sophomores, led by potential player of the year Tyler Hansbrough, and his freshman classmates into a team that could win the national title.

The Tar Heels were lacking a big-time point guard a year ago. They did fine without one, but Lawson's addition elevates this team back to national title contention only two years removed from winning the championship in St. Louis.

How he will make an impact: By blending this group, ensuring there are no issues with the returnees and his fellow newcomers, and by pushing the ball up court the way Roy Williams loves on his team's heralded break. Lawson, teamed up with Wayne Ellington, gives the Tar Heels a loaded perimeter with the already-established Bobby Frasor, Wes Miller and wings Danny Green and Marcus Ginyard.

Lawson should mesh instantly with Hansbrough, which will allow the Tar Heels to have an inside-out combo that makes them tough to defend. If he can penetrate and dish like Felton, the Tar Heels will be an even tougher out.

Headline games: Like Arizona, the Tar Heels don't shy away from big-time games. Lawson gets a national stage in New York, with a likely appearance in the NIT Season Tip-Off, before facing Ohio State at home in the ACC/Big Ten Challenge, then games with Kentucky and Arizona and the ACC slate.

Fran Fraschilla's take: Think Raymond Felton with a fullback's body. Like Felton, Lawson will be able to get to the rim on anyone in college basketball and he changes direction at full speed like Chris Paul. His outside shooting could be more consistent, but that won't be a factor until we're sizing him up for the NBA draft. With this recruiting class, the rebuilding of Tar Heels basketball is officially complete. Is Lawson the next Phil Ford? No. But he has a chance to be mentioned in the same breath with many of the other great point guards in North Carolina history.
Greg Oden, 7-0 center (Ohio State)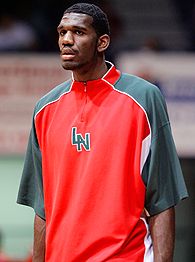 Brian Bahr/Getty ImagesThe hype surrounding Oden could keep building into the new year.

Why he will be in the news: He's the most anticipated big man arriving in college since Patrick Ewing. That's not a stretch considering that, for years, players of his ilk never made it to college.

Oden's news value also increases because of his right wrist injury. The Buckeyes will take their time before putting him on the court. The latest target date, according to a report in Monday's Columbus Dispatch, is Jan. 1. Oden may still make it on the court well before then, but the Buckeyes will be careful not to rush their franchise. Expect weekly, if not daily, updates on Oden's progress.

How he will make an impact: Oden has a chance to be the type of dominant center that has been lacking in college basketball. He is the kind of big man Pete Newell loves to teach in terms of his footwork, hands and overall knowledge of the post. He could single-handedly make the Buckeyes a national title contender.

Headline games: Expect whenever Oden steps onto the court for it to be front-page news. He'll be talked about at length when the Buckeyes play at North Carolina and Florida, even if he still isn't ready to play. The Big Ten, though, will be where Oden makes his mark. Circle the first road game on Jan. 9 at Wisconsin, a conference title contender, as one of his headline events for the season.

Jay Bilas' take: By March, it will be clear to everyone that Oden is the best big man in college since Tim Duncan, and he will have more articles written about him than Baby Suri. Oden will not be quite as polished or as skilled as Duncan was, but he has the chance to be just as dominant. Oden will still be a freshman in a league that punishes youth, but he will be hitting his stride in the spring after getting back from his early-season wrist injury.
A.J. Price, 6-2 guard (UConn)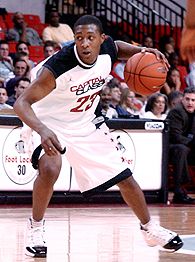 AP Photo/Linda SpillersTake 3: Price finally will get a chance to show his stuff on the court.

Why he will make news: The moment Price steps onto the court for a game this season, he will have accomplished something that few thought possible two years ago. Price had a rare condition called AVM, which causes bleeding in the brain. He had surgery in February 2005, four months after feeling ill and essentially not remembering two weeks of his life. The recovery from the surgery was a near two-year process. His time at UConn also was interrupted last season after he was involved in the theft and sale of stolen laptops. He was banned from campus for the fall semester, but returned this spring. He is listed as a sophomore, but actually is now three years out of high school.

How he will make an impact: Price is one of the top point guards in the country, despite not having yet played a minute of college basketball. UConn coach Jim Calhoun likens his ability to that of Marcus Williams, who was drafted in the first round by the New Jersey Nets in June. The Huskies' coaching staff sees Price as a possible first-round pick in the upcoming draft.

Price can pass ahead extremely well and has a tremendous feel for the position but still needs to get into condition after missing nearly two years. On a team devoid of leadership and experience, Price will be thrust into that role despite never having played a game for UConn.

Headline games: Price's first game against Quinnipiac on Nov. 10 will be a news item, but he'll truly be tested against Ole Miss, Saint Mary's and Pepperdine before Big East play begins and again in three high-profile nonconference games at LSU, versus Indiana and at Georgia Tech in the midst of the conference season.

Doug Gottlieb's take: Two years ago, Price, an unbelievable New York high school talent, was brought in to beat out Marcus Williams in the Huskies' backcourt. After a brain hemorrhage left him fighting for his life and a yearlong suspension left him fighting for his eligibility, Price returns to lead a talented bunch with no experience. Despite two years of virtual stagnation, word out of Storrs is that Price may not have lost a step.
SPONSORED HEADLINES
MORE MEN'S COLLEGE BASKETBALL HEADLINES
MOST SENT STORIES ON ESPN.COM