These nine returnees will make much noise
Originally Published:
October 11, 2006
By
Andy Katz
| ESPN.com
ESPN.com's Impact 25 is a primer on the 25 people -- coaches, players, administrators and others -- who should have the most impact on the 2006-07 season.
Not all 25 will be familiar names, and they won't necessarily be All-Americans or Coach of the Year candidates. Rather, our staff predicted who will dominate college basketball headlines from the start of practice Oct. 13 until the national championship game April 2 in Atlanta.
Today: the returning players (in alphabetical order). For Tuesday's Impact 25 newcomers, click here. For Monday's coaches, click here.
Editor's note: Analysts Jay Bilas, Doug Gottlieb and Fran Fraschilla, senior writer Andy Katz and editor Andy Glockner contributed to the final selections.
Glen Davis, 6-9 center (LSU)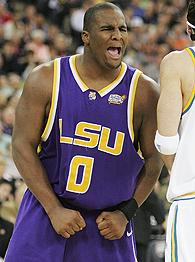 Andy Lyons/Getty ImagesWith Tyrus Thomas gone to the NBA, Big Baby is the Tigers' main man inside.

Why he'll make news: Davis is easily the most jovial big man in the country. His infectious smile makes him a big drawing card for the media. Like Joakim Noah, Davis' decision to stay for his junior season was one of the biggest moves of the offseason. He is the reigning SEC Player of the Year and has a legit shot to win the award again. He also has enough of a supporting cast, even without Tyrus Thomas and Darrel Mitchell, to make a return trip to the Final Four. Davis isn't thought of as highly as Noah by NBA folks, but another banner season will push him higher in the minds of the pro scouts.

What's expected: Davis will still be leaned upon as the Tigers' go-to guy in the post and likely will be the team's leading scorer. There's no reason to believe he'll drop below the 18.6 points he averaged as a sophomore. He dropped weight this summer and is as nimble as ever on the court. Davis also will be the unofficial spokesperson for LSU and all things college basketball.

Headline games: The Tigers have a slew of them for Davis, notably matchups against Texas in Houston, Wichita State and Texas A&M (and Joseph Jones) in Baton Rouge and a road swing through the Northwest to Oregon State and Washington. There's also a home game against Connecticut the first week of January.

Jay Bilas' take: By March, Davis will be the most quoted player in the nation. With the spotlight of the Final Four and the SEC Player of the Year award, Davis will make Shaq look like the shy and retiring type. Davis, with his new sleek frame, will have put up his best numbers yet, and his physical strength and mobility will have produced his second straight All-SEC first-team selection.
Aaron Gray, 7-0 center (Pitt)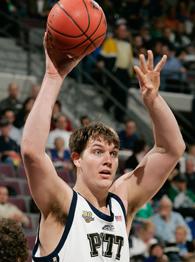 Brian Bahr/Getty ImagesGray will need to be very impactful for Pittsburgh to live up to preseason potential.

Why he'll make news: Gray made himself front-page news when he dragged out his decision for this past June's NBA draft. He was so valuable that Pitt coach Jamie Dixon cut short a Hawaiian vacation to sit with Gray and his family on a Saturday afternoon and call nearly every NBA team to see if they would select him in the first round. They couldn't get a firm commitment in the top 20, so in the final hours before the withdrawal deadline, he returned to Pitt.

That alone was enough to keep him in the news cycle. He'll continue to be the newsmaker for the Panthers, because he's a true center who will get down and dirty in the low post like the centers of the 1980s. He has a shot to be one of the top players in the country and a possible player of the year candidate nationally, as well as the Big East.

What's expected: Gray will be looked at as the Panthers' go-to player in the post. He averaged 13.9 points a game and 10.5 rebounds last season, but the scoring will be expected to improve without the help of Carl Krauser's 15 points a game.

Gray has help on this Pitt team, notably from Levon Kendall and Sam Young up front. The Panthers also have perimeter balance with Levance Fields and Ronald Ramon, but the onus is on Gray to carry this team offensively. He doesn't just have to score. He also has to pass out of the double-teams which surely are to come.

Headline games: Dixon got Gray plenty of chances to be on a national stage. Pitt plays UMass and Florida State in November, has road games at Auburn and Wisconsin, and then has a home date against Washington and Spencer Hawes during the rugged Big East season. The two matchups against Georgetown's Roy Hibbert may end up being must-watch hoops TV, too.

Jay Bilas' take: By March, Gray will be a far better player than he was a year earlier, and everyone will be second-guessing his decision to come back for his last season. But by then, Gray will have proven that draft status is just a minor piece to the overall puzzle. Gray will be more prepared for the NBA and will be better overall, and Pittsburgh will have its best chance to advance deep into the NCAA Tournament because of his return.
Tyler Hansbrough, 6-9 forward (North Carolina)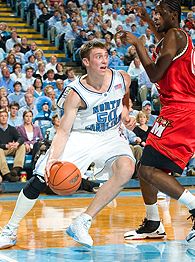 Peyton Williams/Icon SMIHansbrough will have more help this season, but still should be UNC's top option.

Why he'll make news: Hansbrough had a monster freshman season. He arguably was one of the five best players in the country on a consistent basis. He comes back for his sophomore season as a legit candidate to be national player of the year. Hansbrough's work ethic, not just every game, but on every possession, is lauded by opposing coaches. He will make news because he's going to score, and lead the Tar Heels' combination of veteran sophomores and high-profile newcomers to the NCAA Tournament, and likely the ACC title. He's not a flashy player, but he will show emotion. He's not too talkative, but he doesn't hide when the cameras come, either.

What's expected: To score -- and score a lot -- for the Tar Heels. Hansbrough averaged 18.9 points and 7.8 rebounds last season. The Tar Heels added tremendous freshman talent with lead guard Tywon Lawson, Wayne Ellington and big man Brandan Wright, as well as role players Alex Stepheson and Deon Thompson, and they also have one of the nation's underrated forwards in Reyshawn Terry. Still, the expectation will be for Hansbrough to fill it up. He'll be the go-to guy from the opening tip. Getting the ball away from him in the post will be a chore. He doesn't need to give it up because he can finish with the best in the game.

Headline games: Look for key matchups in the NIT Season Tip-Off against Indiana's D.J. White (not a lock for the teams to play, but possible) as well as meetings with Ohio State (likely sans Greg Oden, but don't rule it out just yet), Kentucky's Randolph Morris, Florida State's Al Thornton, Duke's Josh McRoberts and Boston College's Sean Williams.

Jay Bilas' take: By March, Hansbrough will have established himself as the hardest-working player in America, bar none. Springtime will bring new colors to Chapel Hill -- mostly the black and blue worn by Hansbrough's opponents. No player in his right mind wants to cover Hansbrough, because he simply will outwork and outbang you for 40 minutes. By NCAA Tournament time, we will be talking as much about his talent as his heart, because Hansbrough has very good talent. It is just overshadowed by his will.
Luc Richard Mbah a Moute, 6-7 forward (UCLA)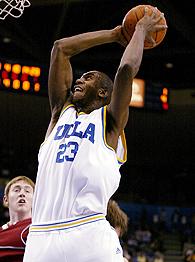 Collin Erie/US PresswireMany people thought Mbah a Moute was UCLA's best player last season.

Why he'll make news: This was probably the most interesting choice of any in our Impact 25. You could make a stronger case for UCLA point Darren Collison here, since he'll have to take over for Jordan Farmar, but there is a sense that Collison will do just fine.

Instead, if there is one player who could be a difference-maker, and a news-maker, for the Bruins, it's Mbah a Moute. First off, he is quite a story with his privileged upbringing in Cameroon. He is an engaging fellow with plenty of stories to tell. He does it with enthusiasm, humor and plenty of insight. On the court, his future also is filled with promise. Mbah a Moute has a shot to make a huge jump from the 9.1 points a game he produced during last season's run to the title.

What's expected: Mbah a Moute won't necessarily be the go-to player, but he will get more plays run specifically for him this season. Collison has plenty of options on this squad with the return of Josh Shipp -- back after missing most of last season with a hip injury -- All-Pac-10 guard Arron Afflalo, and even role players like Alfred Aboya and Lorenzo Mata up front. Still, the potential matchup problems that Mbah a Moute presents could get him touches and points that will be most needed for the Bruins. He also has a chance, with his length, to be a pestering defender.

Headline games: Mbah a Moute will become even more of a household name after he breaks through in the Maui Invitational. He then gets a big-time matchup versus Texas A&M in Anaheim as well as a game against Michigan before high-profile Pac-10 games against Arizona and Washington.

Doug Gottlieb's take: Ask anyone who followed the Bruins last season: Mbah a Moute, not Lakers first-round pick Jordan Farmar, was the key to their success. With ball handling skills similar to those of the Florida Gators' frontcourt stars, Mbah a Moute contributes in myriad ways at the power forward spot, a position that has been a staple of coach Ben Howland's best teams at Northern Arizona, Pitt and now UCLA. Howland will expect an even bigger contribution from Mbah a Moute in the scoring column this year for the Bruins to make another run at the Final Four.
Josh McRoberts, 6-10 forward (Duke)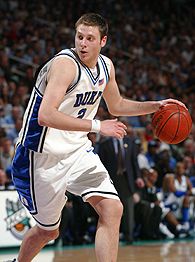 Bob Leverone/Icon SMIMcRoberts is moving from complementary player to the Blue Devils' leading role.

Why he'll make news: McRoberts already was in the news with offseason back surgery. He was declared healthy to practice this week and he is expected to be ready once the season begins. McRoberts made more news in the spring when he decided to return to Duke, despite overtures that he could be a lottery pick. McRoberts was a subordinate player to Shelden Williams a year ago; he'll be the No. 1 option this season.

What's expected: McRoberts was named an All-ACC freshman and earned a spot on the All-ACC tournament second team last season. Not bad for the Blue Devils' third option. He shot 60.5 percent from the field, mostly on dunks, putbacks and a few other moves in the lane. He chipped in 8.7 points a game and was second on the team in blocked shots (46) and rebounding (5.3 rpg). All of these numbers will increase dramatically this season. Duke brought in plenty of help in Lance Thomas and Jon Scheyer, but the reality is McRoberts is in a position where he'll be featured. That's one of the reasons he returned. He'll have more of an impact on whether Duke is in title contention than any other player on the roster.

Headline games: McRoberts will go mano a mano against Indiana's D.J. White, Georgetown's Roy Hibbert and then, in the ACC, against North Carolina's Tyler Hansbrough and Boston College's Sean Williams. That's enough to gauge his value.

Fran Fraschilla's take: Most of Mike Krzyzewski's recruits don't use Duke as a quick weigh station to the NBA. That's why, despite enormous buzz to the contrary, it was no surprise that McRoberts chose to stay around for his sophomore season. Frankly, because of the presence of two first-team All-Americans -- J.J. Redick and Shelden Williams -- the 6-10 Indiana native was not much more than a solid role player a year ago. That will change this season; McRoberts must step up and play a much bigger role, offensively and defensively. The likelihood is that he will, and any expected Blue Devils drop off will be minimal because of that.
Joakim Noah, 6-10 forward (Florida)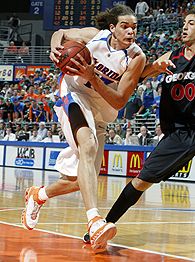 Jason Parkhurst/US PresswireWe'll know in March (or June) whether Noah made the right choice in coming back.

Why he'll make news:After spending Labor Day weekend with Florida, it's easy to see how Noah will make news. Anyone who water-skis at night, one-handed for most of the run, easily is a newsmaker. Noah doesn't seek the headlines, but his overall persona attracts the camera, the notepad and the curious onlooker more than any other player in college basketball this season. And, by the way, he's the returning Final Four MVP, with the famous name and a chance to be the national player of the year.

What's expected: It's going to be hard to live up to the expectations, but he'll try. He's expected to lead the Gators in scoring once again, but after watching this crew last month, it's easy to see how teammate Al Horford could wind up as the team's leading scorer. Noah will still get a lot of his points in transition and on offensive putbacks, due to his activity around the basket.

More than anything, he's expected to be a leader and a go-to guy whenever the Gators need a bucket, but he's not a traditional setup man. He can score in a variety of ways, so don't expect a bunch of plays to be run for him. He'll find his way to the basket quite often on his own.

Headline games: Noah will have plenty of shots on the national stage, notably against Kansas in Las Vegas and Ohio State in Gainesville, prior to the SEC season.

Doug Gottlieb's take: How many times does the Final Four's most outstanding player and sure-fire lottery pick return to school and shun guaranteed millions? Miles Simon was the MOP, returned to school, and went in Round 2. Matt Leinhart won the Heisman trophy, returned to school, lost in the championship game and went 10th in the NFL draft after being the consensus No. 1 pick the year before.

With Noah, Horford and Corey Brewer all back, we could have a dynasty on our hands. Noah is the centerpiece of it all with ball-handling skills of a guard and the interior grit of a beast, but he may slip in the draft pecking order behind the likes of Greg Oden, Kevin Durant and possibly even his own teammate, Horford.
Ronald Steele, 6-2 guard (Alabama)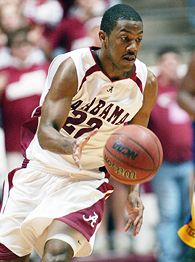 Marvin Gentry/US PresswireSteele should be a national name by midseason.

Why he'll make news: Steele is considered one of the top point guards in the country -- and also may be its most important. Talk to any coach in the SEC and they'll single out Steele as the point guard they'd love to have on their team. Steele did a little bit of everything for the Tide last season and his role will only expand with the departure of Chuck Davis. Steele's name should be known nationally by midseason. It's already a common name within basketball circles, but he'll be written about, talked about on air and surely shown in highlights as he leads the Tide toward an SEC West top-two finish.

What's expected: Steele averaged 14.3 points and 4.3 assists last season. It's hard for a point guard to do much better than that in scoring, but he may have to. He teams up with Jermareo Davidson to form one of the top inside-out combos in the country, let alone the SEC. Expect Steele to be one of the league's better defenders, too, especially on the ball.

Headline games: The Tide play a few name teams that are rebuilding, like NC State, Oklahoma and Notre Dame, but they will get a great chance to make a name for themselves -- and for Steele -- in the Paradise Jam in the Virgin Islands, with possible games against Xavier, Villanova and Iowa.

Jay Bilas' take: By March, Steele will have established himself as one of the two best point guards in the nation. Alabama will be a title contender and Steele will finally be recognized for his great ability and his incredible toughness. While Marquette's Dominic James will give him a great run for the title of nation's best point guard, nobody will be tougher.
Curtis Sumpter, 6-7 forward (Villanova)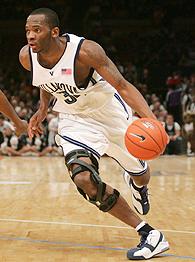 Jim McIsaac/Getty ImagesDon't forget that Sumpter was Villanova's best player at the end of the 2004-05 season.

Why he'll make news: Just getting on the court to start the season is news after he missed all of last season with an ACL injury. Sumpter has a realistic shot to be the Big East Player of the Year; he was that good two years ago when he scored 15.3 points and grabbed 7.2 rebounds a game. Sumpter is an atypical forward who can both post up and score facing the basket. It's still unclear how explosive he'll be off the jump, but if he can return to form, Sumpter has a chance to be a newsmaker every time the Wildcats dress.

What's expected: Sumpter is expected to be the team's leading scorer, the go-to guy and certainly the glue guy for a team that is in transition but shouldn't drop out of the NCAA Tournament. He has help up front with Dante Cunningham, Will Sheridan and Shane Clark, but let's not kid ourselves here -- Sumpter is the one player who needs to perform for the Wildcats to have a chance to move ahead of the likes of UConn, Syracuse, Louisville and Marquette. He made a tough call in February to shut it down rather than just close out the season with his classmates. He made a selfless decision, the one that was best for the program.

Headline games: Sumpter will have plenty of interesting matchups, including a meeting with Durant and Texas before Big East play. Sumpter pushed his body hard to get back into playing shape. He'll have a major impact on Villanova and the Big East if he stays healthy.

Doug Gottlieb's take: There was a time, two years ago in fact, that Sumpter, a prototype NBA small forward, was Villanova's best pro prospect. Unfortunately for him, a highlight film that was littered with vicious dunks and smooth versatility was replaced by shots of him sitting in street clothes after back-to-back ACL injuries. With Randy Foye, Allan Ray and Kyle Lowry all now playing professionally, the Wildcats will look to resuscitate Sumpter's career and their own Final Four aspirations. Sumpter will progress slowly, because knee surgery usually takes away as much confidence as explosiveness, but his upside will get him into the draft's second round come June.
Alando Tucker, 6-6 forward (Wisconsin)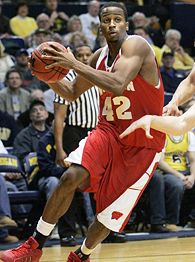 AP Photo/Duane BurlesonTucker and the Badgers could be favored to win the Big Ten.

Why he'll make news: Tucker has a legit shot to be the Big Ten Player of the Year, in large part because of Greg Oden's undetermined status with his injured right wrist. Tucker enters the season as one of the top players at his position in the country and shouldn't be ruled out as a national player of the year candidate, considering the Badgers are a legit Final Four contender.

Tucker has the ability to fly for dunks on the break, hit the midrange jumper and get out in the passing lane as a strong defender. He'll also make news because he'll be the face of the Badgers; he's a charming fellow who doesn't hide from the media and will prove with his work ethic that he's hungry for a title.

What's expected: Tucker could have Devin Harris-like clout with the Badgers. He should be the player who gets the ball late in the game, as well as perhaps the first touch of any possession. He averaged 19.0 points last season, and that's a solid number to repeat considering the balance the Badgers possess on offense. His 3-point shooting -- 25 percent last season -- should improve since he's been putting in time on that shot over the summer. He's still not expected to be serious threat from beyond the arc, but it helps make him much more of a well-rounded scorer.

Headline games: Tucker gets a few headline shots when the Badgers likely play Oklahoma State in South Padre Island, Texas, as well as Florida State in the ACC/Big Ten Challenge, at Marquette, versus Pitt and at Georgia, not to mention Big Ten tussles with Indiana and, of course, the Oden-led Ohio State Buckeyes by the time the teams meet twice after New Year's.

Fran Fraschilla's take: Tucker is a classic tweener forward. While some say he's too small to be a power forward and not skilled enough to be a small forward, I look at it another way: He's too strong for small forwards and too quick for big forwards, especially in the Badgers' swing offense.

Bo Ryan's structured motion offense is ideal for Tucker because of his versatility. It allows him to put up player-of-the-year-type numbers. Joined by a bevy of returning veterans, Tucker has a chance to get Wisconsin to the Final Four if everything breaks right.
Andy Katz is a senior writer for ESPN.com.
SPONSORED HEADLINES
MORE MEN'S COLLEGE BASKETBALL HEADLINES
MOST SENT STORIES ON ESPN.COM
EDITORS' PICKS
Second-ranked Duke defeated UConn.
Recap »

There was plenty of movement in this week's installment of the Wooden Watch.
Wooden Watch »

Who are the 10 best point guards in college hoops?
#Top10Thursday »