These three will be players, off the court
Originally Published:
October 12, 2006
By
Andy Katz
| ESPN.com
ESPN.com's Impact 25 is a primer on the 25 people -- coaches, players, administrators and others -- who should have the most impact on the 2006-07 season.
Not all 25 will be familiar names, and they won't necessarily be All-Americans or Coach of the Year candidates. Rather, our staff predicted who will dominate college basketball headlines from the start of practice Oct. 13 until the national championship game April 2 in Atlanta.
Today: the off-court personnel (in alphabetical order).
Previously in the Impact 25, we broke down the returnees, newcomers and coaches.
Editor's note: Analysts Jay Bilas, Doug Gottlieb and Fran Fraschilla, senior writer Andy Katz and editor Andy Glockner contributed to the final selections.
Doug Elgin, Missouri Valley commissioner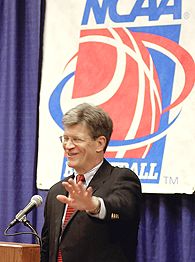 AP Photo/James A. FinleyCan Elgin help his conference land another four-bid season?

Why he will make news: Elgin is the most outspoken of any of the mid-major conference commissioners. He doesn't hesitate to make sure everyone knows how strong his Valley teams are and whether they're deserving of potential NCAA bids. As a former committee member, Elgin instructs his teams how to schedule and stays on top of the process.

Elgin will be a strong voice throughout the season. Expect to hear from him early, when Valley teams like Creighton, Wichita State and Southern Illinois pull their annual upsets. Don't be surprised to hear him promote when an upstart team in the league starts to make a move, like Bradley did last season. You can also guarantee Elgin will be out in front when there are big-time conference games, particularly the Wichita State-Creighton-Southern Illinois matchups, as well as games involving Missouri State and Northern Iowa. Come March, Elgin is sure to be quotable as the Valley teams make their runs for NCAA berths.

Doug Gottlieb's take: While many believe the Big Ten's Jim Delany is the most powerful commissioner in college sports, Elgin has newfound equity in a sport in which it is hard to attain at the mid-major level. With a conference-record four NCAA bids, and an even more impressive two Sweet 16 teams last season, the Missouri Valley commish can make the case that, just as Gonzaga no longer is a mid-major team, his league might be on the brink of breaking out from its own mid-major status.
Mike Montgomery, unemployed coach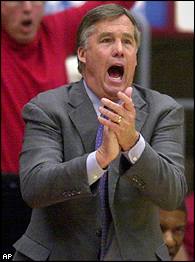 Montgomery's availability will be a factor in any high-level West Coast opening.

Why he'll make the news: Well, he likely won't make it publicly, but Montgomery's shadow will loom large this season. He is a towering figure out west now that he's unemployed. Montgomery already has been around Stanford's individual workouts and might make even make more cameos since he has an open invitation from Cardinal coach Trent Johnson, a former assistant under Montgomery.

In recent years, there have been a headline coaches who are out of work and sifting through the potential offers that come in the spring: John Calipari, Rick Pitino, Tim Floyd, Leonard Hamilton, Lon Kruger and even Rick Majerus, who went to USC but didn't stay, have been on the market looking for a job during the season. None of them openly campaigned for a job, but there were a fair share of distractions.

Remember when Pitino was linked to UCLA during the season? Steve Lavin certainly does. Expect any coach out west who gets into an early-season funk or starts a slide into March to hear Montgomery's name pop up in the local media.

This doesn't mean Montgomery necessarily will jump back into college basketball. He's approaching 60 and has a contract settlement with Golden State in the millions that will keep him quite content for years to come. Still, if the right opportunity appears, expect Montgomery to listen closely in March. It wouldn't be rare, either, for an intermediary from a school to send out signals to see if Montgomery is interested while the season is ongoing before making a serious push after the season.

Fran Fraschilla's take: When it comes to coaching openings next spring, Montgomery is the 800-pound gorilla in the room. With a big NBA payday coming thanks to his parting with the Golden State Warriors, Montgomery can sit back and decide where, when and if he wants to continue what has been a brilliant college coaching career. It's hard to see him leaving the West Coast and that's why, despite a "save the coach" nonconference schedule this season, Oregon is the early leader. A cozy relationship with Nike's Phil Knight won't hurt, either.
Gary Walters, NCAA selection committee chair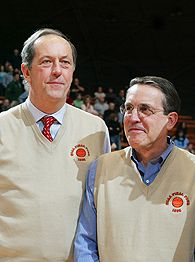 Beverly Schaefer/Princeton UniversityWalters (right), the Princeton AD, will soon find the national spotlight.

Why he'll make news: He's the chair of the NCAA's most talked-about, dissected, highest-profile group: the NCAA Tournament selection committee.

Walters, the athletic director at Princeton, was on the committee last season, too, so he knows all about giving the mid-majors a fair shot to get a bid; Air Force, Bradley and Utah State were three of the final teams in the field last season. Walters knows the power rating system extremely well but also has a strong basketball background. So he, like his predecessor Craig Littlepage of Virginia (who also is on the committee for one more year), will use a subjective quotient in selecting teams, as well.

There were times when the committee was ruled by men who were more administrators than basketball coaches or former players. Walters and Littlepage, though, have similar backgrounds and are similar with their statesman quality. They both bring an intellectual analysis to the selection process while also factoring in the basic viewpoint of whether a team can play at a high level and is worthy of a tournament bid.

At first, Walters isn't as talkative as Littlepage, but that likely will change as the months pass. He'll have to be more outspoken as the tournament gets closer. Littlepage and Bob Bowlsby, the former chair and then-Iowa athletic director, were candid with their comments, a refreshing twist from a chair.

It's still too early to tell how open Walters will be with sharing his opinions and the thought process used in selecting teams, but he will have to open up some as the event creeps closer in February and March. Ultimately, he'll be judged by the bracket.

Jay Bilas' take: By March, people outside of the business will know exactly who Gary Walters is, and that is a good thing. Walters was a terrific guard. He played for future Princeton coaching legend Pete Carril in high school and was a part of Princeton's 1965 Final Four team. As the chairman of the selection committee, the current Princeton AD will bring a good understanding of the process and the game to the public, and will preside over the most visible and talked-about task of his career. Walters will do many things more important in his fine career, but in March, he never will feel the microscope as harshly. He will thrive under it.
Andy Katz is a senior writer for ESPN.com.
SPONSORED HEADLINES
MORE MEN'S COLLEGE BASKETBALL HEADLINES
MOST SENT STORIES ON ESPN.COM
EDITORS' PICKS
Kentucky makes a business trip to play Baylor.
O'Neil »

There was some movement in the Wooden Watch.
Brennan »

No. 21 UMass basketball is back on the map with their 7-0 start.