After losing no one, Memphis takes top spot
Updated:
June 19, 2007, 1:37 PM ET
By
Andy Katz
| ESPN.com
Why not Memphis?
Why not tab the Tigers as a possible pre-preseason No. 1?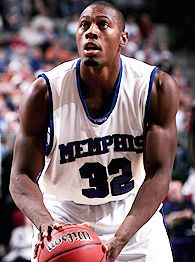 Ronald Martinez/Getty ImagesJohn Calipari is hoping a more mature Joey Dorsey returns to anchor the post.
The deadline to declare for the NBA draft was Sunday night. Of all the potential favorites, Memphis was the only team that didn't get hit. And if you watched any of the high school all-star games the past month, you know the Tigers are adding one of the best players in the country in big guard Derrick Rose.
So add in Rose, along with another high school senior stud in wing Jeff Robinson, to a core of players like Chris Douglas-Roberts, Robert Dozier, Joey Dorsey, Antonio Anderson, Doneal Mack, Willie Kemp, Andre Allen and Kareem Cooper, and you have the makings of a potential national champ.
Remember, this core group has been in back-to-back Elite Eight games. They have the experience. They are clearly winners. The only departure is senior Jeremy Hunt, whose toughness, according to Memphis coach John Calipari, will be replaced by Rose.
"It's scary," Calipari said Sunday. "Everybody lost somebody except for us.
"Derrick Rose will blend in with our team and both he and Jeff are physically strong, tough kids."
Oh, by the way, the Tigers also had 6-foot-10 Iowa State transfer Shawn Taggart sitting out last season, and he should help in the post immediately.
"Adding him in the mix, and it being Joey's senior year with the hope that he'll be a bit smarter and more mature helps us," Calipari said, alluding to Dorsey's goading of Greg Oden prior to their Elite Eight showdown.
"You can make a case [for us as No. 1]. Everyone talks about our offense but we were in the top 10 defensively in three categories."
Actually, Memphis was No. 12 in field-goal defense (39 percent), 14th in steals (9.3) and 12th in blocked shots (5.9), none of which is too shabby at all.
"We've got a terrific defense coming back, too," Calipari said.
Memphis will have the schedule, once again, to back up the talent. The Tigers, who finished 33-4 (16-0 Conference USA) and didn't lose a game between Dec. 20 and March 24, will play Arizona (Dec. 29), Gonzaga (Jan. 19, 2008) and Tennessee (Feb. 23, 2008) at home. Calipari said he purposely spread out these three nonconference games around the C-USA schedule. But that's not it, either. Memphis is in the Coaches vs. Cancer Classic, with potential meetings against Connecticut, Kentucky and/or Oklahoma in New York. The Tigers play USC in the Jimmy V Classic in New York, at Ole Miss and at Cincinnati, and take on Middle Tennessee State as part of a doubleheader in Nashville (Tennessee plays Western Kentucky in the other game).
The buy games -- against Holy Cross, Pepperdine and possibly Appalachian State -- aren't a cakewalk, either. And Conference USA should be much better with Robert Vaden and Walter Sharpe eligible to play for UAB after transferring from Indiana and Mississippi State, respectively.
So why not make Memphis No. 1?
OK, I will.
Here is the rest of the Top 25, post-deadline declaration:
2. North Carolina
2006-07 Record: 31-7, 11-5
The Tar Heels lost Brandan Wright. He could have been a difference maker for them, the type of player that could break open a game. No team is more prepared to lose a player to the draft than the Tar Heels, who have Deon Thompson and Alex Stepheson ready to step in next to Tyler Hansbrough. The guards are all back, meaning the Tar Heels will be just as tough to stop with Tywon Lawson and Wayne Ellington.
3. Kansas
2006-07 Record: 33-5, 14-2
Now we're in "what if" territory. If Brandon Rush doesn't sign with an agent and comes back, the Jayhawks have a legit shot to be a title contender. The rest of the squad is all set in the backcourt, led by Russell Robinson and Sherron Collins, the anchor of this group. Expect Darrell Arthur to really blossom, too. But if Rush is gone, the Jayhawks have to slip. Losing Rush and Julian Wright would be too hard to ignore.
4. Georgetown
2006-07 Record: 30-7, 13-3
The Hoyas are even more of a "what if," because they could be the No. 1 team if Jeff Green and Roy Hibbert come back. That would essentially mean the team is returning intact, with the addition of two stellar freshman guards. But Green and Hibbert are likely lottery picks, so it's hard to believe they will return. But until we know for sure, we can't ignore the Hoyas in the top five.
5. Washington State
2006-07 Record: 26-8, 13-5
I know this looks a bit crazy, but the Cougars didn't lose anyone but Ivory Clark and they're going to be even more comfortable in the Bennett system. Wazzu will be a tough out no matter where they play. Last season was hardly a fluke. The Cougs are a fad pick right now because of their oodles of experience and the chip they'll carry after getting knocked out by Vandy in the NCAAs.
6. UCLA
2006-07 Record: 30-6, 15-3
Kevin Love will give this squad plenty of balance, a big man in the middle, and an anchor to go along with a solid crew around the rest of the floor with Darren Collison and Josh Shipp. The reason the Bruins slide here a tad is the loss of Arron Afflalo. You can't discount his overall importance to this squad. I'm sure putting the Cougs ahead of the Bruins will ruffle a few feathers in Westwood.
7. Louisville
2006-07 Record: 24-10, 12-4
The Cards are essentially the same team that nearly knocked off Texas A&M and made a trip to the Sweet 16. Give Rick Pitino another year with this group and the Cards should be the pick of the Big East -- assuming Georgetown's duo doesn't return.
8. Tennessee
2006-07 Record: 24-11, 10-6
Chris Lofton's decision to stay ensures the Vols will be the pick to win the SEC, not just the East. The rest of the crew, save Dane Bradshaw, is back and this group of Vols will be even more effective in Bruce Pearl's system.
9. Indiana
2006-07 Record: 21-11, 10-6
D.J. White is back and adding him with Eric Gordon means the Hoosiers are the pick to win the Big Ten. Not too bad in Kelvin Sampson's second year on the job. The Hoosiers should be a hot ticket all year long and they have a realistic shot to get to San Antonio.
10. Michigan State
2006-07 Record: 23-12, 8-8
The Spartans are essentially the same team with a solid recruiting class coming in along the backcourt that gives them a shot to reach the Alamo. Drew Neitzel has a legit chance to be the national player of the year. Tom Izzo wanted to make a serious run to be a Final Four team in Detroit in two years, but he might be able to make it a year early.
11. Gonzaga
2006-07 Record: 23-11, 11-3
Call us crazy here, but the Zags didn't lose Josh Heytvelt. So add Heytvelt (whom the Zags hope has put his legal issues behind him) back to a stellar recruiting class and a core group of players who are hungry to make another deep run. Mark Few is confident this is one of his best squads. It's hard to doubt him.
12. USC
2006-07 Record: 25-12, 11-7
The Trojans slide down quite a bit after losing Nick Young and have the "what if" factor with Gabe Pruitt. If Pruitt returns to join a core group of Taj Gibson and O.J. Mayo, then USC will have a shot to be a top-15 team. If Pruitt's gone, then it's expecting too much to see them this high. One thing is certain: the Trojans will play stellar defense.
13. Arizona
2006-07 Record: 20-11, 11-7
The Wildcats lose Marcus Williams and Ivan Radenovic, but the addition of Jerryd Bayless along with assistant coach Kevin O'Neill should make this a better defensive team. The Wildcats will lean heavily on Chase Budinger and Jawann McClellan. And that's not a bad thing at all.
14. Marquette
2006-07 Record: 24-10, 10-6
We're back to the "what if" category with the Eagles. If Dominic James returns, there is a good shot the Eagles can climb much higher. The trio of guards in James, Jerel McNeal and Wes Matthews is enough to keep this squad alive in the top 20 all season. Without James, there are questions about playmaking.
15. Stanford
2006-07 Record: 18-13, 10-8
This is the Pac-10 corridor of the Top 25. We're moving up the Cardinal, even though they have point guard issues. The Lopez twin towers (Brook and Robin) and the return of Lawrence Hill and Anthony Goods make the Cardinal a hot pick.
16. Oregon
2006-07 Record: 29-8, 11-7
The Elite Eight Ducks lost their leader in Aaron Brooks, but the rest of the crew is back, making Eugene another hot spot this season. Look, we're not even at No. 20 and already there are six Pac-10 teams. West Coast bias? I think not.
17. Pitt
2006-07 Record: 29-8, 12-4
The Panthers will have a different look without Aaron Gray and Levon Kendall but they'll be just as tough defensively and maybe a bit quicker. Don't be surprised if the Panthers become a better perimeter shooting team, either.
18. Syracuse
2006-07 Record: 24-11, 10-6
The Orange move up from our last poll as the good vibes continue to roll in on freshmen Jonny Flynn and Donte Greene. The expectation is that Eric Devendorf and Paul Harris will be much more mature and will have an even better grasp of what Jim Boeheim wants from them next season.
19. Duke
2006-07 Record: 22-11, 8-8
The Blue Devils move up four spots from our last poll, and by the time the dust settles from the early entries could move up even higher. Losing Josh McRoberts stings, but expect Kyle Singler and Nolan Smith to have a huge impact on the Blue Devils. And the freshmen, like Jon Scheyer, will only be better in Year 2.
20. Texas A&M
2006-07 Record: 27-7, 13-3
Mark Turgeon got DeAndre Jordan to re-commit to the program, and that alone should keep this squad in the top 20. Joseph Jones declared for the draft but it's likely he'll return to A&M. But losing Acie Law IV and Antanas Kavaliauskas, and the transition from Billy Gillispie to Turgeon, has to knock the Aggies down.
21. Georgia Tech
2006-07 Record: 20-12, 8-8
The reason the Yellow Jackets slide this much, down from 11 in the last poll, is the question of what Thaddeus Young and Javaris Crittenton are going to do in June. The word is that both could bolt, which would certainly knock the Yellow Jackets out of the Top 25. If one stays they still should be a Top 25 squad, but Crittenton may be the more valuable player, and he could be climbing in the draft.
22. Mississippi State
2006-07 Record: 21-14, 8-8
The Bulldogs survived a scare when Jamont Gordon put his name into the draft, only to take it out before the deadline Sunday. Charles Rhodes declared but Rick Stansbury expects he'll return. Assuming he's back, the Bulldogs should be the pick to win the SEC West.
23. Southern Illinois
2006-07 Record: 29-7, 15-3
The Salukis lose Jamal Tatum and Tony Young, but they hang onto Randal Falker, Matt Shaw and coach Chris Lowery, who will once again make SIU the team to beat in the Valley, as well as a tough out in March.
24. NC State
2006-07 Record: 20-16, 5-11
The Wolfpack came on strong late in the season, especially during the ACC tourney, and while they'll lose Engin Atsur at point, they return five of their top six. They'll also have another year under Sidney Lowe. This should be an NCAA team and a factor in the ACC race.
25. Davidson
2006-07 Record: 29-5, 17-1
Stephen Curry didn't declare for the NBA draft. He scored 21.5 points a game, so who knows if the freshman might have thought about it. But he's back and so, too, is the rest of the top 10 scorers off a 29-5 squad that gave Maryland fits in the first round of the NCAA Tournament.
Teams Missing The Cut
Alabama, Kansas State, Ohio State, Providence, Miami, Maryland, Connecticut, Georgia, Arkansas, Auburn, LSU, Vanderbilt, BYU, Butler, VCU, Oklahoma State, Oklahoma, Washington, West Virginia, Florida and Kentucky.
Andy Katz is a senior writer for ESPN.com.
MORE MEN'S COLLEGE BASKETBALL HEADLINES
Nike Men's Arizona Wildcats Navy Disruption Knit Elite Basketball Performance Shorts Shop »

MOST SENT STORIES ON ESPN.COM