Donovan would earn roughly $3.5 million per season
Florida basketball coach Billy Donovan, who led the Gators to back-to-back national championships this past season and then turned down a lucrative offer to become Kentucky's coach, is close to signing a seven-year contract extension with the Gators that will pay him an average of more than $3.5 million per season, sources close to the situation said Thursday.
The new contract, which Donovan hasn't yet signed, will pay the coach around $3 million the first year. The contract then escalates to more than $3.75 in guaranteed income by the end of the contract in 2013-14, a person familiar with the negotiations said.
The deal also includes several performance-based incentives that could make the deal worth as much as $4 million per season by the end of the contract.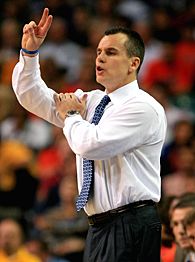 Travis Lindquist/Getty ImagesBilly Donovan, who led UF to back-to-back NCAA titles, will be rewarded for his coaching efforts.
A source said Donovan, one of only 12 college basketball coaches to win multiple national championships, could sign the contract "in a couple of days, or a couple of weeks."
It is believed the contract would make Donovan the highest-paid coach in college basketball history, at least in terms of guaranteed money. Duke's Mike Kryzezewski, whose contract isn't privy to state open record laws because Duke is a private institution, is believed to make about $3 million, much of which is generated by outside endorsements. North Carolina's Roy Williams on Thursday received a four-year contract extension that will pay him $1.8 million per season, plus incentives. Williams' total package is believed to be about $3 million.
Donovan, who has a 261-103 record in 11 seasons at Florida, has five years left on a contract that pays him about $1.8 million per season. After the Gators won their first national championship in basketball in 2006, Donovan agreed to an extension that would have paid him about $2.5 million per season. But he delayed signing the new contract after his team's four sophomores -- forwards Joakim Noah, Al Horford and Corey Brewer and guard Taurean Green -- each decided to return for the 2006-07 season and delay entering the NBA draft.
Then the Gators beat Ohio State 84-75 on April 2, becoming the first team to win consecutive national titles since Duke in 1991 and 1992 and the first ever to win back-to-back titles with the same starting five.
Kentucky quickly contacted Donovan about replacing Tubby Smith, who left for Minnesota. But Donovan, a former Wildcats assistant under Rick Pitino, turned down Kentucky's offer and chose to remain at Florida.
Florida loses each of its junior starters and senior guard Lee Humphrey, along with assistant head coach Donnie Jones, who was named coach at Marshall.
College Football and Basketball
College football/basketball writer for ESPN.com
Author of seven books on college football
Formerly at the Washington Post and the Atlanta Journal-Constitution
SPONSORED HEADLINES
MORE MEN'S COLLEGE BASKETBALL HEADLINES
MOST SENT STORIES ON ESPN.COM
EDITORS' PICKS
Dominic Green made the most of his summer.
Medcalf »

Does Kentucky have too much depth?
Brennan »

What if these games never happened?
Medcalf »