BSC must wait to be Cinderella
Originally Published:
February 4, 2004
By
Ron Buck
| ESPN.com
In the world of mid-majors, it pretty cut-and-dry. Win your conference's postseason tournament, or don't go dancing.
There are few exceptions, of course. The Missouri Valley Conference has sent two teams to the NCAA Tournament in recent years; the Horizon did so last year; while Gonzaga no longer depends on the WCC's automatic bid. But, by and large, no matter what a team does over the course of 25 or so games, winning the last three and earning the league's automatic bid is what counts.
Ah, but what happens when the best team in the league hasn't done anything wrong, isn't on probation or banned from the postseason, yet isn't even invited to its own conference tournament? Well, you cry foul, of course.
Such is the case of Birmingham Southern, which in just its fourth season of Division I competition has emerged as the Big South's best team. The problem for the Panthers, however, is they're still in what the NCAA calls a "transition period." By NCAA rule, a school must wait two full seasons once joining a conference before it becomes eligible to participate in the conference's postseason tournament, and thus, possibly earn its automatic NCAA Tournament bid.
In the case of BSC, it's simply too competitive, too soon, at the Division I level. The Panthers were 19-9 last season, but didn't officially belong to the Big South as its provisional Division I period came to a close. This year, its Big South regular season results count and the Panthers enter the week 9-2 against conference foes -- fresh off a sweep of Coastal Carolina and Charleston Southern on the road. BSC has already swept Winthrop, which has represented the Big South in four of the past five NCAA Tournaments, and won at last year's NCAA representative UNC Asheville.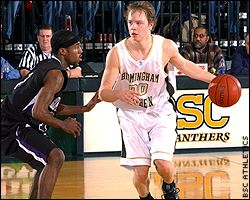 Jakob Sigurdarson, by way of Iceland, is Birmingham Southern's leading scorer.
But, at 15-5 overall, the only way into the NCAAs this year is via an at-large bid. And that's not going to happen, even if the Panthers win out. The Big South is a "one bid" conference by definition, ranking 28th this week among 32 conferences in the country. The Panthers rank No. 183 in Wednesday's InsideRPI.
There is talk of the NCAA possibly changing its "transition period" guidelines, but it won't look at the current legislation to do so until April. Too late for BSC this season, but maybe in time to allow the Panthers to dance in 2005. BSC became a full Division I member this season and would have to continue its "transition" in 2004-05 if the rule isn't changed.
So, why is the Cinderella Watch concerned? Well, call it a case of sticking up for the little guy. And if the NCAA won't let the Panthers play in their little tournament this season, let the Watch be the first to lobby for BSC getting a bid into the NIT -- as long as the Panthers take care of business the rest of the way.
The Panthers would be happy to hit the road, their not asking to play in Bill Battle Coliseum. The Watch is sure the NIT would have room for a 20-win, regular-season champion among its 40 bids. And, as one of only three Division I teams in Alabama currently atop its league or division standings, the Panthers would be happy to play any of the other instate schools who don't see their name on Selection Sunday (Can you say, Auburn or UAB?)
The NCAAs may still be two seasons away, but as it's proved in its first 18 months as a Division I program, BSC is a future Cinderella.
As for this year's Cinderellas? Once again, let's clarify:
In the eyes of ESPN.com, a team in the Mid-Major Top 10 (see chart below) may not "officially" be on the Cinderella Watch.
However, those 10 teams certainly could qualify as Cinderellas come March. But, for now, those 10 teams are a bit more mainstream in our view. (See: Gonzaga rule below). So, just because Utah State, Southern Illinois or Murray State isn't on the Cinderella Watch, it doesn't mean they aren't Cinderella-worthy come tourney time. In fact, we'd be surprised if at least two or three teams on our final Top 10 list in March didn't win a game or two in the NCAA Tournament.
Each week leading up to Selection Sunday (March 14), we'll chronicle the progress of all deserving mid-major teams around the country -- via the Cinderella Watch and Mid-Major Top 10. The goal is to identify a few teams that fans should become familiar with heading into the Big Dance. The teams we feature this week may become regulars. They may fall by the wayside. But chances are the Watch will have its share of changes during the next two months.
As for the definition of a Cinderella? Well, the only rule when it comes to the Watch is a team can't play in Big East, ACC, Big Ten, Big 12, SEC or Pac-10. So, unlike the Mid-Major Top Ten (which doesn't include the Atlantic-10, WAC or Mountain West), those conferences can produce Cinderellas. But, just because South Carolina is enjoying surprising success in the SEC, don't look for the Gamecocks on the Watch.
Why? Because we said so.
One aspect to the Watch hasn't changed this year: Fans will still play a major role in the look of the Watch. Not only can you vote for the most deserving Cinderellas each week in the poll below, but be sure to send in your Cinderella Watch comments, telling us why your school should get more attention from not only us but the selection committee, as well. Last week, the fans spoke and Austin Peay was eliminated
Oh, and remember the Gonzaga Rule: The Zags outgrew their slipper several years ago.
Aside from that, the Watch is pretty much open to everyone. So, with all of this in mind, let's take a look at the teams the big boys should be watching along with us this week.


1.


Gonzaga


17-2


2.


Utah State


17-1


3.


So.
Illinois


17-2


4.


Creighton


16-2


5.


Western
Michigan


15-2


6.


Kent
State


14-3


7.


Wisconsin-
Milwaukee


15-5


9.


E. Tenn.
State


18-4


10.


Central
Florida


15-2


10.


Manhattan


15-4
Cinderella Story
Cornell:
When it comes to the Ivy League and the NCAA Tournament, two words are usually used: Penn or Princeton. Since 1962, only three times has another school danced. So while its still way to early to call the Big Red the Ivy's team to beat, the Watch might as well talk about another Ivy team while it can. And that team is Cornell. The Big Red is 4-0 in the Ivy entering this week. Yes, Princeton is also perfect at 2-0. But, in a conference where every league wins counts that much more without a conference tournament, a win in January means just as much as one in March. And Cornell has done what it should against the lesser Ivy teams, which is saying something for a program that has averaged just seven Ivy wins the past six seasons. The tasks become tougher in February, as the Big Red travel to Brown and Yale this week and then hosts the pair of Ps next week. But, as the last Ivy team other than Penn or Princeton to win the conference championship (back in 1988), Cornell was picked this season as the most likely to unseat Penn. So far, so good for Steve Donahue's program. But check back after Valentine's Day to see if the Big Red is still have a place in the Watch's heart.
Slipping Into A Slipper
Virginia Commonwealth:
The Blizzard finally ended in the CAA this season, which has allowed others to see their way into the NCAA Tournament. UNC-Wilmington's hold on the CAA bid to the NCAAs appears over, as Brent Blizzard is no longer winning CAA player of the year awards and leading UNCW to three of the past four dances. George Mason was picked to replace the Seahawks atop the CAA, but the Commonwealth can't seem to lose these days. It started with a a win over George Mason (Jan. 17), and now four victories later, the Rams lead the CAA after the first half of the conference season. VCU is also leading the CAA in shooting both from the field (47.6 percent) and from beyond the 3-point arc (38.8 percent). Seniors Domonic Jones (17.3 ppg) and Troy Goodwin (11.7 ppg, 7.1 rpg) have played up to expectations, showing why the Rams started the season as a CAA sleeper and could wake up the NCAAs.
Slipping Out of Its Slipper
Holy Cross:
Marquette, Kansas and Kentucky can breath easier. The Cross doesn't appear headed back to the dance. After near-misses in the first round of the past three NCAA Tournaments, the Crusaders (2-5 in Patriot, 8-10 overall) look like they'll miss their first dance since 2000. With the likes of Patriot POY Patrick Whearty and Tim Szatko both gone up front, and steady guard Brian Wilson also graduated, the fall wasn't totally unexpected. The pick as preseason favorite by Patriot coaches was flattering, but unrealistic. Oh, and the Watch is sure those same coaches aren't upset they were wrong about the Cross.
Does The Slipper Fit?
The following teams may or may not have the stuff to be included in this week's Mid-Major Top 10, but certainly could become a Cinderella story. And here's where you come into play. Vote in the poll to the right. Your vote will help eliminate one team users don't feel has shown it can be a Cinderella in March. Want to express yourself more?
Click here
to let us know who we missed, or why your team should stay on next week's guest list.
This Week's Guest List
Team
NCAA Résumé
Air
Force
(15-3)

Marquee Wins: at Cal, Utah, BYU
A bit of stage fright, perhaps? Shots didn't fall on Big Monday. They better when ESPN is in town for MWC tourney.
College of
Charleston
(16-3)

Marquee Wins: None
Cougars got back on track with two wins, but it's clearly a three-team battle for SoCon bid.

Dayton
(17-3)

Marquee Wins: at Pepperdine; SDSU, Xavier
No, the Flyers haven't outgrown the Watch; But, beating St. Joe's in a week would certainly open more eyes.
Georgia
Southern
(17-3)

Marquee Wins: College of Charleston
Speaking of that third SoCon contender, the Eagles have won 13 straight games and sit atop South Division with CofC.

Hawaii
(15-4)

Marquee Wins: Oregon State
Rice ended Warriors' run on mainland, but two weeks on island could separate 'Bows from rest of WAC.
Murray
State
(17-4)

Marquee Wins: So. Miss., So. Illinois
Talk about a two-week gauntlet. Racers hit the road for five straight OVC games starting Thursday night. Yes, Austin Peay is among stops.

Troy
State
(14-5)
Marquee Win: San Diego State
Considered the Trojans for Top 10 after win in Orlando, so Watch certainly likes what it's seeing.

Vermont
(13-5)

Marquee Wins: None
Catamounts still have little margin for error, despite leading America East with 9-0 mark.
Ron Buck is ESPN.com's men's college basketball editor.
SPONSORED HEADLINES
MORE MEN'S COLLEGE BASKETBALL HEADLINES
MOST SENT STORIES ON ESPN.COM
EDITORS' PICKS
Mike Brey's Notre Dame team could be the biggest surprise of the season.
Coachspeak »

Jay Bilas offers up the best teams in the land ... with some help.
Bilas & Gasaway

The rosters for both sides of the McDonald's All American Game have been released.
Borzello »