A few perfect Cinderellas
Originally Published:
February 11, 2004
By
Ron Buck
| ESPN.com
The word "perfection" seems to be on everyone's mind these days. Can Stanford or Saint Joseph's run the regular-season table? Will either enter the NCAA Tournament undefeated? When will either lose, if they do lose?
Well, the same questions are being asked when it comes to a half-dozen mid-major teams. Huh?
Sure, Vermont, Utah State, Southern Illinois, Austin Peay, East Tennessee State and Gonzaga have lost this season. But that was back during the non-conference schedule, when the games didn't mean nearly as much as they do these days.
No, we're talking about the conference season. And, heading into the final few weeks of the regular season, none of the six have dropped a conference game.
So, will any of them run the table? Well, winning all its conference games would be a first for all but one. But, it certainly looks good for a few.
Gonzaga has won its first nine WCC games heading into Thursday night. And, while the seventh-ranked Zags have done too much nationally over the past five years to ever be considered a Cinderella, one thing they haven't done is win all their conference games. The Zags lost twice during the WCC season back in 1999 when they reached the Elite Eight. They dropped three WCC games the next Sweet 16 season and a year later, Santa Clara kept the Bulldogs from a perfect WCC run before they reached another Elite Eight.
This year, the Zags seem to be on an another level -- beating WCC competition by nearly 20 points per game. Gonzaga plays its final two WCC road games this week in Northern California and hosts three others to finish February. Under a favorable conference format, it will then need to win just twice in the WCC tournament in Santa Clara to complete the WCC sweep.
Utah State is also poised to complete its second unbeaten run through the Big West. The Aggies, who beat all Big West comers during the 1999-2000 season, are 11-0 heading into Cal-State Northridge on Thursday night. Like Gonzaga, the Aggies (19-1) are no strangers to the NCAAs, but have found a way to stumble on the road to the Dance.
Utah State cracked the top 25 this season, but the 23rd-ranked Aggies' road to perfection is a little more difficult on paper, starting with a visit to UOP on Saturday. The Tigers are 10-1 in the Big West and unbeaten at home this season against Big West foes. Utah State also has three road games to finish the regular season, not to mention the conference tournament in Anaheim, Calif.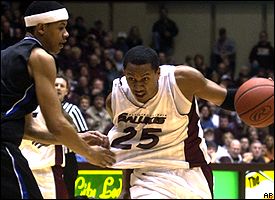 Stetson Hairston and the Salukis have been unstoppable in the MVC this season.
Vermont and Southern Illinois have each beaten their biggest threats on the road. The Catamounts took out Boston University on its court a month ago to assume control of the America East, while the Salukis' 13th straight win in the Missouri Valley snapped Creighton's 28-game home winning streak this past Saturday. Beating their major rivals at home, not to mention a trip to Northern Iowa later this month, appear the only major threats to regular-season perfection.
As for the postseason? The Catamounts would host the conference tournament if they sweep the Terriers -- a major advantage to say the least for a team without much at-large hope. The MVC tournament is once again in St. Louis, so any Salukis' perfection will be tested on a neutral court come March.
As for Austin Peay and East Tennessee State? The Governors have made a remarkable run through the Ohio Valley Conference, winning 11 straight after a 4-7 non-conference that included losses to Kentucky, Louisville, Alabama and Memphis. To finish the OVC without a loss, however, will take six more victories -- the toughest most likely coming Saturday when the Govs host Murray State (19-4, 9-1 OVC).
In looking at ETSU's remaining games, going undefeated in the SoCon will likely come down to winning on College of Charleston's home court in the regular-season finale. The Bucs (20-4), however, have won their 11th and 12th straight SoCon games by a total of five points. So, looking past the next three isn't advised.
Perfect regular seasons or not, becoming a Cinderella for at least half of these teams will likely require winning those all-important postseason tournaments. The selection committee isn't above looking past a regular season champion -- perfect or not.
Still, running the conference table isn't only for the big boys. And in some ways, even more impressive when done by the little guys.
Speaking of Cinderellas, let's keep clarifying what the Cinderella Watch is all about. First of all:
In the eyes of ESPN.com, a team in the Mid-Major Top 10 (see chart below) may not "officially" be on the Cinderella Watch.
However, those 10 teams certainly could qualify as Cinderellas come March. But, for now, those 10 teams are a bit more mainstream in our view. (See: Gonzaga rule below). So, just because Utah State, Southern Illinois or Murray State isn't on the Cinderella Watch, it doesn't mean they aren't Cinderella-worthy come tourney time. In fact, we'd be surprised if at least two or three teams on our final Top 10 list in March didn't win a game or two in the NCAA Tournament.
Each week leading up to Selection Sunday (March 14), we'll chronicle the progress of all deserving mid-major teams around the country -- via the Cinderella Watch and Mid-Major Top 10. The goal is to identify a few teams that fans should become familiar with heading into the Big Dance. The teams we feature this week may become regulars. They may fall by the wayside. But chances are the Watch will have its share of changes during the next two months.
As for the definition of a Cinderella? Well, the only rule when it comes to the Watch is a team can't play in the Big East, ACC, Big Ten, Big 12, SEC or Pac-10. So, unlike the Mid-Major Top Ten (which doesn't include the Atlantic-10, WAC or Mountain West), those conferences can produce Cinderellas. But, just because South Carolina is enjoying surprising success in the SEC, don't look for the Gamecocks on the Watch.
Why? Because we said so.
One aspect to the Watch hasn't changed this year: Fans will still play a major role in the look of the Watch. Not only can you vote for the most deserving Cinderellas each week in the poll below, but be sure to send in your Cinderella Watch comments, telling us why your school should get more attention from not only us but the selection committee, as well. Last week, the fans spoke and Troy State was eliminated.
Oh, and remember the Gonzaga Rule: The Zags outgrew their slipper several years ago.
Aside from that, the Watch is pretty much open to everyone. So, with all of this in mind, let's take a look at the teams the big boys should be watching along with us this week.


1.


Gonzaga


19-2


2.


Utah State


19-1


3.


So.
Illinois


19-2


4.


Western
Michigan


18-2


5.


Kent
State


17-3


6.


E. Tenn.
State


20-4


7.


Creighton


18-3


8.


Manhattan


17-4


9.


Murray
State


19-4


10.


Wisconsin-
Milwaukee


16-6
Cinderella Story
Louisiana-Lafayette:
The Ragin' Cajuns are clearly the class of the Sun Belt this season, but more importantly, getting all their pieces together at the right time. Lafayette showed signs of its potential as the calendar turned to 2004, giving Arizona all it wanted in a 72-69 loss on the Wildcats' court. But when conference season started, they still only stood a game over .500. Well, after splitting their first two Sun Belt games, the Cajuns (13-5, 8-1 Sun Belt) have reeled off seven straight wins. The last six have come with the services of Orien Green. And if the name sounds familiar, it should. Green started his career at Florida, where he was part of two NCAA teams. After sitting out last season, he's averaged a solid 10 points a game for the Cajuns since joining the team midway through the season. But he's not alone. Balance is the key to Lafayette's success, as seven players average double figures -- led by Antoine Landry (14.1 ppg). With the rest of the Sun Belt's squads struggling to stay above .500 in conference play, the automatic bid is there for the Cajuns.
Slipping Into A Slipper
UTEP:
It was only a season ago when the UTEP basketball program was in ruins. Jason Rabedeaux quit just days into the 2002-03 season, leaving the Miners without a head coach a few weeks before their first game. Billy Gillespie was hired to pick up the pieces, and while he obviously laid a solid foundation, UTEP finished with just six wins. Fast forward to this season and the Miners are on the verge of winning the WAC regular season title. It's been a remarkable story in El Paso, Texas. And UTEP fans have responded, already selling out the Miners' game against Hawaii ... on Feb. 23! UTEP (17-4, 8-3 WAC) still needs to make sure it doesn't look even a game ahead, let alone two weeks. The Miners trail Hawaii by a half-game, but lead Nevada by just as much. With trips to Fresno State and the Wolf Pack this week, the Miners need at least a split. Then again, who would have thought we'd be talking about the Miners in a title race 12 months ago?
Slipping Out of Its Slipper
College of Charleston:
We're not saying the Cougars (17-5, 9-3 SoCon) are going to miss another Dance, but the season is looking much like last year's disappointing campaign when CofC won the Great Alaska Shootout, but stumbled once too often in the SoCon. As always, it'll come down to the conference tournament. Losses at Davidson and Wofford have taken CofC out of any at-large discussion. In fact, beating ETSU at home in the regular-season finale isn't nearly as important as winning three straight the next week in North Charleston -- site of the SoCon postseason tournament.
Does The Slipper Fit?
The following teams may or may not have the stuff to be included in this week's Mid-Major Top 10, but certainly could become a Cinderella story. And here's where you come into play. Vote in the poll to the right. Your vote will help eliminate one team users don't feel has shown it can be a Cinderella in March. Want to express yourself more?
Click here
to let us know who we missed, or why your team should stay on next week's guest list.
This Week's Guest List
Team
NCAA Résumé
Air
Force
(17-3)

Marquee Wins: at Cal, Utah, BYU
How did the Falcons respond to first loss? Quite nicely, actually, in wins over Wyoming and Colorado State at home.
Austin
Peay
(14-7)

Marquee Wins: None
Governors were the first to be voted off this list, but that was before winning 11 straight OVC games. How do you feel about 'em now?

Central
Florida
(17-4)

Marquee Wins: None
Back-to-back losses to start February dropped Knights out of Top 10. It's suddenly getting crowded atop A-10.

Dayton
(19-4)

Marquee Wins: at Pepperdine; SDSU, Xavier
Latest to lose to Saint Joseph's, but if Flyers take care of business may ruin Hawks' perfection closer to home in A-10 tourney.
Drexel
(15-7)

Marquee Wins: None
Philly isn't all about the Big Five. The Dragons won at VCU -- their ninth win in 10 outings -- to take over CAA lead.
Georgia
Southern
(18-4)

Marquee Wins: College of Charleston
Just a lull, or reason to doubt Eagles? Lost at home to Furman (Furman?), then got a huge scare from visiting Western Carolina.

Hawaii
(16-4)

Marquee Wins: Oregon State
Too much sun? Warriors nearly let SJSU pick up first WAC win on island (56-55). But still holds slim WAC lead.

Vermont
(16-5)

Marquee Wins: None
Survived a couple of close calls on the road last week on the way to weekend showdown with BU.
Ron Buck is ESPN.com's men's college basketball editor.