Commentary
Instant Analysis: Louisville at Villanova
Originally Published:
January 10, 2009
By
Dana O'Neil
| ESPN.com
PHILADELPHIA -- ESPN.com's Dana O'Neil provides instant analysis from Louisville's 61-60 win at Villanova on Saturday.
[+] Enlarge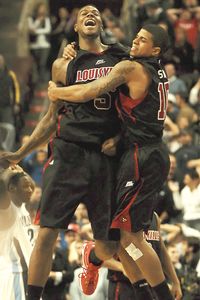 AP Photo/Bradley C BowerEarl Clark and Edgar Sosa celebrate as Louisville held on against Villanova to improve to 11-3.
GAME ANALYSIS
: Welcome to the Big East. Ain't nothing easy. What this game lacked in aesthetic beauty -- and it lacked plenty -- it made up for in hard-fought hoops. Bodies and elbows flying, every shot within 15 feet contested, Louisville won this game on sheer will. Anyone who doubts that the Cardinals are back in the national picture needs to think again.
HOW THE GAME WAS WON
: Struggling at the line all game,
Antonio Pena
made one of two free throw attempts to tie the game at 59. Much-maligned guard
Edgar Sosa
then heaved a chest pass a good 3 feet out of the bounds, giving Villanova the ball back with under a minute.
Dante Cunningham
took the ball down low and got fouled but missed the first freebie. He sank the second but the Cardinals immediately responded when
Terrence Williams
, who couldn't buy a bucket all game, scored on a finger roll that touched every inch of the rim before falling in.
On the ensuing possession, the Wildcats broke Louisville's break and got Pena the ball underneath. He was fouled but missed both free throws, the second spinning out. The rebound fell out of bounds off Earl Clark's knee, giving Villanova one shot with 4 seconds left. Cunningham got a great look on the inbounds but missed, and Reggie Redding couldn't put back a good-looking offensive rebound.
PLAYER OF THE GAME: Earl Clark missed just one field goal the entire second half, finishing with 16 points and 11 rebounds.
PLAYER OF THE GAME II
: Philadelphia isn't kind to Terrence Williams. The senior had been shooting 27 percent in his four previous trips here. Saturday wasn't much better, as Williams connected on 3-of-10 from the field for 10 points. Undeterred, he simply did everything else, grabbing 14 rebounds and dishing out six assists. And when his team needed him most, it was Williams dropping the game-winning finger roll.
STAT OF THE GAME: Eleven: That's how many free throws Villanova missed (18 of 29), a killer number in a tight game.
WHAT IT MEANS
: Maybe Louisville should just start the season in January. For the second year in a row, a very good Louisville team started sluggish and is coming along. Last season, it was a 9-4 start through Jan. 1 that turned into a 27-9 finish. This year it was an 8-3 start turning into a current 11-3 mark. The Cardinals aren't yet playing smarter, but they're playing harder and getting solid production from guys who had been MIA, namely Earl Clark. The Cards are also 2-0 in the Big East for the first time since joining the league.
SIGHT FOR SORE EYES: No one would confuse this game with ballet. In the first three minutes of the second half, Louisville missed its opening three shots plus turned the ball over three times; Villanova countered with an 0-for-2 start and one giveaway.
GET THE JOINT JUMPING
: The Wachovia Center sounded like it does for its usual basketball tenants, the 76ers (in other words, devoid of noise and atmosphere) until
Scottie Reynolds
got the fans off their feet with a did-he-just-do-that shot. On the fast break, the junior spun at about the free-throw line to shake
Preston Knowles
, getting just enough space to put up a reverse layup. When the shot slipped through the net and Knowles was cited for the foul, the Wachovia Center finally sounded like a college arena.
NOTHING BUT NET: Terrence Jennings started the season 0-for-6 at the line. So naturally, when the rookie stepped to the line in the first half, with his team perfect from the line, he sank both, the net barely fluttering. He reverted back to form on his next trip to the line, clanking both attempts.
THIS ISN'T CONFERENCE USA
: With No. 17 Villanova behind it, Louisville will host No. 13 Notre Dame on Monday and No. 1 Pittsburgh on Saturday, marking the first time since 1997 that the Cardinals will play three ranked opponents in a row. How's that compare to Louisville's former conference? Well, when the Cards played in Conference USA they once went 66 games without playing a single ranked opponent, from November 2000 to December 2002.
Dana O'Neil is a college basketball writer for ESPN.com.
College Basketball
College basketball reporter.
Joined ESPN in 2007.
Graduate of Penn State University.
EDITORS' PICKS
How did the major programs fare overseas?
Jeff Goodman

How do decommitments change programs?
O'Neil