Bulldogs squeak out tough road win at Valpo
AP Photo/Joe Raymond
Key Shot
By Kyle Whelliston
Special to ESPN.com
VALPARAISO, Ind. -- It doesn't matter who wins the first 39 minutes and 45 seconds of a game, just as long as you're ahead at the end. No. 10 Butler trailed new in-state Horizon League rival Valparaiso until a
Pete Campbell
corner 3-pointer with 15 seconds left allowed the Bulldogs to escape with a thrilling 71-68 win. The largest crowd ever to witness a Valparaiso home game -- 5,432 strong -- buoyed the Crusaders to an early 12-0 lead, and two fouls on
Mike Green
forced Butler coach Brad Stevens to tap into his stable of underclassman backup guards. By the half, Valpo was maintaining an eight-point lead, as the crowd flashed their handmade ESPN2 signs to the cameras, celebrating the school's first nationally televised home game since 1997. But in the second half -- with both Green and star freshman forward
Matt Howard
battling continued foul trouble -- Valpo failed to take advantage, and the Bulldogs whittled away at the lead.
A.J. Graves
(a game-high 20 points) hit three jumpers in the final minutes to draw Butler even and cast a hush over the Athletics-Recreation Center, but when Campbell let his final 3 fly, the student section let loose a piercing scream of angst. Later on, the man who hit the winning shot was asked about the winning play. "We were running a kinda like a flat, on-ball play up at the top of the key," Campbell answered matter-of-factly. "Careful, Pete," Stevens whispered, encouraging his senior to keep his team's plays more secretive. "We've got more games this week." With the come-from-behind poise Butler showed on Tuesday, it may not matter whether the Bulldogs' opponents have their playbook or not. The 20-2 (9-2) Horizon leaders will make their annual Wisconsin swing this weekend (UW-Green Bay and UW-Milwaukee) but won't have to face another team in the RPI top 100 until Feb. 16, when they'll attempt to avenge their 56-52 loss to Cleveland State on Jan. 17. To watch highlights of Butler's win over Valparaiso, click
here
.

Writer's Take
By Chris Low
ESPN.com
The excruciating part for the young Gators was that for 30-some minutes, they looked like they belonged. They matched No. 7 Tennessee shot for shot, fast break for fast break and hustle play for hustle play. "But 30 minutes doesn't cut it and especially not against these guys at their place," Florida sophomore forward
Dan Werner
said. The last 10 minutes were nothing more than a neon orange blur for the No. 22 Gators, who, for the second straight game, experienced the dreaded growing pains of life on the road in the SEC. Their 104-82 loss to Tennessee on Tuesday was their worst since the 1998-99 season, when they were butchered 91-56 by the Vols right here in Thompson-Boling Arena. Tuesday's loss also came on the heels of an 80-61 beating at Arkansas last Saturday. To watch highlights of Tennessee's win over Florida, click
here
.

Key Notes
By Jason McCallum
ESPN Research
•
Tennessee
has won six of the past eight meetings with Florida, but the previous five wins were by a combined 27 points. Tuesday's 22-point victory is the largest margin for the Volunteers over the Gators since a 91-56 win on Feb. 10, 1999. Tennessee's
Duke Crews
became the first Volunteer this season to foul out of a game during the win.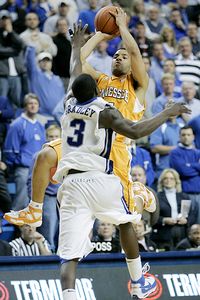 AP Photo/Ed Reinke
Chris Lofton has regained his shooting touch of late and is torching SEC opponents.
• In his first 16 games this season, Tennessee marksman
Chris Lofton
made 45 3-pointers. But in his past six games, Lofton has made 31 shots from behind the arc -- including six in Tuesday's win. •
New Mexico
beat Colorado State 91-51 at the Pit on Tuesday night. The 40-point margin of victory is the Lobos' largest in a conference game since Feb. 27, 1997. That day, they beat BYU 90-48. • Niagara's
Charron Fisher
scored 31 points and Loyola's
Gerald Brown
scored 30 points on Tuesday night. They were two of the three players to score 30 points in Division I action on the day. Interesting that they would do it in a game against each other, when Fisher's Purple Eagles won at home against Brown's Greyhounds 83-79. • Buffalo's
Andy Robinson
scored a Division I-high 35 points on Tuesday night in the Bulls' 89-81 win over Northern Illinois. It was only the eighth time in his career he scored at least 20 points -- the Bulls are now 2-6 in those games. Robinson was 8-for-10 from 3-point range -- that was a career-best effort as well. • Radford's
Kenny Thomas
had nine turnovers and zero assists in the Highlanders' 108-102 overtime win over VMI. He's the fifth player this season to turn the ball over at least nine times with zero assists -- but not the only one to come out victorious. On Dec. 19, Delaware's
Marc Egerson
had 10 turnovers and no assists in the Blue Hens' 71-60 win at Vermont. • Southern Illinois senior
Randal Falker
had 20 points and 15 rebounds in the Salukis' 80-69 win over Indiana State. It was the 16th double-double of his career -- but the first time he's had at least 20 points and 15 rebounds in the same game. The Salukis are 10-6 when Falker reaches double-digits in points and rebounds. • Southern Miss junior guard
Craig Craft
scored a career-high 27 points in the 95-83 double-overtime home win against UAB on Tuesday night. He set career highs in field goals made (10) field goals attempted (16) and minutes played (37). In the previous four games, Craft scored a combined 25 points. • Georgetown senior
Roy Hibbert
blocked six shots in Tuesday's 63-53 home win over South Florida. That ties a career high for swats in a game for the 7-foot-2 center. The last time he had that many blocks in a game was in last season's regional final win over North Carolina. In 58 previous home games, however, he never had more than four blocked shots.
On Tap For Wednesday
• No. 12 Texas at Oklahoma, 7 ET (ESPN2)
• No. 19 UConn at Syracuse, 7 ET (ESPN)
• SMU at No. 1 Memphis, 9 ET
• No. 2 Duke at No. 3 North Carolina, 9 ET (ESPN)
• Texas Tech at Baylor, 9 ET (ESPNU) For the full schedule, click
here
. All games on ESPN, ESPN2 and ESPN Full Court are also on
ESPN360.com
.
Who will win Duke-Carolina?
Injury Update
North Carolina sophomore point guard
Ty Lawson
is doubtful for Wednesday's game against Duke. After spraining his left ankle in the first half of Sunday's game against Florida State, Lawson was still on crutches Tuesday. "He walked in the trainer's room on crutches," UNC coach Roy Williams told The Associated Press, "and I think it's awfully difficult to go from crutches one day to playing against Duke the next day." If Lawson -- third on the team in scoring with 13.6 points per game and leading the team in assists with 5.7 per game -- is unable to play, senior
Quentin Thomas
will likely inherit the starting position. For the full story, click
here
.
Top 25 Scores From Tuesday
•
No. 6 Georgetown
63, South Florida 53
•
No. 7 Tennessee
104, No. 22 Florida 82
•
No. 11 Butler
71, Valparaiso 68
•
No. 15 Drake
73, Illinois State 70
•
No. 18 Texas A&M
69, Iowa State 51
For all scores, click
here
.
Bob Knight talks to Jay Bilas about his resignation
Writer's Take
By Heather Dinich
ESPN.com
[Bob] Knight has that uncanny ability to control conversations, interviews and just about everything else. The only thing Knight couldn't control was himself, and on Sept. 10, 2000, he was fired for it. That was the week Knight's career ended. Not this one. Even though problems had been festering for years within the IU athletic department, then-Indiana president Myles Brand rocked the college basketball world when he fired the coach who won three national championships in 29 seasons. This week, Knight shocked it, but he's done that before. For the rest of Dinich's column, click
here
.
Texas Tech players react to Knight's resignation
IBM's Greatest Players: No. 25 George Mikan
IBM's Greatest Players: No. 24 David Robinson