Will Georgia, Illinois burst the bubble on Selection Sunday?
AP Photo/Dave Martin/Getty Images/Jonathan Daniel
Key Shot
By Andy Glockner
ESPN.com
You thought Sunday was all about the selection shows? Think again. There are some huge story lines in place that could significantly impact the bracket.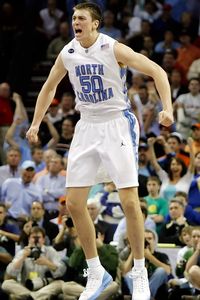 Streeter Lecka/Getty Images
Did Tyler Hansbrough's game-winning shot lock up the No. 1 seed for UNC?
A No. 1 seed now up for grabs?
Tennessee's loss potentially gives the Kansas-Texas winner a chance at a No. 1 seed. UCLA and Memphis are locked in. North Carolina would be, too, with a win over Clemson in the ACC final or maybe now without it, too. What's clear is that two of the regions will have two No. 1 seed-type teams in it and the other two won't, meaning the fight for the top two overall seeds is very important.
Bracket busters
Illinois and Georgia continued their miraculous runs through the Big Ten and SEC tournaments, and now each stands 40 minutes away from crashing the field of 65 and breaking the heart of a bubble team (or two). In the Big Ten, the 10-seed Illini held off Minnesota in the semifinals and now draw top-seeded Wisconsin, which swept Illinois in the regular season. The Badgers won by 10 at home and by 14 at Illinois. In the SEC, E6-seed Georgia, one of the two bottom seeds since the 12-team SEC is broken up into divisions, did twice as much work on Saturday. First the Bulldogs beat Kentucky in the tornado-suspended quarterfinal, and then they dumped Mississippi State in the semis. For their troubles, they now get a shot at Arkansas, which took out Tennessee. Georgia had only won four SEC games in the regular season, but one of them was over the Razorbacks by 13 points.
Committee conundrums
The Illini and Bulldogs are creating potential headaches not only for the bubble teams but also for the selection committee. What happens if one or both of the 3:30 ET finals goes overtime and doesn't end before the 6 ET selection show? Does the committee now have to draw up four different brackets, accounting for the possibilities of neither, either or both teams making it? Also, what would either team be seeded? Illinois would be under .500 entering the event and Georgia would be just one game over that mark, but if we're looking at a plug-and-replace scenario where either team would take the place of the final at-large (which makes the most sense, given all the bracketing rules that need to be followed), you have to imagine they'd be a 13-seed, at worst.
The most unlikely and dramatic title run ever?
The nation's attention was focused on the big boys on Saturday, but it's worth mentioning what Coppin State pulled off in the MEAC. The Eagles started the season 2-19 in Division I play and then managed to win 12 of their last 13 games to grab the auto bid and what will likely be a spot in the opening-round game. What's more, the Eagles won four games in four nights to do it -- by a total of six points. They beat Howard by one, then knocked off 2-seed Hampton by one in overtime, beat 3-seed Norfolk State by two and beat top-seeded Morgan State by a deuce on a bucket with two seconds left. Simply incredible. Congratulations to Fang Mitchell, whose program is making its first NCAA appearance since 1997, when the Eagles came within a point of becoming the first 15-seed to make the Sweet 16.
One more one-bid league to settle
If Northwestern State wins the Southland title over Texas-Arlington, Coppin State might have its opening-round game opponent. The Demons are 15-17 entering Sunday's title game, but weirdly finished two games ahead of UTA (20-11 with four non-DI wins) in the Southland standings. The Demons beat UTA by four at home in the teams' only meeting of the regular season. If Arlington takes the auto bid, it would be a close call between it and Mount St. Mary's from the NEC for the second opening-round game spot.
Flower Power
By Pat Forde
ESPN.com
INDIANAPOLIS --
Chris Kramer
of Purdue was the Big Ten Defensive Player of the Year, a decision that was not well received in the state of Wisconsin. Badgers fans strongly believed the honor should have gone to their lockdown guard,
Michael Flowers
. If you saw the first 30 minutes of Wisconsin's Big Ten tournament semifinal against Michigan State, you might have disagreed. Spartans guard
Drew Neitzel
scored 23 points in that time, working Flowers into early foul trouble and forcing him to the bench. But if you saw the final 10 minutes -- and especially the final 30 seconds -- you saw what Flower Power can do on the defensive end.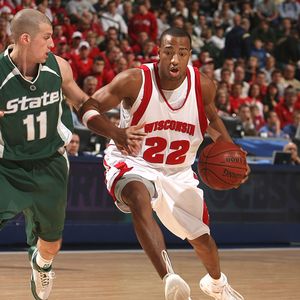 Jonathan Daniel/Getty Images
Michael Flowers and Drew Neitzel had a fun back-and-forth battle, but Flowers and Wisconsin pulled it out in the end.
Flowers all but eliminated Neitzel from the Michigan State offense. Hounding him off screens and around the court, Flowers rarely let him get open long enough to even catch the ball, much less look at the basket. "I was all over him," Flowers said. "If you can't get the ball, you can't score." That forced the game into the hands of Spartans freshman point guard
Kalin Lucas
, who made some big shots as foul-ravaged Michigan State tried to hold off rallying Wisconsin. But he couldn't make enough of them by himself -- and with the score tied at 63 with 30 seconds left, Lucas penetrated and passed to Neitzel on the wing. Flowers was there to deflect it, then outrun Neitzel to the loose ball, then sprint in for the winning layup. Neitzel finally squeezed off a 3-pointer for the win with two seconds left but it missed, and it was his only field goal attempt of the final four minutes. "I was just following our rules, forcing them one way, getting over the screens," Flowers said. "I was just making sure that if he caught the ball, he caught it 35 feet away from the basket. I think in the second half, toward that end, I did a really good job -- way better than I did in the first half -- of keeping the ball out of his hands. We kind of disrupted the flow of their offense. We were able to come back because they weren't scoring." Scoring is hard against Wisconsin, period, as surprising Illinois will find out in the Big Ten final Sunday. But it's especially hard when Flowers is in your face. "He's as good a defensive player as there is in the country," teammate
Joe Krabbenhoft
said.
Hog Wild
By Mark Schlabach
ESPN.com
ATLANTA -- It's a shame only a few thousand people were able to attend Saturday's games in the SEC tournament. Everybody else missed two of the greatest finishes in recent SEC history.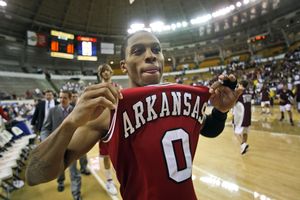 AP Photo/Dave Martin
Gary Ervin and Arkansas took down top-seeded Tennessee to reach the SEC finals.
In Saturday's quarterfinal game between Kentucky and Georgia, which was supposed to be played Friday night, Bulldogs freshman
Zac Swansey
made a 3-pointer with 1.2 seconds left in overtime to help beat the Wildcats to a 60-56. It was Swansey's first 3-pointer in seven games. About five hours later, Arkansas got a late winning basket from an unlikely hero of its own in its semifinal game against top seed Tennessee. With the Volunteers leading 91-90 with less than 20 seconds to play, Razorbacks center
Steven Hill
caught the basketball in the paint. Hill, who hadn't scored in the game and hadn't made more than one basket in five of the previous six games, nailed a fade-away jumper over
Wayne Chism
for a 92-91 victory. "I obviously did not expect to take that shot or any other shot at the end of the game," said Hill, a 7-foot senior from Branson, Mo. "It came to me, and I knew time was running out. I put it up and it went in." The Razorbacks, who came into the SEC tournament probably needing to win at least one game to secure an NCAA at-large bid, advanced to Sunday's championship game (
ESPN2, 3:30 ET
). The Volunteers, who won the SEC regular-season title, might have damaged their chances of becoming a No. 1 seed in the NCAA tournament. "I don't know," Vols coach Bruce Pearl said. "I'm not in the room. I'm not on the committee. Wherever we're seeded, we'll go play."
Georgia wins two games in one day
On Tap For Sunday
(all times Eastern)
•
ACC final:
No. 1 UNC vs. No. 3 Clemson (ESPN, 1 p.m.)
•
Big 12 final:
No. 1 Texas vs. No. 2 Kansas (ESPN, 3 p.m.)
•
Big Ten final:
No. 1 Wisconsin vs. No. 10 Illinois (3:30 p.m.)
•
SEC final:
Georgia vs. Arkansas (ESPN2, 3:30 p.m.)
•
Southland final:
No. 7 UT Arlington vs. No. 5 Northwestern State (ESPN2, 1 p.m.)
For the full schedule, click here. All games on ESPN, ESPN2 and ESPN Full Court also are on ESPN360.com.
Arkansas ousts Tennessee from the SEC tourney
Auto bids earned so far
• America East: UMBC ...

• Atlantic 10: Temple ...

• Atlantic Sun: Belmont
• Big East: Pitt ...

• Big Sky: Portland State
• Big South: Winthrop
• Big West: Cal State Fullerton ...

• Colonial: George Mason
• Conference USA: Memphis
• Horizon: Butler
• Ivy: Cornell
• MAAC: Siena
• MAC: Kent State ...

• MEAC: Coppin State
• Missouri Valley: Drake
• MWC: UNLV
• NEC: Mount St. Mary's
• Ohio Valley: Austin Peay
• Patriot: American
• Pac-10: UCLA
• SoCon: Davidson
• Summit: Oral Roberts
• Sun Belt: Western Kentucky
• SWAC: Mississippi Valley State ...

• WAC: Boise State ...

• WCC: San Diego
To see all of ESPN.com's Champ Week coverage, click here.
Hansbrough hits game-winner
Clemson thwarts UNC-Duke rematch in ACC final
Kansas wins to advance to Big 12 finals
Sunday Night Schedule

Looking for something to watch after the brackets are released? Check out "Black Magic", a two-part film that tells of the injustices in the lives of players and coaches at HBCUs during the Civil Rights Movement. "Black Magic" will air on ESPN Sunday and Monday at 9 p.m. ET. •
Watch: Earl 'The Pearl' Monroe

•
The top 10 players from HBCUs
...

GameDay: Can Georgia's Cinderella run continue?