Sun Belt ShootAround: Can the conference get multiple NCAA bids again?
AP Photo/Wilfredo Lee
Look who's back on the sideline
By Kyle Whelliston
ESPN.com
Mike Jarvis had a good thing going. Since 2004, he had been doing studio work for ESPN, also calling top-conference games as an analyst. But as he sat on media row with a pile of notes and a TV monitor, he felt something was missing. "I was on the wrong sideline," Jarvis said. "When I had a headset on and was doing the games, watching coaches run their teams, it made me realize how much I loved coaching. I missed the people, the competition, all the good and the bad that goes along with college basketball. I needed more than what I had." For the past five years, Jarvis, who earned 363 career wins in head coaching stints at Boston University, George Washington and St. John's, has been most associated with the bad in college basketball. After a 21-13 season and a 2003 NIT championship, St. John's came apart at the seams the following season as a laundry list of scandals came to light. The most serious involved center Abe Keita, who said coaches had slipped him $300 a month over his four-year career. Jarvis never was directly implicated but was admonished by the NCAA for not properly monitoring his staff when the case finally wrapped up in May 2006. By then, he was long gone from New York City, having moved with his family to Florida following his sudden firing six games into the 2003-04 season.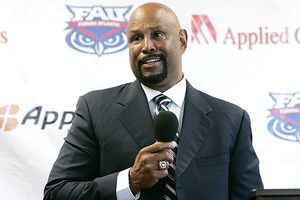 AP Photo/J. Pat Carter
Former St. John's coach Mike Jarvis is getting a fresh start at Florida Atlantic.
In the meantime, most schools with spring coaching vacancies were hesitant to grant him even an interview. So Jarvis shared his expertise in the broadcast booth, opened an Internet sports broadcasting business called jarvistv.com and coached amateur ball overseas during the summers. In late May of this year, Jarvis finally got another Division I chance. Florida Atlantic, a two-decade-old Division I program with sparkling new facilities and aspirations of becoming a Sun Belt power, had lost Rex Walters to San Francisco. Jarvis was familiar with FAU, having lived in the Boca Raton area for five years. He'd also had conversations with athletic department officials during the school's 2006 hiring process that ended with Walters. "We spoke, but there was very little behind it," Jarvis said. "There really wasn't any real substance to those talks, to be honest. Just two guys having a cup of coffee. It wasn't going to happen [two] years ago, simply because it wasn't the right time. This time, we could talk, we could be serious about it." As the events at St. John's fade further back into time, recorded history becomes more distorted and blurred. "Most people don't really even know what happened," Jarvis said. "I read an article about the other day that said that the events in Pittsburgh [a Feb. 4, 2004, incident in which several players were accused of sexual assault] led to my being fired. I wasn't even coaching the team at the time. Very few stories that have been written are anywhere near the truth. I'm convinced that the more that's written about it, the less factual it will be." Jarvis says he's learned a lot of lessons in the past five years but few are directly related to basketball. "To go through something like that for so long, you learn that there really aren't that many people in the world that you can call 'friend,'" Jarvis said. "The most important friend anyone has is God. And I've not only had the opportunity to be reborn spiritually, I've been reborn professionally. There really aren't a lot of people that can really say that." He also believes there's little coincidence that his second chance will take place so close to his adopted home. "We thought we were moving down here to get away from the rat race, so to speak -- maybe I'd retire and do a little TV," Jarvis said. "I didn't realize at the time that the good Lord was preparing me for the job at FAU. He granted me gifts, and he wants me to use them."
Four Things To Watch In '08-09
By Kyle Whelliston
ESPN.com
•
Marked improvement
The Sun Belt's breakthrough two-bid season was the result of an exciting two-team race between South Alabama and Western Kentucky. South Alabama, granted a No. 10 seed in the NCAA tournament despite losing in the conference semis, represented the league's first NCAA at-large bid since 1994. And despite a No. 12 Dance card for winning the conference tourney championship, the Hilltoppers went two rounds deep and finished with 29 overall wins. That coveted multi-bid status also was a reward for the league as a whole for its improvements in nonconference play. WKU ended with a 37 RPI, and South Alabama closed with a 35. The league's overall RPI was 15, up sharply from 22 in 2006-07, and Sun Belt teams won 62 out-of-league games, the league's highest total in three years. Few of those victories were cheap. Seven came against BCS conferences, and the league compiled a 5-7 mark against Conference USA. Versus the other upstart mid-major league, the three-bid West Coast Conference, the SBC finished 4-2. As the early schedules leak out, Sun Belt teams look to have ample opportunity to continue their nonconference momentum in 2008-09. South Alabama will have the opportunity to repeat its 2007 win at Mississippi State on Dec. 13, and Western Kentucky is slated to play Louisville in the first game of a four-year series in late November. Mike Jarvis' Florida Atlantic squad will visit Kentucky on Dec. 27. •
From the Horns to the Hilltoppers
After leading Western Kentucky to NCAA tournament wins over Drake and San Diego out of a No. 12 seed, coach Darrin Horn bolted for the vacant South Carolina head coaching job. In comes Ken McDonald, a former WKU assistant who most recently has worked under Rick Barnes at Texas. During McDonald's three years on the bench in Austin, the Longhorns won 80 games and featured NBA draft picks Kevin Durant and D.J. Augustin. "We had great success in the Big 12," the new head Hilltopper said. "You have to expect greatness and maintain a certain attitude, and you have to surround yourself with talent and resources. The administration here at Western is very aggressive in its pursuit of excellence. They want us to have the resources to make this a consistent top-25 program. They want us to run our operations like a top-25 program, and it's great to be part of that." McDonald has to start his tenure without three heroes of the Sweet 16 run. Sun Belt player of the year and NBA draft pick
Courtney Lee
, point guard
Tyrone Brazelton
(26.3 points per game in the NCAA tourney) and
Ty Rogers
(who drained that dramatic overtime 3-pointer to beat Drake in the first round) all are out of eligibility. Inside-outside combo
Jeremy Evans
and
A.J. Slaughter
, who both provided WKU with key depth in 2007-08, will be asked to step into larger roles. •
Complete rebirth
After a 10-20 crash that included a school record for losses, Arkansas State's program is undergoing a complete rebirth. For starters, there's a new team nickname, an opportunity for fans to update their wardrobes. "Red Wolves" replaces an Indians moniker that had landed the school on the NCAA's hostile and abusive nicknames list. There's a new coach, too, as John Brady replaced Dickey Nutt in mid-March. Brady, a mid-campaign firing at LSU last season, is just two seasons removed from a 2006 Final Four run with the Tigers. As if that wasn't enough change, the team also will feature a practically brand-new roster. Last season's leading scorer,
Adrian Banks
(18.4 ppg in 2007-08), is done with his collegiate career, and key guard
Ryan Wedel
(15.1 ppg) transferred to Drake. Four juco signings should keep things from getting any worse in the loss column, at least until Brady can get his feet under him in Jonesboro. •
The favorites?
Middle Tennessee State pulled the surprise upset of the Sun Belt tourney in the semifinals. The 17-15 (11-7) Blue Raiders, the No. 4 seed, upended regular-season champion South Alabama. MTSU was 20 minutes away from an even bigger splash, but the magic ran out against Western Kentucky in the title game, as a competition that was close at halftime turned into a 10-point loss. It was far from a disappointing ending -- Middle Tennessee had arrived just a bit early, that's all. Not a single Blue Raider graduated, so coach Kermit Davis brings back his team intact. Among the returnees are versatile 6-7 junior forward
Desmond Yates
(16.0 ppg, 51.3 percent from the 3) and the conference's leading shooter, 6-10 senior
Theryn Hudson
(9.1 ppg, 64.7 percent). With key losses in the league's upper reaches, MTSU stands to be the odds-on favorite to win its first Sun Belt championship and to return to the Dance for the first time since its OVC days back in 1989. "After we lost to Western [Kentucky], we all went right back to work within a week," said Davis, entering his seventh season as the Blue Raiders' bench boss. "There's been a lot of excitement in the program all summer. Now the team expects to be good."
If I were the Sun Belt commish …
By Andy Katz
ESPN.com
Scheduling. Scheduling. Scheduling. The Sun Belt needs to go to travel partners. In 2008-09, Denver will make two trips to Arkansas and two to Florida. Denver should be paired with North Texas, and the three Louisiana schools -- Monroe, Lafayette and New Orleans -- should be matched up as well. South Alabama and Troy should be a pair, and Florida Atlantic and Florida International are an easy pair. Western Kentucky and Middle Tennessee State would make a lot of sense together. Having 13 schools certainly is a mess. The number is hard to handle. Eighteen is a good number for league games, but the way it is handled could be smoother.