Weekly Watch: Kentucky's Meeks, Arizona take honors
Liam Foley/Icon SMI
Editor's note: This edition is for games played from Sunday, Feb. 8 through Saturday, Feb. 14.
Team Of The Week: Arizona Wildcats
Last week
: Beat USC 83-76; beat UCLA 84-72.
No team helped its NCAA tournament case more than Arizona this week. The Wildcats have bankable nonconference wins over San Diego State, Gonzaga and Kansas. Sweeping USC and UCLA at home put the Wildcats at 8-5 in the Pac-10, 18-8 overall and in play for the Pac-10 title.
Arizona has won seven straight games, the Wildcats' longest winning streak in two seasons. Arizona's six straight Pac-10 wins are the longest streak of any Pac-10 team this season. No other Pac-10 team has won more than four this season.
Arizona's offense is clicking at its best pace this season. The Wildcats scored 49 first-half points on UCLA, the most the Bruins have allowed in a half this season. Arizona also shot 50 percent against the Bruins. Sophomore guard Zane Johnson is emerging as a fourth scorer, too. He has made 10 of 17 3s in the past five games.
Arizona will be tested when it plays three straight road games, but the Wildcats have put themselves in a position where winning at least one of the three contests would suffice, as long as they take care of Cal and Stanford at home to close out the regular season.
Player Of The Week: Jodie Meeks, Jr., G, Kentucky Wildcats
This was the toughest week to choose a player.
Hasheem Thabeet of Connecticut and Blake Griffin of Oklahoma had season-best performances Saturday. But those performances weren't as significant as what Meeks did for the Wildcats.
Kentucky was reeling. The Wildcats had lost three in a row, including two straight at Rupp Arena, and were on the verge of a third consecutive defeat, this time to rival Florida. Meeks carried the Wildcats. He hit a fadeaway 3-pointer with less than five seconds remaining. Nick Calathes of the Gators missed the front end of a three-shot foul with less than a second remaining, and Kentucky escaped with a 68-65 win.
But Meeks' inside balance, Patrick Patterson, hurt his ankle in the Florida game. He couldn't play on the road against Arkansas. No Patterson could easily have meant trouble for Kentucky. Sure, Arkansas was without suspended point guard Courtney Fortson, but the Wildcats could have wilted on the road. They didn't, simply because of Meeks. He carried them with 45 points, making 17 of 24 shots and seven of 12 3s. Meeks had a combined 68 points in two of the most important wins for Kentucky this season.
Florida's shocking loss at Georgia meant the Gators slipped a game behind Kentucky, South Carolina and Tennessee in the SEC East standings. Had Meeks not rescued Kentucky against the Gators, the Wildcats conceivably could've continued their slide, spun completely out of the division race and lost their chance at an NCAA berth. Six games remain for the Cats -- three at home, three on the road -- and now they matter because of Meeks' week.
The rest of the starting rotation this week: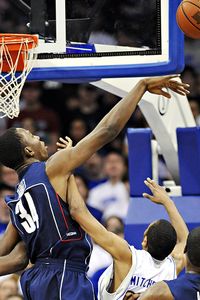 AP Photo/Bill Kostroun
Hasheem Thabeet continues to put up impressive numbers.
Hasheem Thabeet, Jr., C, Connecticut: Not picking Thabeet shouldn't diminish his performance. But the Huskies weren't in as dire a situation as Kentucky. Thabeet was dominant against Syracuse with 16 boards and seven blocks, and he likely stopped 28 potential points for the Orange. He turned in as dominant a performance against Seton Hall in Newark on Saturday as we've seen this season. He scored 25 points, grabbed 20 boards and blocked nine shots, and likely affected countless other shots. Thabeet can clear space for Big East Player of the Year if he can play merely close to his typical level for the final five games.
Blake Griffin, So., F, Oklahoma: Griffin can start to make room for the trophies he'll collect as national player of the year in April. He put up a rather pedestrian performance for him with 18 points and 10 boards in a win at Baylor. Then he completely took over in the win against Texas Tech with 40 points and 23 rebounds (in 31 minutes). Griffin will be next on stage against the Longhorns in Austin, where Texas will attempt to slow his progress.
Nic Wise, Jr., G, Arizona: Wise led the Wildcats to a sweep of the L.A. schools by averaging 26.5 points, three rebounds and two assists. Wise shot a scorching 70.8 percent from the field in the two games, 62.5 percent on 3s. The Wildcats have been all about Jordan Hill and Chase Budinger. But Wise is quietly putting together a solid junior season as the complement to those potential pros. Wise's steady play at the point and his increased scoring are making Arizona a player in the Pac-10.
Justin Dentmon, Sr., G, Washington: The Huskies held serve at home against Oregon State and Oregon, in large part thanks to Dentmon's performance. He is proving to be quite a leader for the Huskies. He scored 28 points and had seven assists and two turnovers in the win over Oregon State. He scored 21 points in the win over Oregon. He was efficient, too, going 16-of-24 from the field, 10-of-14 on 3s.
Selection Weeks
Dayton
: The Flyers needed to show the committee a signature A-10 win. They could do so by beating only one team -- Xavier. Dayton beat the Musketeers at home. Now, winning the conference is within reach (thanks to Xavier's loss to Duquesne), and the Flyers should be able to obtain a bid.
West Virginia: The Mountaineers earned their nonconference statement win at Ohio State. They had to have one within the Big East. Running away from Villanova behind Da'Sean Butler's 43 points will suffice. Book the Mountaineers for a bid.
Seeding Weeks
North Carolina
: The Tar Heels' win at Duke should help cement UNC as a No. 1 seed in Greensboro, N.C., for the first and second round of the NCAA tournament, barring a collapse in the final two weeks.
Clemson: The Tigers won at Boston College for another solid road victory. They also beat ACC foes Virginia Tech and Miami on the road, and won at South Carolina and Illinois. Clemson should be on the line to get a No. 2 seed unless it free falls.
Missouri: The Tigers had a stellar week, beating Kansas at home, then taking out Nebraska. The Tigers will get a bid. Now they're working on earning a decent seed. Getting to Kansas City, where Oklahoma and Memphis likely will play in the first and second round of the tournament, might be too much to ask.
Kansas: The Jayhawks lost at Missouri, but coming back and winning at Kansas State was more than just a confidence boost. Kansas remains in the Big 12 title hunt with a game still to play at Oklahoma. A decent seed also is within reach.
Memphis: Winning 52 straight Conference USA games is one of the most impressive streaks in the country. Road wins, such as on Saturday at Southern Miss, continue to be a staple for this crew, too. Memphis might start booking tickets to Kansas City as a No. 2 seed if their success continues.
Conference Statements
Gonzaga
: The Zags held on to beat
Patty Mills
-less Saint Mary's, then had to go to the final possessions to hold off last-place San Francisco. Still, they won both those games on the road and are undefeated in league play. A loss seems less likely now.
Arizona State: The Sun Devils swept UCLA by beating the Bruins at home Thursday night. ASU still plays at Washington, and a Pac-10 title is within reach.
Utah
: The Utes beat San Diego State to assume first place in the Mountain West, making them the current team to beat. Utah might have the best shot among its competitors to earn an at-large berth in the tournament.
Creighton: The Bluejays knocked off Northern Iowa on the road to split the season series and serve notice that they could be the favorite in the Valley tournament.
Vermont: The Catamounts smacked Boston University at home to stay in a first-place tie with Binghamton in the America East. Vermont has lost twice to Binghamton, so at this juncture, the Bearcats hold the edge. But Vermont isn't going away.
Trouble Spots
Utah State
: The Aggies lost at Boise State late Saturday night. Utah State still has to play at Nevada and will play at Saint Mary's in a nonconference game, too. If the Aggies lose one or both of those games, they won't be as tantalizing a pick for the selection committee if they don't win the WAC tournament, even with a gaudy record.
Saint Mary's: The Gaels lost a chance to beat Gonzaga at home in the final possession. Utah State will come in to play Saturday. That's what you call a must-win game for the Gaels, who haven't earned a signature win while playing without Mills.
GameDay Recap
Wins Of The Week
Illinois over Northwestern
: The Illini had no business beating Northwestern. None. But they were down 31-25 at the half, then 14 points with just less than five minutes left in the game. That's when Northwestern had an epic collapse. Illinois went on a 17-2 run, capped off by a
Demetri McCamey
jumper with 2.9 seconds remaining for the 60-59 win. The win was a huge lift for the Illini, as it stays within sight of Michigan State in the Big Ten. Northwestern can now hope for an NIT or CBI bid.
South Carolina over Alabama: The Gamecocks needed every second to win at Alabama, claiming a 75-73 victory on a Mike Holmes' tip-in at the buzzer. Holmes was the same player who connected with Zam Fredrick on a full-court pass and layup to beat Florida at the buzzer. South Carolina could ill-afford to lose this game. The Gamecocks are trying to cling to first place in the SEC East. If they'd lost at Alabama, they might have faded.
LSU over Mississippi State: The Tigers won in double overtime 97-94. The win essentially created the Tigers as the team of record in the SEC West. LSU's Tasmin Mitchell scored a career-high 41 points, grabbed 11 boards and had five assists and two steals. The win showed the Tigers' true grit and their ability to be an elite team within the confines of the middling SEC. Still, that'll be important when the committee analyzes LSU.
Arizona Tops UCLA
Still Breathing
Wisconsin
: The Badgers had to beat Ohio State to continue their run toward an NCAA bid after a six-game losing streak. If Wisconsin takes care of its home court, it can sneak into the NCAA tournament.
Maryland: The Terrapins beat Virginia Tech at home. The daunting task of playing Clemson, North Carolina and Duke lies ahead, but hey, at least the Terps have a chance.
Notre Dame: The Irish crushed Louisville at home, and with road games at Providence and Connecticut still pending, Notre Dame has opportunities to earn a bid. That had seemed less realistic after the blowout loss to UCLA.
Baylor: The Bears couldn't beat Oklahoma or Texas at home, but they did take out Texas A&M to show they'll have a pulse in the final two weeks.
Penn State: The Nittany Lions beat Michigan State earlier in the season. Now they've beaten Minnesota. Penn State has the look of an NIT squad, but its quest for the NCAA tournament isn't over yet.
Griffin Dominates As OU Rolls
Syracuse Takes Down G'town In OT
Eight Places To Be This Week
Hartford, Conn., Monday
: Pitt plays at Connecticut in the first of two monster showdowns between the two schools. The key will be whether
DeJuan Blair
and
Sam Young
can stay on the court against
Hasheem Thabeet
and
Jeff Adrien
. If they can, the Panthers have a shot to win.
West Lafayette, Ind., Tuesday: Michigan State can create even more distance by beating Purdue on the road. The Boilermakers got Robbie Hummel back for the win over Iowa. But neither team is at full strength yet.
Tallahassee, Fla., Wednesday: Miami goes to Florida State in what will be an important seeding/NCAA game for both teams.
Westwood, Calif., Thursday: Washington can make the Pac-10 title more of a reality if it sweeps UCLA. Arizona State and Arizona will watch this result rather closely.
Davidson, N.C., Saturday: The best BracketBusters matchup is clearly Butler at Davidson, but only if Stephen Curry is healthy and can play after spraining his left ankle. Butler's defense could cause problems for the rest of the Wildcats. Davidson needs this win more than Butler for its tourney résumé.
Austin, Texas, Saturday: Texas can shake its funk by knocking off the Big 12's best in Oklahoma. If it wins here, all that will stand in the way of OU's winning the title outright is a game with Kansas two days later.
Washington, D.C., Saturday: Georgetown hosts Marquette. If the Hoyas are to make the NCAA tournament with a late-season run, it'll begin with this game.
Moraga, Calif., Saturday: Utah State will play a nationally televised game in its BracketBusters matchup at Saint Mary's. This game has taken on importance for both teams. Utah State has to win another road game out of the WAC to help its cause. Saint Mary's desperately needs a solid win without Mills.