Weekly Watch: Pitt's Blair, Florida State head honor roll
AP Photo/Mary Ann Chastain
Editor's note: This edition is for games played from Sunday, Feb. 15, through Saturday, Feb. 21.
Team Of The Week: Florida State Seminoles
Last week
: Beat Miami 80-67; won at Virginia Tech, 67-65.
Just think about this: If North Carolina's Ty Lawson hadn't hit a 3-pointer with time expiring to beat Florida State in Tallahassee (and if FSU could have won in overtime), then the Seminoles would be alone in first place Sunday morning in the ACC.
Pause.
Yes, the Noles were one shot away from potentially being in first place in the ACC with four games left.
OK, who had that call in the preseason? How many people had this one after Florida State lost at Northwestern in the ACC-Big Ten Challenge in early December?
Yet, here are the Seminoles, a lock for the NCAA tournament, and playing for a potential No. 1 seed in the ACC tournament. FSU gets no breaks from this point forward, either, with road games at Boston College and Duke and home games against Clemson and Virginia Tech.
But why fret when the Seminoles have already won at Clemson and Virginia Tech? Nothing is out of reach for a team led by a senior point guard Toney Douglas. The role players are giving the Noles solid performances on a nightly basis. It's hard to say if there has been less said about a potential ACC champion than this crew.
Player Of The Week: DeJuan Blair, So., F, Pittsburgh Panthers
DeJuan Blair
emerged as the new front-runner for Big East Player of the Year with his dominating performance in Pittsburgh's 76-68 win over Connecticut.
Blair literally tossed Hasheem Thabeet around and wound up with 22 points and 23 boards in the victory.
Against overmatched DePaul, Blair put up a workmanlike 20 points and 18 boards in a 19-point victory.
The first-team All-America spots seem to be getting crowded. Make room for Blair, next to Thabeet and Oklahoma's Blake Griffin. It would be hard to push any of these three off this perch.
The rest of the starting rotation this week: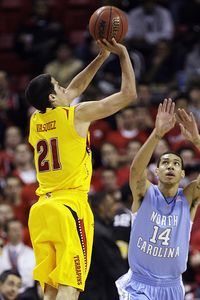 AP Photo/Rob Carr
Greivis Vasquez's triple-double propelled Maryland over UNC.
Greivis Vasquez, Jr., G, Maryland: Vasquez would have won this honor if the Terps hadn't been smacked by Clemson earlier in the week by 29.
The rules are simple: Win both games. But that shouldn't overshadow one of the best single-game performances of the season. Vasquez scored 35 points, grabbed 11 boards and dished out 10 assists in a triple-double effort in the Terps' 88-85 overtime win over North Carolina.
Toney Douglas, Sr., G, Florida State: Douglas continues to put together all-ACC numbers. He had his third straight 20-plus game with 24 points in a 13-point win over Miami and then 22 in a two-point win at Virginia Tech. Douglas was 18-of-19 at the free throw line in the two games. Douglas' maturity as a true scoring playmaker since his transfer from Auburn has made the Seminoles a legitimate ACC contender.
Jimmy Baron, Sr., G, Rhode Island: Baron scored 29 points at Fordham, making 6 of 8 3s. That gave him 332 career 3s, moving him into second place on the A-10 all-time list. The Rams are now 20-8, 9-4 in the A-10, a solid mark, but just not NCAA-worthy, even with a home game Wednesday against Dayton.
Wesley Matthews, Sr., G, Marquette: The least-publicized of the Golden Eagles' senior trio of guards put up 24 points in a home win over Seton Hall and then 23 in a road win at Georgetown. He made six 3s in the two games and against the Pirates got to the line 12 times, making nine free throws. The beauty of the Eagles is that any one of the three -- Matthews, Dominic James and Jerel McNeal -- can stand up and go for 20-plus on a given night and lead this potential Big East champ.
Toughest Conferences To Decipher
Mountain West
: Utah should be a lock at 19-7 overall and 10-2 in the league and with wins over LSU and Gonzaga. The Utes have a two-game lead on BYU (20-6, 8-4), San Diego State (18-7, 8-4) and New Mexico (17-10, 8-4) and sit three games over UNLV (20-7, 8-5). Utah is No. 10 in the RPI, BYU is No. 30, SDSU No. 48, UNLV No. 51. Who else besides Utah should get in? BYU's one-point loss at UNLV late Saturday night made it murkier. New Mexico crushed San Diego State earlier in the day. This is easily the toughest decision for the committee.
SEC: LSU shouldn't fret with a runaway SEC West lead at 11-1, 23-4 overall. But the SEC East is muddled. Should Florida (21-6, 8-4), South Carolina (19-6, 8-4), Kentucky (19-8, 8-4) and Tennessee (16-10, 7-5) worry? All four still have work to do. But it might be hard to separate this foursome as they continue to feed on each other.
What To Do With …
Saint Mary's
: The Gaels won their third straight game, this time over Utah State, without
Patty Mills
to move to 22-5 overall. The Gaels' best nonconference win before Utah State was Providence. But here is something to consider: Saint Mary's is third in the WCC, behind Portland (18-9, 9-3). The Pilots actually have a better nonconference win -- they opened the season with a home victory over Washington.
Davidson: The Wildcats got smacked by Butler at home even with Stephen Curry on the court. The Wildcats have lost two straight and three of their past five. Games at the end of the season against UNC Greensboro, Georgia Southern and at Elon won't help the power rating but are needed to hold off the Citadel to get a No. 1 Southern Conference seed. Davidson might have to win the conference tourney, given that its best nonconference wins came against West Virginia and NC State.
Utah State: The Aggies are 25-3 (12-1 WAC) and lost by 11 points at Saint Mary's in a nonconference game Saturday. Utah State lost its last WAC game at Boise State. Utah State has three games left: against Hawaii, at Nevada and against San Jose State. If the Aggies win them all and get to the WAC final, they will present the committee with a tough decision.
Creighton: The Bluejays beat George Mason by 13 on Saturday for their eighth straight win. The season wraps up with Missouri State on the road and Illinois State at home. Creighton, at 23-6 overall, 12-4 in the Missouri Valley, might be a sleeper squad to get in as an at-large team if the Bluejays don't win the Valley tournament.
USC: The Trojans lost to Washington by nine, had an altercation after the game between Daniel Hackett and Dwight Lewis (reported by the L.A. Daily News), and have lost four of their past five games. A road trip to Cal and Stanford looms large for the middling 16-10 Trojans (7-7 Pac-10).
Kansas State: The Wildcats had a critical win at Iowa State with a road game pending at Missouri. Kansas State (19-8, 7-5 Big 12) is a perfect bubble team, with road wins at Texas and Texas A&M.
Texas A&M: The Aggies squeaked out a win at Texas Tech after beating Texas at home. Those two wins this week came after they lost three straight. The Aggies' tournament chances could come down to whether they can win at Nebraska and beat Missouri at home to end the season. Texas A&M (19-8, 5-7 Big 12) has two bankable nonconference wins over LSU and Arizona.
Siena: The Saints beat Northern Iowa in a BracketBusters game to move to 22-6 overall. They are 15-1 in the MAAC, earning the outright title and the No. 1 seed. Siena played a great schedule but didn't win the high-profile games. So what happens if the Saints lose in the conference final?
Virginia Tech: The Hokies have lost three straight games, and their final four are as foreboding as those of any potential bubble team: Clemson on the road, Duke and North Carolina at home, and at Florida State. Virginia Tech has had fight in it under Seth Greenberg, but at 16-10 (6-6 ACC), the Hokies are squarely on the bubble. If they win some of these remaining games, they can get off it in time for Selection Sunday.
Shout Out
Saint Louis
: Rick Majerus has quietly put the Billikens in play in the A-10. SLU has won six of seven games, including a victory over Dayton, and is within two games of Xavier in the loss column at 8-5 (17-10 overall).
Charlotte: Bobby Lutz put aside a disappointing season by knocking off Xavier at home.
Oregon State: Craig Robinson should win Pac-10 coach of the year after the Beavers swept the Bay Area schools in all four games for the first time in 19 years. Oregon State is 7-8 in the Pac-10, 13-13 overall, and has a shot at the postseason.
Oregon: Ernie Kent finally got a Pac-10 win, beating Stanford at home Saturday to go to 1-14 on the season.
Northwestern: The Wildcats, behind John Shurna's shot, beat Ohio State in a late-game situation after blowing similar deals against Purdue and Illinois at home.
The Citadel: The win over Davidson was no fluke. The Citadel is 13-4 in the Southern Conference, 18-10 overall.
Purdue: The Boilermakers find ways to win despite Robbie Hummel's nagging back injury, knocking off Michigan State and Indiana this past week.
Coach Of The Year Weeks
Bill Self, Kansas
: The Jayhawks have a chance to win the Big 12, beginning with a win against Oklahoma on Monday. Kansas lost all but two players off the national title team. Self may be the front-runner for the award.
John Calipari, Memphis: The Tigers did return a few core players from the title game, but the move of Tyreke Evans to the point has changed the look of this squad and put Memphis in position for a top-2 seed.
Leonard Hamilton, Florida State: He's the leader for ACC coach of the year, as the Seminoles are within a game of first place with two weeks left. Barring something cataclysmic, the Seminoles will make the NCAA tournament for the first time under Hamilton since he arrived in Tallahassee in 2002.
Viewer's Guide
(All times Eastern)
Monday:
7 p.m.: Louisville at Georgetown (ESPN)
9 p.m.: Kansas at Oklahoma (ESPN)
Tuesday:
9 p.m.: Florida at LSU (ESPN)
9 p.m.: Florida State at Boston College (ESPNU)
Wednesday:
7 p.m.: UConn at Marquette (ESPN)
7 p.m.: Kentucky at South Carolina (ESPN360)
Thursday:
9 p.m.: Memphis at UAB (ESPN2)
11 p.m.: Arizona State at Washington
Saturday:
2 p.m.: Clemson at Florida State (ESPN360)
9 p.m.: UCLA at California (ESPN)
• College Basketball Schedule | ESPN Full Court
• College GameDay | ESPNU Campus Connection
GameDay Recap
Welcome
Oklahoma State: The Cowboys beat Baylor at home, have won three straight and are in play at 17-9 (6-6 Big 12), with Texas, Kansas State and Oklahoma still left on the schedule.
Texas Takes Out Oklahoma
Missed Opportunities
Cal
: The Bears could have been tied with Washington for first place in the Pac-10 but lost at Oregon State.
UCLA: The Bruins followed up a home win over Washington by giving up 82 points to Washington State -- which is almost more shocking than the loss itself -- and missed out on a chance to stay with Washington and Arizona State.
Terps Upset UNC In OT
Likely Say Goodbye
Mississippi State
: The Bulldogs couldn't follow up a win over South Carolina with another victory, losing at Alabama in double overtime. Mississippi State (17-10, 7-5) just hasn't done enough to warrant a bid.
Providence: The Friars (16-11, 8-7) couldn't afford to lose a key home game. They did, to Notre Dame, and if they don't beat Pitt on Tuesday, get the NIT dates ready.
Washington State Stuns UCLA
No. 1 Chase
Marquette
: It's hard to dismiss the Golden Eagles after they won at Georgetown, and they still have games left against Connecticut and Syracuse at home and Pitt and Louisville on the road. If the Golden Eagles win these games, they should be a No. 1 seed.
Memphis: The Tigers don't have the cachet in Conference USA, but if they win out and everyone else keeps beating up each other, there is an outside shot a No. 1 seed could fall to Memphis.
Pitt Wins Seventh Straight
Still Cruising
Missouri
: The Tigers are rolling toward a high seed after another solid week, capped by a road win at Colorado.
Gonzaga: Josh Heytvelt scored 28 points against Loyola Marymount to give the Bulldogs a 12-0 WCC record. The Zags clinched the WCC regular-season title yet again.
Eleven Places To Be This Week
Norman, Okla., Monday
: Kansas has a shot to take over first place in the Big 12 with a win at Oklahoma. Who had that in the preseason? The question all day Monday will be whether
Blake Griffin
can go after suffering a concussion Saturday.
Washington, D.C., Monday: Georgetown gets one final marquee home game to get the selection committee excited about its candidacy when it plays host to Louisville.
Chestnut Hill, Mass., Tuesday: The hottest team getting little rankings love is Florida State. The Seminoles play at Boston College with a chance to stay within a game of first place in the ACC.
Columbus, Ohio, Tuesday: Penn State has won at Michigan State and Illinois, and if it can pull off a win at Ohio State, too, then the Nittany Lions shouldn't sweat Selection Sunday.
Baton Rouge, La., Tuesday: New Orleans might be rowdier on Fat Tuesday, but not by much come game time in Baton Rouge, when the best in the SEC West, LSU, hosts Florida, perhaps the best in the SEC East.
Milwaukee, Wednesday: Staying with Pitt and Louisville is on the line when Marquette hosts Connecticut -- it's a meeting between two of the four Big East title contenders.
College Park, Md., Wednesday: If Maryland can beat North Carolina, why not Duke? The Terps continue their quest for a bid.
Seattle, Thursday: Washington can put away the competition with a home win over Arizona State. The Huskies don't leave Seattle for the rest of the regular season.
Reno, Nev., Saturday: Utah State plays at Nevada. The Aggies might have to win this one to get the committee's attention after dropping two of their past three games.
Provo, Utah, Saturday: Front-runner Utah visits bitter rival BYU in one of the most heated games of the season. Utah won the first game, and BYU's flickering tournament hopes rest on knocking off the Mountain West's top team.
Stillwater, Okla., Saturday: Texas visits Oklahoma State in what could be a must-win game for the suddenly surging Cowboys.