Why not the Longhorns?
Updated:
November 14, 2005, 6:29 PM ET
By
Andy Katz
| ESPN.com
AUSTIN, Texas -- We admit we could be way off here, but bear with us.
We understand (as do most of you) that there are only a handful of teams that could win the national title.
Duke certainly is at the top of the list. The Blue Devils have the depth they lacked last season. They have a super frosh in Josh McRoberts, who could be the perfect complement to Shelden Williams and J.J. Redick, enough to push them over the top to the title.
Roy Williams likes Duke (to win)
There will be a new NCAA champion in April, barring some sort of "Invasion" experience at North Carolina where the current Tar Heels are inhabited by the players from last season.

So, with that as a precursor for this season, ESPN.com asked UNC coach Roy Williams to give his quick take on who should and/or could win the NCAA championship in April in Indianapolis.

Williams' choice to win the title shouldn't surprise anyone: Duke.

"Duke has a marvelous mix," Williams said. "Look at the team. They can score inside. We had Sean May, they have Shelden Williams and Josh McRoberts. They can score with J.J. (Redick) outside. We had Rashad McCants. They've got 10 guys, so they can play slow or push tempo.

"The other question is 'can they guard people?' Yes, they can. They have all of the ingredients."

Williams said there is a dropoff after the Blue Devils. His other candidates all have flaws.

"Michigan State? Alan Anderson was huge for that team last season.

"Texas? Will LaMarcus Aldridge be ready and P.J. Tucker be ready after both missing the second half of the year. And will they have the outside shooting?

UConn? Everyone says (Andrew) Bynum would have really helped them. Is Rudy Gay really going to step up? And when is (Marcus) Williams going to be eligible [we now know it's Jan. 3 at Marquette]?

"Oklahoma? Can they score enough from the outside?

"Villanova? They lost (Curtis) Sumpter and they've had injuries to Jason Fraser.

"Arizona? They've got three players in Mustafa (Shakur), Hassan (Adams) and (Jawann) McClellan.

"To me, if there is one team that doesn't have a lot of question marks, it's Gonzaga. I really like Mark (Few) and like him as a friend and respect him. But so many teams have question marks."

Apparently, except Duke.

"I don't want to lay this all on Duke, but Duke has a wonderful situation," Williams said of the Tar Heels' hated, albeit respected, rival. "Duke has four or five upperclassmen who have done it and now have five freshmen who can really play."
-- Andy Katz
Connecticut has the overall talent, maybe the nation's most talented player in Rudy Gay, a ferocious frontline, and once Marcus Williams comes back, a point guard skilled enough to lead this team to the crown.
Michigan State returns experienced players who took a trip to the Final Four, two strong, athletic wings in Shannon Brown and Maurice Ager, and a big man in Paul Davis who is as driven as ever to claim the crown.
All three of these teams are coached by Hall of Fame leaders, either already in (Mike Krzyzewski and Jim Calhoun) or en route (Tom Izzo) to Springfield. They all have the goods.
But, so too, does Texas. And we're here to tell you that the Longhorns have a legitimate chance to win the title and have, perhaps, the most unique case of any of the potential title teams (Oklahoma, Louisville, Arizona, Gonzaga, Kentucky, Villanova and Memphis fans can start squawking here if they think their team should be included in this list).
The Longhorns have one of the best point guards in the country in sophomore Daniel Gibson. They return one of the better role players in forward Brad Buckman. Most important, they also bring back two of the nation's most talented players at their respective positions, neither of whom played from early January on last season because of academics (forward P.J. Tucker) and an injury (center LaMarcus Aldridge).
Now that Tucker and Aldridge are back in the fold, the reality is that Texas has three players that could make a strong case for Big 12 player of the year. Now, it's unlikely that all three can post glitzy enough numbers to do that, but the talent exists. Gibson and Aldridge are legitimate potential NBA lottery picks. That puts Texas right up there with any of the aforementioned title contenders.
Also, it's not as though the rest of the squad is filled with scrubs. Wing Kenton Paulino shot 48 percent on 3s last season and is expected to be the replacement for gunner Kenny Taylor on the wing (in a spot that could have been reserved for C.J. Miles had he not decided to stay in the NBA draft and sign with Utah). The bench is loaded with capable players who could all be productive. Texas coach Rick Barnes said the biggest test will be spots 6 through 10, where guards A.J. Abrams (a backup point), Craig Winder (a physical specimen to bang on the wing), Mike Williams (a bruiser underneath), Dion Dowell (a versatile wing), J.D. Lewis (brought in to be a shooting specialist) and Connor Atchley (a lanky backup center) all will have a role.
"If everyone stays healthy, this team has a great mind-set and will buy into role definition," Barnes said. "We can shoot. Daniel, P.J., Brad, [Paulino] can all shoot. That's not going to be our issue. This team will play hard, get to work, take care of the ball. We've got the guys who can make plays."
"We've got every piece for a national championship," Tucker said. "We've got a bona fide coach, a good point guard and we're deep."
Texas went to the Final Four in 2003 on the shoulders of T.J. Ford. He had help with Brandon Mouton, James Thomas, Royal Ivey, Buckman, Brian Boddicker and Jason Klotz.
But ...
"We have more talent now than we did in 2003," Buckman said. "We made it work by going through T.J. We were just role players. We played off of T.J. Daniel gets us in the flow of the offense."
The difference this season ultimately could be Gibson. Look at his numbers from last winter, without Tucker and Aldridge: led the team in scoring nine times in the last 16 games, averaged 16.1 points, and blistered Oklahoma State with 27 points and one turnover. He essentially got Texas into the NCAA Tournament before the Longhorns lost to Nevada in the first round.
"I had to grow up fast, nothing like I expected," Gibson said of his freshman season. "I had to step up my game to another level in leadership too."
What's his game like now with Tucker and Aldridge back?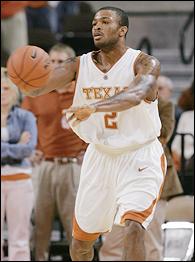 Ronald Martinez/Getty ImagesTucker's return should toughen up the Horns' frontcourt.
"I'm a whole lot better and the game has slowed down with those two great players," Gibson said. "They accounted for half of our scoring [actually the two combined for 22 points a game) and a lot of guys keyed on me."
Now one of the best point guards in the country will be helped by two of the better finishers at their respective positions. Don't you think that will help tremendously?
The Longhorns also will be a better defensive team with Aldridge along the backline. The 6-foot-10 center blocked 24 shots in 16 games before injuring his hip at Nebraska on Jan. 15.
Had Aldridge not gotten hurt, Barnes said Aldridge likely would have declared for the draft. Tucker might have as well, had he stayed eligible. Had they been there for the full season, Gibson ultimately might have bolted, too, since the NCAA run could have been a few rounds deeper. Instead, all three are back to make a run at the title.
One other thing that the other contenders don't have is the schedule. Texas will have a constant sparing partner in Oklahoma throughout the season. The Sooners, a Final Four contender themselves, should push Texas enough to get them ready for the dance. No other title contender will play as many as three potential Final Four teams (as judged by preseason polls). Texas plays Oklahoma twice, Duke in New Jersey and Villanova at home in January.
Duke plays Texas and doesn't appear to have another title team in the ACC. Michigan State could play Connecticut and Gonzaga in the Maui Invitational, but that's still uncertain. The Spartans don't have an equal dance partner in the Big Ten.
Connecticut has Villanova and Louisville to mess with, although the Wildcats aren't the same team without Curtis Sumpter (ACL tear) and the Cardinals are young. The Huskies could end up playing Michigan State in Maui, but again, that's not definite.
Look, we're not saying Texas definitely will win the title. But we are saying the Horns have as much of a chance as anyone.
We want you to think about the Longhorns for a while. They've got good reason to say they can win the title. We'll see in Indy whether they were prophetic in October or a bit misguided. After watching and talking to them, we'll lean toward the former -- for now.
Andy Katz is a senior writer at ESPN.com.
SPONSORED HEADLINES
MORE MEN'S COLLEGE BASKETBALL HEADLINES
MOST SENT STORIES ON ESPN.COM
EDITORS' PICKS
D'Angelo Russell led Ohio State past No. 16 Maryland.
Medcalf »

Please welcome Jerian Grant to the Wooden Award race.
Wooden Watch »

Arizona jumps up to a top line. Who are the other No. 1 seeds?
Bracketology »