Arizona is the biggest threat behind big three
Originally Published:
November 6, 2006
By
Andy Katz
| ESPN.com
The consensus around the country is that Florida, Kansas and North Carolina, in some order, are the three elite teams entering this season.
Sure, each of those clubs has its own questions: Can defending champion Florida handle being the hunted? Can Kansas manage its depth and overcome two straight first-round NCAA Tournament exits? Will North Carolina's youth mature and deliver as expected? But the bigger debate begins with who is No. 4. Which team could be projected as the fourth No. 1 seed? The answers are plentiful.
Pittsburgh can make a strong case with Aaron Gray in the post, Sam Young at his side and a host of guards who don't seem to get rattled.
Georgetown, with its precision passing, cutting and screening to go with center Roy Hibbert and forward Jeff Green -- two of the best big men at their respective positions -- could make a play for the spot.
Toss in Wisconsin and its returning starting five, and you won't get a strange look. Putting all the pressure on Greg Oden to deliver Ohio State to the promised land isn't a reach, either. Adding 2006 Final Four teams UCLA and LSU to this group isn't out of line, either, as both teams return enough talent to make it to the Final Four in Atlanta.
The one team that can make the strongest case, though, is Arizona.
The Wildcats have the players to make it.
"I haven't seen this much talent on the floor since my freshman year," senior guard Mustafa Shakur said. "All the ingredients are there."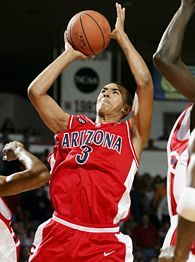 Aaron M. Sprecher/Icon SMILast season, he was the "other" Marcus Williams. This season, he could be the Pac-10 Player of the Year.
And, perhaps as important, so is the motivation. Three seasons ago, when Shakur was a freshman, Arizona lost in the first round to Seton Hall in an 8-9 game. Two seasons ago, the Wildcats had Illinois on the ropes in the Elite Eight, but squandered a 15-point lead in the final four minutes of regulation and lost in overtime. Last season, Arizona didn't make it out of the second round, falling 82-78 to No. 1-seed Villanova.
"Every time we break, we say 'Atlanta,'" junior guard Jawann McClellan said. "We had the heartbreak against Illinois my freshman year. I don't want to feel that way again."
Let's take a closer look at why the Wildcats could be a No. 1 seed come March:
1. Experienced point guard Say what you will about Shakur, but he's a four-year starter at the point. Sure, he's been inconsistent, but after declaring for last spring's NBA draft, he returned humble and a more vocal leader. His voice reverberates practice, and he has the attention of his teammates.
Not having Hassan Adams or Chris Rodgers around seems to have helped Shakur, who has extended himself to become a much more visible leader.
"Everything is so positive and it's a lot easier for me out there," Shakur said. "So far, it's been a lot of fun."
Added Arizona coach Lute Olson: "I'm really pleased with the way he came back. A lot of times when a guy comes back, it doesn't work because he's thinking too much about himself. But he knows if we do well, he'll do well."
2. A plethora of shooters
In an era when there is a premium placed on finding quality shooters, the Wildcats may have the most quality choices.
McClellan, one of the most prolific shooters in the West, is back (albeit with sore knees) after playing in only two games last season due to being academically ineligible in the first semester and then suffering a season-ending wrist injury in the spring. In 2004-05, he shot 39.3 percent on 3-pointers and 46.8 percent overall.
He's hardly alone. Olson also has shooters at the point in Shakur and Nic Wise. On the wing, he also has Marcus Williams, who toyed with declaring for the NBA draft but decided to stay.
Williams had a solid freshman season, averaging 13 points and making 45.3 percent of his field goals, including 43.5 percent on 3s. This season, he has a chance to be Pac-10 Player of the Year. The Arizona staff was much more concerned with Williams possibly leaving than with Shakur. Now that both came back, Arizona has two of the top players in the West at their respective positions.
In addition, heralded freshman Chase Budinger and senior Ivan Radenovic are solid options. Radenovic is a career 29.5 percent shooter on 3-pointers, but is improving. He is also running the floor better and has become more of a viable choice for Olson's offense.
3. A deep frontcourt of role players
Remember when Luc Longley was the big man on the Chicago Bulls' championship teams? Well, this isn't to say that anyone on the Wildcats is Michael Jordan or Scottie Pippen, but Kirk Walters could be the Longley on this squad. He's not that exciting, but he's productive inside and can be a 10-and-five player consistently.
The depth up front, with bruiser Bret Brielmaier, Fendi Onobun, Mohamed Tangara and Jordan Hill, gives Olson and his staff plenty of fouls to work with during a game. None of these players will wow you in the box score, but the Wildcats aren't hurting for big men.
4. A reserve defender
Daniel Dillon will come in handy, since this group's noticeable deficiency is defense. He is the Wildcats' top on-the-ball defender and will serve a key role in games against UCLA and North Carolina when the Wildcats must have a stop.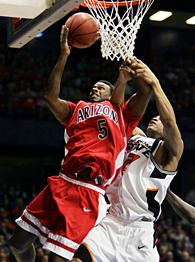 Don't forget about the return of Jawann McClellan on the perimeter.
5. A trio of potential stars
To get to the Final Four, you usually need a few NBA-level players and at least a few players who could challenge for player of the year honors.
Williams and McClellan both fit this description. Both are studs offensively and have the ability to put up 30 points on any given night.
6. A stud freshman
Budinger needs to work on his defensive issues, but he can score as well as any freshman in the country. He runs the floor well, makes the midrange shot and can score on the dribble-drive.
He'll have his freshman moments, but he'll also have those breakout games that will prove how deep Arizona is this season.
7. A Hall of Fame coach
Olson has been down this road many times, and this season he's as driven as ever to get the Wildcats to the Final Four. Olson can handle all types of situations, from egos to last-minute decisions. Arizona's chances of reaching the Final Four are already better than most simply because of who is sitting on the bench (actually, he usually stands in front of it).
8. A big-time schedule
The Wildcats might be more prepared than any other team for a March run because of their schedule. Arizona plays at Virginia (to open up the Cavaliers' new building), against Illinois in Phoenix, versus Louisville in New York and at San Diego State. They also host Houston, UNLV, New Mexico State, Memphis and North Carolina, in addition to Pac-10 games against UCLA, Washington, Cal and Oregon.
All of that should add up to Arizona being in position to threaten the big three. With all the early season focus on Florida, UNC and Kansas, the Wildcats might get overlooked, but don't be surprised to see them in Atlanta in late March.
Andy Katz is a senior writer for ESPN.com.
SPONSORED HEADLINES
MORE MEN'S COLLEGE BASKETBALL HEADLINES
MOST SENT STORIES ON ESPN.COM
2006-07 Preview
The 2006-07 season is upon us, and with it comes the ESPN.com college hoops preview. Get everything you need to know before tip-off: