Commentary
Here are 25 games you'll want to see
Originally Published:
November 13, 2009
By
Andy Katz
| ESPN.com
Here's a look at the 25 best games for the 2009-10 season.
Nov. 19: North Carolina vs. Ohio State, Coaches vs. Cancer Classic (ESPN2): This game at New York's Madison Square Garden matches one of the best backcourts in the country (Ohio State) against arguably the deepest frontcourt.
Nov. 19: Cal vs. Syracuse, Coaches vs. Cancer Classic (ESPN2): The Bears are expected to win this season, while the Orange is in a reshuffling mode. Yet, the Orange is expecting to be a Big East contender. We may learn more after this game.
Nov. 19: Georgia Tech vs. Dayton, Puerto Rico Tip-Off Classic: This may be the best first-round matchup in a holiday tournament. Both teams are hyped for breakthrough seasons (Dayton to win the A-10 and Tech to compete in the ACC).
Nov. 27: Northwestern vs. Notre Dame, Chicago Invitational: To improve its at-large chances come March, the Wildcats need to beat either the Irish or Butler earlier in the month. That task became all that much harder with the recent injury to leading scorer Kevin Coble. That's a bad blow for the Wildcats when faced with the thought of handling Notre Dame's Luke Harangody in the middle.
[+] Enlarge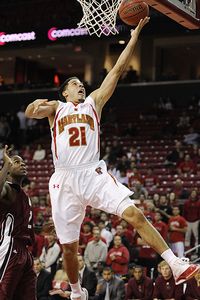 AP Photo/Nick WassGreivis Vasquez's matchup with Villanova's Scottie Reynolds should be one to watch on Dec. 6.
Dec. 5: North Carolina at Kentucky (CBS): This game wasn't close a season ago, but the Wildcats have gone through a complete metamorphosis. There will be plenty of NBA-level talent on display in this matchup at Rupp between two national contenders. There's also that whole race to 2,000 wins thing.
Dec. 6: Villanova vs. Maryland, BB&T Classic (FSN): Villanova is probably overrated, while Maryland isn't getting enough publicity. This game in Washington D.C., matches Scottie Reynolds against Greivis Vasquez in one of the better playmaker games.
Dec. 8: Butler vs. Georgetown, Jimmy V Classic (ESPN): The Bulldogs will have already played in the 76 Classic by this point and could be a top-five team if they win this event. But this will be on a larger stage in New York.
Dec. 12: Washington vs. Georgetown, John Wooden Classic (FSN): The Huskies have a light nonconference slate. This game in Anaheim, Calif., is easily their toughest test. For the Hoyas, it comes after playing Butler in New York earlier in the week.
Dec. 19: North Carolina vs. Texas (ESPN): The Final Four is eventually coming to Cowboys Stadium and this could turn out to be an Indy preview as well. This game in Arlington will match two of the best frontcourts in the country.
Dec. 22: Cal at Kansas (ESPN2): This concludes a brutal stretch for Kansas as the Jayhawks welcome in Michigan just a few days earlier. If the Jayhawks can beat the Wolverines and the Bears at home, then they should cement themselves as a top seed.
Dec. 22: Michigan State at Texas (ESPN2): This could be a Final Four preview. Both teams are in the top four and have the depth and talent to reach Indianapolis.
Dec. 26: West Virginia at Seton Hall (CBS): The Pirates are banking on being one of the preseason's trendy teams to make the NCAA tournament. Opening up at home against one of the league favorites could tell a lot about where this team is going.
Jan. 2: Gonzaga vs. Illinois (CBS): The Zags will have played at Michigan State, gone through Maui, hosted Washington State, Wake Forest and Davidson, and gone to New York to play Duke before this game in Chicago. Yet, it might be one of their toughest. If the Zags are still standing in playing the upstart Illini, then you'll know they should be taken seriously this season.
Jan. 2: Louisville at Kentucky (CBS): Rick Pitino is treated as Darth Vader when he arrives in Rupp now, but nothing may compare to his arrival this time. The rivalry between Pitino and John Calipari has hit a new high, and this game should have Rupp ready to pop.
Jan. 9: Duke at Georgia Tech (ESPN): The Yellow Jackets have the hype of Derrick Favors. The Blue Devils relish playing in these environments and how Favors handles Kyle Singler may turn out to be the difference.
Jan. 16: Cal at Washington (FSN): This is the first of two meetings between the Pac-10 favorites. They played classic league games last season. There should be plenty of 3-pointers with both teams dominated by guard play.
[+] Enlarge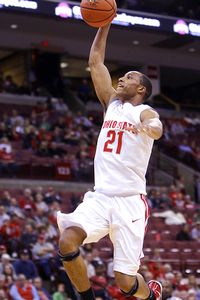 AP Photo/Jay LaPreteEvan Turner and Ohio State should have a high-scoring affair with West Virginia on Jan. 23.
Jan. 23: Ohio State at West Virginia (CBS): Some of the top guards in the country will be on display with Devin Ebanks of the Mountaineers going against Evan Turner and William Buford. There should be plenty of points in this one.
Feb. 3: Mississippi St. at Vanderbilt (SEC Network): This game matches two of the top big men in the SEC in Jarvis Varnado and A.J. Ogilvy. These teams could both make deep runs in March.
Feb. 8: Kansas at Texas (ESPN): This will be the game of the season. The two teams play each other only once (a shame), and yet it could decide the Big 12 championship, a possible No. 1 seeding, and it gives each team the ultimate barometer in one of the best brewing rivalries in the sport.
Feb. 11: Ole Miss at Mississippi State (ESPN2): The rivalry in the state may be at its zenith as the two teams should battle for the SEC West title. This would be the second meeting between the two schools.
Feb. 27: Michigan State at Purdue: The Boilermakers are much improved so don't expect the Spartans to win the Big Ten by four games. This will be the second game between the two schools and could help decide the league race.
Feb. 27: Kentucky at Tennessee (CBS): The Vols have the talent to challenge Kentucky for the SEC East title. Calipari and Bruce Pearl aren't best friends, either. This SEC East rivalry should blossom this season, and this game could have a say in the title race.
March 6: West Virginia at Villanova (CBS): The top two teams meet for, perhaps, the Big East title in the last game of the season. The Big East schedule makers got this one right, just like Pitt and Connecticut last season.
March 6: North Carolina at Duke (ESPN): UNC has won four straight games at Cameron Indoor Stadium. The Blue Devils are determined to snap the streak. This could be for the ACC championship.
March 7: USC at Arizona: First-year USC coach Kevin O'Neill was named the successor to Lute Olson two years ago before that plan collapsed. How O'Neill is received at the McKale Center will be an interesting watch. This game could turn out to be pivotal for the possible bubble-bound Wildcats.
Andy Katz is a senior writer at ESPN.com.
COLLEGE BASKETBALL PREVIEW WEEK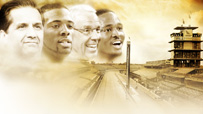 After seven long months, college basketball is finally back. Each day this week, ESPN.com will be providing all the preview material you need to get ready for the new season.
CONTENT
INSIDER BLOG
ESPN THE MAGAZINE
CHAT
BLUE RIBBON
VIDEO
YOUR TURN
MORE MEN'S COLLEGE BASKETBALL HEADLINES

MOST SENT STORIES ON ESPN.COM