Commentary
What's hot (and not) for 2009-10
Originally Published:
November 12, 2009
By
Dana O'Neil
| ESPN.com
From mega-hires (Kentucky) to major disasters (Binghamton), from the salacious (Louisville) to the silly (the dunk LeBron didn't want you to see), things haven't exactly been dull in college basketball since the last strains of "One Shining Moment" faded in Detroit.
But finally it's time to be rid of the melodrama and make way for the real drama: namely, the race for the Final Four in Indy. The season is no longer on the brink. It's here.
No better time to look at what's hot and what's not.
| HOT | NOT |
| --- | --- |
| Indiana: Hoosier-mania could rule in a season in which all roads lead to Indianapolis. Purdue, a short 65-mile ride from Lucas Oil Stadium, has a legit shot at the Final Four thanks to a healthy Robbie Hummel and a team loaded with talent and experience. Butler, sitting a mere 17 minutes from the stadium, could turn this season's championship weekend into a real version of "Hoosiers." The Bulldogs have mid-major charm but enough full-sized talent to have a Final Four run in them. And even the real Hoosiers, the ones in Bloomington, ought to be considerably better. | Colorado: Blame it on thin air if you'd like, but regardless of the culprit, basketball in the Rockies is certainly disappearing into thin air. In the past two seasons, Colorado, Colorado State, Air Force and Denver have a combined 89-157 record. Worse, the Rocky Mountain Low is on a complete bender, with just five NCAA tournament appearances for the four schools since 1990. |
| Off the bounce: The game is loaded with guys who can kill you off the dribble. To name a few: Oklahoma's Willie Warren, Villanova's Corey Fisher, Texas' Avery Bradley, Kentucky's John Wall, Connecticut's Kemba Walker and Washington's Isaiah Thomas. | Bouncing: Kudos to Tim Floyd for stepping into a casino food-court catfight (seriously, did they run out of kung pao chicken?) but there's got to be a safer way for the former USC coach to make a living. |
| Kentucky/Louisville: Brett Favre returning to Green Bay? A hero's welcome compared with what awaits Rick Pitino at Rupp Arena in January. North Carolina versus Duke? A spat at a knitting circle when seen through the viewfinder of the cataclysm in the commonwealth. These two schools have never liked one another, but the events of the last six months -- UK has gone from NIT disaster under Billy Gillispie to preseason top five under John Calipari, while Louisville has gone from overall No. 1 seed in March to TMZ headline in July -- have only poured gasoline on the inferno. Rate this one NC-17, not suitable for children under 17. | UCLA/USC: The dispassionate fans of L.A. are easy targets to blame for tepid rivalries, but this one-time West Coast gridiron classic just can't seem to get it going on the hardwood. Part of it is that the Bruins have just been too darn good, and that's not even counting the Wooden years. In recent memory, UCLA holds an 8-3 edge over its SoCal rivals (including Pac-10 tourney games). Now things could drop down another peg. The Trojans are trying to pick up the pieces from the O.J. Mayo/Tim Floyd fallout, and the Bruins are trying to put the pieces back together. Already in a rebuilding mode, UCLA has lost no fewer than five players to injury in the early going. |
| Wright: There's Jay Wright at Villanova, coming off a Final Four run and picked to win the Big East; Chris Wright at Dayton, the Atlantic 10 preseason player of the year starring for the team picked to win the league; and Cashmere Wright at resurgent Cincinnati, healthy after tearing his ACL early last season. | Wain(wright): Then there's Jerry Wainwright at DePaul, whose coaching seat is made of magma. The Blue Demons went 0-18 in the Big East last season before stunning the world with a win over Cincy in the conference tourney. That's 30 league losses in the last two years for those keeping score. |
| Big Ten: The hoops side of the league might just do what the football crew can't quite master: hoist a national championship trophy. Michigan State and Purdue both have the stuff to stand alone come April. But this league isn't just top-heavy. It's stocked deep with talent, from Michigan to Ohio State to Minnesota to Illinois. Even the teams ordinarily stuck in the basement -- Northwestern and Penn State -- have legit reasons to dream NCAA tournament this season. | Pac-10: There are good players out West -- plenty of them -- but they're young, which makes them hard to predict. After you get past Washington and Cal -- easily the cream of the Pac-10 crop -- feel free to throw at a dartboard to figure out the rest of the conference order. It's that crazy. New coaches on the benches at Arizona, Washington State and USC and a fairly new man at Stanford, coupled with plenty of player turnover at usually rock-steady UCLA, make for a shaky season. |
| Transfers: Basketball's revolving door has spun a number of players into new zip codes: Wesley Johnson (Iowa State) is the centerpiece at Syracuse; Elliot Williams bolted Duke to come home to Memphis, where he was sorely needed; Jordan Crawford left Indiana amid the Kelvin Sampson mess and gives Xavier a boost amid a coaching change; Keon Lawrence and Herb Pope could push Seton Hall out of the Big East basement; Jai Lucas adds depth to an already ridiculously deep Texas team after leaving Florida, while Vernon Macklin gives the Gators some inside help after leaving Georgetown; Ben Hansbrough, whose big brother was some guy at North Carolina, brings solid 3-point shooting from Mississippi State to a Kyle McAlarney-less Notre Dame team. | Defections: The beauty of indecision is all in the eye of the beholder. One coach's prize addition is another's crushing loss. While some schools welcome new blood with open arms, others are wondering where everybody went -- at Iowa, the team's leading scorer has left in each of the last three years (though both Tyler Smith and Jake Kelly had legitimate extenuating circumstances). In Memphis, John Calipari took recruits and even the secretary to Kentucky. |
| New coaches: Kudos to Memphis, Xavier and Virginia Commonwealth for giving guys a break. College basketball is starting to look an awful lot like the NBA, where Larry Brown may end up with a bio in every team's media guide before retirement. So we salute the schools that took a chance on rookie head coaches (granted, Josh Pastner was the 87th choice twice removed at Memphis, but even a blind squirrel finds the golden nut sometimes). | Recycled coaches: If Conference USA is looking for a motto, may we suggest the Ellis Island of coaching? Give us your tired (Mike Davis), your fired (Matt Doherty, Ben Braun), your unretired (Tom Penders) and your shamed (Larry Eustachy), we'll take 'em. No one is saying these guys should be run from the game. Heck, Eustachy, who on the scale of 1-to-Rick Pitino hasn't done much to be ashamed of, has done an admirable job at Southern Miss. But is there anything wrong with taking a risk once in a while? |
| The all-name squad: We may have bid adieu to Alabama State's Chief Kickingstallionsims, but we welcome in a new class of the greatest names of the game: New FIU coach Isiah Thomas joins Washington guard Isaiah Thomas in the college game, Cal freshman Bak Bak, Florida rookie Nimrod Tishman, Siena walk-on Just-in'love Smith and my personal favorite, Oklahoma freshman Tiny Gallon. Why does Tiny edge out Just-in'love? For the first name-surname combo and for the fact that Tiny is now down to 285 pounds. From 360. | Name-calling: Not certain which is sillier: the NCAA rule that prohibits fans from chanting a recruit's name or the people who can't seem to stop themselves from doing it. A handful of schools found themselves in secondary-violation hot water because their eager fans had to let visiting teenagers know they loved them last month. The rule is inane. Kids who have been wined, dined and ranked since they were in middle school probably aren't going to feel pressured because people are yelling their name. But the rule exists, so is it that hard to just keep quiet? |
| Craig Robinson: The Oregon State coach jumps over from last year's "not" list after turning the Beavers around in stunning style (perhaps his brother-in-law, Barack Obama, could borrow his methods to get swift action on health care). Two years ago, Oregon State went 0-18 in the Pac-10. Last season the Beavers won seven, took the postseason CBI title and debuted this year as the No. 5 Pac-10 team in the preseason poll. Granted, the league is down, but that's a red-hot turnaround. | Sidney Lowe: The NC State coach's red jacket isn't the only thing burning right now. So is the seat under Lowe. He has a ridiculously difficult job, coaching in the shadow of those two other ACC schools sharing his Tobacco Road address. But the cold truth is, Herb Sendek succeeded at the same ridiculously difficult job, tying a school record by taking the Wolfpack to five straight NCAA tournaments (2002-06). Lowe hasn't been there since taking over. |
| Wildcats: Two packs of cats are on the prowl in the top five. Kentucky, the program that already has set a tongues-wagging record in the preseason, stands at No. 4 thanks to its largesse of newcomer talent. Villanova's version of the Wildcats comes in one notch below at No. 5 with a mix of Final Four veterans and hot freshmen. Kansas State's kitties linger just outside the top 25, a potential sleeper team in the Big 12. | Bears: In Texas, the Baylor version is coming off a good NIT run in what was expected to be an NCAA season. With two of their top three scorers lost to graduation, the Bears are picked 10th in the Big 12. Meantime, New York's Bears -- the Binghamton Bearcats -- have all but pulled the trigger on a self-inflicted death penalty. Arrests, suspensions and an indefinite leave for head coach Kevin Broadus are just the tip of the iceberg for a program spun out of control. |
| Guys who come back: We tip our hat and say thank you to the unselfish guys who decided to return to college and put the business of wallet-lining off one year: KU's Cole Aldrich, Iowa State's Craig Brackins, Kentucky's Patrick Patterson, Notre Dame's Luke Harangody. The college game is the better for it. | Guys who are … where?: Chinemelu Elonu bolted Texas A&M early for the chance to play in Spain. Nick Calathes ditched Florida for Greece. And Shawn Taggart kissed Memphis goodbye to head over to Israel. Sure, they're all making money playing basketball, but it's a safe bet they all could have gotten the exact same contracts, if not better ones, if they had stayed in school. |
| NCAA rulebook: A recent recruiting reform package aimed at eliminating the payola in college hoops is a legit attempt to clean up the only game dirtier than politics. From summer camps to so-called package deals, the legislation is sweeping. And it has some serious teeth to it. Offending coaches would be penalized. Players would be penalized. Schools would be penalized. Will it work? Who knows. But it is a good start. | NCAA rulebook: The Beijing phone book is smaller than the NCAA manual. As it adds more good rules, maybe it's time to eliminate the stupid ones. My personal favorite: preventing coaches and recruits from sharing the same gym door at July summer league games. I once watched a poor NCAA woman lose her mind at a Las Vegas basement gym where there was only one way in. As she wondered how fast a pen could serve as a chisel, some agent's runner was no doubt cooking a backdoor deal on the Strip. |
Dana O'Neil covers college basketball for ESPN.com and can be reached at espnoneil@live.com.
College Basketball
College basketball reporter.
Joined ESPN in 2007.
Graduate of Penn State University.
SPONSORED HEADLINES
MORE MEN'S COLLEGE BASKETBALL HEADLINES
MOST SENT STORIES ON ESPN.COM
COLLEGE BASKETBALL PREVIEW WEEK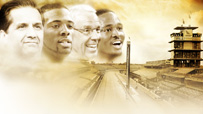 After seven long months, college basketball is finally back. Each day this week, ESPN.com will be providing all the preview material you need to get ready for the new season.
CONTENT
INSIDER BLOG
ESPN THE MAGAZINE
CHAT
BLUE RIBBON
VIDEO
YOUR TURN