Commentary
What's hot (and not) for 2010-11
Originally Published:
November 11, 2010
By
Dana O'Neil
| ESPN.com
From a red-hot ending to a not-so-hot offseason, the past year in college basketball has been anything but boring.
A new start promises new drama, and things already are cooking as a new basketball calendar begins.
From fantastic freshmen (Harrison Barnes, Kyrie Irving) to super seniors (Kyle Singler, Jacob Pullen), from new faces renewing hope (Steve Lavin, Mike Rice) to old faces renewing expectations (Mike Krzyzewski, Tom Izzo), from today until April 4, college basketball is back on the front burner.
So there's no better time to take the game's temperature, and see what's hot and what's not for 2010-11.
| HOT | NOT |
| --- | --- |
| Duke-Carolina: The one-way sign along Tobacco Road from last season -- when everything began and ended in Durham -- has been removed thanks to a Tar Heels team expected to bounce back from 2009-10's slide to the NIT. Mix in a game-changing freshman on each campus, a Blue Devils team picked to repeat and a Carolina team not-so-pleased about how things went last time out, and you can welcome back one of the game's fiercest rivalries. | Michigan-Michigan State: The Wolverines haven't beaten the Spartans since Feb. 27, 2007, but this is more about the state of the two programs than the head-to-head matchups. Michigan State has made six Final Four appearances in the past 12 seasons. In that same time, Michigan has made the NCAA tournament exactly once -- a second-round trip in 2009. |
| Manhattan: OK, so they're not all in Manhattan, but the teams on both sides of the Hudson have been given an adrenaline injection thanks to new coaching staffs at St. John's, Fordham, Seton Hall and Rutgers. Then there's the Little Apple, where beard sales -- and expectations -- are equally high at Big 12 favorite Kansas State. | Chicago: Forget the Cubs and their goat. The college basketball curse in this city is every bit as alive. It's been six years since a Windy City team has been relevant, dating back to 2004 when DePaul and Illinois-Chicago both made the NCAA tourney. Can Oliver Purnell, Tracy Dildy and Howard Moore give the city a new hoops vibe? |
| Large-headed, scary-faced characters: The two teams almost everyone can agree are best equipped for a Final Four run -- Michigan State and Duke -- are led by anthropomorphic mascots who prowl the sidelines with oversized heads, never-blinking eyes and maniacally deranged half-smiles. | Pig-headed, red-faced characters: This has been the offseason of scandal and stubbornness, of coaches suffering indignities in the courtroom, of coaches crying their apologies only to be caught in more lies later, of players accused of assaults and misdemeanors, and of NCAA sanctions and infractions doled out like 3 Musketeers bars on Halloween. |
| The NCAA: The governing body once chided for becoming more pencil-pusher than enforcer has grabbed everyone's attention with investigations spanning the country this offseason -- and penalties that pack a pretty impressive wallop. The NCAA enforcement staff might be understaffed (just six devoted to basketball), but like a quality mid-major, don't think small doesn't equate to mighty. | NCAA decisions: We applaud and appreciate thorough as opposed to a knee-jerk rush to judgment, but we now are three days into the season and neither Josh Selby nor Enes Kanter knows whether, and when, he might suit up. The NCAA has a lot of charges, missions and things to accomplish, but deciding whether a guy can play his sport -- before his season is kaput -- ought to top the list. |
| Freshmen: The preseason expectations of some heavily touted programs are sitting squarely on the shoulders of freshmen: Harrison Barnes at North Carolina, Jared Sullinger at Ohio State, Brandon Knight at Kentucky and Will Barton at Memphis. They all will have to live up to the hype for their teams to do as well as predicted. | Sophomores: Talented sophomores are about as hard to find as wrinkles in a Jay Wright suit. The NBA plucked 10 would-be members of the Class of 2013 in the first round alone, leaving Arizona's Derrick Williams literally in a class unto himself. |
| 68: After much hand-wringing and proselytizing against expanding the NCAA tournament (present company included), we welcome the not-so-terrifying expansion to 68 teams this season. The big question, of course: Who whines first for still not making the field? | 96: Almost universally panned, the floater that the bracket would expand to centerfold size fizzled. For now. |
| Pennsylvania: Fittingly, in a place where the outgoing governor still is a regular at his alma mater's games (Ed Rendell, Penn Class of '65), the Keystone State has three teams in the preseason top 25 -- Pittsburgh, Villanova and Temple. Not bad odds for a state with 14 Division I programs. | California: Fittingly, in a place where the outgoing governor was booed during a World Series celebration 50 years in the making, the Golden State has zero teams in the coaches' preseason top 25 (although kudos to Steve Fisher and San Diego State for obtaining its first-ever AP ranking). Pretty pathetic for a state with 24 Division I programs. |
| Non-BCS teams: Fresh off the March of the upsets, the season returns with plenty of parity, led by the pied piper of the non-BCS teams: Butler. The Bulldogs, who even without Gordon Hayward ought to be pretty good, have plenty of company this season. Count on BYU, Gonzaga, Richmond, Memphis, San Diego State, Wichita State, Temple, Xavier and Dayton to make things interesting. | Bottom (of the) Conference Standards: Whenever the following would like to actually pull their weight and earn some of that revenue sharing instead of just taking it, let us know: DePaul (last earned NCAA paycheck: 2004), Penn State (last earned NCAA paycheck: 2001), Nebraska (last earned NCAA paycheck: 1998), Colorado (last earned NCAA paycheck: 2003), Rutgers (last earned NCAA paycheck: 1991), Auburn (last earned NCAA paycheck: 2003). |
| Agents: They're the talk of the college sports world, the bogeymen bringing about the downfall of amateurism. Yet, NCAA rules allow athletes to talk with agents, even solicit advice, so long as no deal is signed. There's even a quiet movement afoot in NCAA headquarters to allow athletes to have agents. | Movie stars: You can talk to an agent without breaking an NCAA rule, but if Demi Moore and Ashton Kutcher say hello, watch out. Makes perfect sense. |
| Famous kids: The college game is littered with the progeny of some pretty talented NBA players -- Ralph Sampson III (proud papa: Ralph; college: Minnesota), Glen Rice Jr. (proud papa: Glen; college: Georgia Tech), Marcus and Jeff Jordan (proud papa: Michael; college: Central Florida), Mychel and Klay Thompson (proud papa: Mychal; colleges: Pepperdine and Washington State); Jai Lucas (proud papa: John; college: Texas); Larry Drew II (proud papa: Larry; college: North Carolina); Alex Schrempf (proud papa: Detlef; college: UCLA); Juwan Howard Jr. (proud papa: Juwan; college: Western Michigan); Tim Hardaway Jr. (proud papa: Tim; college: Michigan); Jon Horford (proud papa: Tito; college: Michigan) and Jordan Dumars (proud papa: Joe; college: Michigan). | Infamy: That is the route Tennessee is taking early in this season. With its football and baseball teams under NCAA investigation, the Vols' hoops team has joined the fray, with its coach, Bruce Pearl, admitting he lied to NCAA investigators. And before a season in which everyone is going to be asking how the investigation is affecting the team, Tennessee lost to Division II Indianapolis in its an exhibition game. And the Vols lost ugly, 79-64, with 25 turnovers and crummy free throw shooting. |
Dana O'Neil covers college basketball for ESPN.com and can be reached at espnoneil@live.com.
College Basketball
College basketball reporter.
Joined ESPN in 2007.
Graduate of Penn State University.
COLLEGE BASKETBALL PREVIEW WEEK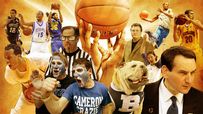 After seven long months, college basketball is finally back. Each day this week, ESPN.com will be providing all the preview material you need to get ready for the new season.
CONTENT
CHATS
BLUE RIBBON
VIDEOS
PHOTO GALLERIES
YOUR TURN
MORE MEN'S COLLEGE BASKETBALL HEADLINES


MOST SENT STORIES ON ESPN.COM