Breaking down the mid-majors
Updated:
November 12, 2010, 11:49 PM ET
By
Mark Adams
| Special to ESPN.com
Here's a mid-major primer for the season, complete with short conference breakdowns and predictions. My projected winner is the team next to the league name.
America East: Maine
If you want a feel-good story in this league, head north to Maine. Four starters, including Gerald McLemore, return this season for coach Ted Woodward's Black Bears. Woodward, entering his seventh season at the helm, has steadily built a championship foundation with a stingy defense (39 percent field goal percentage) that ranked 19th in the country last season. Maine has never been to the NCAA tournament, but this might be the season when that changes.
Others in the hunt: New Hampshire, Boston University, Stony Brook
Atlantic Sun: Lipscomb
Lipscomb or Belmont? Belmont or Lipscomb? I'll take Lipscomb. Although Lipscomb has been very good, it has lacked one résumé- building feature: an NCAA tournament bid.
Center Adnan Hodzic, the reigning conference player of the year, and four other starters are back for a team that finished 14-6 in the league and tied for first place. Josh Slater, who also will compete for POY honors, and Jordan Burgason are two of the noteworthy returning players. This team likes up-tempo basketball but also can play lockdown defense led by another senior, 6-foot-7 Brandon Brown.
Others in the hunt: Belmont, East Tennessee State
Big Sky: Weber State
As a former assistant coach at rival Idaho State (1979 to '82), it hurts me to pick Weber State. But coach Randy Rahe continues to lead Weber to quantifiable improvement. The Wildcats, who had an RPI of 266 in 2005, were all the way up to No. 94 last season. This season, junior point guard Damian Lillard returns as the best player in the Big Sky. The Achilles' heel for Weber might be inside, where Montana creates a matchup challenge. 6-11 Brian Qvale and 7-0 Derek Selvig can play.
Others in the hunt: Montana, Northern Arizona and Montana State
Big South: Coastal Carolina
Coach Cliff Ellis led Coastal Carolina to the Big South regular-season title last season. The Chanticleers (it's a chicken, if you're curious) earned a school-record 28 victories, but Winthrop ruined it all with an upset victory in the tournament championship game. Chad Gray was All-Big South last season and will be joined by fellow South Carolina transfer Mike Holmes, who is expected to play in the second semester. Ellis has great options at the point guard position with Kierre Greenwood and Danny Nieman.
If you want a dark-horse pick in the league, take a look at VMI, which has four returning starters and an explosive offense. The Keydets, led by Austin Kenon, can score at will.
Others in the hunt: UNC Asheville, Winthrop
Big West: UC Santa Barbara
Last season, UC Santa Barbara tied for the Big West regular-season title, then settled all scores by winning the Big West tournament championship. The league's POY, Orlando Johnson, returns after enjoying a stellar 2009-10 season. In fact, all five starters return for coach Bob Williams. The Gauchos look untouchable and could pull an upset or two in March. However, if they don't win the Big West, a soft schedule could knock them out of at-large consideration. UCSB's only real test will come at San Diego State on Dec. 18.
Others in the hunt: Pacific, Long Beach State
Colonial Athletic Association: Old Dominion, VCU and George Mason
Old Dominion is a popular pick because it returns four starters off a 27-9 team that beat Notre Dame in the first round of the NCAA tournament last season. ODU needs to replace Gerald Lee, a huge 6-10 skilled big guy who made the offense an efficient inside-out attack. But the Monarchs have one of the best returning front lines in the CAA, led by 6-9 Frank Hassell.
VCU also has four starters returning, including Joey Rodriguez. Then there is George Mason, which returns all five starters off a team that went 12-6 in the Colonial last season. Depth and talent usually win a lot of games, and GMU has both. We will all get a good read on the Patriots when they play at Dayton on Dec. 29.
Others in the hunt: James Madison, Hofstra and (surprise) Delaware
Conference USA: Memphis
Joe Jackson is a freshman who adds a blur to the Tigers' offense. And with freshman Will Barton in the mix, you get one of the most active, athletic newcomers from the class of 2010. Wesley Witherspoon, Angel Garcia and Will Coleman bring size, strength and athletic ability all in slightly different packages. Witherspoon is a runner with skills, Garcia has high-low post skills and Coleman is an intimidating defender with an ever-improving offensive game. We will see early on whether Memphis and its newest recruits are ready for prime time. The Tigers have Miami, LSU, Kansas, Georgetown and Tennessee on their nonconference dance card.
Others in the hunt: Southern Miss, UTEP, Tulsa
Horizon League: Butler
All-American candidate Shelvin Mack returns with a pro body and explosive skills to match. Matt Howard, at 6-8, brings more game savvy to his position than any other post player in the country. Ronald Nored returns as the conference's co-defensive POY, combining smarts with leadership ability. Zach Hahn will continue his long-range marksmanship. Although these returnees provide a core for another successful Butler basketball season, it is the newcomers who will make or break the Bulldogs in March. Khyle Marshall is a 6-7 power forward who brings big-time athleticism and a midrange game to the Bulldogs' front line. He will definitely give Butler a much-needed runner/jumper at the 4-spot. Eric Fromm is a 6-9 skilled big man who has long-range shooting skills.
Others in the hunt: Cleveland State, Detroit, Valparaiso
Ivy League: Harvard
Everyone seems to be picking Princeton, and I certainly understand why, as Doug Davis and Dan Mavraides make for a great one-two perimeter punch. But I just have a feeling about coach Tommy Amaker and his Harvard Crimson, who won a school-record 21 games last season. Harvard will counter Princeton with some of the best bigs in the Ivy, starting with Ivy League rookie of the year Kyle Casey. If Casey can avoid injuries and take the next developmental step, he will vie for POY honors. Keith Wright is another big guy who can be a beast when he is healthy, but that is the big if. If this guy can stay on the court, along with Andrew Van Nest, Amaker will have options.
In the backcourt, Harvard is good enough even though it lost do-everything guard Jeremy Lin. As a freshman last season, Brandyn Curry got valuable playing time. Curry brings a defensive stopper mentality, and Christian Webster brings a long-range skill set to the backcourt. Oliver McNally can score and has a knack for taking -- and making -- big shots. These three aren't flashy, but their diverse talents complement one another. That pretty much describes Amaker and his inside/perimeter talents. That is why the Crimson will win their first Ivy League title since, well, ever.
Others in the hunt: Princeton, Penn
Metro Atlantic Athletic Conference: Fairfield
Siena has been a dominant program in the MAAC, but with key losses, it is time to vanquish the defending champs and move in another direction. Fairfield is my choice, but the Stags have a few question marks. In Ed Cooley's flex-oriented offense, you need a point guard who can not only enter the ball into the offense but also become a threat. That's Derek Needham, the little point guard with a big heart. Now for the question marks. Yorel Hawkins was a double-figure inside scorer at midseason until his knee shut down his game. Can he return to his old form? Warren Edney is coming back after an Achilles injury. He gave the Stags a 6-5 combo guy who could do a little dirty work in the paint, drive the ball or face up to score. Can he return to that form? Greg Nero was an all-MAAC rookie team member two years ago but was incapacitated by chronic fatigue syndrome all last season. Can he come all the way back?
If all three make it back to their previous form, Fairfield is not only the favorite in the MAAC but also becomes a threat to be the next Murray State, Northern Iowa or Butler in March. I'll even go a step further. If all of the above return and play well, the Stags just might be the best team in Connecticut.
Others in the hunt: Siena, Iona, Saint Peter's
Mid-American: Kent State
The Western Division of the MAC is a no-brainer, sort of. Central Michigan is the defending MAC West champion two years running under Ernie Zeigler, and it appears to be on the verge of a third. Trey Zeigler is the coach's son who has point guard skills and the versatility to play the 1, 2 or 3 position. He is a dynamic passer with vision and possesses a coach's son's understanding of the game. He can score midrange and see over defenders in the open court and is effective creating passing lanes off the dribble. Like Gordon Hayward, Zeigler is a 3-S (size, skill and scoring ability) player.
The MAC East is a championship grab bag, as Akron, Kent State and Ohio all have a shot. The East has in the recent past been the class of the MAC. With Miami, Buffalo and Bowling Green in the same division, there are no gimmes. The Akron Zips have something no one else has in the MAC, a quality and improving big man. Zeke Marshall is a 7-foot sophomore who showed flashes of defensive brilliance last season. If he can take the next step offensively and become a sometimes go-to post guy, watch out for the Zips. With Brett McKnight, long-range bomber Steve McNees and Nik Cvetinovic all returning, I like Akron's talent and history of success.
Kent State is led by POY candidate Justin Greene, one of the most improved players in the country last season. Scooter Johnson adds size, and Rodriquez Sherman returns as a do-everything point guard. If redshirt junior Justin Manns becomes the defensive intimidator inside, Kent will leap to the top of the MAC.
Others in the hunt: Miami, Ohio, Ball State
MEAC: Morgan State
Todd Bozeman was a pariah a little more than a decade ago after a head-coaching stint with Cal turned into an NCAA nightmare for the young, ambitious coach. It has been a long road back, but four years ago the Bears decided to give him another chance, and it has paid off for both parties. Bozeman is 95-51 at Morgan State, and its RPI has risen from 329 to 102. The Bears have won back-to-back MEAC tournament titles and now will go for a conference-record three in a row. Bozeman has once again put together a roster that is simply superior to every other in the MEAC, even with the loss of do-it-all scorer Reggie Holmes. If you want size, try six players over 6-6 on for size, including preseason conference player of the year Kevin Thompson, who averaged a double-double last season (12.7 ppg, 11.8 rpg). If you want size and skill, how about 6-8 Dewayne Jackson?
Others in the hunt: South Carolina State, Bethune-Cookman
Missouri Valley: Wichita State
The Valley is the best mid-major conference from top to bottom in the country again. Five of the 10 MVC schools have at least four starters returning from last season, including Wichita State (4), Bradley (4), Creighton (4), Evansville (4) and Missouri State (5). Seven of the top 10 scorers and 14 of the top 20 rebounders return. Of the 23 conferences that we consider mid-majors, the Valley was the top-rated RPI conference at No. 9.
It is a new season, and Northern Iowa will still be a very good team with the return of Kwadzo Ahelegbe, Johnny Moran, Jake Koch and Lucas O'Rear. But the team to watch this season is the Wichita State Shockers. This Wichita team could rival the great teams of Ralph Miller, Gene Smithson and Mark Turgeon. Although last season's leading scorer, Clevin Hannah, will be missed, the Shockers return junior POY candidate Toure' Murry. They also return three other starters, including Garrett Stutz, who is the key to Wichita State separating itself from the pack. This 7-footer can run, has great hands and has shown consistent, quantifiable improvement. If Stutz takes the next step in his developmental process, watch out for the Shockers.
Also, Cuonzo Martin welcomes back all five starters for Missouri State. New Creighton coach Greg McDermott returns to the MVC and has Kenny Lawson Jr. as a scoring, rebounding and shot-blocking inside intimidator. Plus, three other starters return. The Bradley Braves return four starters and Andrew Warren is now completely healthy, which is bad news for MVC opponents.
Others in the hunt: Creighton, Missouri State, Northern Iowa, Bradley
Northeast: Quinnipiac
Robert Morris will still contend under new head coach Andrew Toole, an assistant who took over after Mike Rice left for Rutgers. Two starters return, and quality recruiting will keep the Colonials in the top half of the conference. But the heir apparent in the NEC is the team that tied Robert Morris for the top spot during the regular season, Quinnipiac. The Q returns three starters, including NEC Player of the Year Justin Rutty, who is a 6-7 man in the paint. He averaged a double-double (15.3 ppg, 10.0 rpg) last season. James Johnson provides the Bobcats with a perimeter weapon who can score, distribute and bang the 3-ball. This one-two punch is the best inside-outside combination in the NEC. Coach Tom Moore has been oh-so-close to leading this former Division II program to the Big Dance the past few years. This is the season for Bobcats fans.
Others in the hunt: Central Connecticut State, Long Island, Robert Morris
Ohio Valley: Murray State
Last season, Murray State racked up a school-record 31 wins, an OVC title, a first-round win over Vanderbilt and a heartbreaking two-point loss to eventual national runner-up Butler. All of this with basically six players who all scored around 10 points a game. Balance, guard play and a ravenous appetite for stopping the Racers' opponents went a long way, and it looks like more of the same this season.
Isacc Miles and B.J. Jenkins make up the best returning guard tandem in the OVC and one of the best one-two punches in the country. Ivan Aska is one of the most underrated forwards in the country. He combines savvy with strength and a competitive mean streak that often punishes opponents.
Murray State is my pick and nearly everyone's pick to win the OVC and for good reason, but watch out for Kenneth Faried and Morehead State. Faried is not only the best athlete in the OVC, but he may be one of the top five athletes in the country. Faried is a double-double machine and the country's leading returning rebounder (13.0 rpg).
Others in the hunt: Morehead State, Eastern Kentucky
Patriot League: Holy Cross
I know, I know! Holy Cross went 9-22 last season, as everything that could go wrong did go wrong, and the finger-pointing led to plenty of drama in Worcester. Exit coach Sean Kearney and enter Milan Brown from Mount St. Mary's. I believe it was a championship choice if these players who spent more time blaming everybody else last season buy in to Brown's team philosophies. Combine Brown and his positive attitude with the return of four starters, and you have the tonic for a big turnaround.
Lafayette is a close 1A and will fill the void if Holy Cross implodes again. Jared Mintz and Ryan Willen are both contenders for all-league honors. Add sharpshooter Jim Mower to that experienced mix, and the Leopards will be a tough out.
Others in the hunt: Lafayette, Lehigh, American
Southern Conference: Wofford (South) and Appalachian State (North)
Just ask South Carolina and Georgia how annoying the Wofford Terriers were last season. Wofford also came within a whisker of upsetting Wisconsin in the first round of the NCAA tournament. Wofford welcomes back four starters off that special team, and it just might be time for Wofford to join the ranks of the big dogs. I called their loss versus Illinois last season, and I saw a team that could compete at a very high level. The SoCon Player of the Year returns as Noah Dahlman is a 6-6 old-school back-to-the-basket scorer. This is a team that can really defend and rebound and is a skilled offensive team that is solid in every area of the game.
If you are looking for other SoCon contenders, they are not hard to find. Donald Sims (20.4 ppg) is the supreme offensive weapon for Appalachian State. The College of Charleston, led by legendary coach Bobby Cremins, lost Antwaine Wiggins to an ACL injury before last season, but he is back and will buoy the Cougars' rebounding and defensive efforts. Plus, Andrew Goudelock (19.4 ppg) returns as a POY candidate. Davidson also figures to return to top contender status.
Others in the hunt: Appalachian State, Charleston, Davidson, Chattanooga
Southland: Lamar (East) and Stephen F. Austin (West)
Lamar is loaded. Four starters return, and the best is junior Anthony Miles. Also, coach Steve Roccaforte decided to upgrade on the perimeter and snagged four juco transfers, all of whom can really score. That fits his up-tempo style, so Lamar will run and run and run some more. If Lamar cannot assimilate all these new faces and talents into a cohesive unit, look for Southeastern Louisiana to move to the top of the East Division. Four starters return, including sharpshooters Trent Hutchin and Gary Dixon.
At Stephen F. Austin, Danny Kaspar welcomes back a seasoned and consistent player of the year candidate in Eddie Williams, who does it all. SFA and its gang of rebounders is my pick to win the West crown.
Others in the hunt: Southeastern Louisiana, Northwestern State, Sam Houston State
SWAC: Jackson State
Jackson State ran away with the regular-season title last season with a 17-1 record but wasn't able to finish the job in the league tourney. POY candidate Tyrone Hanson is a senior survivor, and that is why I am picking the Tigers to survive the SWAC title chase and gain the automatic bid to the NCAA tournament. After all sorts of trouble at previous stops, Hanson is doing well in the classroom, on the court and in the Jackson State community. Another juco transfer, Jenirro Bush, joins the Tigers' backcourt this season, and he can play the point at 6-7. With Bush and Hanson on the perimeter, Jackson State and coach Tevester Anderson will close the deal this March.
Others in the hunt: Alabama A&M, Prairie View
Summit League: Oakland
Although many in the college basketball universe have not heard of 6-11 Oakland senior center Keith Benson (17.3 ppg, 10.5 rpg), let's just say that Pitt coach Jamie Dixon has heard of him. Benson went for 28 points and nine rebounds in the Golden Grizzlies' first-round NCAA loss to the Panthers. Benson returns for Greg Kampe, one of the most underrated coaches in the game. The combination of quality size, great coaching and three returning starters leads me to believe Oakland will once again climb to the top of the Summit.
If Oakland stubs its toe, look to Oral Roberts as the next-best legitimate contender in the Summit League. Dominique Morrison can score and board, and Michael Craion gives Scott Sutton two front-line players who can produce. The question mark for ORU is whether it can avoid injury to its core players.
Others in the hunt: Oral Roberts, IUPUI, North Dakota State
Sun Belt: Western Kentucky (East) and North Texas (West)
Sergio Kerusch returns for his senior season. He missed 14 games last season, and the Hilltoppers went 7-7 in those games. They went 14-6 with him in the lineup. The other returning leader is Steffphon Pettigrew. Both Kerusch and Pettigrew could be first-team All-Sun Belt selections. Juan Pattillo, who transferred from Oklahoma, is a high-major player. The Hilltoppers also added a few talented Juco transfers with a couple of topflight freshmen in Brandon "Snap" Peters and Kene Anyigbo.
Meanwhile, North Texas returns four starters, and look for it to make some nonconference noise. The Mean Green play Texas Tech on Nov. 16, visit Kansas on Nov. 19 and travel to LSU on Dec. 22. I would not be surprised to see North Texas win two of those three. At 5-11, point guard Josh White is back to run the show. Tristan Thompson is a 6-5 swingman who can score and stretch a defense. Dominique Johnson is an explosive weapon who will also see time at the point after an injury-plagued 2009-10 season. Inside, the Mean Green can jump onto the formidable shoulders of George Odufuwa, who can carry the load. As he refines his game, UNT will win big.
Others in the hunt: South Alabama, Arkansas State, Florida Atlantic
West Coast Conference: Loyola Marymount
I like and respect Gonzaga coach Mark Few, but I have to make at least one big-time surprise pick. And this is it. Vernon Teel is a matchup nightmare because of his ability to do it all. In one of the Lions' losses to Gonzaga last season, Teel went for 27 points. Plus, he is one of the best in the country at getting to the free throw line (239 attempts last season). Drew Viney is a highly skilled 6-8 forward who can drain the 3-ball (.426 last season) and bury free throws (.819). Larry Davis battled injuries last season but seems to be 100 percent healthy. If LMU is to take down Gonzaga, Davis has to be available and healthy. He was a key component last season when the Lions knocked off USC and Notre Dame.
If LMU is to beat Gonzaga for the WCC championship, it has to have an inside big man who can play. 6-10 redshirt freshman Edgar Garibay fills a huge void most WCC teams simply do not have when facing Gonzaga. Would I be surprised if the Zags won their 11th straight league title? Of course not. But I also wouldn't fall out of my chair if they didn't.
Others in the hunt: Gonzaga, Saint Mary's, Portland
Western Athletic Conference: Utah State
I can make this pick with my eyes closed and two hands tied behind my back. Well, maybe not because I have to type. The Utah State Aggies will win the WAC again!
Tai Wesley returns for his senior season, and the 6-7 forward is the best all-around player in the conference. His numbers show improvement each season, and his career will end with his name among the all-time greats at Utah State. Going into the season, Wesley is the only Aggie ever to post 1,000 points, 500 rebounds, 200 assists and 100 blocks.
Nate Bendall, Tyler Newbold and Pooh Williams are back, and the Aggies also added Leland Miller, forward Ben Clifford, juco transfer Brockeith Pane and James Walker.
Others in the hunt: New Mexico State, Nevada
Mark Adams is a contributor to ESPN.com. He is a game analyst on the ESPN family of networks and was a college basketball coach for 17 years, including a head-coaching stint at Central Connecticut State and assistant jobs at Idaho State and Washington State. For more of his insight, check out www.enthusiadams.com
COLLEGE BASKETBALL PREVIEW WEEK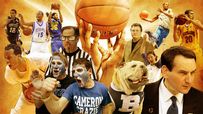 After seven long months, college basketball is finally back. Each day this week, ESPN.com will be providing all the preview material you need to get ready for the new season.
CONTENT
CHATS
BLUE RIBBON
VIDEOS
PHOTO GALLERIES
YOUR TURN
MORE MEN'S COLLEGE BASKETBALL HEADLINES


MOST SENT STORIES ON ESPN.COM