Commentary
Ranking the conferences for 2010-11
Here's my ranking and grouping of the college basketball conferences from top to bottom. Debate away …
Power Six For A Reason
1. Big Ten: Even with the Robbie Hummel injury, Purdue is still a top-15 team, and the Big Ten is still the deepest, toughest conference in the country. The league has two legitimate national title contenders (Michigan State and Ohio State) at the top, at least three Top 25-worthy candidates (Illinois, Purdue and Wisconsin) in its second tier and at least seven teams total (with Minnesota and Northwestern thrown in) that have a reasonable shot of making the NCAA tournament. When Evan Turner was the only Big Ten player drafted in June, many took it as a sign the conference wasn't producing elite NBA talent anymore. That may be true, but that draft paucity means a ton of returning talent, too, and this season, that talent makes the Big Ten the best conference in the country.
[+] Enlarge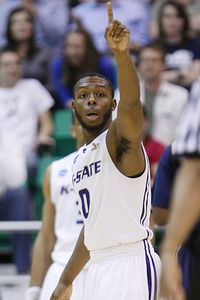 AP Photo/Paul SakumaThe Big 12 might not be No. 1 in our rankings, but if Jacob Pullen and KSU are as good as advertised, the league might get there.
2. Big 12: The Big Ten is the clear No. 1 here, but the No. 2 honor is less obvious. The Big East and SEC could both stake a claim, but the Big 12 edges them for two reasons. One: two potential Final Four teams (Kansas State, Kansas) are in the mix. Two: the handful of feast-or-famine teams that follow them. Baylor, Missouri and Texas all have questions, but all could be better than their preseason rankings by the end of the season. Texas A&M is rebuilding, but Mark Turgeon always seems to find a way; Texas Tech is confident about its NCAA tournament chances; and Colorado has two Naismith Watch players in its backcourt. There are fewer sure things here than the Big Ten, but the Big 12 still has plenty of teams with that "man, if things work out, our team could be awesome" quality. Potential is a fickle beast, but the Big 12 has too much of it to overlook.
3. SEC: The Southeastern Conference gets the nod at No. 3 thanks to proportion. The SEC has a higher potential NCAA tournament-team hit rate than our No. 4, the Big East. The conference loses a few points for imbalance -- five of those six potential NCAA nods would go to teams from its East division -- and for its lack of a potential national champion. But taken as a whole, any league with the likes of Florida, Kentucky, Tennessee, Vanderbilt, Georgia and Mississippi State in its ranks deserves some serious preseason credit. It is time, however, to place a team back in the Final Four. The SEC has been shut out since Florida's second national title in 2007.
4. Big East: This conference still has a handful of formidable teams, but the days of its reign as the top league in the country are, for the moment, over. Each of its top teams has question marks: Pittsburgh will be good, but the Panthers are basically the same team that bowed out in the second round of the 2010 NCAA tournament; Syracuse will need big contributions from freshmen; Villanova is talented but somewhat unproven; West Virginia, Georgetown and Notre Dame are each moving on without longtime stars. One team to watch is Seton Hall, which returns its three best players from last year's team and will have an interesting dynamic under new coach Kevin Willard. If the Pirates are more consistent under Willard than former coach Bobby Gonzalez, the conference as a whole would get a bit of a boost. The same applies to St. John's. But with all those questions in the top eight, and all those apparent patsies in its bottom eight, the Big East will have to prove its more than the sum of its disparate parts.
5. ACC: The ACC was better in 2009-10 than it seemed, but its poor performance in the NCAA tournament (besides, you know, Duke's whole "winning the national title" thing) was nothing to write home about. This season, the ACC isn't nearly as deep as we're used to, but it does have at least one thing going for it: consensus national title favorite Duke. Who can challenge the Dukies? OK, so no one can. But North Carolina will be better, Virginia Tech should make its expected leap into the NCAA tournament, North Carolina State is packed with talented freshmen and Florida State could be a nice sleeper candidate to keep an eye on. After that, though, things look pretty mushy. This year's ACC isn't nearly deep enough to compete with most of its power-six competitors.
6. Pac-10: OK, OK, the Pac-10 was pretty gross last season. The conference landed a mere two NCAA bids and might have had only one had Washington not won the conference tournament on its way to its eventual Sweet 16 appearance. But there are some signs the Pac-10 was a little underrated last year: Despite having no really good teams, there also weren't any truly terrible ones, a fact that allowed the much-maligned league to actually finish better in Ken Pomeroy's adjusted conference rankings than the much-praised Atlantic-10. The Pac-10 will have at least one truly bad team in 2010-11 (Dana Altman's bereft Oregon squad is almost a last-place lock), but with Washington looking strong, Arizona a threat to win the conference title and a talented UCLA team that should be much better than last season's 14-18 performance, the Pac-10 won't be good, but it won't be as bad as last year's first-glance evaluation might suggest.
The Quasi-Mids, With One Exception
7. Mountain West: Remember last season? If not, don't sweat it. The 2010-11 Mountain West should look pretty similar to the 2009-10 version: BYU, San Diego State, New Mexico and UNLV should all be NCAA tournament teams, and the Mountain West should be the best or second-best quasi-mid-major conference in the land. (It's barely a mid-major conference, given how much money each of its schools spends on athletic programs, but let's save that argument for later, thanks.) The MWC's bottom half weighed an otherwise good conference down last season, but with four of the conference's nine teams looking like tournament contenders, it gets the nod over the A-10 on top-to-bottom strength alone.
8. Atlantic 10: Even during last season's upward A-10 swing -- the conference could make an argument for seven NCAA tournament bids during its high point in January and February -- the low end of the league prevented the A-10 from eclipsing any of the power-six conferences in the Pomeroy rankings. This should be a similar season: Temple, Xavier, Dayton and Richmond are all NCAA tournament-caliber teams, and all four should be in the mix for the conference title by the end of the season. But with Saint Louis and Rhode Island possibly taking a step back (although the Rams looked solid Monday at Pitt) and Charlotte transitioning to the post-Bobby Lutz era, the A-10 won't go much deeper than its top four, and there are too many softies in the conference's bottom tier to rank it higher than any of the power-six leagues or the Mountain West in a pound-for-pound comparison this season.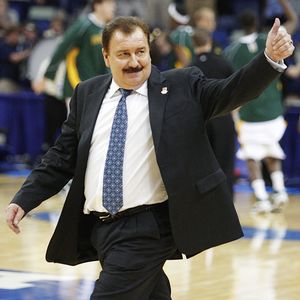 AP Photo/Patrick SemanskyBlaine Taylor and Old Dominion beating Notre Dame of the Big East in last season's NCAA tourney certainly didn't hurt the CAA's image.
9. Colonial Athletic Association: Is it the year of the CAA? Could the league steal an extra at-large bid? Why not? Old Dominion and VCU are both scary NCAA tourney-type teams that lost only one significant contributor each after excellent campaigns; either is good enough to circumvent the usual conference tourney path to the NCAA tournament. George Mason returns everyone from a team that finished third in the conference last season, Hofstra returns the conference player of the year in Charles Jenkins, and William and Mary has two key starters back from last season's sneaky-good 22-11 team. Even if all of those teams bomb, the strength of the conference's top two is still enough to rank it much higher than many of its similarly heeled contemporaries.
10. Conference USA: Thanks to Josh Pastner's top-five incoming recruiting class, Memphis should make a speedy return to the national hoops scene in 2010-11, and with it, Conference USA's natural order will be restored. In other words, no one will be able to stop Memphis on the way to a league title. UTEP still has Randy Culpepper, but little in the frontcourt to help him; UAB, Southern Miss and UCF will again be decent but probably unworthy of an NCAA tournament bid. The rest of the conference, despite spending more money per program than the CAA or the MVC or pretty much any other ostensible mid-major conference, is just plain bad. In other words, it's Conference USA.
Mid-Majors Playing Basketball You Actually Want To Watch
11. Missouri Valley: The halcyon days the MVC spent as the nation's best mid-major conference aren't likely to return this season, but it will still be a more competitive mid-major league than most. Northern Iowa won't dominate the conference in 2010-11, but the Panthers will still be a contender alongside Wichita State and Creighton, all three of which could make the NCAA tournament. When Creighton transfer Gregory Echenique becomes eligible in December, Greg McDermott's first Bluejays team could be one of the more dangerous mid-majors in the country. Watch out for Missouri State as well.
12. West Coast Conference: Gonzaga is the obvious pick and for good reason. The Zags, winners of 10 straight WCC titles, have the sort of size more frequently seen in the Big East (with 7-foot center Robert Sacre, 6-7 forward Elias Harris, 6-5 guard Steven Gray and a handful of new backcourt contributors that with minimal exceptions stand taller than 6-4). Without Omar Samhan and Ben Allen, Saint Mary's won't be able to topple its sworn rival in the conference standings, but the Gaels have enough returning that they could be an NCAA tournament team again. And Loyola Marymount -- only two years removed from a three-win season -- adds sudden depth to a conference that won't be quite as top-heavy as usual.
13. Horizon League: Much like the WCC, the Horizon League has been dominated by one team in recent seasons -- the Butler Bulldogs; maybe you've heard of them -- but should be a little more competitive this year than in seasons past. That's thanks to the return of Cleveland State's Norris Cole, the much-hyped entry of Detroit's top-30 recruit, Ray McCallum Jr. (who would be plying his trade at a high-major were his father, Ray Sr., not coaching the Titans), and the return of four starters from a Valparaiso team that gave Butler one of its tougher challenges of the Horizon League season last year. Butler is still the dominant force, and the league gets a boost if only because the Bulldogs are still an Elite Eight-level team, but Brad Stevens' squad will have a much tougher time going 20-0 in conference play in 2010-11.
14. Western Athletic Conference: The temptation to rank the WAC below this spot was pretty, um, tempting: With the exception of Utah State, nearly every team in the conference lost a significant amount of veteran talent. Fresno State waved goodbye to NBA-bound Paul George and a trio of transfers, Nevada sent Luke Babbitt and Armon Johnson to the NBA; New Mexico State lost quality contributors in the offseason. But Utah State remains good enough to command legitimate national respect, and the WAC's profile should benefit as a result.
15. Mid-American Conference: Ohio's first-round upset of No. 3-seed Georgetown in the 2010 NCAA tournament gave the MAC a major postseason presence in March, but that was the conference's main selling point. Only two other MAC teams made the postseason, and 10 of the league's 12 teams didn't finish higher than No. 120 in Pomeroy's adjusted efficiency rankings. So why, with Ohio losing key scorer Armon Bassett, is the MAC ranked at No. 15 here? Because Trey Zeigler, one of the best recruits in conference history (and, like McCallum, another top recruit playing for his father) could make Central Michigan an immediate threat to conference favorites like Ohio, Ball State, Akron and Kent State. Even if Zeigler isn't that good, the conference as a whole should be better than last season, when it finished No. 16 in Pomeroy's conference rankings.
16. Southern Conference: Wofford nearly became one of the mid-major stars of last season's tournament; it led 5-seed Wisconsin in the final two minutes of its first-round game but lost in heartbreaking fashion, 53-49. Tough break, but the good news for Wofford fans -- and the SoCon in general -- is that defending conference MVP Noah Dahlman is back alongside fellow starters Nathan Parker, Jamar Diggs and Tim Johnson. That's as dangerous a mid-major as any in the country. Also dangerous: Appalachian State, which nearly beat Wofford in the conference tournament; and Davidson, which has rebuilt its lineup in the wake of the Stephen Curry era and boasts two sophomores (Jake Cohen and J.P. Kuhlman) that shared conference freshman of the year honors last season. Wofford is still the class of the conference, but this isn't a one-trick pony in 2010-11.
(Woo! Halfway done. Way to go, everyone. As a reward for your diligent reading skills -- or maybe your immense boredom at work today, or maybe both -- here's a video of the creepiest cat ever.)
Back? OK! Let's do this.
17. Metro Atlantic Athletic Conference: As one of the better mid-major programs of the aughts, Siena lorded over the MAAC and helped establish it as one of the better mid-major conferences in the country. No more. Siena lost coach Fran McCaffery, conference player of the year Alex Franklin and two other starters. Siena will still be good, but not great, and the loss of the Saints as a marquee team -- not to mention the lack of a clear successor in either Fairfield, Iona, St. Peter's or the rest of the conference -- means the MAAC will drop a notch or two in the coming season.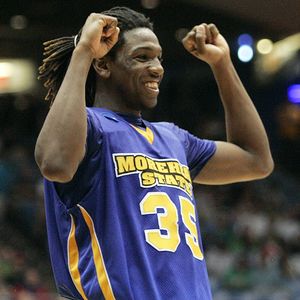 AP Photo/Al BehrmanWill rebounding king Kenneth Faried flex his muscles against OVC favorite Murray State this season?
18. Ohio Valley: This might be a little high, given how bad the bottom half of the OVC is, but the conference leapfrogs the Big West, Big Sky and maybe a few others here thanks to its two MSUs. Murray State is one of the best -- if not the best -- mid-major teams in the country, and the return of forward Kenneth Faried to Morehead State gives the Eagles one of the scarier frontcourt stars in all of college basketball. The rest of the conference is ugly, but any mid-major with that sort of elite-level strength deserves a nod.
19. Big West: The Big West finished at No. 18 in Pomeroy's conference rankings last season on the strength of 20-plus-win performances from co-league champs Pacific and UC Santa Barbara. There's no reason to expect anything different this season: The Tigers and Gauchos -- along with Dan Monson's Long Beach State squad -- begin as conference favorites at the top of a solid but not great list of California operations, and the conference's overall strength should be pretty much the same.
20. Big Sky: Montana lost Anthony Johnson, who you may remember from his brilliant performance in last season's Big Sky conference title game. (Johnson's performance -- 34 of his team's 46 second-half points, 11-for-14 second-half shooting, 10-for-10 from the free throw line -- was the kind of thing you usually see only when you play as Michael Jordan in NBA 2K11.) But even without Johnson, Montana is one of the favorites to win a conference with a handful of interesting teams (Weber State, Northern Colorado) at the top and a few truly terrible teams at its bottom.
The Best Of The … Well, Just The Rest
21. Sun Belt: It's at this point in the exercise that you start actively looking for reasons to rank one conference above another, but few of the remaining leagues are particularly enticing. (In other words, they're all bad, but some are just worse than the others. I think Winston Churchill said that.) In the case of the Sun Belt, where most of the conference's top teams lost a bunch of talent, the league will need a more talented Florida International squad -- led by transfer Alex Legion and, if he can get eligible, top recruit Dominique Ferguson) to help it beef up its credentials in the depth department. For now, though, consider North Texas and Western Kentucky the favorites.
22. Southland: The Southland is not nearly as bad as it used to be, but it's still years removed from matching the better mid-major leagues in the country. In 2010-11, some familiar suspects litter the consensus conference title picks: Sam Houston State played Baylor tough in the first round of the NCAA tournament last season and Stephen F. Austin won the league two years ago; both should contend for the title this year. But neither of those squads could crack the top-100 Pomeroy adjusted efficiency rankings last season (none of the Southland's teams did, in fact) and consequently, neither are likely to make much noise come March.
23. Ivy League: With Cornell -- one of March's Sweet 16 darlings and the conference's lone top-50 Pomeroy team in 2009-10 -- in rebuilding mode, the Ivy takes a bit of a hit in the conference rankings, but that dip might not be as big as first glance might lead one to believe. Harvard returns almost everyone not named Jeremy Lin from last season's 21-win team, Princeton will again be one of the best defensive teams in the league and Penn could be an interesting dark horse candidate after last season's midseason coaching change (and subsequent upset of Cornell). This isn't a good conference, but it's bound to improve in the coming seasons. (Have you seen Tommy Amaker's recruiting class?) For now, a holding pattern is probably the best-case scenario.
24. Summit League: If the Summit gets better in 2010-11, it will be because its best teams, all of whom return key contributors from last season's teams, are slightly better. That means Oakland, led by NBA center prospect Keith Benson, will again be among the conference's contenders. It also means repeat performances from IUPUI and Oral Roberts and potential insurgencies from programs like IPFW and North Dakota State.
25. Atlantic Sun: East Tennessee State is the two-time defending tourney champ, but be aware of Lipscomb, which returns the nation's leading scorer -- and the kind of NBA prospect who could threaten a No. 2-seed in the NCAA tournament -- in forward Adnan Hodzic. Otherwise, there's not much here to get excited about. The A-Sun isn't as bad as the country's worst conferences, but it's not that far off.
26. America East: The America East has an interesting dynamic at the top. Stony Brook and Vermont are still talented, but each lost a star (Muhammad El-Amin and Marqus Blakely, respectively), while the conference's second tier -- Maine and Boston University -- have most of their prominent contributors back. The rest of the conference -- where not a single team finished in the top 250 in the Pomeroy rankings last season -- is considerably less interesting.
[+] Enlarge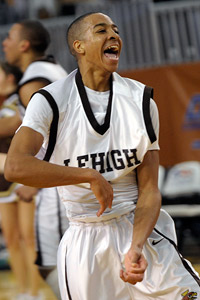 AP Photo/Bradley C BowerAs a freshman, Lehigh's C.J. McCollum averaged 19.1 ppg for the Patriot League champs.
27. Patriot League: Watch the Patriot if only for this reason: Lehigh sophomore C.J. McCollum. As a freshman, McCollum led his team to a conference title, won freshman and conference player of the year honors, and was one of the best players on the floor in Lehigh's first-round NCAA tournament loss to Kansas. Otherwise, the Patriot League lacks a true attraction, and though the bottom of the conference is better and more balanced than some of its similarly ranked leagues, the Patriot doesn't have much to offer at the top, either.
28. Big South: The Big South isn't good, but it is young, which prevents it from falling even further in the rankings. Winthrop and Coastal Carolina -- the league's tournament and regular-season champions, respectively -- are the two main contenders again, with a potential challenge coming from upstart UNC Asheville. With the exception of Winthrop, Coastal and Radford, every team in the Big South was ranked outside the top 230 teams in the Pomeroy rankings last season. Development of the conference's youth should help that mark, but don't expect too much.
29. Mid-Eastern Athletic Conference: What coach Todd Bozeman has done at Morgan State -- an utterly irrelevant program Bozeman has turned into a yearly conference title lock -- is remarkable. The Bears are one of the consistent mid-majors in the country at this point, and if Bozeman keeps bringing in talent, they'll keep challenging the big boys in the NCAA tournament on a yearly basis. The rest of the conference? It's bad. So bad, in fact, that even a team like Morgan State can't lift them higher than No. 29 here.
30. Northeast: The same contenders, Quinnipiac and Robert Morris, are expected to compete for the NEC tournament crown this season, though RMU -- which gave Villanova all it could handle in the NCAA tournament -- could face some issues during the first season of the post-Mike Rice era. Long Island and Central Connecticut might be halfway decent, but the Northeast looks to have another otherwise ugly season. Not only was last season's NEC ploddingly slow, but seven of the conference's 12 teams finished lower than No. 300 in the final Pomeroy tally.
The "Not To Be Mean, But This Is Barely D-I Hoops" Group
31. Southwestern Athletic Conference: Only the historical grossness of the Great West -- which can barely be called a conference anyway -- kept the SWAC from being the worst league in the country in 2009-10. Don't expect much improvement in 2010-11, and don't blame the SWAC for being bad. The schools involved, who don't have the sort of budgets enjoyed by even the most penniless mid-majors, owe their basketball existences to guarantee games. That vicious cycle isn't exactly the best way to put your conference on the map, but what other options are there?
32. Great West/Independents: Again, in so far as the Great West is a conference -- and it's really only a conference to make scheduling easier; the league doesn't get an automatic NCAA tournament bid -- it's a really, really bad one. That was the case last season, when every single one of its teams was among the 100 or so worst in the country (and three ranked in that all-the-way-down-in-the-hole 340-344 range). And yeah, it will be the case again. Thanks to upset-minded Seattle, the group of D-I Independents was collectively more efficient than the SWAC last season, but that's an unlikely scenario in 2010-11.
Eamonn Brennan covers college basketball for ESPN.com. You can see his work every Monday through Friday in the College Basketball Nation blog.
ESPN.com college basketball reporter
Joined ESPN.com in 2009
Writes Bubble Watch
SPONSORED HEADLINES
MORE MEN'S COLLEGE BASKETBALL HEADLINES
MOST SENT STORIES ON ESPN.COM
COLLEGE BASKETBALL PREVIEW WEEK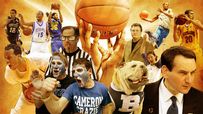 After seven long months, college basketball is finally back. Each day this week, ESPN.com will be providing all the preview material you need to get ready for the new season.
CONTENT
CHATS
BLUE RIBBON
VIDEOS
PHOTO GALLERIES
YOUR TURN