6:10 PM ET, March 9, 2002
Staples Center, Los Angeles, California
LOS ANGELES (AP) -- Luke Walton stepped out of his father's long shadow, and took his Arizona teammates with him.
Walton had 23 points and eight assists playing all 40 minutes and the No. 15 Wildcats beat No. 22 Southern California 81-71 Saturday to win the Pacific-10 tournament.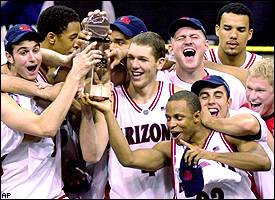 AP
After losing most of last year's NCAA runner-up team, the Wildcats savored yet another Pac-10 tourney title.
The tournament didn't exist back in the early 1970s, when Walton's father, Bill, helped UCLA win two NCAA championships. The younger Walton, the tournament MVP, was cheered on by his father, who leaped to his feet several times during the second half. They are one of only three father-son duos to play in a Final Four. Luke Walton's performance completed a renaissance that began at the start of the season, when the Wildcats were in need of a dominant presence after losing four starters. The junior was a reserve last season, averaging 5½ points. Walton got better as the season wore on and so did the Wildcats, culminating in Arizona's fourth consecutive Pac-10 tourney title. "He's a tremendous competitor and also has an unbelievable feel for the game," Arizona coach Lute Olson said. "What Luke does, you don't teach. His reactions are in his genes." What the Wildcats did in the second half was break USC's fullcourt press and find Walton in the middle.
| | |
| --- | --- |
| | Trojans mad at refs |
| | LOS ANGELES -- The question posed to coach Henry Bibby was simple enough: Playing its third game in as many days, did Southern California run into a wall in the second half of the Pacific-10 Conference tournament championship game? "We hit three walls in the second half," Bibby replied. The message was clear -- Bibby believed the fourth-seeded Trojans got a raw deal from the officiating during an 81-71 loss to second-seeded Arizona on Saturday before a crowd of 18,997 at Staples Center. "I know where the game was lost," the coach said. When asked if he would elaborate, Bibby replied: "No. I plead the Fifth (amendment)." Later in the Trojans' dressing room, Bibby was informed a couple of his players thought the officials got into the team's heads, and one expressed the opinion that it was personal. "That's what they said, right? I can't comment on the officials, I'll get reprimanded," Bibby said. Regarding his comment about running into three walls, when a reporter said it seemed clear he wasn't talking about Arizona stars Luke Walton, Jason Gardner and Salim Stoudamire, Bibby replied with a wink and a smile: "Those are the people I was talking about, that was good." Referee Charlie Range called a technical foul on Bibby with 1:50 remaining and the Trojans trailing 75-67. Two free throws by Stoudamire, who scored a career-high 29 points, put the game out of reach. "It was the fact that Mr. Bibby kept berating me," Range said in a written statement. "It was unprofessional. The things he was saying were unnecessary. There's a code of conduct in the rules, on berating an official Each coach is responsible for his conduct in each incident that may arise, and he went over the line." Bibby said Range called all four fouls on USC point guard Brandon Granville, who expressed the opinion afterward that it felt personal to him.--The Associated Press |
"Luke is like our eyes on the court. We just move around and Luke will find us," said freshman Channing Frye, who had seven defensive rebounds. "Any time you can have a player like Luke, who's multidimensional -- can score, pass, dribble, shoot -- it's just impossible to guard him. It's just amazing to watch him." The Wildcats also got a big performance from freshman Salim Stoudamire, who scored a career-high 29 points. Rick Anderson added 12 points and nine rebounds. The Wildcats (22-9) earned the Pac-10's automatic berth to the NCAA tournament, where they'll be making their 18th consecutive appearance. Arizona has been no lower than a No. 5 seed in the last 12 years, which includes the 1997 national title and a runner-up finish to eventual champion Duke last year. "Given our strength of schedule, I would anticipate our being a second seed, if not a third, but certainly no lower," Olson said. USC (22-9) owns a much more modest NCAA resume, having played in 11 tournaments and advancing past the second round only last year, when it lost to eventual champion Duke in the regional final. "We're not done yet," said USC's Sam Clancy, the league's player of the year. Arizona's fourth consecutive Pac-10 tournament title came after a 12-year gap. The Wildcats won three of the first four tournaments, then the event was dropped after 1990. They extended their tournament winning streak to 12 games. David Bluthenthal led USC with 16 points and eight rebounds. Desmon Farmer added 15 points and Brandon Granville 13 points. The Trojans came out of halftime looking nothing like the team that led by 13 and had spent the first 20 minutes in Arizona's face on defense. "We backed off a little too much," Granville said. Clancy, Bluthenthal and Errick Craven each picked up their third fouls in the first 5 minutes of the half. "We broke their press. Every time they got into it, we broke it, so they had to come out of it eventually," said Stoudamire, the cousin of former Arizona star Damon Stoudamire. The Wildcats regained the lead with a 19-4 run, including 11 in a row. Stoudamire hit two 3-pointers and Walton scored six points as Arizona went up 50-43. The Trojans went on an 11-6 run that drew them within two with 7:17 remaining. Farmer hit a 3-pointer and then scored on a putback after two misses by Craven to trail 56-54. Craven was fouled, but missed the front end of a 1-and-1 that could have tied it. Arizona responded with a 3-pointer by Anderson, launching a 13-5 spurt. Jason Gardner hit consecutive 3-pointers and Isaiah Fox slammed down a miss by Walton to give the Wildcats their largest lead of the second half, 69-59, with 4:06 left. The Wildcats committed just two turnovers after having 10 in the first half against USC's smothering defense. "In the first half we looked like we didn't have our poise, didn't do a good job of spacing the court to handle the press," Olson said. "We did a great job of taking care of the ball in the second half." USC coach Henry Bibby was called for a technical foul by referee Charlie Range with 1:50 remaining and the Trojans down by seven points.
Copyright by STATS LLC and The Associated Press
Pac-12 Conference Standings