7:00 PM ET, January 13, 2003
Carrier Dome, Syracuse, New York
SYRACUSE, N.Y. (AP) -- The constants for Syracuse this season had been freshman Carmelo Anthony starring on offense and the zone defense struggling to stop teams inside.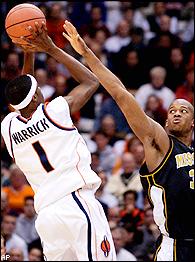 Syracuse's Hakim Warrick scored a team-high 20 points in the upset.
The Orangemen, playing hours after entering the Top 25 for the first time this season, had all five starters in double figures and the 2-3 zone was very effective in a 76-69 victory over No. 11 Missouri on Monday night. "We took a big step with our defense today,'' coach Jim Boeheim said of his (ESPN/USA Today unranked, No. 25 AP) Orangemen. "And any time you have balance on offense that's the key to a good basketball team.'' Syracuse (11-1) was that in its first game this season against a ranked team and its 11th straight win.
Hakim Warrick
had 20 points for Syracuse, which held the Tigers (10-2) to 38 percent shooting, well off their 48.3 mark entering the game and 12 points below their average for the season. The Tigers also had a season-high 20 turnovers. "It's tough to have 20 turnovers against a good team and that's how our opportunities were squandered,'' Missouri coach Quin Snyder said. "They make you take some tough shots but we had some open ones we missed, too.'' Warrick had 10 rebounds and he was joined in a double-double by Anthony, who had 16 points and 11 rebounds. Freshman
Gerry McNamara
added 14 points and seven assists for Syracuse, while
Craig Forth
had 11 points and
Kueth Duany
10.
Ricky Clemons
had 26 points, 10 above his season average, and seven assists for Missouri. Center
Arthur Johnson
, who was coming in off three straight double-doubles including 30 points and 15 rebounds in the last game against Baylor, finished with 17 points and 11 rebounds. But he was never a factor against Syracuse's 2-3 zone which had been having trouble stopping players inside. "Coach just really came out and challenged everyone that plays the bottom of the zone,'' Warrick said. "We were just more active, made everything tough for them, didn't give them any easy looks. Whenever they had an open shot we would foul them and make them earn it at the line.'' Johnson was 6-for-14 from the field. "It was a good zone but we prepared for it,'' he said. "Those were shots I usually make.'' Warrick scored on a nice spin move with 10:58 left to give Syracuse a 61-48 lead. Missouri then went on a 9-0 run -- with five players scoring -- to get within 61-57 with 8:15 to play. Syracuse responded with a 10-0 run of its own. It started with a 3-pointer by McNamara, who came into the game shooting 40 percent from beyond the arc but had missed his first four of the game. McNamara added another 3 in the run and Anthony capped it with a 3 that made it 71-57 with 5:59 to play. "That one run really hurt us when McNamara made those shots,'' Snyder said. Boeheim said McNamara and Anthony suddenly hitting 3s -- the Orangemen were 2-for-11 until then -- was only part of that run. "Those were big baskets but the defense really picked up at the same time,'' he said. Warrick's big game followed a 24-point effort in the Orangemen's win over Boston College on Saturday. The only phase of the game where Syracuse struggled was the free throw line where it went 11-for-22 with Warrick going 4-for-11. The only other game this season where Missouri shot less than 40 percent was its other loss, to Illinois. "The zone was a challenge but I thought we did a good job of attacking it,'' Snyder said. "I saw some positives in this game, like how we handled adversity.''
Copyright by STATS LLC and The Associated Press