There are no games scheduled for Thursday, Mar 20.
3:05 PM ET, March 20, 2003
Chesapeake Energy Arena, Oklahoma City, Oklahoma
OKLAHOMA CITY (AP) -- Hollis Price was bothered by an injury, Kevin Bookout was sick, and Oklahoma couldn't make its shots early.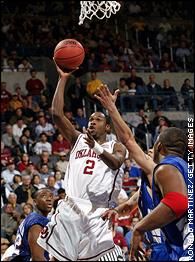 Oklahoma's Ebi Ere scored nine points in Thursday's game.
No matter. The top-seeded Sooners still had more than enough for South Carolina State, rolling to a 71-54 victory Thursday in the first round of the East Regional. Price, the Big 12 player of the year, played just 11 minutes because of a left groin injury and spent most of the afternoon with a hot compress on his upper thigh. "I'm feeling better, although I wasn't as quick as I am usually," Price said. "I think if coach would have had to play me more, then I would have had to play. But today he really didn't need me much." Price, who got hurt in the closing seconds of the Big 12 tournament title game Sunday, has another day to rest before Oklahoma (25-6) plays eighth-seeded California on Saturday. Cal (22-8) beat North Carolina State 76-74 in overtime. "Hopefully I could be 80 percent by Saturday," Price said. "I'm going to get a lot of treatment today and tomorrow and it's up in the air from there." Trainer Alex Brown said he expects Price to be "a lot better" by Saturday. "We have 48 hours," Brown said. "These kids heal quickly. He could have played if he had to. He would have played if he had to. He just didn't have to."
| | |
| --- | --- |
| | |
| | Dick Vitale: Oklahoma and South Carolina State was an M&Mer. The big story in this game was that Hollis Price only played 11 minutes. The status of his groin injury is a question mark. And let me tell you, he'll have to be on his A game and healthy for Oklahoma to advance in the next round. Yes, Ebi Ere shot 2 for 14 and the second half of the season has been a struggle for Ere who lost the starting job to DeAngelo Alexander. In the next matchup, Oklahoma meets up with California, who has physical toughness on the inside. Kelvin Sampson's team is going to have a big time performance on the baseline from players like Kevin Bookout, Jabahri Brown and Co. to negate some of the strength of the Golden Bears. |
Bookout, Oklahoma's best offensive threat inside, played just nine minutes because of strep throat. He missed his first two shots, both from in close, as the Sooners missed their first eight shots. "As soon as I took him out of the game he started throwing up," coach Kelvin Sampson said. "Of course, if he had missed another shot, I would have thrown up." Oklahoma got scoring from several other players to pick up the slack for Price, the Big 12 Player of the Year who averaged 19.5 points per game. He only took one shot -- a 3-pointer that he made. De'Angelo Alexander scored 16,
Blake Johnston
had a career-high 15 and
Jabahri Brown
had 12 points and nine rebounds for the Sooners, who are seeking their second straight trip to the Final Four.
Dustin Braddick
scored 15 for South Carolina State (20-11). The Bulldogs shot 40 percent (21-of-52). "I think their bench did an excellent job," coach Cy Alexander said. "They didn't get the game from Hollis Price they normally do." Price started but was on the bench with two fouls by the time the game was barely two minutes old. He played only in short stretches the rest of the half, then sat out all of the second half. Oklahoma, a top seed for the first time since 1990, took a while to begin looking the part. The Sooners missed their first eight shots -- four on one possession -- and trailed 7-6 after going 2-of-13 from the field. A three-point play by Brown, followed by 3-pointers by Alexander and Price, made the score 15-9 and the Sooners were on their way. South Carolina State got a 3-pointer from
Demeco Heath
to get to 15-12, then scored four points the rest of the half. Oklahoma put together a 16-0 run during a six-minute span. It was capped by three nice plays that left the partisan crowd roaring _ a 3-pointer by Johnston, a drive by Johnston who faked a behind-the-back pass before laying the ball in, and a dunk by
Johnnie Gilbert
. The Sooners led 35-16 at halftime, opened the second half with a dunk by
Ebi Ere
and didn't let the Bulldogs get closer than 16 the rest of the way. South Carolina State, champion of the Mid-Eastern Athletic Conference, has yet to win in five NCAA Tournament appearances.
Copyright by STATS LLC and The Associated Press
Series
| DATE | GAME | LINKS |
| --- | --- | --- |
| » Mar 20, 2003 | @OKLA 71, SCST 54 | Recap |