12:05 PM ET, March 11, 2004
University of Dayton Arena, Dayton, Ohio
DAYTON, Ohio (AP) -- From perfect to pummeled.
Saint Joseph's first game as the nation's No. 1 team also was its first loss of the season, a shocking 87-67 collapse against unranked Xavier in the Atlantic-10 quarterfinals Thursday.
No. 1 Seed Or Not?
By ESPN.com's Joe Lunardi
When Stanford lost for the first time all season at Washington, no one suggested the Cardinal would lose their projected No. 1 seed in the NCAA Tournament. So what of Saint Joseph's? The Hawks hit the ground with an even louder thud against Xavier in the Atlantic 10 quarterfinals. Suddenly, everyone is asking if the Hawks can still be a No. 1 seed on Selection Sunday. Story
The Hawks came in with a 27-0 record, three victories from becoming the first team since 1991 to enter the NCAA tournament undefeated. But they trailed Xavier by as many as 37 points, and the upset raises questions about how serious a contender the tiny Philadelphia school will be for the national championship.The rout also tarnishes a magical run by a team that was one of the biggest surprises in sports this year, and it could cost Saint Joseph's a top seeding in the NCAAs."I'm assuming that the televisions wherever that committee is meeting didn't work," Hawks coach Phil Martelli said."This was our 20th game away from our own fieldhouse. We're 19-1 in those games. They (the committee) will understand that. The committee will do us right because of our body of work. Not 40 minutes."It's the worst loss ever by a No. 1 team against an unranked team. A partisan crowd began rubbing it in midway through the second half, chanting "Sloppy Joe's!"Romain Sato led Xavier with 24 points and 11 rebounds, Lionel Chalmers scored 23, and Anthony Myles had 19.Saint Joseph's backcourt stars Jameer Nelson and Delonte West were held to a combined 11-for-35 shooting, and scored 16 points each. Xavier (21-10) made 71.1 percent of its shots, while holding Saint Joseph's to 35.4 percent -- its worst showing all season."Any loss is devastating, especially when you work so hard," Nelson said. "We take pride in our defense and we let ourselves down with our defense today."At one point, Saint Joseph's was limited to one field goal over more than 10 minutes. And the Hawks' biggest weakness, their inside game, was exposed by the Musketeers, who outrebounded Saint Joseph's 43-18."They're a great team. They didn't go 27-0 for no reason. They made history," Chalmers said. "They're one of the great teams in the country. They deserve a No. 1 seed."Chalmers added that he thought the Musketeers actually might have done the Hawks a favor."It might be better for them to lose early on," he said. "It might help them in the tournament."Playing less than an hour from its campus, Xavier will face George Washington -- a 79-50 winner over Rhode Island -- in the semifinals Friday night. The Musketeers all but claimed an NCAA berth, regardless of what happens in the remainder of the conference tournament.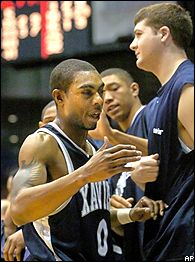 Lionel Chalmers' 23 points helped Xavier upset St. Joe's and state its own NCAA case.
"Going 3-1 against the Top 25, not a lot of teams can say that," coach Thad Matta said. "I believe we are one of the top 64 teams in the country."Xavier, ahead 74-37 with 7:56 remaining, has won 11 of its last 12 games."I think we're pretty good," Chalmers said. "We've come a long way since early on. Right now, we're clearly one of the hottest teams in the country."Nelson was booed loudly after confronting Xavier's Justin Doellman in the final minutes. Nelson hit the floor hard on an attempted dunk with Doellman in his face and took several seconds to get up. When the senior guard rose, he ran to the other end and glared at Doellman while fans called for a technical.Martelli put an arm around Nelson's neck as he spoke to him, then replaced him in the lineup."We tried to make it tough for Jameer and West," Sato said. "The last time we played them, they made everything."The Musketeers -- who lost at home to the Hawks 81-73 in January with Nelson and West combining for 61 points -- scored nearly at will from the start, with Sato and Chalmers slashing to the basket.Already ahead 25-16 with just over six minutes left in the first half, the Musketeers went on an 18-5 run until the intermission, with Sato and Chalmers combining for 11 points.The Hawks' 21 points and 28.6-shooting percentage in the opening 20 minutes were their worst production in a half this season. Saint Joseph's then failed to score in the first four minutes of the second half, and the Musketeers went up 51-21.In a 10:56 span, the Hawks hit one of 11 shots from the field and had three turnovers while being outscored 26-5.Nelson had his worst game of the season, going just 7-for-21 from the field, including 1-for-8 on 3-pointers. By contrast, Chalmers, Sato and Myles were 25-for-34."It's like I told Coach Martelli after the game," Matta said. "We couldn't have played any better than we did today."Even Martelli appreciated the way his team was dismantled."It's stating the obvious, but the better team won today," Martelli said. "They were hungry and desperate. Their three seniors did what seniors do in the darkest of times. ... If you could step back and watch, you'd almost have to admire it."
Copyright by STATS LLC and The Associated Press
Next 5 Games
XAV
JOES
03/12 @GW 7:05pm
03/13 @DAY 6:05pm
03/19 LOU 9:30pm
03/21 @MSST 12:10pm
03/26 @TEX 7:27pm

03/18 LIB 2:45pm
03/20 TTU 5:30pm
03/25 WAKE 9:57pm
03/27 OKST 7:05pm
11/23 @KU 10:00pm

Complete Schedule: Xavier | Saint Joseph's