Coverage: ESPNU/WatchESPN
12:00 PM ET, March 14, 2013
Greensboro Coliseum, Greensboro, North Carolina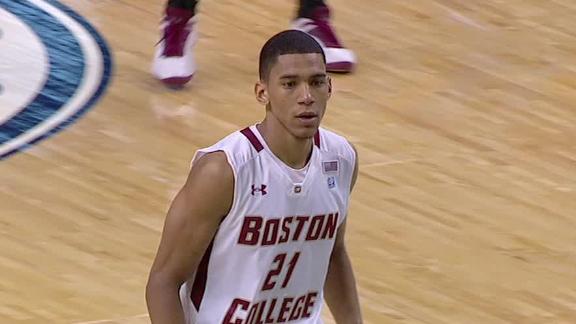 Hanlan Sets ACC Record In BC's Win
Olivier Hanlan set an ACC tournament record for a freshman with 41 points in Boston College's 84-64 victory over Georgia Tech.
Hanlan Sets ACC Record In BC's Win
VIDEO PLAYLIST
Hanlan Sets ACC Record In BC's Win

Hanlan Sets ACC Record In BC's Win

Olivier Hanlan set an ACC tournament record for a freshman with 41 points in Boston College's 84-64 victory over Georgia Tech.
GREENSBORO, N.C. -- Olivier Hanlan set an Atlantic Coast Conference tournament record for freshmen with 41 points and Boston College beat Georgia Tech 84-64 on Thursday in the first round.
The ACC's Rookie of the Year had the highest-scoring game in the tournament by any player regardless of class since 1970 and broke the old mark of 40 set two years ago by North Carolina's Harrison Barnes.
Day (And Record) Belongs to Olivier

Olivier Hanlan finished with 41 points against Georgia Tech, setting a new ACC freshman scoring record. Those ACC freshmen who came before his record:
| | | Pts | Opponent |
| --- | --- | --- | --- |
| Today | Olivier Hanlan, BC | 41 | Ga. Tech |
| 2011 | Harrison Barnes, UNC | 40 | Clemson |
| 2006 | Tyler Hansbrough, UNC | 40 | Ga. Tech |
| 1974 | Skip Wise, Clemson | 38 | Penn |
| 1983 | Ernie Myers, NC St. | 35 | Duke |
He was 14 of 18, made his final 12 shots and was a one-man show in bringing the eighth-seeded Eagles (16-16) back from an early 15-0 deficit and into a Friday quarterfinal against No. 9 Miami, the tournament's top seed.
Marcus Georges-Hunt
had 21 points and 11 rebounds to lead the ninth-seeded Yellow Jackets (16-15), who have lost five of seven and now are likely left to hope for an invitation to the NIT.Hanlan's eight 3-pointers one shy of a tournament record matched the second most by any player in the history of the event.He scored 25 points during the 37-10 run that flipped BC's 14-point deficit into a 13-point lead, 51-38 with 14:41 remaining, and put the Eagles well on their way to just their second ACC tournament victory since 2009.The only drama down the stretch was whether he'd catch Barnes or even Lennie Rosenbluth's 56-year-old record of 45 points for any player regardless of class.He passed Barnes with about 2:45 left when he took a kick-out pass from
Ryan Anderson
on the left wing and launched an open 3-pointer that circled the rim and clipped the backboard before dropping through.He exited for good with 2:13 remaining, bringing an end to the eighth 40-point performance in tournament history and the highest-scoring game since North Carolina's Charles Scott had 41 in the 1970 quarterfinals.
Joe Rahon
had 15 points and Anderson added 11 points including a behind-the-back drive down the lane and past
Robert Carter
Jr. for a dunk that would have been the signature highlight in any other game.
Patrick Heckmann
finished with 10 points and
Eddie Odio
had 10 rebounds for BC.
Mfon Udofia
had 10 points for Georgia Tech.The opening game of the tournament matched two of the youngest teams in the league.Eleven of the 14 players on BC's roster are freshmen or sophomores including Hanlan while the Yellow Jackets start three freshmen around Udofia, the lone senior on their team and the rookies certainly stole the show in this one.These young Eagles the preseason pick to finish last in the league finally figured out how to win down the stretch. They came to Greensboro on a three-game winning streak and claimed their second win over Georgia Tech in a six-day span.It looked like Georges-Hunt the only ACC freshman to lead his team in scoring would be the best rookie on the court early, hitting two early 3s to help the Yellow Jackets race out to a short-lived 15-0 lead.Then, Hanlan took over and the Eagles dominated the rest of the way.
Copyright by STATS LLC and The Associated Press
Team Stat Comparison
| | GT | BC |
| --- | --- | --- |
| Points | 64 | 84 |
| FG Made-Attempted | 24-75 (.320) | 31-61 (.508) |
| 3P Made-Attempted | 7-23 (.304) | 14-24 (.583) |
| FT Made-Attempted | 9-17 (.529) | 8-10 (.800) |
| Fouls (Tech/Flagrant) | 12 (0/0) | 16 (0/0) |
| Largest Lead | 15 | 25 |
Next 5 Games
GT
BC
11/08 PRE 7:30pm
11/11 DSU 7:00pm
11/15 @UGA 7:00pm
11/20 DAY 7:00pm
11/24 NCAT 2:00pm

03/15 @MIA 12:00pm
11/08 @PROV 6:00pm
11/10 @UMASS 3:15pm
11/14 TOL 7:00pm
11/17 FAU 8:00pm

Complete Schedule: Georgia Tech | Boston College
Research Notes
Boston College freshman
Olivier Hanlan
scored 41 points in BC's win over Georgia Tech today. It was tied for the third-most points in ACC Tournament history and the most in an ACC Tournament game since 1970.
[+]
Georgia Tech led Boston College 15-0 and held the Eagles scoreless for the 1st 5 minutes of the game. From that point on,
Olivier Hanlan
almost single-handedly beat the Yellow Jackets.
[+]
ESPN Stats & Information