Coverage: ESPN2/WatchESPN
3:00 PM ET, March 14, 2013
Sprint Center, Kansas City, Missouri
Top Performers
Texas Tech: D. Kravic 20 Pts, 3 Reb, 2 Ast, 3 Stl
Kansas: B. McLemore 24 Pts, 4 Reb, 1 Ast, 1 Stl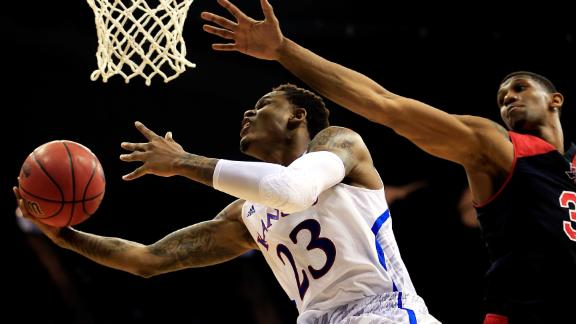 No. 7 Kansas Routs Texas Tech
Ben McLemore scored a game-high 24 points to lead Kansas to a 91-63 win over Texas Tech.
No. 7 Kansas Routs Texas Tech
VIDEO PLAYLIST
KANSAS CITY, Mo. -- Top-seeded Kansas wasn't about to let itself get lulled into a sense of apathy by playing an early afternoon game in the Big 12 tournament.
It helped that the Jayhawks had a partisan crowd behind them in the Sprint Center.It also helped that they had Iowa State awaiting them in the semifinals.
Ben McLemore
scored 24 points and the hot-shooting, seventh-ranked Jayhawks rolled to a 91-63 rout of Texas Tech on Thursday, setting up a third matchup with the Cyclones that basketball fans can only hope lives up to the drama of their first two games this season."Those two games may be the two most exciting games played in our league this year," said Kansas coach Bill Self, whose team emerged victorious in overtime on both occasions.If Kansas shoots it like it did Thursday, regulation might suffice this time.
Rio Adams
had a career-high 11 points as the Jayhawks (27-5) shot 66 percent from the field (31 of 47), the best mark by any team in a Big 12 tournament game, and finished 9 of 18 from beyond the arc. They also went 20 of 23 from the foul line, putting on a show for a crowd that included new Chiefs quarterback Alex Smith, who sat a few rows behind the Texas Tech bench."We were pretty efficient offensively when we didn't turn it over," Self said. "Ben got us off to a good start before we puttered around, but we played a pretty good second half."
Dejan Kravic
scored 20 points,
Dusty Hannahs
added 15 and
Jordan Tolbert
had 13 for the Red Raiders, (11-20), who head into the offseason awaiting the fate of interim coach Chris Walker.The longtime assistant took over in October, shortly after Billy Gillispie submitted a letter of resignation citing health concerns, and has been told he'll be a candidate for the job."I'm going to take it day-by-day," Walker said. "There's a process we're going through at Tech. I'm certainly aware of it, and I think it's a good thing. I've done all I can to make a case. The one thing I am very appreciative of is the opportunity I received."The Jayhawks, wearing their special, Zubaz-like Adidas uniforms, raced out to a 15-2 lead in the opening minutes, getting into transition and easily taking the ball to the basket.McLemore, their star freshman, hit a pair of 3-pointers after missing his first nine tries against the Red Raiders during the regular season. He also added a mid-range jumper, a soaring dunk in transition and a couple of free throws before Texas Tech could slow him down."Ben helped us out a lot bringing us energy," said the Jayhawks'
Jeff Withey
.The Red Raiders stormed back to make it close by halftime.Kravic, whose buzzer-beating tip-in Wednesday night helped Texas Tech beat West Virginia, followed up a 3-pointer by Jamal Williams by scoring the Red Raiders' next nine points.His jumper midway through the second half forced Self, his face red with fury, to call a timeout and lay into a starting lineup that includes four seniors.Kansas slowly settled down and led 35-25 at the break, and after Tolbert hit a couple free throws early in the second half, the Jayhawks ripped off an 18-4 run to put the game away.It started when McLemore got loose in the corner opposite the Kansas bench and, with a silky smooth stroke, poured in his third 3-pointer of the game. Young added a dunk, Withey scored inside and McLemore hit again from beyond the arc as Walker burned another timeout for Texas Tech."It's definitely tough when they get rolling," Kravic said. "It's really hard to stop."Later in the run,
Travis Releford
got ahead on a fast break and converted a layup as he was clobbered from behind by the Red Raiders'
Josh Gray
. The officials ruled it a flagrant foul, and the senior from Kansas City made both of his free throws to give the Jayhawks a 52-31 lead.The Jayhawks emptied their bench in the closing minutes, the game well in hand, giving their starters the luxury of looking ahead to at least one more game with the Cyclones.In their first memorable game in Lawrence, Kansas needed a buzzer-beating 3-pointer by McLemore just to force overtime. In the return game in Ames,
Elijah Johnson
scored eight of his career-high 39 points in the final 29 seconds to again force overtime.That second game was thrown into controversy when officials called a foul on the wrong Kansas player down the stretch, and then failed to call a block-charge call. The game was reviewed by the Big 12 office and the officiating crew was disciplined."We've been fortunate," Self said, "but we also had some players step up and make some plays, too. They're very capable of beating anybody and we know we're going to have to step up."
Copyright by STATS LLC and The Associated Press
Team Stat Comparison
| | TTU | KU |
| --- | --- | --- |
| Points | 63 | 91 |
| FG Made-Attempted | 19-48 (.396) | 31-47 (.660) |
| 3P Made-Attempted | 4-12 (.333) | 9-18 (.500) |
| FT Made-Attempted | 21-24 (.875) | 20-23 (.870) |
| Fouls (Tech/Flagrant) | 18 (0/0) | 17 (0/0) |
| Largest Lead | 0 | 35 |
Next 5 Games
TTU
KU
11/08 HBU 8:00pm
11/11 NAU 8:00pm
11/14 @ALA 9:00pm
11/18 TXSO 9:00pm
11/21 SDST 8:00pm

03/15 ISU 7:30pm
03/16 KSU 6:00pm
03/22 WKU 10:07pm
03/24 UNC 5:25pm
03/29 MICH 7:37pm

Complete Schedule: Texas Tech | Kansas
Big 12 Conference Standings
Research Notes
With his 24 points today,
Ben McLemore
moved past Curtis Stinson and now trails only Kevin Durant and Michael Beasley for the most points by a freshman in Big 12 history.
[+]
ESPN Stats & Information