Commentary
Dreams and nightmares for 64 teams
Updated:
March 17, 2010, 8:54 PM ET
By
Pat Forde
| ESPN.com
What's the best that could happen for your NCAA tournament basketball team over the next 19 days?
What's the worst?
Read the wildest dream and darkest nightmare scenarios for all 64 remaining teams and find out.
EAST REGIONAL

Kentucky (1)
Best Case: John Wall cannot be kept out of the lane without barbed wire and machetes. DeMarcus Cousins continues to go Moses Malone on everyone, grabbing offensive rebounds as if he has six hands. The Wildcats make just enough outside shots to keep defenses honest. And Patrick Patterson, good soldier in bad times and good teammate in a supporting-actor role this season, makes the game-winning hoop against Kansas in the national title game. With his 10th team seeded third or better and his fourth No. 1 seed, John Calipari finally gets his title. Kentucky fans weep in the streets after an interminable 12 years without hardware. Patterson returns for a fourth year, Eric Bledsoe returns for a second and Ashley Judd buys 2010-11 season tickets. And Rick Pitino is ejected as Louisville gets blitzed in the first round.
Worst Case: Playing West Virginia -- their first truly big-time opponent of the season -- the untested Wildcats cannot handle the heat. Wall shoots bricks -- and has plenty of company. Cousins and Bledsoe get technicals for throwing elbows. Calipari throws fits and forgets to use late timeouts. Players storm off the bench when they get yelled at. The Mountaineers extend Kentucky's longest streak without a Final Four to 12 years. Big Blue Nation suffers a communal nervous breakdown. Fans bury their heads in snow banks outside the Carrier Dome. Wall, Cousins, Patterson and Bledsoe all go pro. Pitino upsets Duke on the way to a stunning Final Four. Calipari leaves for the Nets, narrowly escaping the mob that comes to burn down his house.

East Tennessee State (16)
Best Case: Through the same extraordinary teamwork, effort, commitment and belief that carried them to a surprise Atlantic Sun title, the Buccaneers perpetrate a miracle. They actually force Kentucky coach John Calipari to his feet to call a timeout with his team trailing 6-2. Team managers sneak a snapshot of the scoreboard. It's all downhill from there, but at least there is that One Shining Moment.
Worst Case: Calipari stays in his chair, never calls time, never sweats. The Wildcats throw a lob dunk to Patrick Patterson off the opening tip, John Wall goes And1 Mixtape on the Bucs and DeMarcus Cousins has a double-double in the first eight minutes. The Cats demolish ETSU from the start and win by 50.

Texas (8)
Best Case: The malaise melts away, and the Longhorns rediscover the team that once was 17-0 and ranked No. 1 in the country. They are a cohesive working unit again -- big, athletic, blessed with shooters and bangers and drivers and defenders. Rick Barnes pushes all the right buttons. J'Covan Brown and Jordan Hamilton adhere to the offensive game plan. Damion James raises his game to lottery level. Avery Bradley makes big shots, and Dexter Pittman makes big blocks, standing tall against DeMarcus Cousins. There is even a Gary Johnson sighting. The Horns upset Kentucky and make it to the regional final before losing to West Virginia. Meanwhile, Texas A&M loses its opener to Utah State.
Worst Case: Dead team walking has no chance of rediscovering its early-season excellence. Texas mails in one more disjointed performance, losing to fellow underachiever Wake Forest in the first round, as Hamilton and Brown combine to go 3-for-26 from the field. Barnes' one Final Four trip, now seven years old, looks more and more like a radar blip than a program indicator. Everyone goes pro, and Texas A&M makes the Final Four.

Wake Forest (9)
Best Case: Given a No. 9 seed they did not deserve, the Demon Deacons shake off a miserable finish and show up ready to play like the team that beat Gonzaga, Richmond, Xavier and Maryland. Ishmael Smith flies around like a dervish. Al-Farouq Aminu rediscovers his game. L.D. Williams plays great defense. Dino Gaudio actually gets on players when they deserve it. Wake beats Texas and scares Kentucky before losing in the last minute. Aminu returns for his junior year.
Worst Case: Gaudio is 0-4 at Wake as a postseason coach, had the higher seed in every one of those games and lost them all by double digits. In other words, he makes Rick Barnes look like John Wooden -- and the (very) poor man's "Wizard" coaches circles around Gaudio in the first round. Gaudio's staggering team, losers of five of its past six, mails in another no-show after being embarrassed by Miami in the ACC tournament and Cleveland State in last year's NCAAs. Aminu takes his recent listlessness to a new level, actually napping on the bench -- but shows alacrity after the season in quickly turning pro.

Temple (5)
Best Case: Saddled with an undeserved No. 5 seed, the 29-win Owls play like the 2/3-seed they should have been. Fran Dunphy shows why he should get more love for his sideline work. The balanced team plays unrelenting defense, and runs poised offense to beat Cornell and Wisconsin. Then, orchestrating a tempo that has helped hold 11 straight opponents to fewer than 60 points in regulation, Temple stuns top-seed Kentucky in the Sweet 16. (Ancient fans celebrate payback for the last-second loss to the Wildcats in the 1958 Final Four.) By the time the Owls arrive where John Chaney could never take them -- the Final Four -- Dunphy's pushbroom mustache has become a national fad.
Worst Case: The Owls draw another underseeded team in cagey Cornell. Lavoy Allen gets in foul trouble, and Temple cannot handle Big Red big man Jeff Foote and is eliminated in its first game. Dunphy, whose NCAA tourney record drops to 1-12, gets grief about his outdated pushbroom mustache.

Cornell (12)
Best Case: Seasoned by two years of NCAA appearances and stung by their disrespectful No. 12 seed, the Big Red come out firing against Temple. Cornell gooses the tempo to its liking, Ryan Wittman sinks jumpers and Jeff Foote controls the middle. The school captures its first NCAA tournament victory -- and the first for the Ivy League since Princeton in 1998. Then Cornell takes down Wisconsin in the second round, and America falls in love with the Ivy League -- making its first Sweet Sixteen appearance since 1979. Egghead students leave the library in Ithaca for the short commute to Syracuse, where they see the Big Red push the Big Blue of Kentucky for 38 minutes before faltering.
Worst Case: The team that's played just five opponents in Ken Pomeroy's top 100 -- none since Jan. 6 -- isn't ready for Temple, which has played 16 such teams. The Owls get Foote into foul trouble and blanket Wittman on the perimeter. Cornell does what Ivy teams do: exit early. Egghead students retreat to the library until next winter.

Wisconsin (4)
Best Case: With Bo Ryan smirking on the sidelines, the resolute Badgers anesthetize Wofford and Temple to reach the Sweet Sixteen. This classic Ryan team -- a bunch of juniors and seniors running around setting screens and boxing out and never committing turnovers -- wins two games in methodical fashion. The world is torn between hating the pace and loving the fundamentals. Kentucky coach John Calipari cannot convince his future NBA stars that they should take a bunch of schmoes from curling country seriously, and Wisconsin pushes the Wildcats until John Wall makes a game-winning jumper. Everyone vows not to underestimate Ryan's teams again -- until everyone forgets again next October and picks the Badgers sixth in the Big Ten. Marquette loses by 30 to Washington in the first round.
Worst Case: Cornell wipes the permasmirk right off Ryan's face in the second round, beating the Badgers at their own game. Screens and box-outs and clean ballhandling go only so far for a team that struggles to score, so the same group that put 20 on the board in the first half against Illinois in the Big Ten tournament goes for a whopping 16 against the Big Red. Eyes bleeding, fans everywhere swear off watching the Badgers for the next 10 years. Insisting that he is the guardian of purist basketball, Ryan goes back to River Falls and Oshkosh to recruit more screeners. Meanwhile, Marquette makes the regional final.

Wofford (13)
Best Case: Noah (Dahlman) wanders to the (3-point) arc and hits a 21-foot jumper to force overtime against heavily favored Wisconsin. It is the first career 3-pointer for the Terriers' leading scorer, who usually scores his points two by two (16.8 per game). But Wofford loses in OT, preventing Dahlman from joining big brother Isaiah (a Michigan State sub) in the second round. Nevertheless, the Terriers enjoy their first NCAA tourney experience.
Worst Case: Noah gets flooded by Wisconsin defenders, and his teammates cannot pick up the slack. Suffering from NCAA stage fright, the Terriers open the contest without scoring for six minutes and are held to 39 for the game. By midnight Friday, nobody remembers Wofford was even in the tournament.

Marquette (6)
Best Case: The lilliputian Golden Eagles take America's coolest uniforms to the Elite Eight. Marquette fans shave their heads to be like coach Buzz Williams. Lazar Hayward tells the world, "Hi, I'm criminally underrated," averaging 20 points and 10 rebounds over three games as "Cardiac 'Quette" beats Washington, New Mexico and West Virginia by a combined five points -- running its season record to 11-8 in games decided by five points or fewer. Nervous system taxed all season, many Eagles fans finally snap when Maurice Acker, David Cubillan and Hayward take turns winning games on last-second shots. Babies are born prematurely, blood-pressure medicine sales rise and drinking spikes. (Which is saying something at Marquette.) The big shot goes the other way in the regional final against Kentucky, when John Wall sinks one at the buzzer, but the Eagles make it two rounds farther than Wisconsin.
Worst Case: Williams, excitable to the point of instability on the sidelines, does a headfirst Pete Rose slide and worm dance at midcourt after Hayward hits the go-ahead basket in the final seconds against Washington in the first round. Only problem: Time remains on the clock, and Williams is T'd up. The Huskies make the free throws and win the game, and Williams goes off on radio analyst Jim McIlvaine postgame. (Which he did after a Marquette win earlier this season, although he later apologized.) Wisconsin advances to the Sweet Sixteen.

Washington (11)
Best Case: Quincy Pondexter shows Lazar Hayward who's really criminally underrated, dropping 30 on Marquette in the opening round. The Huskies continue to defend the honor of the trod-upon Pacific-10 by whipping New Mexico and outrunning West Virginia to reach the school's first regional final since 1953. They lose there to Kentucky, but nobody cares. Seattle basketball fans stop sulking about the loss of the Sonics to jump on the Washington bandwagon.
Worst Case: Although blessed with an undeserved travel advantage playing in San Jose, the Huskies remind everyone why the Pac-10 stunk by being blown out in the first round by Marquette. The foul-prone team puts the Golden Eagles on the line all day, bricks 3-pointers and doesn't play enough defense. The result intensifies suspicion that coach Lorenzo Romar isn't built for March. And Jake Locker gets injured in a campus weightlifting accident.

New Mexico (3)
Best Case: America gets a brisk introduction to Darington Hobson, quite possibly the best anonymous player in the tournament. His Evan Turner-Lite season stats (16.2 points, 9.2 rebounds, 4.6 assists per game) only increase as the Lobos click off victories over Montana and Marquette. Then Roman Martinez shoots it like his coach (Steve Alford) did in 1987 to carry New Mexico past West Virginia and into the school's first regional final. Alford blows a kiss Indiana's way and asks how the Hoosiers are getting along without him. The Lobos lose in the regional final to Kentucky but acquit themselves well. Alford is offered a 100-year contract extension and a personal stylist willing to help explore the possibility of parting his hair anywhere but dead center for the past 30 years.
Worst Case: Hobson is outshined by Montana revelation Anthony Johnson, and a Lobos team that didn't dominate many opponents in the latter stages of the season is ousted in a shocking first-round upset. Having given up 72 or more points in all four defeats this season, they do it once more against the Grizzlies. Alford gets the itch to return to the Midwest. Hobson goes pro after one year in a New Mexico uniform. New Mexico State advances farther. And don't even ask about Mike Locksley and the football program.

Montana (14)
Best Case: Anthony Johnson, the best individual story in the entire tournament, picks up where he left off in the miraculous Big Sky Conference tournament title game -- scoring every basket. He scored the Grizzlies' final 21 points in the comeback upset of Weber State, and he scores their first 21 against New Mexico. After Johnson threatens during one TV timeout to sue his teammates for lack of support, they step up the rest of the way and the Griz upend the Lobos 72-70. With the help of bracket chaos, Montana then beats Washington to reach the second Sweet Sixteen in school history. Everything after that would be gravy -- and, well, there's nothing after that. But what a ride, huh? Coach and Griz whiz Wayne Tinkle gains nationwide fame -- in part for his surname, which works its way into a "Late Show with David Letterman" monologue.
Worst Case: Johnson's day in the sun is done. New Mexico double-teams him from the minute he walks into the arena, and he can't manage even half the 42 he scored on Weber. The team that lost to Idaho State, Montana State (twice) and Eastern Washington is no match for the Mountain West champions and gets run out of the gym. The result puts a wrinkle in Tinkle's forehead.

Clemson (7)
Best Case: Oliver Purnell gets off the NCAA schneid after five career losses at three schools, thanks to Trevor Booker terrorizing undermanned Missouri in the paint. Not done there, Clemson's pressure defense gets to West Virginia's suspect ball handlers. The Tigers are embraced by orange-loving fans in Syracuse, where they beat New Mexico in the Sweet Sixteen on a Tanner Smith 3. They're finally broomed out by Kentucky in the regional final, but not before showing the football team what it's like to actually overachieve.
Worst Case: Purnell stays on the schneid as his team blows a 15-point second-half lead to Missouri. In a collapse unsuitable for the eyes of children, Clemson misses eight of 11 free throws and turns the ball over four times in the final four minutes. Purnell himself covers his face with his orange suit coat near the end. Clemson football fans say, yes, this does look familiar. Meanwhile, South Carolina coach Darrin Horn gets another five-star commitment.

Missouri (10)
Best Case: After doing everything but putting signs around campus looking for his missing shooting stroke, guard Kim English gets it back at just the right time. After going 19-for-67 over the past month, English finds his range and shoots Mizzou past bumbling Clemson in the first round. Then Zaire "Big Shot" Taylor makes another one at the buzzer, this time to stun West Virginia. The Tigers press third-round opponent New Mexico into distress and advance to the Elite Eight for the second straight year before losing to Kentucky. The school breaks the bank to keep Mike Anderson, who has an excellent recruiting class coming in. After Kansas gets upset in the Sweet Sixteen, a wild street party ensues in Columbia.
Worst Case: The fading team that takes difficult shots -- and misses them -- does more of the same against Clemson and ends the season with four losses in its last five games. English's shooting form never returns. The press doesn't produce enough turnovers and easy baskets. Anderson is offered big bucks at Auburn and jumps at it, a year after turning down Georgia. Then the Missouri Misery Index spikes when the Jayhawks win it all again.

West Virginia (2)
Best Case: Dressed like he's playing in a Monday night bowling league, Bob Huggins drops the tough-guy exterior and bawls after snipping the last strands of Lucas Oil Stadium net on the night of April 5. Eighteen years after his last visit and 51 years after the Mountaineers were last in the Final Four, West Virginia wins it all for the first time. Da'Sean Butler is the most outstanding player after beating Kansas with a double-pump jumper while being knocked to the floor at the final horn. Coal mines shut down for a day, and the hardscrabble hills echo with celebratory yodeling. And Devin Ebanks says he's coming back for his junior year.
Worst Case: With the Mountaineers locked in a close second-round game against Clemson, a controversial call goes against them late. Always restrained, West Virginia fans respond by throwing coins, whiskey flasks and small auto parts at the officials. Huggins rages like King Lear on the sideline. After five separate technical fouls, the Mountaineers lose by two. Huggins' number of NCAA losses as the higher seed climbs to 12. The Mountaineers' mascot is arrested in Buffalo for buying live rounds of ammunition for her rifle and going to the officials' hotel.

Morgan State (15)
Best Case: Morgan State jumps out to the best start in its long and glorious NCAA tourney history -- which dates back to, um, last year. As a No. 15 seed in 2009, the Bears led No. 2 Oklahoma by a score of 3-2 for 53 seconds. With Reggie Holmes making shots this year, they lead West Virginia for most of the first eight minutes -- long enough to get that mildly anxious, come-on-already cheer going from the Mountaineers' fans. Consider it a victory, Todd Bozeman. It will be the only one available this Dance.
Worst Case: The Bears don't lead for a second against West Virginia. In fact, a team that shoots just 43 percent from the field doesn't score for the first four minutes. By then, the jig is up and the Dance is done. A few days later, Bozeman flees for another job.
Pat Forde is a senior writer for ESPN.com. He can be reached at ESPN4D@aol.com.
NCAA TOURNAMENT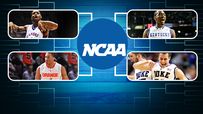 SWEET 16
SUNDAY
SATURDAY
FRIDAY
THURSDAY
STORIES
SELECTION SUNDAY
VIDEOS
TOURNEY TOOLS
INSIDER
BLOG NATION
ESPN COLLEGE BASKETBALL ENCYCLOPEDIA
MORE MEN'S COLLEGE BASKETBALL HEADLINES


MOST SENT STORIES ON ESPN.COM