Commentary
Encyclopedia: The Sweetest 16
Originally Published:
March 14, 2010
By
Pat Forde
| ESPN College Basketball Encyclopedia
Here in the Western world, the Brothers Grimm are widely credited with popularizing the Cinderella story. In 1812, they published the macabre German folklore version in which a toe is amputated, a heel is mutilated and eyeballs are plucked out by avenging birds. Soothing bedtime material for the kids.
ESPN College Basketball Encyclopedia

Buy the book online:
• Amazon
• Barnes & Noble
• Borders
In the nearly two centuries since, only Walt Disney has done more than college basketball to keep Cinderella in the American mainstream. For some reason, the slipper fits March Madness as it does no other event in sports. The NCAA Tournament has become an annual romp through the meadow of Cinderella metaphors. You can't swing a magic wand without hitting a triumphant underdog being likened to the beautiful heroine who overcame adversity and cruelty while living out the very definition of "fairy tale."
The usage dates back at least to 1939, when Lubbock (Tex.) Avalanche Journal reporter Jay Harris called the upstart Lubbock High football team the "Cinderella Kids." The phrase attained wide circulation in 1950 when the City College of New York improbably became the first and only school to win both postseason basketball championships, the NIT and NCAA Tournament. Not coincidentally, Disney's animated classic premiered in February of that year. (It was not a happily-ever-after story for CCNY, however. In later years, seven players from that 1949-50 team, including the entire starting five, pleaded guilty to point-shaving charges during their college careers.)
Over the years, the virtuous young girl with petite feet has lent her name to surprising squads led by 7-foot he-men (Navy's David Robinson) and tattooed widebodies (George Mason's Jai Lewis). She's fronted for fives featuring budding basketball deities (Indiana State's Larry Bird) and shamed drug abusers (Villanova's Gary McLain admitted playing in the 1985 national semifinals under the influence). She's hitched a ride on the Tournament's greatest inbounds pass (1998: Valparaiso's Jamie Sykes to Bill Jenkins to Bryce Drew, on a play drawn up by Bryce's dad, Homer); on its most memorable backdoor pass (1996: Princeton's Steve Goodrich to Gabe Lewullis, to dethrone defending champ UCLA, on a play drawn up by the brilliant Pete Carril); and on its most famous unintentional pass (1983: Dereck Whittenburg's airball caught and dunked by teammate Lorenzo Charles, on a play drawn up by God).
These Cinderella moments have punctuated so much of college hoops' history, it's no wonder that the stage on which they annually play out has become a spin-off cliché. The NCAA Tournament is now routinely called the Big Dance, because that's where Cinderella met her fella, of course -- at the royal ball. How and why did college hoops and everyone's favorite fairy tale become so intertwined? Two main reasons.
First, college basketball lends itself to improbable upset stories more than, say, football, for the simple fact that small and obscure schools compete in the same championship event as the massive powerhouses. Bucknell is never going to play Kansas in a Fiesta Bowl, but the two disparate programs might meet in the NCAA Tournament. And Bucknell might win. And if it does, it might trigger that unique explosion of March Madness endorphins that will turn a sports bar full of TV-watching strangers into hugging comrades celebrating the epic feat of the underdog. Might? Jillian's of Indianapolis, 2005: Bucknell 64, Kansas 63. The place went nuts.
Second, in college hoops, a single special player can create a Cinderella circumstance. It's not like most other team sports, where a nowhere program needs a half-dozen studs and a few years of seasoning to somehow climb through the cracks to suddenly find itself in the same league with the biggest boys. In rare instances, one player can significantly alter the balance of power, however briefly. As former Indiana State coach Bill Hodges said, "You don't get many Larry Birds."
That's really part of the charm; most of the great Cinderella stories aren't built to last. They're a lightning-in-a-bottle experience, a comet streaking through March, a pinch-me moment that, for a Bucknell or an Indiana State, may never come again. The preciousness is in the impermanence.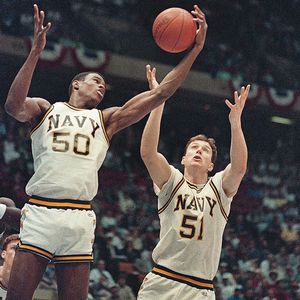 AP PhotoSeven-footer David Robinson, left, led Navy to the Elite Eight in 1986.
You can only hope the out-of-nowhere schools properly appreciated their brief bursts of glory when they had it -- schools like Lebanon Valley and Wayne State, each of which celebrated its one and only NCAA Tournament victory in 1953 and '56, respectively. Or Tufts, which made the 1945 Tournament with a 10-6 record, lost twice (back in the era of consolation games) and never got to Dance again. Or Springfield (Mass.), which made its only appearance in the second Tournament (1940), losing to eventual champ Indiana. (There's no record of Springfield having a Homer Simpson on its roster, but it did record a Tournament record-low eight field goals in that game. D'oh!)
Fame could hardly have been more fleeting for Hodges, who became Indiana State's head coach four days before practice started in 1978 (Bird's senior season) and was fired by the school after the 1981-82 campaign. Before coming to Terre Haute, he was a small-college golf coach. After leaving, he sold insurance, taught at middle schools and coached basketball at Mercer University for six years. In 2008 he was teaching history at William Fleming High School in Roanoke, Va.
Nothing in Hodges' life matched the experience he had that very first season as a head coach. He was promoted to the job after his boss, Bob King, suffered an aneurysm and had to step down. Hodges' fellow assistant coach, Stan Evans, quit when he lost out on the promotion, so Hodges was left with very little help running the team (although he did have former Indiana Pacers star Mel Daniels as a grad assistant).
But how much coaching do you need when you have Larry Bird?
During Bird's year of ineligibility -- he had transferred after an unhappy freshman experience at Indiana -- Daniels had gotten into a pickup game with him on the ISU campus. Afterward, Daniels walked into King's office and proclaimed, "Coach, that kid's as good as anyone in the ABA right now."
"Wait a minute," said Hodges, who was there with King. "Have you ever heard of Julius Erving?"
"I said anybody," Daniels replied. "Okay, Mel," said Hodges. "We'll see."
More than 30 years later, Hodges chuckled while recalling the conversation. "Well, Mel was right," he said.
The Sycamores had never been to an NCAA Tournament before Bird's senior season. And having to replace four starters from the previous year's team, Indiana State wasn't even picked to win the Missouri Valley Conference. Hodges had to talk the ultra-shy Bird into coming to the league's media day in Wichita -- and, after claiming he was misquoted in a subsequent newspaper story, Bird stopped talking to the press altogether. Hodges believed that Bird's reticence actually helped bring his team together because it forced secondary players like Carl Nicks, Alex Gilbert and Bob Heaton to step into public leadership roles.
As the season went along the victories started piling up, and by March the secret of Bird and the Sycamores was out. Heading into the Tournament, the team was a perfect 29-0. When the NCAA selection committee announced the Tournament seedings, Indiana State stood as a No. 1 alongside powerhouse programs North Carolina, UCLA and Notre Dame. Michigan State, with its exuberant sophomore star Magic Johnson, was a No. 2.
By the time Johnson and Bird met for the first time in the national championship game in Salt Lake City, college basketball's popularity was booming. The Spartans' zone defense frustrated Indiana State and Bird vs. Magic turned out to be a minor anticlimax, with Bird making just 7 of 21 shots and being outscored by Magic 24-19 as the Spartans won, 75-64. But the real story was in the television Nielsen rating which, at 24.1, has stood for three decades as the highest in NCAA Tournament history. It was the beginning of a 12-year Magic-Bird Era that breathed new life into basketball, college and professional.
That was small consolation to the 34-year-old rookie -- and losing -- head coach. "I hadn't even watched it until the 25th anniversary," Hodges said. "When I did, I got really upset." Hodges has maintained contact with Bird through the years, but one subject has never come up. "We've never talked about the championship game," Hodges said.
In case you were wondering, the Sycamores were referred to more than once that year as Cinderella.
"Oh, yeah," said Hodges, who recalled one headline that read: Cinderella comes from Terre Haute. "If the clock hadn't struck 12, we'd have been better off."
As improbable and unpredictable as Cinderella stories may seem, they follow the same general script our girl followed to the ball. If you subscribe to the Disney version of the fairy tale, it took a mixture of magic, fairy godmother ingenuity and old-fashioned pluck for Cindy to shine. It takes the same magical blend of ingredients to achieve One Shining Moment. Here are our sweetest 16 surprises in NCAA Tournament history. (To make the list, a team had to win at least three Tournament games.)
The Unsung Program That Lucks Into a Superstar
St. Bonaventure and Jacksonville, 1970 (half the Final Four)
Star Players: Centers Bob Lanier and Artis Gilmore, respectively. Lanier grew up in Buffalo idolizing St. Bonaventure's Stith brothers, Tom and Sam, which isn't something you hear every day. Gilmore spent two years at Gardner-Webb (then a North Carolina junior college) before transferring to Jacksonville and becoming the NCAA's career rebounding leader at 22.7 boards per game.
The Run: The Bonnies went 25-1 before losing to 26-1 Jacksonville in the national semis -- without Lanier, who had been injured in the previous game. Gilmore's Dolphins then lost in the title game to UCLA. Neither school has won a Tournament game since.
Cinderella Moments: For Bonaventure, it was avenging its only regular-season loss by walloping Villanova 97-74 in the East regional final -- though it paid a heavy price. Lanier injured a knee in that game, ending his college career before the Final Four. Later he would be the No. 1 overall pick (by Detroit) in the NBA draft. For Jacksonville, the Cindy Moment came when it upset No. 1-ranked blueblood Kentucky, 106-100, in the Mideast regional final, stopping the greatest player in Wildcats history, Dan Issel, from playing in a Final Four. Gilmore and Issel would go on to win an ABA title together as teammates on the Kentucky Colonels. St. Bonaventure and Jacksonville became the second- and third-smallest schools (after Holy Cross) to reach a Final Four.
[+] Enlarge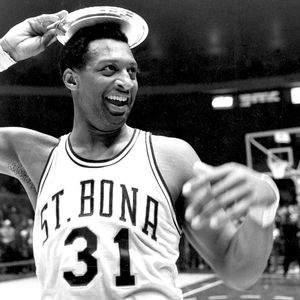 AP PhotoSt. Bonaventure star Bob Lanier went on to be the top pick in the NBA draft.
Indiana State, 1979
Star Player: Larry Bird, the Hick from French Lick, wound up in little ol' Terre Haute after leaving Indiana as a homesick freshman and working on the back of a garbage truck back in his southern Indiana home town.
The Run: ISU was 33-0, ranked No. 1 and undefeated until the very last game of the season, the NCAA championship against Magic Johnson and Michigan State. The Sycamores have won only one other Tournament game in their history.
Cinderella Moment: In the Midwest regional final against Arkansas, Sycamores sub Bob Heaton-- a natural right hander -- put up a short lefty runner that bounced twice on the rim and dropped at the buzzer for a 73-71 victory over a Razorbacks team that made the previous Final Four. Earlier in the season, Heaton had kept Indiana State's unbeaten streak alive with a half-court shot against New Mexico State that sent the game into overtime.
Navy, 1984-87
Star Player: David Robinson, who grew from 5-9 in junior high to 6-7 in high school to 7-1 as a Midshipman and ultimately an NBA superstar.
The Run: Never a hoops power, Navy went 82-17 over Robinson's three seasons, including four Tournament victories. Three of those came in '86, as the No. 7-seed Middies made the East regional finals before losing to Mike Krzyzewski's first Final Four Duke team. It remains the greatest NCAA run in military academy history. In fact, Navy is the only service academy ever to win a game in the Tournament.
Cinderella Moment: Robinson turned a second-round game against No. 2-seed Syracuse into an upset romp on the Orangemen's home floor. His 35 points, 11 rebounds and 7 blocked shots led the 97-85 slaughter in the Carrier Dome, prompting Syracuse coach Jim Boeheim to proclaim, "He's a better shot-blocker than anybody we've ever played against. That includes [Patrick] Ewing, [Ed] Pinckney -- all those guys. Based on what I've seen, Navy can beat anybody in the Tourney with him. Without him, they can't beat anybody." Robinson averaged 27.5 points per game throughout the Tournament.
Loyola Marymount, 1987-90
Star Players: Hank Gathers and Bo Kimble, a pair of Philly kids who went to USC and then transferred to nearby Loyola Marymount after Trojans coach Stan Morrison was fired.
The Run: LMU went 74-21 over three seasons, including four Tournament victories, while plugged into coach Paul Westhead's frantic full-court running style. The Lions haven't even been back to the Big Dance since then.
Cinderella Moments: Three of those NCAA wins came as a No. 11 seed in 1990, after Gathers collapsed on the court and died of sudden heart failure during the West Coast Conference tournament. Everyone who watched Kimble shoot some free throws left-handed during the NCAAs to honor Gathers (a converted lefty foul shooter) will never forget the sight. An inspired Kimble averaged 35.8 points per game in that Tournament. The highlight was a stunning 149-115 second round detonation of defending national champion and No. 3-seed Michigan.
Davidson, 2006-08
Star Player: Guard Stephen Curry, son of former NBA shooter deluxe Dell Curry, who was not offered a scholarship by any ACC school despite playing high school ball in Charlotte.
The Run: Davidson went 58-12 over the two seasons, including a delightful dash to the Elite Eight in '08 as a No. 10 seed.
Cinderella Moment: In the coolest administrative gesture ever, the school paid for hotel, transportation and game tickets for any Davidson student who wanted to make the trek from the small, idyllic campus near Charlotte to Detroit for the Sweet 16. More than 500 students took them up on the offer. The Wildcats made the trip worthwhile by routing Big Ten champion Wisconsin to reach the Midwest regional final, with NBA star LeBron James on his feet cheering Curry's shooting brilliance. In the regional final, they came up an errant three-pointer short of beating eventual national champion Kansas. During that run, Curry shot No. 7-seed Gonzaga, No. 2 Georgetown and the No. 3 Badgers out of the Tournament. He averaged 32 ppg in the Tourney, and in Davidson's three upset victories he averaged 25.7 points -- in the second half.
The Unsung Program That Puts It Together Without a Superstar
Dayton, 1967
The Run: The Flyers were hardly an out-of-nowhere program, having been a regular in both the NIT and NCAA Tournament in the 1950s and early '60s. But this team, which lost to Niagara during the regular season, managed to break through and reach the championship game despite being unranked all year. Dayton beat sixth-ranked Western Kentucky by two points in overtime, No. 8 Tennessee by a point in regulation and unranked Virginia Tech by five in OT to reach its first Final Four.
Cinderella Moment: Against No. 4 North Carolina in the national semifinals, Dayton star Don May made 13 consecutive field goals in one stretch and amassed 34 points and 15 rebounds to lead the Flyers to a shocking 76-62 upset of Dean Smith's first Final Four team. A first-year varsity sophomore named Lew Alcindor and unbeaten UCLA brought Dayton back to Earth the next night, 79-64.
New Mexico State, 1970
The Run: With a core group of players from back East, Lou Henson took the Aggies to a 27-3 season that ended with a Final Four loss to untouchable UCLA.
Cinderella Moment: Despite being ranked fifth in the nation heading into the Tournament, the Aggies had to win a first-round game against Rice to advance, while their next opponent, Kansas State, received a first-round bye and favorable geography. Playing in Lawrence, Kan., before a K-State crowd, the Aggies pulled out a 70-66 victory. New Mexico State then beat Drake to reach its only Final Four.
North Carolina-Charlotte, 1977
The Run: The commuter-school 49ers had just joined the fledgling Sun Belt Conference and were accustomed to being overshadowed by the titans of Tobacco Road. But behind Cedric "Cornbread" Maxwell and a capable supporting cast, Charlotte made the NIT final in '76 and then the Final Four a year later in their first NCAA appearance.
Cinderella Moments: After barely surviving an overtime opening-round game against Central Michigan, Charlotte put itself on the map in a three-day span in Lexington. First it routed sixth-ranked Syracuse, then it beat No. 1 Michigan. A last-second noncall of a would-be offensive goaltending violation against Marquette center Jerome Whitehead eliminated the 49ers, keeping them from a title-game showdown with a North Carolina program that had refused to schedule the new kids on the block.
Pennsylvania, 1979
The Run: The Quakers entered the Tournament with a 21-5 record but only a No. 9 seed -- at a time when seeds went no deeper than 10. They won four games by a total of 15 points, capped by a two-point East regional victory in what might have been the ultimate Cinderella Bowl matchup: against No. 10-seed St. John's, which had won its previous three games by a total of nine points. Penn became the first Ivy League team since 1965 to reach a Final Four. There have been none since, and none has come close.
Cinderella Moment: Behind 25 points and 9 rebounds from senior Tony Price, the Quakers held off a rally and shocked No. 1-seed North Carolina 72-71 in the second round in Raleigh. Through 2008 and 21 more opportunities, the Tar Heels never again suffered a Tourney loss in their home state.
George Mason, 2006
The Run: The Patriots didn't make the Colonial Athletic Association tournament final and barely made the NCAA field, sneaking in as a No. 11 seed. But all they needed was the opportunity. Once in, a Mason team lacking NBA-quality talent shocked Michigan State and defending national champion North Carolina, and ultimately beat the Tourney's second No. 1 seed, Connecticut, 86-84 in overtime to reach the Final Four.
Cinderella Moment: Coach Jim Larranaga played the same five for the final 15:37 of the Washington, D.C., regional final against UConn, erasing a 12-point deficit near halftime and gritting out a stunner, 86-84, in overtime. "I think it's been working for us, calling us Cinderella," guard Tony Skinn said. "We were not supposed to get into the Tournament, we got into it. We were not supposed to beat Michigan State and we beat them. Weren't supposed to beat North Carolina and we beat them. We definitely weren't supposed to beat UConn & We don't mind being the Cinderella."
The High-Major Program That Creates Karmic Destiny Capped Off by a Stupefying Upset
North Carolina State, 1983 The Run: The idea of a national title could not have been more remote for the Wolfpack in the quarterfinals of the ACC tournament that year. They were 17-10 overall, 8-6 in league play -- and tied with Wake Forest, 70-70, with less than a minute to play. In other words, they were one loss away from the NIT. Wake was holding for the last shot, but NC State forced a turnover and sophomore Lorenzo Charles made one free throw with :03 left. Enough to win, but not his last crucial points of the season. Cinderella Moment: After that, the Pack won seven straight -- including several narrow escapes in the NCAA Tournament -- to somehow reach the title game against huge favorite Houston. Jim Valvano outcoached Guy Lewis and his Phi Slama Jama cast (led by Hakeem Olajuwon) to win 54-52 on that immortal fluke airball-turned-dunk by Charles at the buzzer.
[+] Enlarge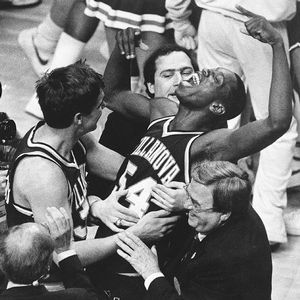 AP Photo/Gary LandersEighth-seeded Villanova's title run in 1985 was improbable to say the least.
Villanova, 1985
The Run: The Wildcats lost seven Big East games and 10 games overall -- but they won the six that counted most on their way to becoming the lowest-seeded team (No. 8) ever to capture the national title.
Cinderella Moment: If you want to know what the perfect game looks like, consult the box score from Villanova 66, Georgetown 64: classic Cinderella prevails over defending champ and heavily favored Goliath (in the person of 7-foot Patrick Ewing). 'Nova shot an otherworldly 78.6% from the field against a tremendous defensive team, capped by previously anonymous sub Harold Jensen's five-for-five shooting night.
Louisiana State, 1986
The Run: Every Cinderella needs some luck, and the Tigers got theirs from the NCAA selection committee. It placed LSU at home in Baton Rouge for the early rounds, and the No. 11-seed Tigers responded by upsetting No. 6 Purdue in double overtime and No. 3 Memphis by two points. Then they faced a geographic turnabout, having to play Georgia Tech in Atlanta. Didn't matter. They shocked the No. 2 seed to reach the Regional final.
Cinderella Moment: Now the stage was set for Mission Impossible: No. 1-seed Kentucky, which had already beaten LSU three times that season. But coach Dale Brown's Tigers turned the tables in the fourth meeting, winning by a basket, 59-57, and advancing to the Final Four by a four-game margin of 17 points. Through 2008, no lower-seeded team has advanced to the national semifinals (they lost to Louisville, 88-77), and only George Mason matched them at No. 11 20 years later.
The Program That Is Ahead of Its Time
Loyola-Chicago, 1963
The Run: The first team with four African-American starters to win the national title. In a move that might have been spurred more by self-preservation than by principle, coach George Ireland recruited talented black players from inner-city New York and Nashville. Then he dared to play them all at the same time. The result was unlike anything the small Jesuit college had experienced before or since.
Cinderella Moment: The night before the title game in Louisville, the Loyola players stayed up almost all night psyching themselves for the meeting with two-time defending national champion Cincinnati. "We were hitting each other with pillows, busting into each other's rooms and shouting, 'We gotta win!'" recalls star forward Jerry Harkness. The psyche-up turned into a psyche-out as Loyola promptly fell behind by 15 points. But then its pressure defense began forcing turnovers -- the Bearcats committed 16, more than in their previous two championship games combined -- and converting them into layups. Harkness finally hit a jumper with :06 left to force overtime and Vic Rouse won it in OT, 60-58, with a put-back basket.
Texas Western, 1966
The Run: Don Haskins had no idea they'd one day write books and make a movie about the first national champion to start five African-Americans while beating all-white superpower Kentucky. Like George Ireland before him, Haskins just wanted to win games. His Miners won 28 of them and lost only once on their way to achieving a victory that would become known as the Brown v. Board of Education of College Basketball.
Cinderella Moment: The Miners led top-ranked, solidly favored Kentucky 10-9 when quicksilver guard Bobby Joe Hill stole the ball from Tommy Kron and scored an uncontested layup. On the next possession he did it again, fleecing Louie Dampier. The tone was set and the mismatch in speed was obvious. Texas Western opened a big lead on the way to its historic 72-65 victory.
Providence, 1987
The Run: Master strategist Rick Pitino got his No. 6-seed Friars to the Final Four by relying on the three-point field goal in its first year of nationwide implementation. Going into the 1986-87 season, Pitino had planned to have his shooters hoist about 15 threes per game, expecting they'd hit maybe five. But after a preseason game in which the Soviet National team made 9 of 28 threes and Providence hit 7 of 18, Pitino upped his quota. Providence went on to lead the nation in threes made per game (8.2) and Pitino had a calling card for the rest of his career.
Cinderella Moment: Before the Tournament pairings were announced, Pitino said that the only opponent his team couldn't handle was Big East rival Georgetown, which had throttled the Friars twice after Providence's upset win in their first meeting. Sure enough, the two teams wound up in the Southeast region, and each won three times to set up a fourth meeting in the regional final. So Pitino went to Motivational Plan B and told his players how lucky they were to face an opponent that would overlook them completely! Then, two days after his shooters had strafed Alabama 103-82 with 14 threes, he ordered an inside-out attack on Georgetown. The switcheroo shocked the No. 1-seed Hoyas, and Providence won an 88-73 rout to reach the Final Four, where they finally went down at the hands of another Big East team, Syracuse.
So Cinderella has come in a variety of shapes, sizes and costumes over the years. We rarely see her coming, which is part of her charm. We always lament her leaving. At least we have the certainty of knowing that she'll always come back, as long as balls bounce in March.
ESPN COLLEGE BASKETBALL ENCYCLOPEDIA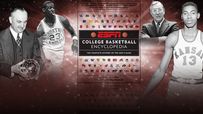 It's all in the title … ESPN College Basketball Encyclopedia: The Complete History Of The Men's Game. Quite simply, the book covers it all. As the college season progresses, ESPN.com will be bringing you excerpts from the encyclopedia, including Jeff Sagarin's all-time ranking of 330 programs and essays written by Pat Forde, Andy Katz and Steve Rushin.
CONTENT
STORIES
PODCAST
YOU DECIDE
BUY THE BOOK
MORE MEN'S COLLEGE BASKETBALL HEADLINES

MOST SENT STORIES ON ESPN.COM