Commentary
Dream and nightmare scenarios
Updated:
March 17, 2011, 10:07 AM ET
By
Pat Forde
| ESPN.com
What's the best that could happen for your NCAA tournament basketball team during the next three weeks?
What's the worst?
Read the wildest-dream and darkest-nightmare scenarios for all the remaining teams and find out.
EAST REGIONAL

Ohio State (1)
Best Case: Coach Thad Matta becomes the savior of Buckeye Nation, not only winning the school's first basketball title since 1960 but also changing the subject from The Vest's mess. Perfectly constructed offensive team rides the interior strength of Jared Sullinger, the perimeter shooting of Jon Diebler and William Buford, the slashing ability of David Lighty and the setup skills of Aaron Craft to six victories. Buckeyes endure a tougher bracket than a No. 1 overall seed should have to, which makes the going seem relatively easy by the time they get to Houston. Matta beats five straight coaches with Final Four experience to cut down the nets: Jim Larranaga and George Mason in the Buckeyes' second game; John Calipari and Kentucky; Jim Boeheim and Syracuse; Mike Krzyzewski and Duke; and finally Bill Self and Kansas. By the time it's over, Ohio State has refuted the no-great-team angle of the 2010-11 season, going 38-2 and winning the Big Ten regular season, Big Ten tournament and NCAA tournament titles. Sullinger shocks everyone by saying he's coming back for his sophomore season, and Michigan loses in the first round.
Worst Case: Matta's stubbornly short rotation comes back to haunt him when the Buckeyes encounter foul trouble in their second game against George Mason. Specifically, Sullinger doesn't get the All-American whistle he's become accustomed to and has to sit major minutes with foul trouble. With other guys forced into expanded roles, Ohio State's well-honed offense stutters against the Patriots -- whose coach knows a thing or two about taking down the overall No. 1 seed in the NCAA tournament. With the Buckeyes down two in the final seconds, Sullinger goes to the line to shoot two and makes only one with chants of "free tattoos" ringing in his ears. Ohio State is shocked in the Round of 32, and a crushed fan base no longer has an enjoyable distraction from its cheating football coach and suspended star players. Meanwhile, Michigan makes it to the Sweet 16.

UT-San Antonio (16)
Best Case: The Roadrunners have some serious survival instincts, having charged from 12 points down in the final five minutes just to win their first Southland Conference tournament game. Taking that to the court in Dayton on Wednesday night, UTSA squeezes out Alabama State in the second half for the first NCAA tourney win in school history. Roadrunners resist the temptation to simply skip the trip to Cleveland to face No. 1 Ohio State. They show up, take a 5-4 lead into the first media timeout and have a team manager snap a quick photo of the scoreboard for posterity. Buckeyes go on to win by 25, but UTSA has its moment.
Worst Case: Roadrunners are road kill in Dayton, beaten by an Alabama State team Jeff Sagarin's computer rates 308th out of 345 -- possibly the lowest-rated NCAA tournament team in the history of the field. Team that lost five straight in late December/early January proves it can lose to the worst of 'em. Denied even the chance of being trampled by Ohio State, UTSA takes its NCAA gifts and slinks back to anonymity.

Alabama State (16)
Best Case: The 17-17 Hornets may be horrible (308th according to Jeff Sagarin, 295th according to Ken Pomeroy and 263rd according to RPI), but they're hot. They've lost just one of their past 12 games, on the road by a single point, so they bring confidence into their First Four matchup with Texas-San Antonio. Leading scorer Tramayne Moorer missed 19 of Alabama State's first 22 games, but with him in the lineup the record is 13-2. Moorer leads the Hornets past the Roadrunners and into Cleveland against No. 1 Ohio State, where they actually bother the Buckeyes to the point that Thad Matta has to take a timeout after eight minutes with the Hornets up two. Historians quickly note the moment as the high point in Alabama State basketball history. It all goes south from there.
Worst Case: Alabama State has no business in this tournament -- not even against UTSA -- and is quickly dismissed. The Hornets fall behind by a dozen early and lose by 20 in front of a polite but totally bored crowd in Dayton. Bus never shows to take team to airport, so players have to take cabs. NCAA refuses to reimburse the cab fare.

George Mason (8)
Best Case: The Patriots party like it's 2006, improbably returning to the Final Four. Jim Larranaga gets it done again, this time as a No. 8 seed -- better seeding than the No. 11 of five years ago, but necessitating an earlier matchup with the tourney's overall top seed. A confident Mason team that at one point won 16 in a row this season frustrates Ohio State strongman Jared Sullinger. The Buckeyes miss a lot of shots and get in foul trouble, the Patriots make key 3s and the underdog moves on. In the Sweet 16 they beat West Virginia, then take down Washington in a long-shot regional final. Media scurries to find Jai Lewis and Tony Skinn. After run ends with a loss to Duke in Houston, Larranaga again turns down job offers and stays at Mason.
Worst Case: A miracle like '06 comes along only once a lifetime. Non-miraculous Patriots are ousted in game won by a Villanova team everyone has given up on. Wildcats use their pressure and quickness to get Mason running and knock them out early. We won't hear from the Patriots again for years -- especially after Larranaga opts to retire. Meanwhile, rivals Old Dominion and VCU make runs.

Villanova (9)
Best Case: Wildcats somehow get it back together after horrific season-ending tailspin, beating George Mason when Isaiah Armwood strikes twice. The only 3-pointer of Armwood's two-year career was to beat Mason in Puerto Rico in 2009. In Cleveland on Friday, Armwood does it again, swishing a 3 that knocks out the Patriots and gives Villanova some desperately needed momentum. That helps the Wildcats keep it close Sunday against No. 1 Ohio State, but Nova is beaten on a late Jon Diebler 3. It's still better than ending the season with a sixth straight loss.
Worst Case: Nova ends the season with a sixth straight loss. A team that hasn't beaten an opponent that's in this field of 68 since Feb. 5 isn't ready to do so now, and George Mason takes it to the error-prone Wildcats. Villanova commits 22 turnovers, goes six minutes without scoring and generally looks like it cannot wait for the clock to expire. Since going to the 2009 Final Four, Jay Wright's postseason record slips to 1-4. He decides it's time for something new and takes his swell wardrobe to a new job.

West Virginia (5)
Best Case: Mountaineers fans, ignite your couches. Bob Huggins does it again -- to John Calipari, and to an entire region. He and his team (particularly Cat killer Joe Mazzulla) upset Calipari and Kentucky for the second straight year, raising Huggins' personal record to 9-1 against Cal. Then they shock Ohio State in the Sweet 16, push around North Carolina in the regional final and show up in a completely improbable Final Four. Other coaches decide it must be the sweat suit and begin dressing like Huggs on the sideline. West Virginia again loses in the national semifinals, but at least this year nobody blows out a knee in the process. Pitt, meanwhile, loses before its seeding suggests it should yet again.
Worst Case: These aren't the Mountaineers of last year. Lacking scorers and depth, West Virginia can't even capitalize on its rest-and-preparation advantage over Clemson and loses to the Tigers on Thursday. Huggins gets T'd up, leading scorer Casey Mitchell takes (and misses) a lot of bad shots, Mazzulla makes no impact and the Mountaineers don't play transition defense. They're gone in 40 minutes. Pitt goes on to win the national title. Fans burn furniture anyway, in hopes it will make them feel better and because there's nothing else to do in Morgantown on an April Monday night.

Clemson (12)
Best Case: In an emphatic display that he's the right man for the job, Brad Brownell leads the Tigers to more NCAA wins in one game than Oliver Purnell did in seven seasons on the job. Clemson handles UAB from the opening tip in a First Four game in Dayton, then hurriedly packs up shop for a Thursday early afternoon tipoff against West Virginia in Tampa. Tigers prove that rest and preparation are overrated by upsetting the Mountaineers, then lose a competitive game in the round of 32 to Kentucky. Overexcited IPTAY members suggest that Brownell be put in charge of football, too.
Worst Case: Rest and preparation are not overrated. Saddled with a ridiculous turnaround by the selection committee and CBS, Clemson has no chance in second-round game against West Virginia. The Tigers didn't leave the court in Dayton until just before midnight ET Tuesday, flew to Tampa, and had to play at 12:15 ET Thursday afternoon against a Mountaineers team that has had a week off. It shows on the court as Clemson struggles to get going and loses by 15. In Blacksburg, morose Virginia Tech coach Seth Greenberg wails, "We'd do better than that!" Meanwhile, Tigers fans start getting nervous that Brownell is too good to keep at a football school, and begin praying that Tom Crean gets it going at Indiana so Brownell is not called back in a year or two to his home state to take over the Hoosiers.

Kentucky (4)
Best Case: With their young stars growing up on national TV, the Wildcats return to the summit and win their eighth national title. Freshman Brandon Knight plays like the best NBA-prospect guard with two healthy big toes. Terrence Jones continues to be an all-court matchup problem and rebounding fool, but now takes better shots. Doron Lamb makes every open 3. Junior Darius Miller continues the late-season blossoming that made him SEC tournament MVP. Kentucky mows down Princeton, West Virginia, Ohio State, North Carolina, Duke and Kansas to win the title, cutting a wide swath through its blue-blood competition for the greatest program of all-time. John Calipari snips the nets at last, and 2,000 Kentucky families name their newborn sons Cal. To complete the rapture, Louisville loses its first game to Morehead State and Rick Pitino gets ejected. In response to rumors of interest from the New York Knicks, Kentucky gives Calipari an $8 million-a-year contract and a half-share in the Rachel Alexandra-Curlin foal and starts construction on a new 30,000-seat arena.
Worst Case: In a crushing case of déjà vu, Joe Mazzulla keys another West Virginia upset of the Wildcats -- this time in the round of 32 -- and extends Kentucky's longest-ever Final Four drought to 13 years. Bob Huggins runs his record to 9-1 against Calipari, who verbally bombs Terrence Jones again in a late-game situation. Big Blue fans who spent all week dissecting the presumptive Kentucky-Ohio State matchup have their daydreams pre-empted by the reality of Mazzulla evicting the Wildcats once more. Every key underclassman goes pro and so does Calipari, who is hired in New York to replace Mike D'Antoni after the Knicks bomb in the playoffs. Meanwhile, Louisville reaches the Final Four with no first-round draft picks.

Princeton (13)
Best Case: Tigers are charming and erudite in the press conference the day before the game. They're well-coached, play hard and play together. They do not get blown out against Kentucky. They do not win, either. Douglas Davis, who made the last shot against Harvard, makes the first shot against the Wildcats. The 2-0 lead doesn't last long, but the Tigers at least stay within striking distance long enough that Kentucky has to play hard for 32 out of the 40 minutes. Then the Princeton players return to school to become future leaders, statesmen and captains of industry.
Worst Case: Much like Cornell against Kentucky last year, Princeton is in several lottery picks over its head. The only comparable team the Tigers have faced this year is Duke -- and Duke beat them by 37. This is similar. The Cats run a dunk contest, throwing lobs to Terrence Jones and Darius Miller and even Josh Harrellson. Princeton calls timeouts that don't stop the flow and runs backdoor cuts that don't fool the defense. School is out early, and 20,000 Kentucky fans loudly reinforce that fact to the Tigers. Princeton's tournament experience is over before dinnertime Thursday.

Xavier (6)
Best Case: Tu Holloway becomes a March cult hero. The little guy wearing No. 52, the name change from Terrell to Tu, the swaggering city game all contribute -- that and the fact that he averages 25 points, five rebounds and eight assists for three games. The Musketeers beat Marquette and upset Syracuse -- a nice double-dip to shut up the obnoxious Big East fans in their backyard. Then they dispatch Washington to reach the regional final -- their fourth straight trip to at least the Sweet 16. There they get a rematch of a controversial 2007 NCAA tourney loss to Ohio State. They don't win this one either, but at least this time they don't get the shaft from the officials. Coach Chris Mack reaffirms his commitment to Xavier and refuses to follow those who used the job as a steppingstone. Meanwhile, Cincinnati is upset by Missouri, which means the Musketeers can tell Bearcats fans they've now won 11 NCAA games since the last time Cincy won one.
Worst Case: Marquette's guards have the quickness to compete with Holloway. They limit him and nobody else steps up, as the Golden Eagles spring the upset. Xavier fans have to hear even more about how the Big East is light years ahead of the inferior Atlantic-10. Mack decides that even though he's deeply rooted at Xavier, his career doesn't have to be and takes another job. Cincinnati, meanwhile, breaks out on a run to the Elite Eight.

Marquette (11)
Best Case: With a No. 11 seed, the Golden Eagles will probably wear their powder-blue uniforms throughout the tournament -- and nobody's uniforms look better. The unis get worn for a surprising three games, as Marquette upsets Xavier, then Syracuse, then Washington to reach the regional final. Marquette loses there to Ohio State, short-circuiting the Dwyane Wade and Bo Ellis Final Four nostalgia stories but leaving everyone very happy. Especially since Wisconsin is beaten in its first game by Belmont and scores 39 points in the process. Buzz Williams turns down Oklahoma to stay in Milwaukee.
Worst Case: Williams has one foot out the door to Oklahoma, scantly prepares his team and the Golden Eagles get run over by Xavier. Middling defensive team lets the Musketeers shoot a high percentage and allows Tu Holloway to get to the rim. Marquette is one-and-done, and no reporters bother calling Wade or Ellis for nostalgic comment. Wisconsin resuscitates itself and makes the Final Four despite averaging only 52 points in four games.

Syracuse (3)
Best Case: Did this team really lose six out of eight games in one stretch? You can't tell that now, not with all the trademark Orange elements in place. The zone is active and annoying, the perimeter shooters are dialed in, Rick Jackson is a load inside and Fab Melo continues to show signs of life. They waltz past Indiana State (the weakest Missouri Valley champion in years), outlast Xavier, unsettle young North Carolina and unseat Ohio State when the Buckeyes go cold against the zone. Cuse beats Duke but, in a script flip from 2003, loses to Kansas in the title game. Run lasts long enough that most of the snow is actually melted on campus by the time the Orange return in early April.
Worst Case: Yes, this team really did lose six out of eight games in one stretch, and that's the team that shows up in Cleveland. Lax zone leaves shooters open. Scoop Jardine and Brandon Triche launch too many bad shots. And nobody feeds Jackson on the inside. After wheezing past Indiana State in the opener, Cuse gets excused in the Round of 32 by Xavier. Jim Boeheim blames it on the local media for being too negative. Kris Joseph decides this is a splendid time to go pro. Another foot of snow falls in upstate New York.

Indiana St. (14)
Best Case: Sycamores channel Larry Bird, shooting brilliantly from every position and hurting Syracuse's half-hearted zone. Entire crowd in Cleveland gets behind the upset bid, as Indiana State takes a nine-point halftime lead and attempts to hold on. It doesn't hold on, losing the lead in the final four minutes, but earns national respect for playing better than anticipated. Bird sends a congratulatory text to the team. So does Carl Nicks, but nobody remembers who he is.
Worst Case: Something gets lost in spirit-world translation, and the Sycamores actually channel Eddie Bird, Larry's less-talented little brother who was Indiana State's leading scorer when it was losing 20 games a year in the late 1980s. A team that lost to Loyola-Illinois, Eastern Kentucky, Ball State and Wyoming has no business beating Syracuse, and that is abundantly clear in the early going. Sycamores fall behind quickly and stay there, watching the Orange throw lobs over their heads all day. Nobody sends congratulatory texts. Not even Eddie Bird.

Washington (7)
Best Case: One of the most athletically gifted teams in the field showcases its quickness, speed and leaping ability in a strong tourney performance. Isaiah Thomas plays like a "cold-blooded!" star, hitting big shots and fracturing defenses. Matthew Bryan-Amaning plays big in the paint. Justin Holiday plays better than his brother, Jrue, ever did in a UCLA uniform. Venoy Overton makes a convenient return from suspension. And Lorenzo Romar, who has coached some sneaky Sweet 16 runs, leads Washington's first Final Four run since 1953. Crowning moment is a regional final game against Kentucky, which took Enes Kanter, Terrence Jones and the last speck of Who Hash away from the Huskies. Romar gets the last laugh in that one, drawing up the game-winning play for Terrence Ross to score over former high school teammate Jones.
Worst Case: Long on athletes but short on basketball IQ, the Huskies take bad shots, commit a dozen silly fouls, miss a dozen free throws, play in a hurry all game and generally stink it up in an upset loss to Georgia. Mentally sketchy team that lost late home games to Washington State and USC shows up to face the Bulldogs, who actually hold onto a late lead for a change and eliminate the Huskies. Three seniors graduate, and Thomas and Ross make puzzling decisions to go pro. Meanwhile, Jones leads Kentucky to the national title.

Georgia (10)
Best Case: With Dustin Ware hustling upcourt to launch the winning shot against Washington, Mark Fox does not call a timeout this time. Ware lets it fly and it goes in and the Bulldogs beat the Huskies for their first NCAA tournament win since 2002. Georgia manages late-game situations that previously have baffled it. Trey Thompkins is a load down low and Travis Leslie throws down several spectacular dunks and the Dawgs follow their victory over Washington with a stunning upset of North Carolina. They lose in the Sweet 16 to Syracuse, but everyone is happy with the brief reprieve from agonizing over the decline of Georgia football. Fox signs 10-year contract extension, and Georgia Tech decides to rehire Bobby Cremins.
Worst Case: Up 12 on Washington with three minutes to play, Bulldogs go to their customary Chinese fire drill end-game strategy, combining bad shots with turnovers with defensive lapses with missed free throws with poorly timed timeouts. Up two in the final seconds, they foul Venoy Overton as he's heaving the ball from 60 feet away. He makes three free throws, and the Dawgs are done. Fox leaves for a school that likes basketball. Tech makes a good hire. Four more of Richt's players get arrested.

North Carolina (2)
Best Case: With Larry Drew II, the Wear twins and thousands of Duke fans watching in morose amazement, the Tar Heels win it all for the second time in three seasons and third time in seven. A year removed from the indignity of the NIT, young Carolina continues its late-season roll and charges through a difficult region, while Duke is being shocked in the second round by Tennessee. After beating No. 1 Ohio State to get to Houston, the Heels blow out San Diego State in the semifinal and nip Kansas in the final. Ol' Roy only has two days to dither over facing the Jayhawks in the Final Four this time, instead of a full week, and he handles it better. Harrison Barnes continues his inevitable metamorphosis into a superstar. Kendall Marshall plays with a charismatic cleverness and somehow continues to evade being called for carrying the basketball. Tyler Zeller is the rock of consistency at both ends. John Henson grabs rebounds like Kevin Love. Ol' Roy tells the fans that it's OK to call his dadgum radio show now and tell him how good his team is.
Worst Case: Locked in a second-round tussle with athletic Washington, Barnes goes back to his high-volume, low-percentage shooting days. Marshall turns it over more than he finds his teammates, including three calls for carrying the basketball by non-ACC refs who apparently didn't know that it was forbidden to call it on the kid. Zeller and Henson are pulled away from the basket defensively to deal with pick-and-roll situations, negating their length. The Tar Heels miss almost all their 3-pointers and play indifferent defense. Ol' Roy tries the shove-five-subs-in-the-game trick one too many times and it results in a 10-0 Washington run. Ol' Roy cries, cusses and tells everyone not to call his dadgum radio show unless it's to compliment his golf game. Duke wins it all again.

Long Island (15)
Best Case: Blackbird Mania sweeps Brooklyn for two hours, as Long Island gives powerful North Carolina its best shot. LIU roars fearlessly to the hoop and gets to the line, rocking surprised young Carolina back on its Tar Heels. It attacks the offensive glass with tenacity and generally plays with the cocksure confidence of a team that hasn't lost since January. It takes a late 3 from Barnes to subdue the Blackbirds, but the game serves as the highest point for the program since the Clair Bee, pre-point-shaving days. And since quite frankly nobody living remembers those days, this is as good as it gets for LIU.
Worst Case: The Northeast Conference champion is 0-28 in the NCAA tournament. Make it 0-29, and make it snappy. Beating Wagner, Bryant and the two St. Francises does not make a great dress rehearsal for North Carolina. LIU is no match for the towering length of the Tar Heels, who pound the ball inside for layups all day. The Blackbirds don't see many talents like Barnes and Marshall in the NEC. The game is effectively over by halftime, leaving the television crew to fill time with grainy black-and-white film from the Clair Bee days.
Pat Forde is a senior writer for ESPN.com. He can be reached at ESPN4D@aol.com.
SPONSORED HEADLINES
MORE MEN'S COLLEGE BASKETBALL HEADLINES
MOST SENT STORIES ON ESPN.COM
2011 NCAA TOURNAMENT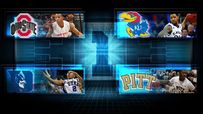 Sixty-eight teams have their sights set on Houston, but only four will be there in April.
Tournament home » Bracket » Challenge »
COLUMNS AND FEATURES
INSIDER
OPENING WEEKEND
BRACKET REACTION
SPECIAL SECTIONS
VIDEO