Commentary
Building Kentucky's game plan
Let's get one very obvious thing out of the way: I am not a college basketball coach. Therefore, I am not qualified to offer prescriptive advice to real, actual college basketball coaches. But it is fun to pretend to be a college basketball coach, to build analysis around potential game plans and strategy. In that spirit, and in advance of Saturday's Final Four showdowns, let's engage in a little bit of role-playing.
If you were Kentucky coach John Calipari, how would you prepare your team for UConn?
(This is part three in a series. Click here for part one on Butler and here for part two on VCU.)
Offensive game plan: If you polled 100 college basketball fans and asked them to name, in order, Kentucky's two best offensive players, you could pretty much guarantee the vast majority of that group would answer (A) Terrence Jones and Brandon Knight or (B) Brandon Knight and Terrence Jones.

This is not without reason. Knight and Jones are Kentucky's two highest-usage players, which means they end up hoisting the most shots and accumulating the largest points per game figures on the team, and, let's be real, both are very good players.
But Kentucky wouldn't be in the Final Four if Jones and Knight were the Wildcats' only two options on the offensive end. In fact, you could argue that Doron Lamb (offensive rating: 121.7), Darius Miller (118.4) and, yes, Josh "Jorts" Harrellson himself (offensive rating: 131.1!) are Kentucky's three best offensive options. They're certainly John Calipari's three most efficient scorers. Much of that efficiency comes thanks to the attention Knight and Jones draw on the perimeter and in the high post, but it's worth noting all the same.
What does that mean for the Cats' offensive attack in their Final Four game versus Connecticut? It means now is not the time to change, not the time to shorten possessions, not the time to allow Knight or Jones to try to take the game over. Knight's last-second heroics have defined this run to the national semifinals, but there have been large stretches when his shot (and Jones') hasn't fallen. At their offensive best, these Wildcats share the ball, stretch the floor with Lamb and Miller and run excellent ball-screen and handoff action with Harrellson as the unlikely but ruthlessly effective catalyst. The end result? Kentucky is the most efficient offense left in the NCAA tournament (according to Ken Pomeroy's adjusted offensive efficiency) and the most efficient half-court offense still in the field (according to Synergy Sports Technologies).
Connecticut is a very good offensive team that does not possess a killer defense. In other words: The Wildcats don't need to change much about their offensive style in this game, nor should they. If Calipari's team plays like it has throughout March, the buckets are sure to follow.
Defensive game plan: This is where things get much, much trickier. You can't approach a matchup with Kemba Walker and these Connecticut Huskies by saying "well, if we just do what we do, we should be fine."
It doesn't work that way. Kemba is too good.
If you opened the Big Book of Strategic Basketball Clichés (which is totally something I just made up, but which at least deserves a treatment) and turned to the heading "How To Guard Star Players," you'd find two options:
[+] Enlarge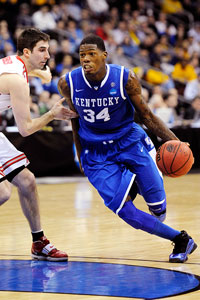 Richard Mackson/US PresswireDeAndre Liggins might get the call to try and shut down Kemba Walker.
1. Work really hard to deny Star Player X his points, even if that means leaving open the rest of his team. Cross reference with: "Make Someone Else Beat You."
2. Guard Star Player X straight up, don't help, take away his second and third options and force him to beat you singlehandedly. Cross reference with: "Make Them One-Dimensional."
Unfortunately for UK, both of those options are, um, less than ideal. Walker is masterful at working to find his own shot off the dribble; you can watch him as he takes that first purposeful dribble toward his defender and know that if he gets a half-step of space his step-back jumper is probably going down. So what do you do? Double? That's not easy to do to a ball handler of Kemba's ability, especially when he has his usual acre of isolated space at the top of the key. The doubling strategy is made doubly difficult by the emergence of UConn freshman Jeremy Lamb as a legitimate second scorer who can penetrate for floaters or spot up from range. Lamb has scored 30 points in 15 spot-up situations during four tournament games, according to Synergy.
So, no, doubling doesn't sound like the best idea. But if you don't double, are you willing to hope Walker has an off night? Do you really want to stake a shot at the national title on that?
No doubt Kentucky coach John Calipari -- an oft-underrated defensive mind who flawlessly constructed UK's defense in the Sweet 16 win over Ohio State -- has spent plenty of time this week learning all this and more about Kemba and his Huskies. Calipari will have a few tricks up his sleeve, one of which may be the decision to guard Walker with the bigger, longer and more athletic defensive stopper DeAndre Liggins. No one can stay with Walker, but if Liggins can merely keep the All-American in front of him, his length should allow him to affect jump shots. Calipari might also look at UConn's offensive sets and find the best opportunities to run a second defender at Walker at the top of the key, with lots of inside-out rotation to shooters behind it.
If you want to stop UConn's offense, you can't choose between Kemba's offense and the rest of the Huskies' offense. You have to stop -- or at least contain -- a little bit of both.
The UConn player Kentucky is most worried about: Forward Alex Oriakhi. You just read 500 words describing how hard it is to stop Walker, so it goes without saying that he's the player Kentucky will be most worried about Saturday night. (Duh, right?) And the prospect of hot nights from Lamb and Shabazz Napier is a scary one.
But Calipari might be most concerned with whether Harrellson can truly keep UConn's Oriakhi off the offensive glass. Connecticut had the seventh-highest offensive rebounding rate in the country, and that's primarily thanks to Oriakhi, whose huge frame can't be moved off the block by anything less than a dump truck. If Oriakhi is grabbing offensive boards and getting easy putbacks -- not to mention extending possessions by kicking it out to Walker & Co. -- then Kentucky is in for an even longer night on the defensive end.
Kentucky wins if: Its discomfort-inducing perimeter defense contests every Walker shot; its perimeter defense can effectively double and trap Walker without allowing easy, open looks for secondary shooters; Harrellson can do enough to keep Oriakhi off the glass; the Wildcats maintain balance, spacing and distribution on the offensive end.
Kentucky loses if: Kemba goes off; Lamb goes off; both go off; Oriakhi dominates the paint; Kentucky's offense loses rhythm, ditches its spacing or gets bogged down in too many one-on-one situations; Lamb, Miller and Harrellson fail to make solid secondary contributions on the offensive end.
Eamonn Brennan covers college basketball for ESPN.com.
ESPN.com college basketball reporter
Joined ESPN.com in 2009
Writes Bubble Watch