The Purgatory Bowl
Updated:
December 16, 2004, 10:38 AM ET
By
Mark Kreidler
| Special to ESPN.com
So it's Gary Barnett and his Colorado Buffaloes going against Mike Price and his Texas-El Paso Miners in the EV1.Net Houston Bowl on Dec. 29. Or, as we like to think of it around the old campfire, the Crawled Through Glass Shards Just to Stand Here and Smile Like a Madman Bowl.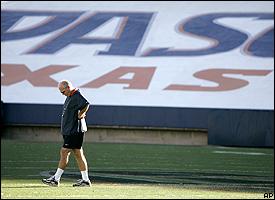 Coaching in El Paso has given Mike Price the opportunity to redeem himself after being fired as Alabama's head coach.
Or the Purgatory Bowl. The Seventh Circle Bowl. The Redemption Bowl, if you're so inclined.
Or, as Price put it in Houston this week while speaking of the year or so just passed, "I understood a lot of what he [Barnett] was going through, and he understood a lot of what I was going through."
Which, if nothing else, surely makes it the EV1.Net Coachin' Empathy Bowl.
All that being said, I'm not sure the situations compare. In fact, there's almost no question that the situations barely compare at all. Price was run off the job at Alabama without ever coaching a game, due exclusively to allegations of his own improper behavior in a situation that involved sleaze, booze and strippers -- but not the football team.
Barnett's problems, of course, have not only involved the Colorado football program but also have been felt at levels well above him. The reverberations are still pinging off the walls.
As Barnett met the media in Houston this week, in fact, it was announced that Richard Byyny, the chancellor at Colorado's Boulder campus, was resigning to become director of a health policy center at the university's hospital in Aurora. Byyny is a physician and well qualified for the new job, none of which did much to dissipate the chatter that he was resigning under seige, just as athletic director Dick Tharp had done in the month before him.
So you wouldn't call Price's alleged indiscretions quite the same as what has occurred on Barnett's watch at Colorado, a stint that has included accusations of wild recruiting parties and sexual assaults by players, the coach's suspension and subsequent reinstatement, shady booster dealings and all manner of bad karma flowing through Boulder.
For that matter, the paths to a better future for the two 58-year-old men, who have known each other through coaching circles for more than a quarter-century, aren't necessarily made of the same material.
Price already is on the upswing, and with each step he removes himself from the embarrassing Alabama episode that in time might come to be viewed as a mere blot on his résumé.
He took UTEP to an 8-3 record and nearly doubled the school's home attendance. He got the Miners on a seven-game win streak that didn't end until Tulsa upset them in the regular-season finale. He is a finalist for the Bear Bryant Coach of the Year Award and generally credited with making UTEP football matter after years of irrelevance.
I don't know what he does for an encore, but in taking a program that had won two games the season before and turning it into a legitimate bowl entry, Price certainly has demonstrated that his Alabama debacle did not cause him to forget how to coach -- or focus.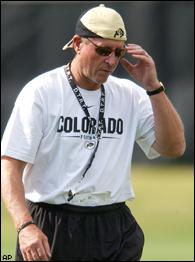 Gary Barnett could be in trouble at Colorado.
Barnett's tenure at Colorado, by comparison, continues to be marked by battery-acid jello shots, hurt feelings, cries of "cover-up!" and the whole shebang. For some, it is remarkable to the point of incredulity that in the wake of the scandals both the AD and campus chancellor have resigned, yet Barnett remains on the job with a contract that runs through 2007 and reportedly pays him $1.6 million per year.
That contract was supposed to be amended to make Barnett more "accountable" for the football problem, but the Rocky Mountain News reported this week that no such language to that effect has yet been inserted. University officials say the change is forthcoming, but it is fair to wonder whether the language has any meaning beyond sheer legal netting.
At this point, the one thing Barnett can do that is not controversial -- so long as he wins, of course -- is coach. And he did so in 2004, getting Colorado to a 7-4 record and the Big 12 North Division title.
That division's comparative ineptitude was demonstrated in the Buffs' subsequent 42-3 pasting by South champ Oklahoma in the Big 12 title game, but by then Barnett and his players had done enough to get the bid to Houston. There he finds himself standing shoulder to shoulder with his old friend, Mike Price, a man who at least knows a little bit about what it feels like to have the world watching and sitting in judgment.
During their news conference in Houston this week, the two coaches allowed that they had spoken to one another last spring, comparing tumults, offering mutual encouragement, talking shop. Barnett said of Price, "I know what he stands for." Price said he and Barnett supported each other "100 percent."
And there you have it: The 100 Percent Support Bowl, brought to you by the Coaching Friendship Network. At the very least, you could say it is nice to have these men's paths cross at a football game, as opposed to just about anywhere else.
Mark Kreidler is a columnist with the Sacramento Bee and a regular contributor to ESPN.com. He can be reached at mkreidler@sacbee.com .
Page 2
Regular contributor to ESPN.com
Author of "The Voodoo Wave" and "Six Good Innings"
Radio co-host, "The Rise Guys Show" San Francisco
SPONSORED HEADLINES
MORE COLLEGE FOOTBALL HEADLINES
MOST SENT STORIES ON ESPN.COM
EDITORS' PICKS
Kevin Sumlin sure looks like he has another star QB on his hands.
Low »

Stats tell the story of Texas A&M's big win.
Ivan Maisel »

Phil Steele picks 10 of the week's best games.
Week 1 Picks