ESPN'S TAKE
What a tremendous game. Nebraska did a great job of hanging in there until Cortney Grixby's punt return turned the momentum in its favor. The Cornhuskers made a nice adjustment to turn to Cory Ross and the running game, and QB Zac Taylor had a gutty performance. Michigan was up 11 points with just under nine minutes left, but couldn't finish. Fourth-quarter turnovers by Chad Henne and Jason Avant were key. -- Jim Donnan


Fantasy
Here's your chance to be the expert and pick the Bowl winners. Create your FREE entry and compete for a chance to win a home theater system.
College Bowl Mania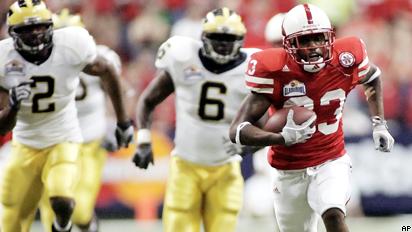 Red Letter Day
Nebraska will remember the Alamo Bowl for a long time. After struggling through much of the first two years of the Bill Callahan era, the Cornhuskers claimed a breakthrough win with a 32-28 shucking of Michigan. QB Zac Taylor tied a Nebraska bowl record with three TD passes and rallied the Huskers to the win.
Story
•
Conferences discuss final play
|
Nebraska survives wild ending
ALAMO BOWL OVERVIEW
It Was Over When …
---
Michigan's lateral-filled final play ended short of the end zone with players and coaches from both squads on the field.

Game Ball Goes To …

---
Cory Ross and Zac Taylor. Ross ran for 161 yards on 28 carries, while Taylor tied a Nebraska bowl record with three touchdown passes.

Stat Of The Game

---
5. With the win over Michigan, the Cornhuskers improved their record to a perfect 5-0 in the Alamodome. With the loss, the Wolverines lost at least five games in a season for the first time since 1984.