ESPN'S TAKE
Clemson's speed advantage on both sides of the ball was very evident against Colorado, but you have to appreciate how hard the Buffaloes fought under very difficult circumstances. Memo to coach Bowden: If the Tigers work hard on the kicking game in the offseason and improve in that aspect of the game, Clemson has a great shot at being in the top 15 in 2006. -- Jim Donnan


Fantasy
Here's your chance to be the expert and pick the Bowl winners. Create your FREE entry and compete for a chance to win a home theater system.
College Bowl Mania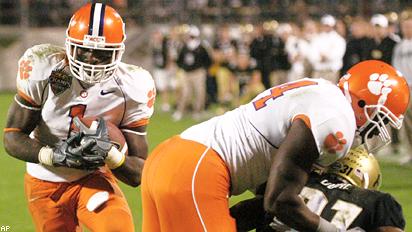 Tiger Talk
It wasn't the blowout that everyone expected because both defenses came to play. That may have been a big surprise for Colorado, which limped into Orlando with a host of problems. But the Clemson defense was the real story as it limited the Buffs to 124 total yards and the Tigers posted a 19-10 win.
Story
|
Highlights
CHAMPS SPORTS BOWL OVERVIEW
It was over when…
---
Clemson ran a seven-play, 61-yard drive and scored the final touchdown of the game to give the Tigers a 9-point lead with only 1:38 to play.

Gameball goes to…

---
James Davis. The Clemson freshman running back rolled up 150 rushing yards, scored a touchdown and was named the game's Most Valuable Player.

Stat of the game…

---
17, The total rushing yards allowed by the Clemson defense, on 29 carries.