Fantasy
Here's your chance to be the expert and pick the Bowl winners. Create your FREE entry and compete for a chance to win a home theater system.
College Bowl Mania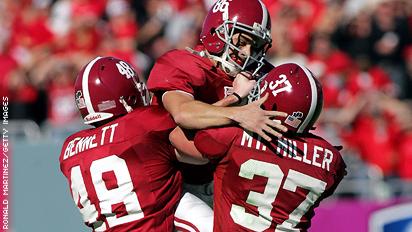 (Just) High (Enough) Tide
Alabama may have been offensively challenged at times during the season, but quarterback Brodie Croyle was able to lead the Tide down the field in the final minute of the Cotton Bowl. Kicker Jamie Christensen did the rest with a 45-yard field goal as time expired to give Bama a 13-10 win.
Story
COTTON BOWL OVERVIEW
It was over when ....
---
Alabama's Jamie Christensen pushed a low and wobbly 45-yard field goal just over the crossbar as time expired to give the Tide a 13-10 win.

Game ball goes to ...

---
Keith Brown. The Crimson Tide receiver caught 5 passes for 141 yards and scored Bama's only touchdown on its second play from scrimmage.

Stat of the game...

---
3. The number of game-winning field goals from Christensen this season. In addition to the Cotton Bowl win, he also beat Ole Miss and Tennessee with last-second kicks.