ESPN'S TAKE
I was impressed with Louisville's Hunter Cantwell in a backup role, but in the end it was just too much Virginia Tech. I thought the Hokies' ability to cause turnovers and to make plays with Marcus Vick passing and with the running game was the difference. The Hokies just took over in the second half, but it was a lot more competitive than I thought it would be with Louisville's backup quarterback in there. -- Jim Donnan


Fantasy
Here's your chance to be the expert and pick the Bowl winners. Create your FREE entry and compete for a chance to win a home theater system.
College Bowl Mania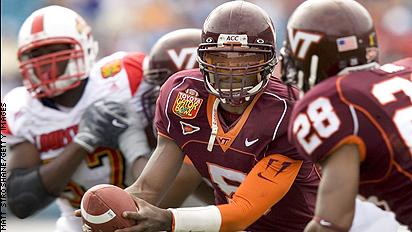 The Hokies Way
Virginia Tech's defense found a way to get it done again. Trailing Louisville by three points in the fourth, the Hokies' defense forced a fumble and returned an interception for a touchdown en route to a 22-point quarter and a 35-24 come-from-behind win.
Story
GATOR BOWL OVERVIEW
It was over when ....
---
Virginia Tech's James Anderson intercepted Hunter Cantwell's pass and returned it 39 yards for a touchdown with 5:04 left, giving the Hokies a 35-24 lead.

Game ball goes to ...

---
Marcus Vick, who played a mistake-free game for Virginia Tech. Vick completed 11 of 21 passes for 204 yards and two touchdowns.

Stat of the game...

---
4. Virginia Tech forced four Louisville turnovers to snap the Cardinals' five-game win streak.