ESPN'S TAKE
The Hawaii bowl is consistently exciting, but always underrated. Last year UAB and Hawaii combined for 99 points. This year's game produced 97 points and overtime. UCF WR Brandon Marshall was simply amazing with 11 grabs for 200-plus yards and 3 TDs. Credit UCF for bouncing back from Nevada's devastating double tight end formation that led to the Wolf Pack's 10-point lead late in the game. But Nevada allowed the game to get to OT with a lackadaisical effort on UCF's onside kick with less than two minutes remaining. Nevada should have won the game in regulation instead of on a missed PAT in OT. -- Rod Gilmore


Nevada Passing
C/ATT
YDS
TD
INT
J. Rowe
22/32
254
1
1
Nevada Rushing
CAR
YDS
TD
LG
B. Mitchell
23
178
2
59
R. Hubbard
15
126
3
49
J. Rowe
13
65
1
11
Nevada Receiving
REC
YDS
TD
LG
C. Spencer
11
114
0
18
N. Flowers
6
96
0
54
A. Pudewell
2
23
0
13
K. Sammons
1
8
0
8
UCF Passing
C/ATT
YDS
TD
INT
S. Moffett
19/36
301
3
1
UCF Rushing
CAR
YDS
TD
LG
K. Smith
29
202
3
78
J. Peters
9
44
0
16
S. Moffett
6
8
0
35
UCF Receiving
REC
YDS
TD
LG
B. Marshall
11
210
3
51
D. Johnson
3
49
0
30
J. Peters
2
14
0
11
R. Ross
1
14
0
14
The Fan Pick

54.7%

of Bowl Pick'em players picked Nevada to win the game.
Fantasy
Here's your chance to be the expert and pick the Bowl winners. Create your FREE entry and compete for a chance to win a home theater system.
College Bowl Mania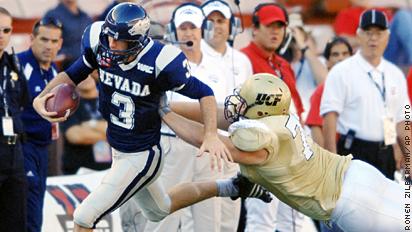 Leaders Of The Pack
After letting a late 10-point lead slip away, Nevada looked mortally wounded. But with the help of quarterback Jeff Rowe -- and a little luck in overtime -- the Wolf Pack left Hawaii as top dog.
Story
HAWAII BOWL OVERVIEW
It was over when…
---
UCF kicker Matt Prater's extra point sailed wide right in overtime, giving Nevada the one-point win.

Gameball goes to…

---
The Nevada backfield, featuring B.J. Mitchell and Robert Hubbard. The two combined for over 300 rushing yards and scored five rushing touchdowns.

Stat of the game…

---
6. That was the number of rushing touchdowns scored by Nevada on Saturday.