ESPN'S TAKE
The 2006 Orange Bowl certainly wasn't the most well-played game, but it did provide plenty of excitement and lots of tension. Mistakes, penalties and missed opportunities plagued both Penn State and Florida State. However, both the Nittany Lions and Seminoles played hard in this classic defensive struggle.
-- Jim Donnan


Penn State Passing
C/ATT
YDS
TD
INT
M. Robinson
21/39
253
1
1
Penn State Rushing
CAR
YDS
TD
LG
A. Scott
26
110
2
28
M. Robinson
17
21
0
9
J. Norwood
1
7
0
7
Penn State Receiving
REC
YDS
TD
LG
J. Norwood
6
110
0
38
E. Kilmer
6
79
1
25
J. King
5
27
0
9
I. Smolko
2
21
0
20
Florida State Passing
C/ATT
YDS
TD
INT
D. Weatherford
24/43
258
1
1
Florida State Rushing
CAR
YDS
TD
LG
L. Washington
6
30
0
16
L. Booker
7
2
0
2
J. Coleman
2
1
0
3
Florida State Receiving
REC
YDS
TD
LG
L. Washington
6
24
0
10
W. Reid
4
55
0
22
L. Booker
3
69
1
57
C. Davis
3
55
0
39
The Fan Pick

88.6%

of Bowl Pick'em players picked Penn State to win the game.
Fantasy
Here's your chance to be the expert and pick the Bowl winners. Create your FREE entry and compete for a chance to win a home theater system.
College Bowl Mania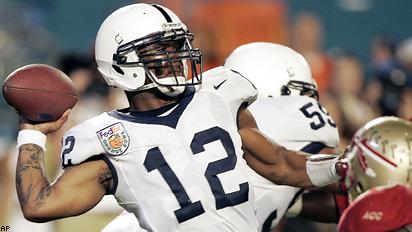 Lion Kings
Returning to a BCS bowl wasn't easy for Penn State. Winning the 2006 Orange Bowl was even tougher. The Nittany Lions survived a bizarre three-overtime thriller to beat Florida State 26-23.
Story
SUGAR BOWL OVERVIEW
It was over when …
---
Penn State's Kevin Kelly, who missed two earlier game-winning attempts, nailed a 29-yard field goal in the third overtime.

Game ball goes to …

---
the Nittany Lions, who survived the three-overtime thriller and finished the season 11-1.

Stat of the game …

---
3. The Nittany Lions and Seminoles competed in only the third overtime game in BCS history. It is the only BCS game to reach three OTs, too.