Fantasy
Here's your chance to be the expert and pick the Bowl winners. Create your FREE entry and compete for a chance to win a home theater system.
College Bowl Mania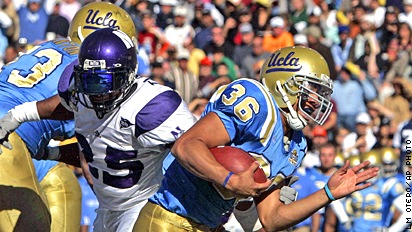 Border Bonanza
It wasn't first one to 50 wins in El Paso, but it could have been as UCLA and Northwestern scored in bunches and in almost every way imaginable. It was a pair of onside kicks that were returned for touchdowns by Brandon Breazell that made the difference in the Bruins' 50-38 win.
Story
SUN BOWL OVERVIEW
It was over when ....
---
UCLA's Brandon Breazell scooped up a Northwestern onside kick and returned it 45 yards for a TD with 0:18 remaining. It was Breazell's second onside kick return for TD in the game.

Game ball goes to ...

---
Chris Markey and Kahlil Bell. The UCLA RB duo filled in for the injured Maurice Drew to the tune of 286 rushing yards and 2 touchdowns. They were named co-MVPs of the Sun Bowl.

Stat of the game...

---
1948. The last and only time Northwestern won a bowl game. The Wildcats are 0-5 since the 1948 Rose Bowl win over Cal.