Bowden, Paterno do it the right way
Bobby Bowden and Joe Paterno are two of the winningest coaches in college football history. But how they got to that point is the real story, writes Bill Curry.
Updated:
January 2, 2006, 1:48 PM ET
By
Bill Curry
| ESPN.com
Pardon the poetry, but this is too perfect. Rudyard Kipling would have loved Joe Paterno and Bobby Bowden. In a portion of one of his most celebrated poems, he captured their essence.
If
If you can keep your head when all about you
Are losing theirs and blaming it on you;
If you can trust yourself when all men doubt you,
But make allowance for their doubting too;
If you can wait and not be tired by waiting,
Or being lied about, don't deal in lies,
Or being hated, don't give way to hating, And yet not look too good, nor talk too wise;
If you can dream -- and not make dreams your master;
If you can think -- and not make thoughts your aim;
If you can meet with Triumph and Disaster
And treat those two imposters just the same;
If you can bear to hear the truth you've spoken
Twisted by knaves to make a trap for fools,
Or watch the things you gave your life to broken,
And stoop, and build 'em up with worn-out tools…

--
Rudyard Kipling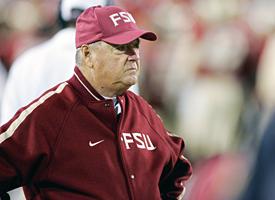 Jimmy DeFlippo/US PresswireThere's a reason Florida State coach Bobby Bowden has 359 career victories.
This FedEx Orange Bowl could not have been planned. Even if the Almighty cares about our football foolishness (I cannot imagine that to be the case), this is too much to have hoped for. Maybe the stars and planets really do align to miraculous effect every eon or so. Or maybe it is just a divinely delicious accident, a random happening in the processes by which nature provides serendipity.
Joe Paterno and Bobby Bowden will be at the Orange Bowl on Jan. 3, 2006, live and in person, appearing in the theater of the absurd … the BCS.
Oh, and one other detail, the Penn State Nittany Lions and Florida State Seminoles will make the trip, as well.
The coaches will not be there to be dubbed legends, to be converted into living statues or to be feted for prior appearances. They are not coming to be canonized, since neither is, nor desires, to be a saint. They are not arriving to provide more fodder for the clever cynics with their cruel Paterno/Bowden tabloid pieces and cartoon caricatures.
They will show up to do what they do better than anyone ever has, that which each of them loves more than life: to coach football. Each is driven to take the field of battle against all the odds, this time versus one another. Each has revived, rejuvenated and recovered just enough of his greatness that their reunion has grabbed the headlines one more time.
Multiple Story Lines
The story lines are an embarrassment of riches. Here are a few:
• No. 1 (Bowden, with 359) vs. No. 2 (Paterno, with 353) in Division I-A football victories.
• Owing to recent records, each coach has been ridiculed, even publicly humiliated in confrontations with reporters.
• Each has been embarrassed by dissension on his team in recent years.
• Each has been accused of senility, or worse, by his own supporters.
• Each has had close family members pilloried -- sometimes justifiably, sometimes not -- under his own nose.
• Each has lost his poise just enough to lend credence to the notion that he has lost some other things, as well.
• Each has lost games in ways that would have been unthinkable a few seasons back.
• Each has been so dominant for so long that his actions attract more than the usual suspects into the character assassination derby. Their startling records attract bigger sharks than the normal sportswriters. Political analysts and newspaper publishers feel obligated to offer mostly negative opinions on their effectiveness.
• Each has been down for the count so many times there is an aura of the miraculous about the continual ability to get up and produce yet another knockout.
The Real Story
This list could be endless, so I'll wrap it all up with the fact that the real story is the one that matters. There is nothing miraculous about it. It is so pedestrian that it attracts little attention. The irony is that it addresses the question most often asked and so seldom answered by pundits and "experts." It is the reason these two men have won so much for so long.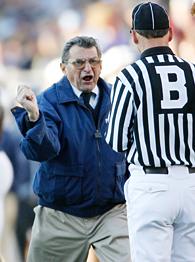 Craig Melvin/US PresswireDespite criticism from fans and the media, JoePa is going strong at Penn State.
Mission/Team Value System
These guys force us all to face the fact that they actually believe in the original purpose of the sport. Football was invented for young men to be on a team, get along with teammates, play rough, be juvenile males, follow some rules of fair play, get in shape, have some fun, and learn how to win and how to lose.
In their heart of hearts, they have the clear sense that they cannot quit. They are the standard-bearers for a team value system of a bygone era. By the way, that old team value system still produces all the big winners in our sport, even in the NFL. I am talking about USC. I am talking about the New England Patriots.
They can and will literally carry the torch into their graves. They believe all of the corny stuff about unselfishness, unity despite diversity, respect for opponents, perseverance and winning the right way. Clearly, each is most alive when in the arena.
Greatness in the Details of Team
Pete Wellborn is one of the brightest and best of my former players.
He lives nearby, and when I mentioned this article, he asked, "Have you ever heard the story of the third-string Florida State center who earned a scholarship by stepping up [the first and second stringers were hurt] and performing 'OK' -- not fantastic, just 'OK' -- in a huge game against either Nebraska or Oklahoma? I can't remember which of those it was, but it was a huge game. The way coach Bowden told it, he felt he owed it to the kid, not because he would ever play again [I don't think he did] but because he came through when needed.
"He told that story years ago at the Touchdown Club in Macon, Georgia. It has stuck with me. In a world of 'What are you going to do for me next?' here is a guy who was loyal to his players and who acknowledged that he was indebted to them."
For anyone who has played football, it is clear it is the ultimate team sport. So what happens when that hardworking, undersized, under-talented grunt gets a shot in a monster game, struggles through the contest, does "OK" and life moves on?
It usually means the first and second stringers get well, the walk-on returns to anonymity, the coaches pat him on the head and he has a nice memory. Not with Bowden. When a coach quietly but consistently rewards his unsung heroes, his relationship with the team becomes almost unbreakable. Do it for 51 years, 30 at one school, and you have a dynasty. That is the real story of Bowden's Seminoles.
Humility
In the early '90s, my son Bill Jr., was a long snapper at the University of Virginia. Jay Paterno, Joe and Sue's youngest son, was a graduate assistant on the Virginia staff. On the Saturday of an off week, Jay invited Bill to accompany him on a trip home, where Penn State would be playing that night.
Jay and Bill stood on the sideline at the game while Penn State defeated BYU, 33-7. After spending the night in the Paterno home, Bill found himself seated at the breakfast table with Joe Paterno. His recollection of that moment is informative:
"There I was, just a walk-on kid from another school, having breakfast with coach Joe Paterno a few hours after his team had dismantled BYU and their quarterback Ty Detmer. I know this was 14 years ago, but my first surprise was that he looked so young and vigorous. But the most striking details about coach Paterno were how incredibly unpretentious he was, and how genuinely interested he was in me! I was amazed that someone who had experienced that much success would have taken the time to make me feel so much better about myself. I kept thinking, 'This is Joe Paterno, I mean, Joe Paterno, and he is interested in me.' I think he is one of a kind. There will never be another one like him."
Humility at work is undeniable.
What a thrill, no, what a lesson, that Paterno and Bowden have the courage, humility and stamina to stay the course, recover their dignity and fight on. When the order of the day in our culture is hero worship, winning by dishonesty, divisiveness, pandering to special interests, ridicule for opponents and political posturing for personal gain, it might just be that our best role models are these ancient battlers.
At best, they remind young and old alike that one can indeed be honest, work hard, smile at ridicule and beat the odds. At worst, they will give us unprecedented drama that transcends blocking and tackling for one delightful night on national television.
If
Whatever the public perception becomes, the real winners are the players on these teams. As Kipling writes so powerfully in the last stanza of his famous poem:
If you can fill the unforgiving minute
With sixty seconds' worth of distance run --
Yours is the Earth and everything that's in it,
And -- which is more -- you'll be a Man, my son!
ESPN college football analyst Bill Curry was an NFL center for 10 seasons and coached for 17 years on the college stage. His Center Stage examinations appear each week during the college football season.
College Football
Former coach Bill Curry joined ESPN in 1997 as a college football game analyst. His primary assignment is the ESPN2 College Football Saturday Night telecast, along with selected bowl games. His knowledge and easy-going manner have translated quite effectively into the broadcast booth, where he's been well-received by fans and media alike.